Pumpkin Protein Balls are the perfect blend of seasonal flavors and nutritional goodness. Crafted with pumpkin spice, maple and pumpkin puree, these protein-packed treats offer a guilt-free indulgence.
Whether you're seeking a post-workout boost or a wholesome on-the-go snack, these protein energy balls bring together the essence of autumn in every bite.
Jump To:
Get ready to satisfy your cravings and fuel your day with this irresistible combination of taste and nutrition. You might also enjoy this Pumpkin Chia Pudding recipe or for another twist on protein balls, check out these Maple Protein Coffee Bites. If you want more protein recipes you might enjoy these Protein Powder Pancakes.
You may also want to read this post about the Best Protein Powders for Diabetics.
Why you'll love this pumpkin protein ball recipe?
Indulge in the goodness of fall with our irresistible Pumpkin Protein Bites! Here are 5 reasons why you'll absolutely love these energizing treats:
Nutrient-Packed Delight: These pumpkin energy balls are a nutritional powerhouse, blending protein-rich ingredients like almond flour, chia seeds, and vanilla protein powder. Fuel your body with a burst of energy while enjoying the essence of pumpkin pie spice.
Guilt-Free Snacking: Satisfy your cravings guilt-free! Our no-bake pumpkin protein bites are crafted with wholesome pumpkin puree and sugar-free maple syrup, offering you a delicious treat without compromising on health. Perfect for keeping your blood sugars in check and ideal for those seeking diabetes-friendly options.
Flavorful Fusion: Experience the perfect balance of flavors in every bite. The fusion of pumpkin protein and vanilla protein powder creates a delightful harmony that's both scrumptious and satisfying.
Gluten-Free Goodness: For those seeking gluten free options, these pumpkin energy balls are a fantastic choice. Indulge in the autumn spirit without worrying about gluten sensitivities.
Versatile and Convenient: Whether you're on-the-go or need a quick pre/post-workout snack, our no bake pumpkin protein balls fit the bill. With the added touch of chocolate chips or your preferred mix-ins, these versatile energy bites are customizable to your taste.
Revitalize your snacking routine with these healthy pumpkin protein bites. Embrace the season's flavors and enjoy a boost of energy with each pumpkin protein ball you savor!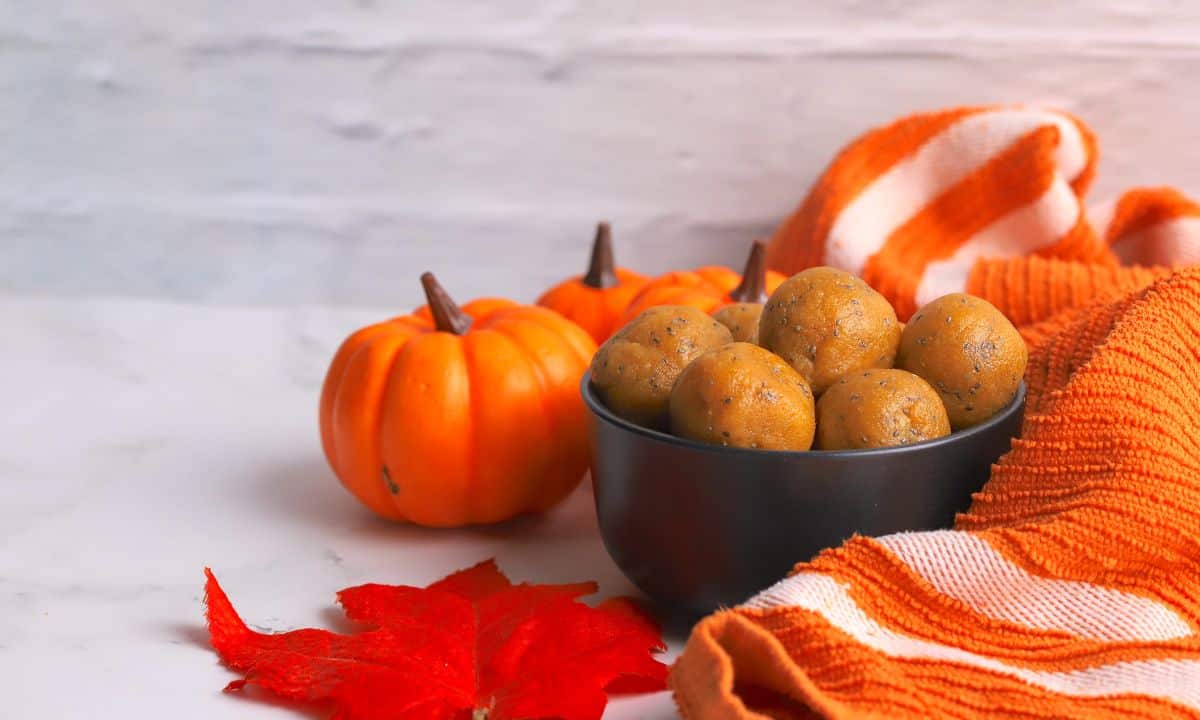 Ingredients Used
Crafted with wholesome, high-quality components, our Pumpkin Energy Balls combine the best nature has to offer to deliver a nourishing and delectable treat.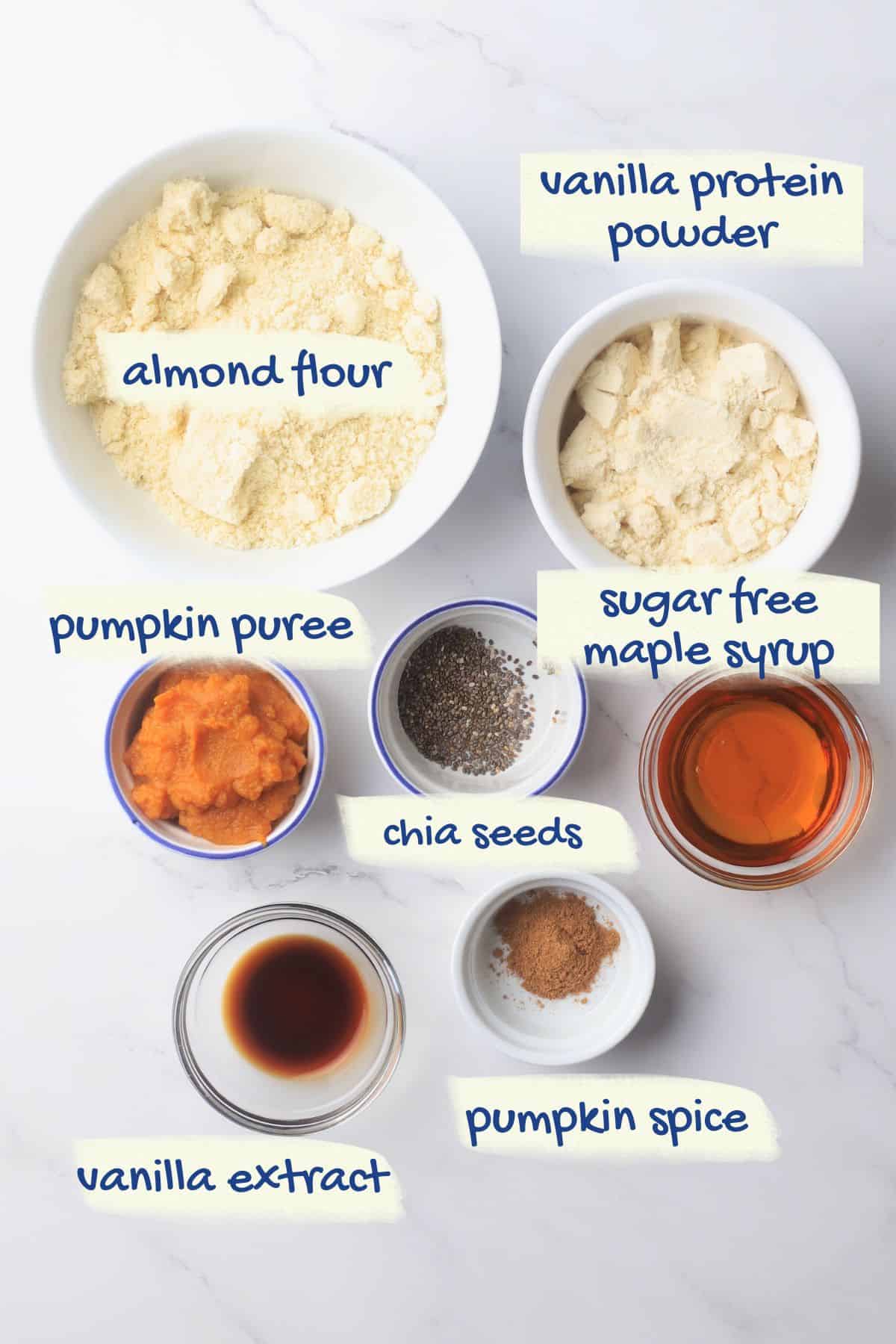 Almond flour - Provides a nutty base and adds a dose of healthy fats and protein for sustained energy.
Vanilla protein powder - Boosts protein content and enhances flavor for a satisfying treat. We love using Transparent Labs Vanilla Whey Protein Powder.
Chia seeds - Adds a crunchy texture and offers an extra nutritional punch with fiber and omega-3 fatty acids.
Sugar-free maple syrup - Provides sweetness without the sugar spike, perfect for a diabetes-friendly option. I use the Lakanto Maple Flavored Syrup.
Pumpkin pie spice - Infuses warm, aromatic flavors that epitomize the essence of autumn.
Pumpkin puree - Offers a rich, velvety texture while contributing to the distinct pumpkin taste.
Vanilla extract - Elevates the overall flavor profile and complements the other ingredients harmoniously.
See the recipe card for quantities.
Steps by step instructions
How to make pumpkin protein balls?
STEP 1: In a large bowl mix all the ingredients together until fully combined.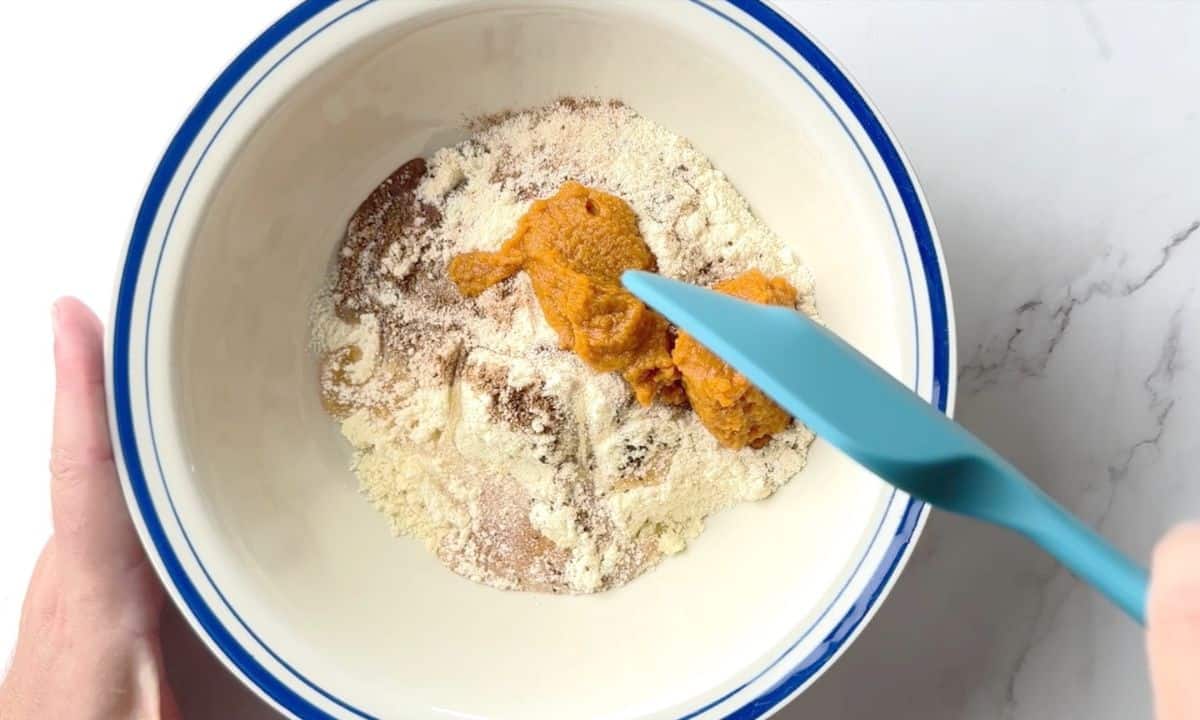 STEP 2: Once combined use a cookie scoop or use your hands to form 16 one inch protein balls.
If the batter is too sticky, add more almond flour if needed.
To facilitate the rolling process, I applied a thin layer of coconut oil to my hands, preventing any sticking as I shaped the balls.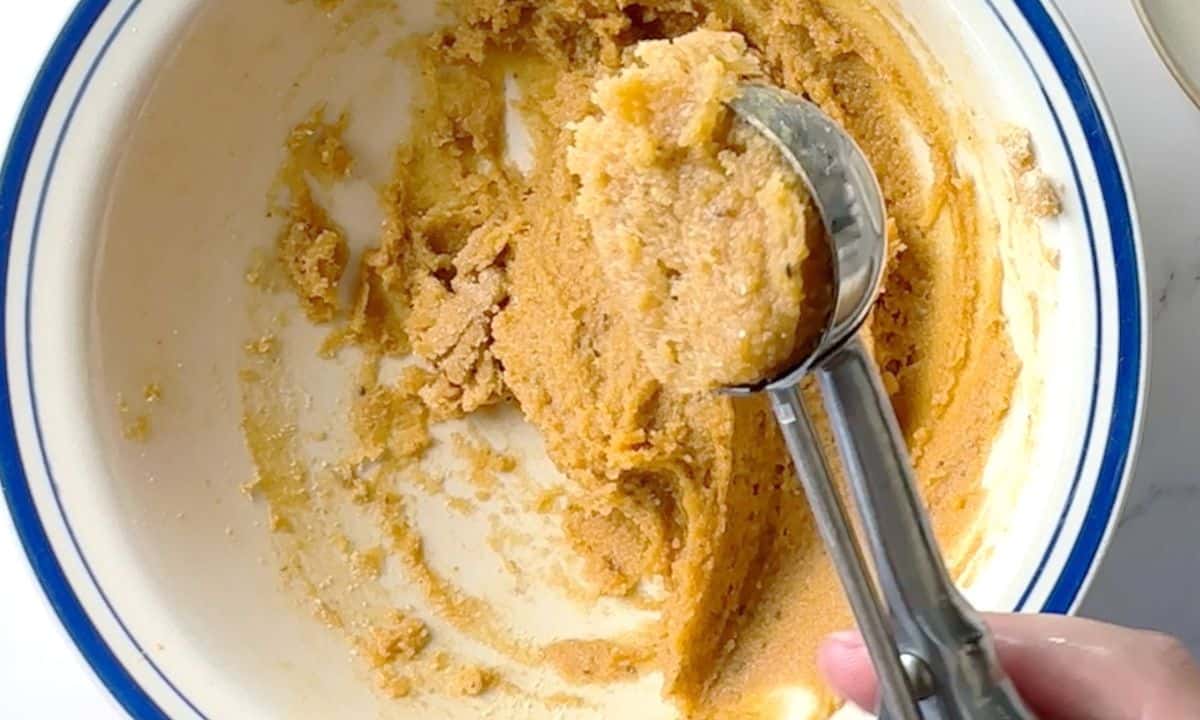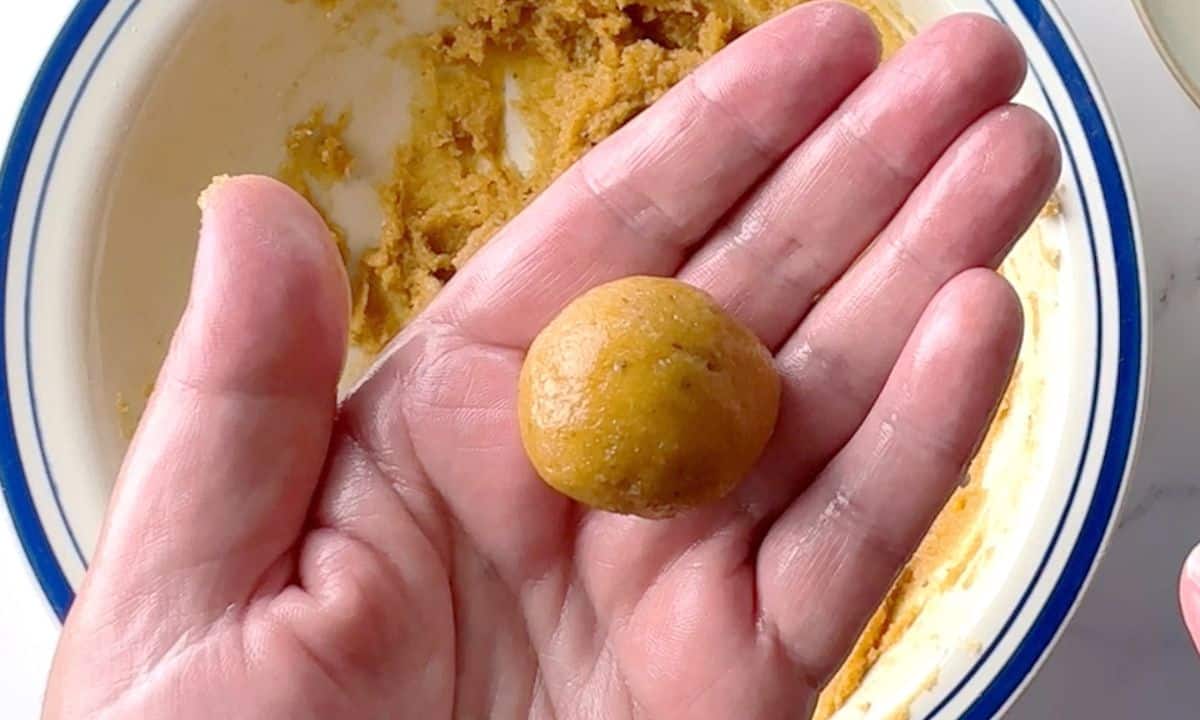 STEP 3: You have the option to savor them immediately or set them on a parchment-lined dish to chill in the refrigerator for about 10 minutes.
Pair your pumpkin protein balls with a refreshing glass of almond milk, a piping hot cup of herbal tea, or even a dollop of Greek yogurt for a balanced and satisfying snack.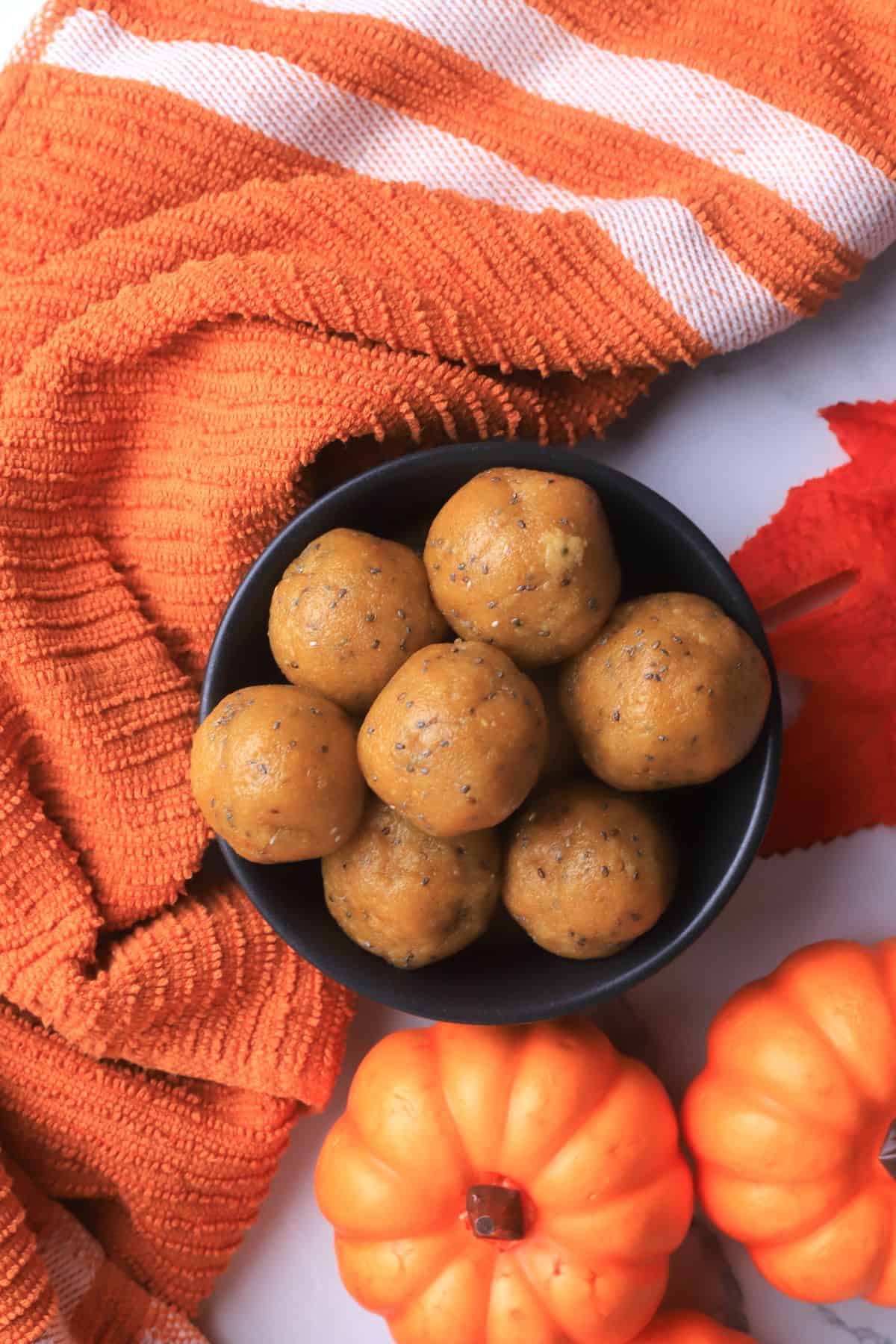 Other pumpkin recipes you might enjoy
Recipe tips
Two tips on making the best pumpkin protein balls ever:
Smooth Rolling with Coconut Oil: Before shaping the mixture into balls, consider rubbing a touch of coconut oil on your hands. This smart trick will prevent sticking, making the rolling process smoother and more enjoyable.
Chill for Enhanced Texture: After forming the pumpkin protein balls, allow them to rest in the refrigerator for a brief period. This step not only enhances the flavors as they meld but also helps the balls to firm up, resulting in a perfect, satisfying texture when you take that first delightful bite.
Pumpkin Puree: For an intensified pumpkin flavor, consider adding one cup pumpkin puree to the mixture. This adjustment will infuse each pumpkin protein ball with an even richer taste of autumn, enhancing the overall experience of your delightful snack. Add more almond flour to balance out the moisture.
Storage
To keep your pumpkin energy balls fresh and delicious, store them in an airtight container in the refrigerator.
This will maintain their texture and flavor for several days, ensuring you have a delightful and nutritious snack ready whenever you need it.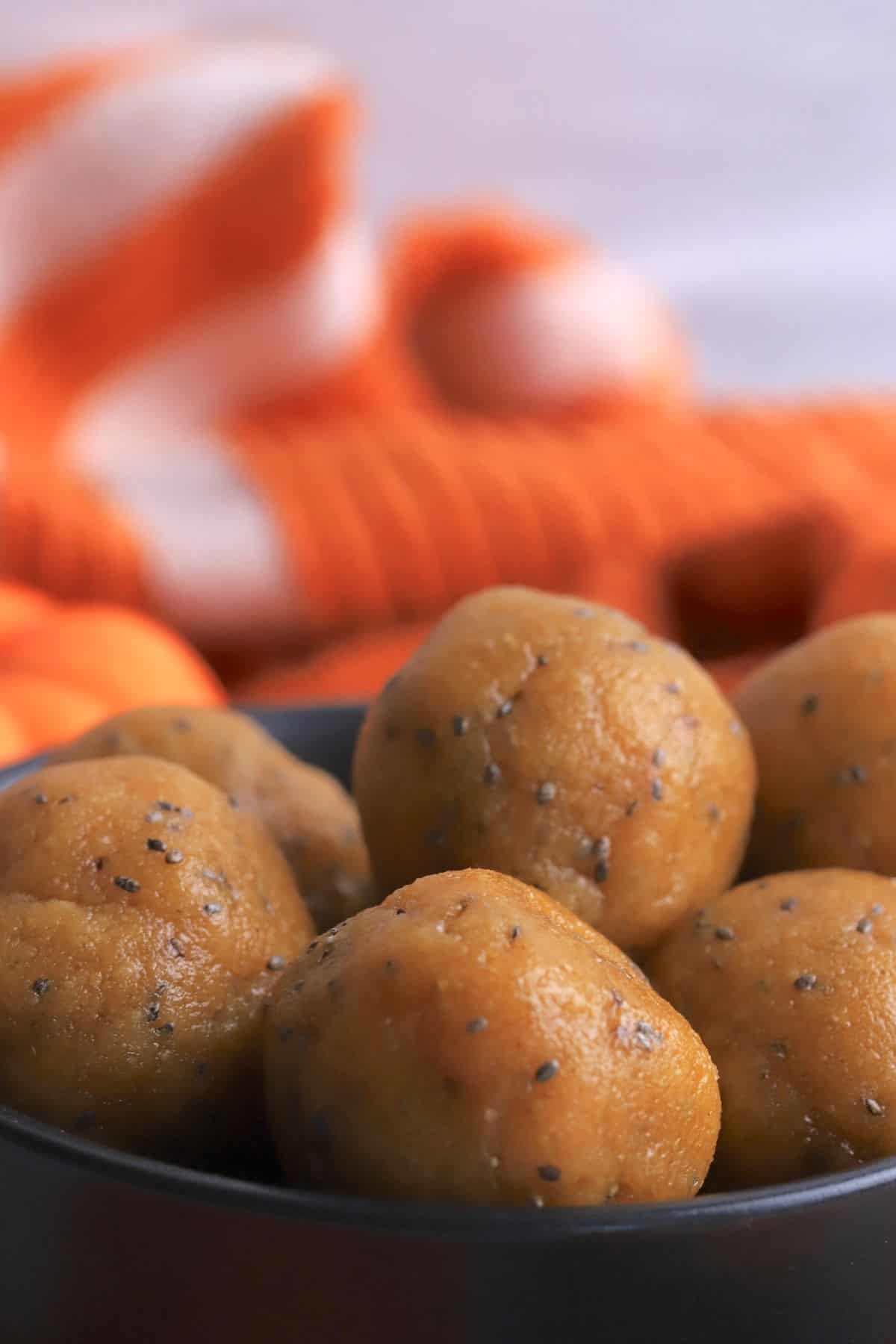 Recipe variations
Here are some recipe variations for these pumpkin protein balls.
Mini Chocolate Chip Twist: Incorporate a handful of dark mini chocolate chips into the mixture for a delightful burst of indulgence with every bite. The rich chocolate complements the pumpkin flavors perfectly.
Almond Butter Delight: Replace pumpkin puree with almond butter to infuse a nutty richness. The almond butter not only adds a distinct flavor but also contributes healthy fats and a creamy texture.
Peanut Butter Powerhouse: Opt for creamy peanut butter in place of pumpkin puree to impart a classic nutty taste. The addition of a cup rolled oats adds extra texture and a slight chewiness, making these energy balls even more satisfying. These will be higher in carbs.
Coconut-Crusted Variation: Roll the pumpkin protein balls in unsweetened shredded coconut before chilling. This adds a delightful tropical flair and a pleasing crunch to each bite.
Cinnamon Crunch Option: Mix in crushed nuts, such as walnuts or pecans, along with a dash of ground cinnamon for a warming and crunchy twist. This variation adds a layer of texture and cozy flavors to your energy balls.
Experiment with these low-carb variations to discover your favorite way to enjoy your Pumpkin Protein Balls while keeping your carb intake in check!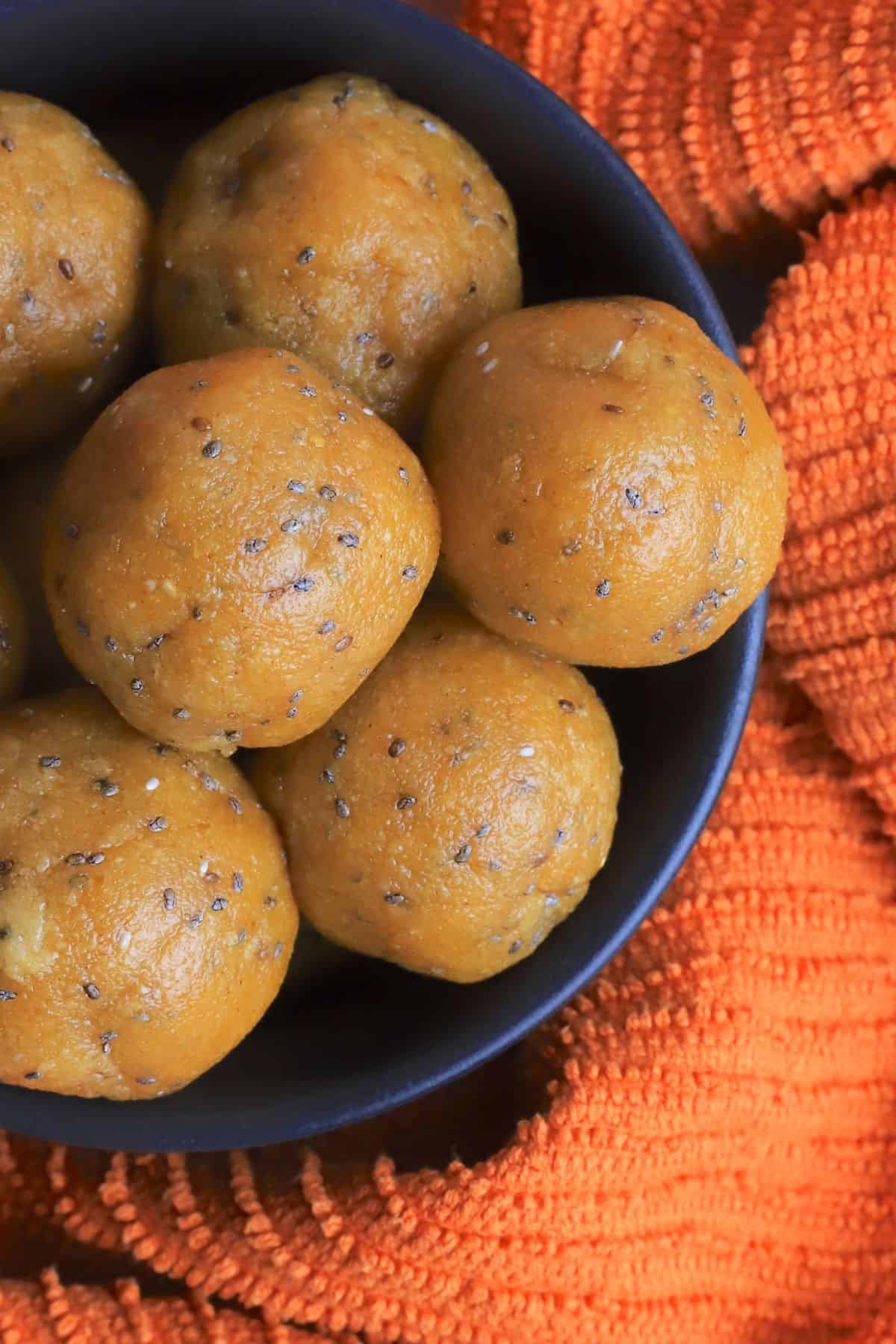 Frequently asked questions
Can I use a different type of protein powder?
Absolutely! While the recipe recommends vanilla protein powder, you can experiment with your preferred protein flavors such as chocolate or unflavored. Keep in mind that different protein powders might alter the taste slightly, so adjust the seasonings accordingly.
Can I freeze the pumpkin energy balls?
Definitely! Freezing these energy balls is a fantastic way to extend their shelf life. Simply place them in an airtight container or freezer bag and store them for up to a few months. Thaw in the refrigerator before enjoying.
Are these suitable for a gluten-free diet?
Yes, these pumpkin protein balls are gluten-free since they're made without any gluten-containing ingredients. Always ensure that the products you're using, like protein powder and other additives, are also certified gluten-free to maintain the integrity of the recipe.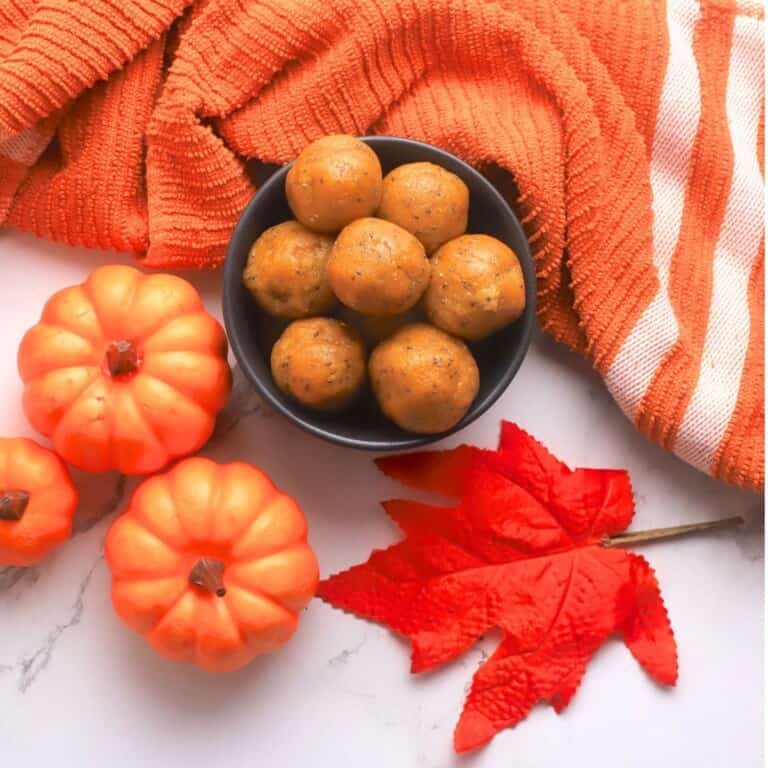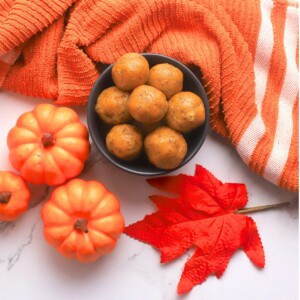 Pumpkin Protein Balls
Pumpkin Protein Balls are crafted with pumpkin spice, sugar free maple and pumpkin puree, a protein-packed guilt free treat.
Nutrition
Serving:
1
ball
Calories:
97
kcal
Carbohydrates:
3
g
Protein:
6
g
Fat:
7
g
Fiber:
2
g
Sugar:
1
g
Instructions
In a large bowl combine all ingredients using a rubber spatula.

2 cups almond flour,

2 scoops low carb vanilla whey protein powder,

2 teaspoon pumpkin pie spice,

½ teaspoon chia seeds,

½ teaspoon vanilla extract,

¼ cup lakanto maple flavored syrup,

3 tablespoon pumpkin puree

Use a cookie scoop or your hands to roll 16 pumpkin protein balls.

For best results, place on a parchment lined dish and store in the fridge for 10 minutes before consuming.
Notes
Recipe Notes:
Smooth Rolling with Coconut Oil: Before shaping the mixture into balls, consider rubbing a touch of coconut oil on your hands. This smart trick will prevent sticking, making the rolling process smoother and more enjoyable.

Chill for Enhanced Texture: After forming the pumpkin protein balls, allow them to rest in the refrigerator for a brief period. 
This recipe card provides the basic details to make this recipe. For more information, questions or variations please review the content above the recipe card.
Updates and Revisions
If conflicting information between the video and recipe card, the recipe card will always have the most up to date information, ingredients and instructions.
Nutritional Information
All nutritional information is based on third-party calculations and should be considered estimates. Actual nutritional content will vary with brands used, measuring methods, portion sizes and more.
LOVE THIS RECIPE?
Check out I Hacked Diabetes on Pinterest