Indulge in the cozy flavors of fall with this delectable Keto Pumpkin Mousse. This velvety and airy dessert combines the richness of heavy whipping cream with the warmth of pumpkin and aromatic spices.
With just a touch of sweetness and being completely sugar-free, this dessert is the perfect guilt-free treat for pumpkin lovers on a low carb or diabetic-friendly diet. Let's dive into the recipe.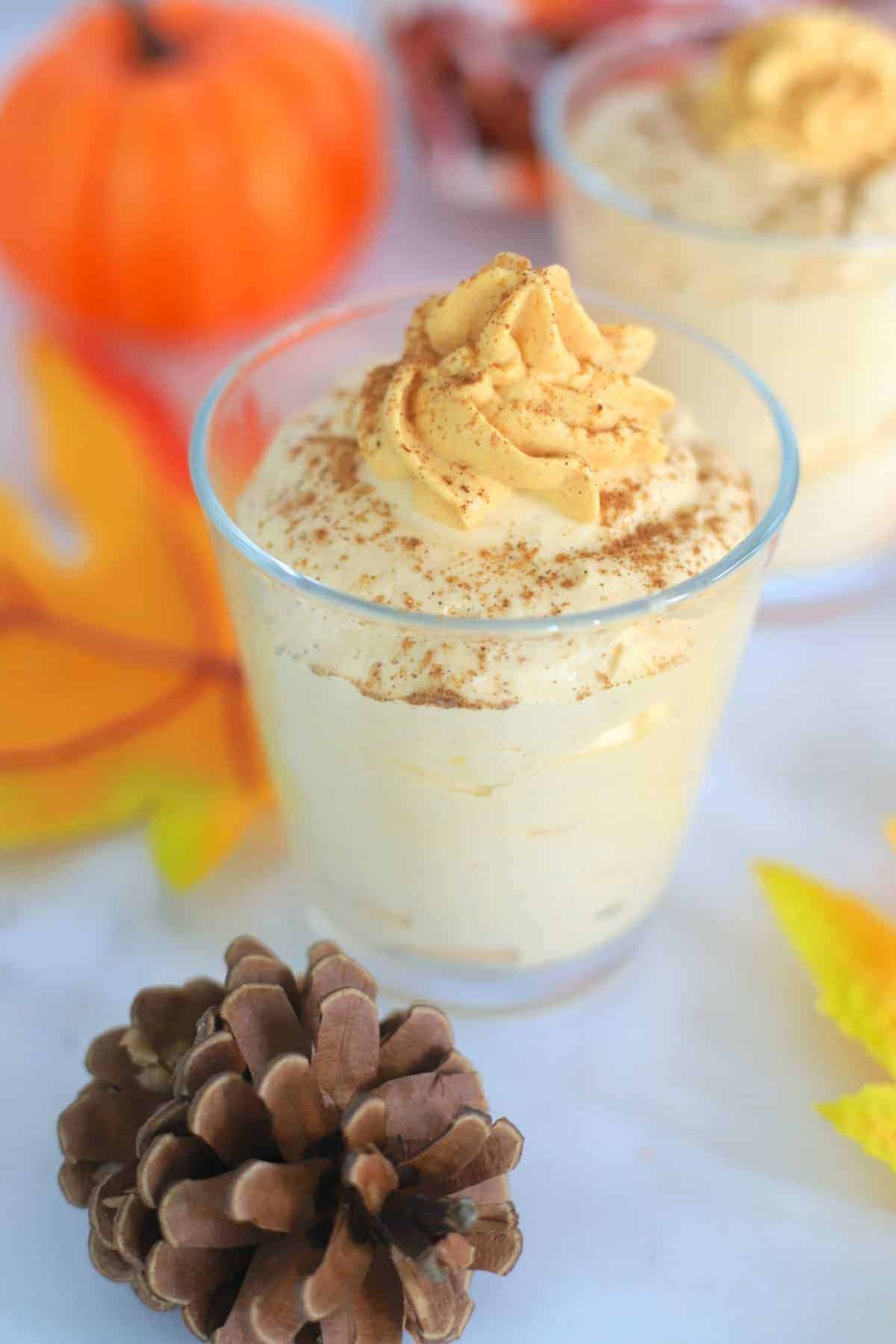 Jump To:
Pumpkin spice is usually a favorite from late August to after Thanksgiving but I could enjoy this keto pumpkin mousse recipe all year long.
While I was making my Pumpkin Chocolate Chip Cookies it dawned on me to also make a creamy quick dessert so I can get my pumpkin spice addiction under control. So I whipped up this easy keto pumpkin cheesecake mousse recipe and I was in love.
You might also enjoy this creamy Keto Tiramisu Mousse recipe.
Why you'll love this low carb pumpkin mousse recipe?
Decadently Creamy and Low Carb: Indulge in the velvety richness of this low carb keto pumpkin mousse without worrying about excess carbs. This recipe has been thoughtfully crafted to align with your low carb, gluten free and keto lifestyle, making it a guilt-free delight.
Irresistibly Pumpkin-licious: Embrace the essence of autumn with every spoonful. The combination of pumpkin puree and pumpkin pie spice brings out the authentic flavors of the season, making this mousse an ideal treat for pumpkin enthusiasts.
Savor the Sweetness, Sugar-Free: Relish in the sweetness of this dessert without a trace of added sugar. By using a low carb sweetener, this mousse achieves the perfect level of sweetness without compromising your dietary goals.
Perfectly Whipped Perfection: Delight in the luxurious texture is achieved by whipping heavy cream into stiff peaks. The mousse is unbelievably light and airy, offering a delightful contrast to the creamy pumpkin base.
Effortless Elegance, Anytime: Whether you're hosting a special occasion in October or simply craving a delicious treat, this pumpkin mousse is a versatile option that suits various settings. Serve it in individual glasses or as a charming addition to your dessert spread.
Incorporating the rich notes of pumpkin spice, the creaminess of whipped cream, and the beauty of low carb keto-friendly ingredients, this recipe delivers a truly delectable dessert experience. Enjoy the essence of fall in each serving, minus the guilt and excess carbs.
🥘 Ingredients Used
There is nothing better than a quick low carb pumpkin mousse recipe. Just a few ingredients is all it takes to make this delicious pumpkin mousse.
Pumpkin Puree: Canned pumpkin puree infuses the mousse with the authentic flavor of pumpkin. Its natural sweetness and smooth consistency create a luscious base for the dessert.
Pumpkin Pie Spice: This spice blend, consisting of cinnamon, nutmeg, and cloves, provides the quintessential warm and aromatic notes of fall. It enhances the overall pumpkin flavor profile.
Heavy Whipping Cream: The heavy whipping cream is whipped into stiff peaks, contributing to the mousse's creamy and airy texture. It adds richness and indulgence to the dessert.
Low Carb Sweetener: Used to sweeten the mousse without adding sugar or a significant amount of carbs. It ensures the dessert is suitable for low carb and diabetic diets, offering a satisfying level of sweetness.
Vanilla Extract: Vanilla extract contributes a subtle yet essential depth of flavor to the mousse. It complements the pumpkin and spices while adding a touch of warmth.
Pinch of Salt: A small amount of salt heightens the flavors of the mousse, balancing the sweetness and enhancing the overall taste experience.
Each ingredient serves a specific purpose in creating a well-balanced, flavorful, and diabetic-friendly pumpkin mousse. The combination of these elements results in a delightful dessert that captures the essence of fall while adhering to low carb and sugar-free dietary requirements.
👨🏻‍🍳 Steps to make this recipe
How to make creamy low carb pumpkin mousse?
Chill Your Equipment: Before you begin, make sure to chill a mixing bowl and beaters or a whisk attachment in the freezer for about 15 minutes. This will help the cream whip up faster and better.
Whip the Cream: Take the chilled bowl and beaters/whisk attachment from the freezer. Pour the heavy whipping cream into the bowl. Begin whipping the cream on medium-high speed until stiff peaks form. This should take around 2-3 minutes.
Incorporate Pumpkin Flavor: Gently fold in the pumpkin puree using a spatula. Make sure to do this gently to maintain the light and airy texture of the whipped cream.
Add Aromatic Spices: Sprinkle in the pumpkin pie spice. This blend of cinnamon, nutmeg, and cloves will infuse the mousse with warm autumn flavors. Fold it into the mixture until well incorporated.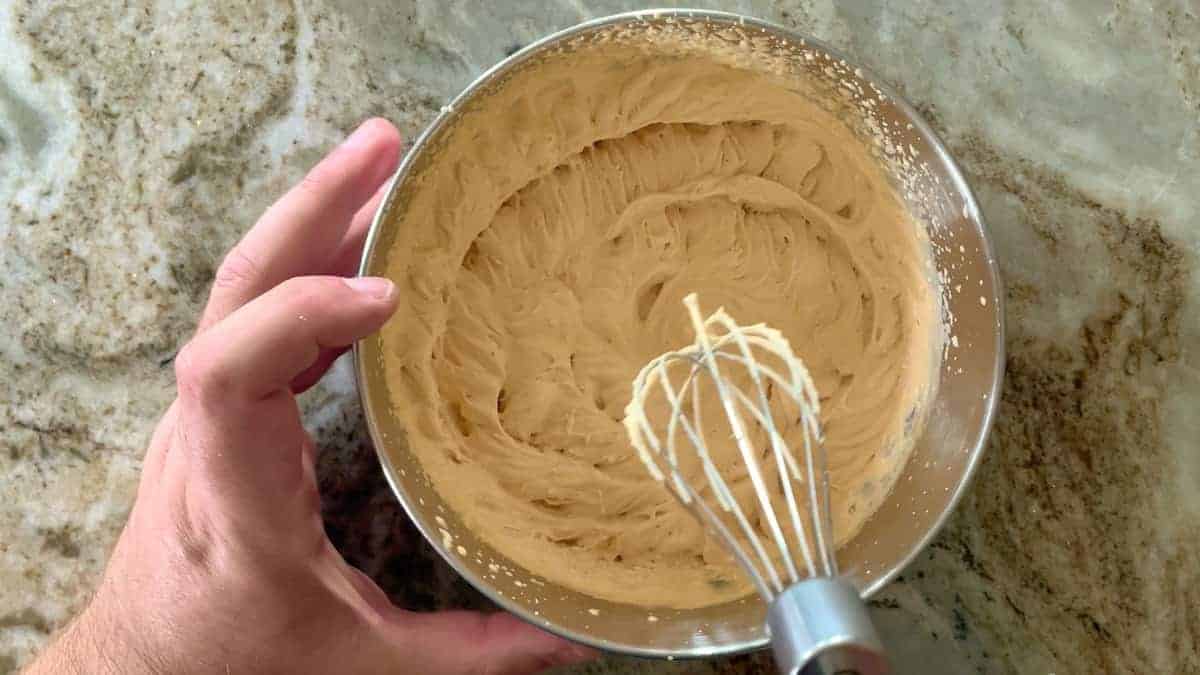 Sweeten and Flavor: Add the low carb sweetener and vanilla extract to the mixture. Adjust the amount of sweetener according to your taste preferences. Continue folding until the mousse is smooth and all the ingredients are evenly distributed.
Enhance with Salt: Just a pinch of salt will heighten the flavors and balance the sweetness. Incorporate the salt by gently folding it into the mousse.
Chill and Serve: Spoon the pumpkin mousse into individual serving glasses or bowls. For the best results, cover them and let the mousse chill in the refrigerator for at least 1-2 hours, allowing the flavors to meld and the mousse to set.
Garnish and Enjoy: Prior to serving, you can garnish your low carb pumpkin mousse with a sprinkle of pumpkin pie spice, a dollop of whipped cream, or a few crushed nuts for added texture and visual appeal. Dive into this delightful dessert and savor each creamy spoonful!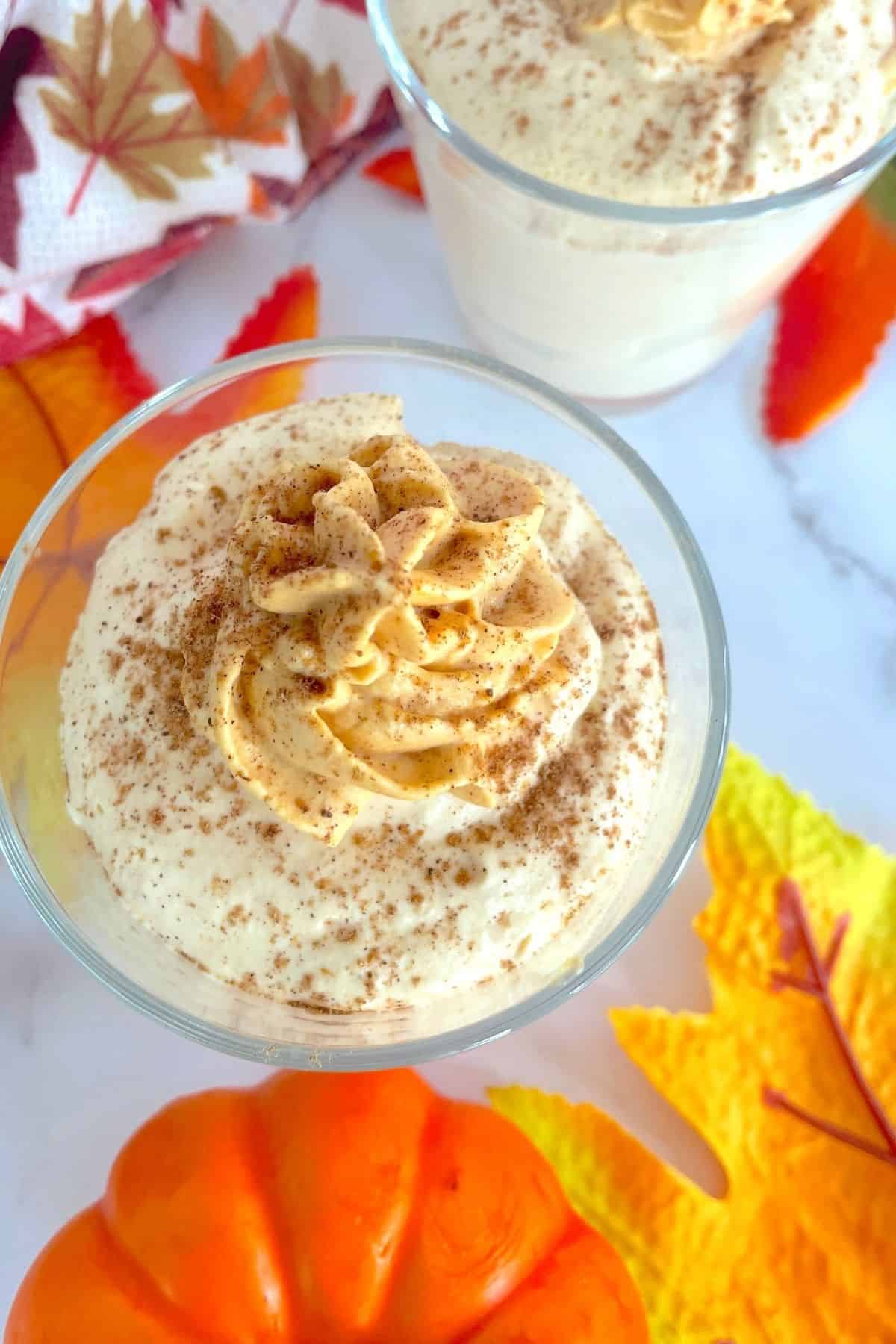 Other keto pumpkin recipes you might enjoy
👨🏻‍🍳 Substitutions and Variations
You can play around with the flavors and textures with this mousse. If you are not a fan of pumpkin, try it with some mashed acorn or butternut squash instead.
Keto Pumpkin Spice Cheesecake Mousse Recipe: Elevate your pumpkin mousse with a creamy twist by adding full fat cream cheese to the mix. Blend pumpkin puree, heavy cream, cream cheese, and pumpkin pie spice for a rich, indulgent keto-friendly treat. Sweetened with a low carb sweetener, this dessert offers a balance of flavors and a velvety texture.
Sugar-Free Pumpkin Mousse Parfait: Layer your pumpkin mousse with sugar-free whipped cream and crushed nuts to create a delectable parfait. Alternate between pumpkin mousse and whipped cream, adding a touch of crunchy texture with each spoonful. Ideal for satisfying your pumpkin cravings while staying true to your low carb and diabetic needs.
Gluten-Free Pumpkin Pie Spice Panna Cotta: For a sophisticated twist, transform your pumpkin mousse into a smooth panna cotta. Infuse heavy cream with pumpkin pie spice, then set it with gelatin for a creamy, delicate dessert. The infusion of spices adds warmth to the panna cotta, and the pumpkin flavor shines through without the need for a crust.
Low Carb Pumpkin Cheesecake Bites: Create bite-sized delights by molding your pumpkin mousse mixture into small cheesecake bites. Roll them in crushed nuts or coconut flakes for added texture and flavor. These mini treats are perfect for portion control and are a delightful addition to your keto-friendly dessert spread.
Keto Pumpkin Spice Latte Mousse Cups: Combine the beloved flavors of a pumpkin spice latte with your mousse. Whip up a coffee-infused mousse by incorporating strong brewed coffee, pumpkin puree, heavy cream, and pumpkin pie spice. Layer this coffee-infused mousse with regular pumpkin mousse in cups for a delightful layered dessert with a caffeine kick.
Vegan and Dairy Free - Make it a vegan pumpkin mousse and use a can of coconut cream instead of the heavy whipping cream. This will also make it dairy-free.
This recipe is also gluten-free.
Another fall favorite recipe of mine is my Keto Butter Tarts or these Chewy Ginger Molasses Keto Cookies.
These creative variations take your pumpkin mousse to new heights, offering diverse textures, flavors, and presentations while still adhering to low carb, sugar-free, and diabetic-friendly requirements. Enjoy the fall season with a range of pumpkin delights tailored to your tastes!
♨️ Recipe Tips
Whip Cream to Perfection: Achieving the perfect whipped cream is crucial for the texture of your mousse. Start by chilling both the mixing bowl and beaters/whisk attachment in the freezer. This step helps the cream whip faster and hold its shape better.
When whipping the heavy cream, be patient and watch for stiff peaks. Overwhipping can lead to butter-like texture, so stop once the peaks are firm and hold their shape when the beaters are lifted. The right consistency ensures your mousse will be delightfully airy and creamy.
Balancing Spices and Sweetness: Pumpkin pie spice and sweetener play pivotal roles in flavoring your mousse. While the spice blend adds warmth and depth, the low carb sweetener contributes sweetness. Start by adding a smaller amount of spice and sweetener, then taste and adjust as needed.
The goal is to enhance the natural pumpkin flavor without overpowering it and to achieve the desired level of sweetness without going overboard. Finding the right balance between these elements will result in a harmonious and satisfying flavor profile for your pumpkin mousse.
Storage
To store your low carb pumpkin mousse, follow these simple steps:
Refrigeration: Once you've prepared the pumpkin mousse, cover the individual serving glasses or bowls with plastic wrap or airtight lids. Place them in the refrigerator to keep the mousse chilled.
Optimal Storage Time: The mousse can be stored in the refrigerator for up to 2-3 days. Beyond this time, the texture may start to deteriorate, and the flavors may weaken.
Avoid Freezing: Due to the dairy content, freezing the pumpkin mousse is not recommended. Freezing and thawing can cause the texture to become grainy and separate.
Garnish Before Serving: If you've chosen to garnish the mousse with whipped cream, nuts, or spices, it's best to add these just before serving. This helps maintain the visual appeal of your dessert.
Serve Chilled: When you're ready to enjoy the mousse, take it out of the refrigerator and let it sit at room temperature for a few minutes to slightly soften. The flavors will be more pronounced if the mousse isn't too cold.
By following these storage guidelines, you'll ensure that your low carb pumpkin mousse retains its creamy texture and delicious flavors, allowing you to savor its delightful taste even after a day or two.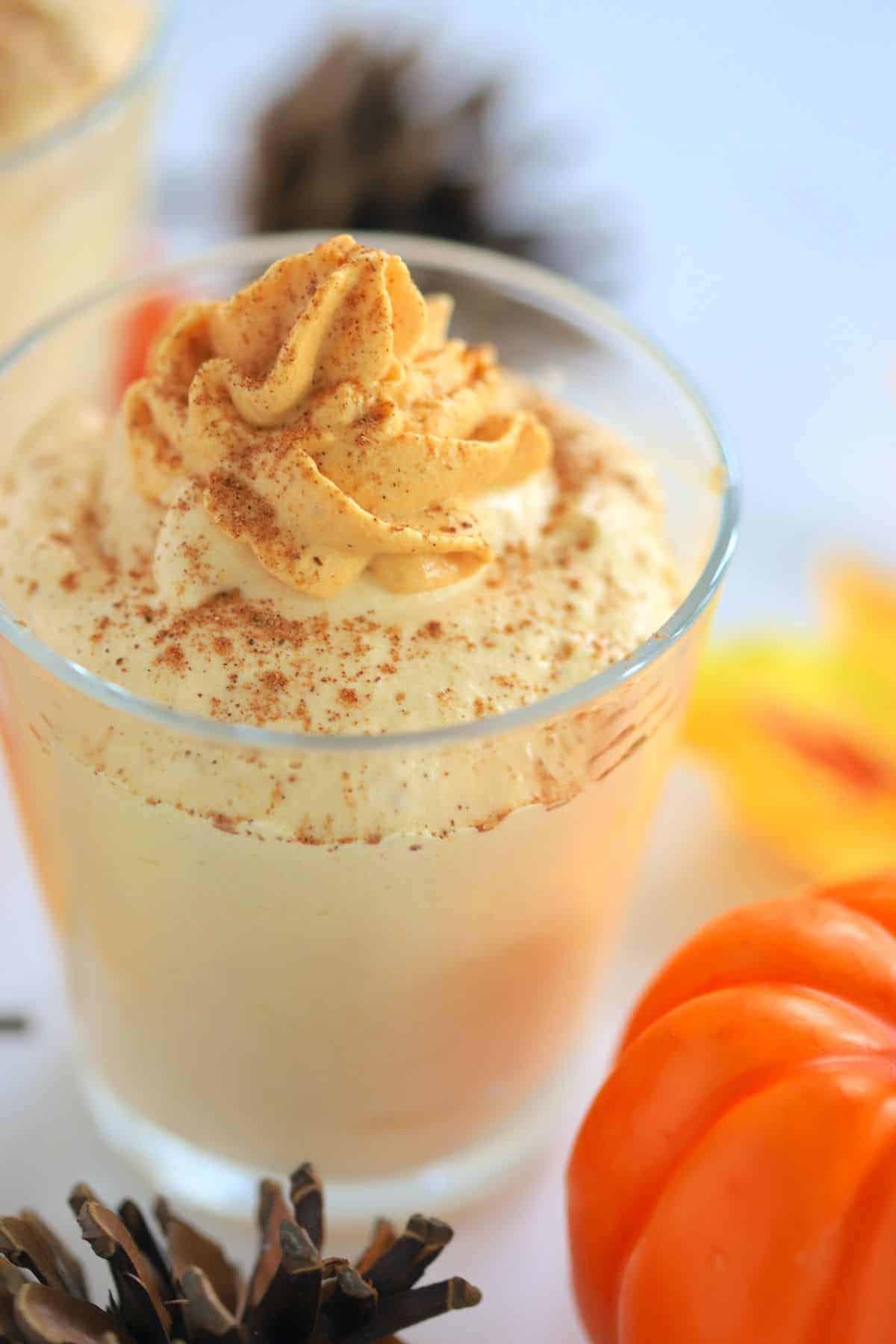 🥣 Equipment used to make
I used a hand blender to quickly whisk the mousse together. It comes in handy for quick jobs but I also use it to puree soups as it comes with different attachments. A hand blender or stand mixer can also be used just the same.
I also like to whip using stainless steel bowls as it keeps the heavy cream colder and the mousse turns out with the desired consistency.
💭 Frequently asked questions
Why is it called mousse?
In old french mousse means froth which is where the name came from for these frothy desserts. Traditionally mousse is made with cream and eggs that have been whipped until they are light and airy.
Is pumpkin mousse keto?
This sugar free dessert can be considered a keto dessert as there is only 3g of total carbs per serving and 2g of net carbs with 1g of fiber. Therefore, this dessert is keto, low carb and diabetic friendly.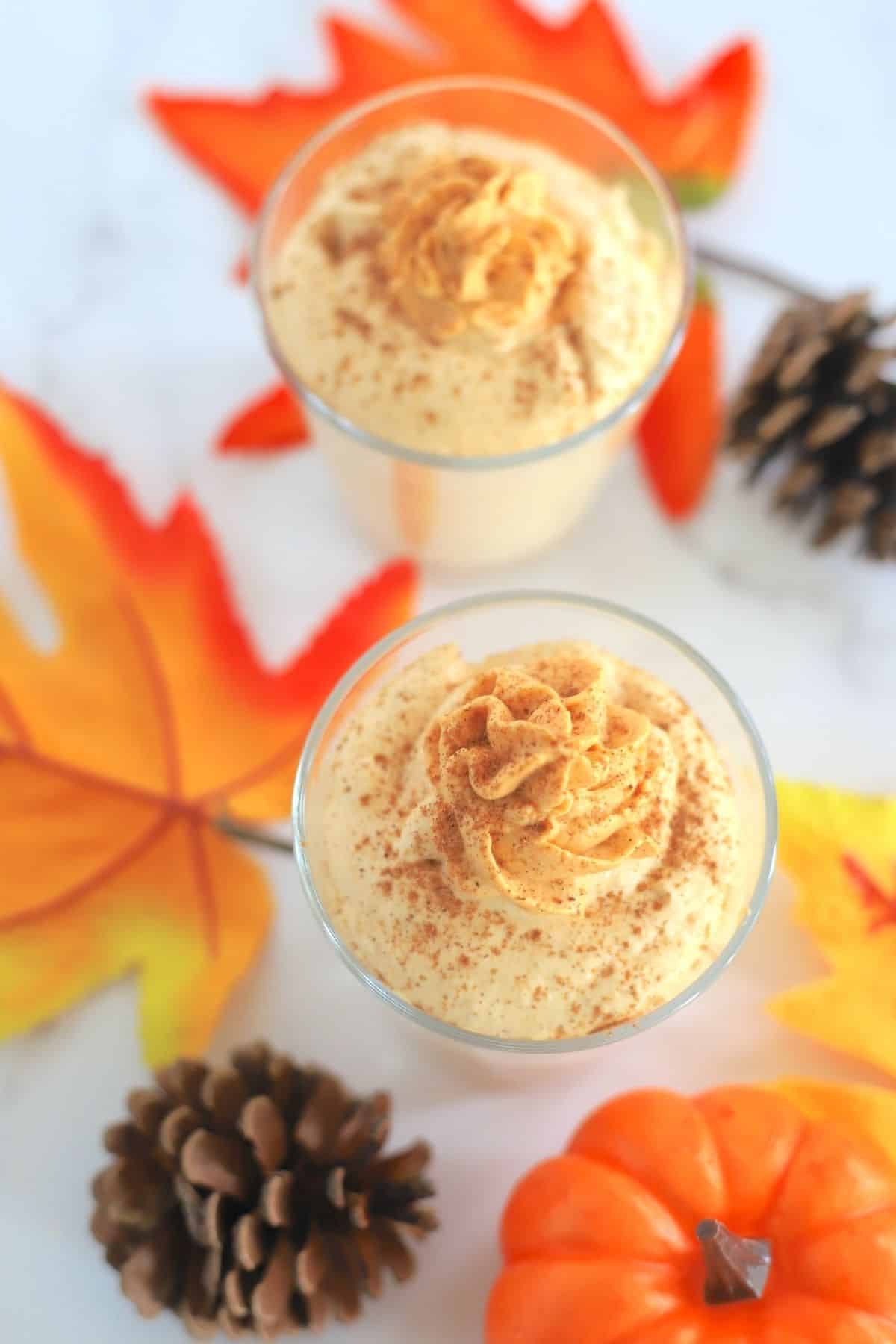 🍽 Other dessert recipes you may like
If you enjoyed this recipe I would love if you would share on social or pin on pinterest. Rating and commenting is always appreciated.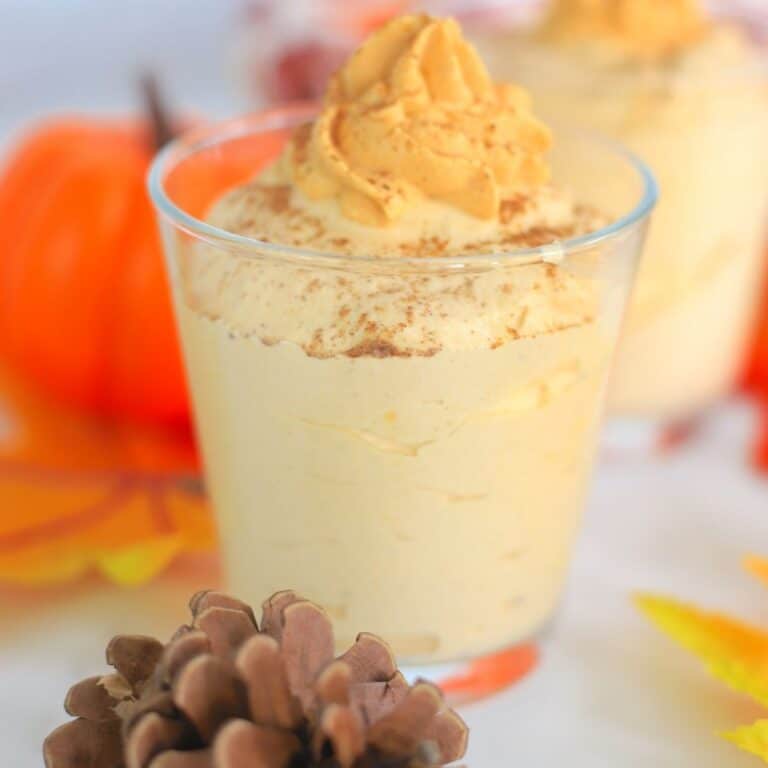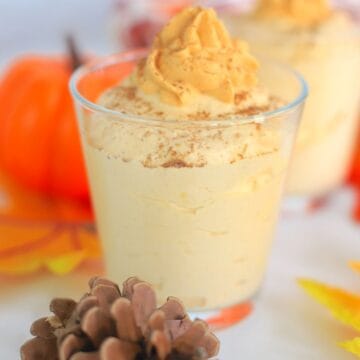 Easy Low Carb Pumpkin Mousse
Creamy and delicious Easy Low Carb Pumpkin Mousse made in minutes with whipped cream, pumpkin puree and pumpkin pie spice and is low carb and sugar free.
Nutrition
Serving:
1
cup
Calories:
376
kcal
Carbohydrates:
3
g
Protein:
0
g
Fat:
36
g
Fiber:
1
g
Sugar:
1
g
Instructions
Add all ingredients to a medium sized stainless steel bowl and mix with and electric whisk, hand mixer or stand mixer.

Scoop out mousse into your favourite serving glasses such as tumblers, martini glasses or champagne flutes.
Notes
Each serving is 2g net carbs.
All nutritional information is based on third-party calculations and should be considered estimates. Actual nutritional content will vary with brands used, measuring methods, portion sizes and more.
Top Tip: Use cold heavy whipping cream to help whip faster and will keep the stiffness longer.
This recipe card provides the basic details to make this recipe. For more information, questions or variations please review the content above the recipe card.
Updates and Revisions
If conflicting information between the video and recipe card, the recipe card will always have the most up to date information, ingredients and instructions.
Nutritional Information
All nutritional information is based on third-party calculations and should be considered estimates. Actual nutritional content will vary with brands used, measuring methods, portion sizes and more.
LOVE THIS RECIPE?
Check out I Hacked Diabetes on Pinterest
🌡️ Food safety
Cook to a minimum temperature of 165 °F (74 °C)
Do not use the same utensils on cooked food, that previously touched raw meat
Wash hands after touching raw meat
Don't leave food sitting out at room temperature for extended periods
Never leave cooking food unattended
Use oils with high smoking point to avoid harmful compounds
Always have good ventilation when using a gas stove
See more food guidelines