Savor the goodness of our Healthy Pumpkin Brownies, crafted with almond flour, sweetener, and a delightful fusion of pumpkin and chocolate.
Experience a balanced blend of wholesome ingredients and irresistible flavors in each delicious square.
Jump To:
Looking to elevate your autumn dessert game? I've got you covered! I'm sharing a trio of pumpkin-inspired treats that are both delicious and health-conscious. Start with the irresistible Low Carb Pumpkin Spice Cookies, perfect for satisfying your sweet tooth without the guilt.
If you're in the mood for a breakfast treat or snack, don't miss the Sugar-Free Pumpkin Muffins - they're a delightful way to enjoy pumpkin flavor without added sugars.
And for those seeking a post-workout energy boost, my Pumpkin Protein Balls are a protein-packed, autumn-flavored option that's both tasty and nutritious.
Why you'll love this healthy pumpkin brownie recipe
Pumpkin is typically savored during the autumn months of September, October, and November, but I find myself delighting in these sugar free pumpkin brownies throughout the entire year.
Irresistible Flavor Fusion: These brownies combine the rich, chocolatey goodness of brownies with the warm, comforting taste of pumpkin spice. The result is a flavor explosion that's hard to resist.
Guilt-Free Indulgence: With almond flour, sugar substitute, and pumpkin puree, these brownies are a guilt-free way to enjoy a delectable dessert. You won't have to compromise on taste while keeping an eye on your health with these gluten free brownies.
Keto-Friendly Goodness: If you're following a ketogenic diet, these brownies fit right in, making them the perfect dessert to pair with this Creamy Keto Pumpkin Mousse. They complement each other beautifully, offering a satisfying end to any meal.
Versatile Treats: Besides pairing well with your mousse, these brownies also make a fantastic base for our Low Carb Pumpkin Spice Cheesecake recipe. They're versatile, lending their delightful pumpkin essence to various dessert creations.
Simple to Make: With straightforward instructions and easy-to-find ingredients, these brownies are a breeze to whip up. Whether you're a seasoned baker or a beginner, you'll appreciate the simplicity of this recipe and the delightful outcome it delivers.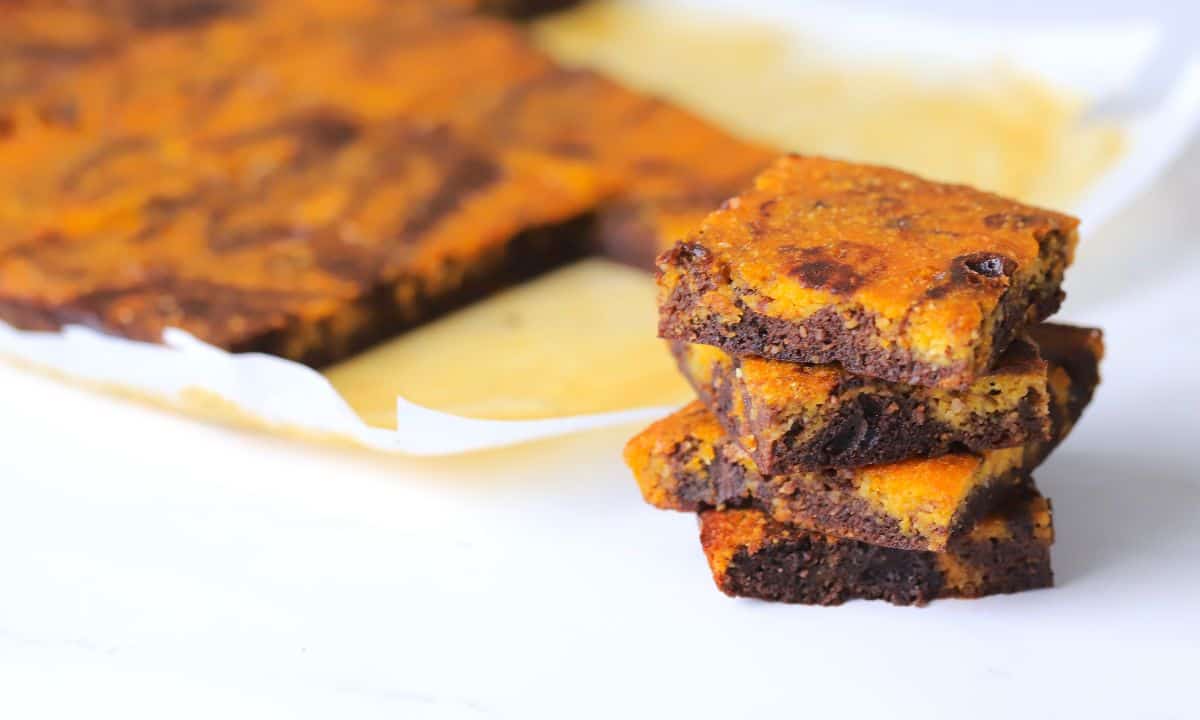 Ingredients Used
In this recipe, the ingredients come together like a symphony, each playing its own special note to create a harmonious, pumpkin-infused masterpiece.
Almond Flour: Almond flour is used as a gluten-free alternative to regular flour, adding a nutty flavor and a moist texture to the brownies.
Baking Powder: Baking powder helps the brownies rise and become light and fluffy.
Salt: Salt enhances the flavor of the brownies, balancing the sweetness and adding depth to the taste.
Powdered Sweetener (Sugar Substitute): Powdered sweetener is used to sweeten the brownies without adding sugar, making them a healthier option.
Eggs: Eggs provide structure and moisture to the brownies, helping them hold together and giving them a fudgy texture.
Unsalted Butter: Melted unsalted butter adds richness and moisture to the brownies while enhancing their flavor.
Vanilla Extract: Vanilla extract contributes a warm and comforting aroma and flavor to the brownies.
Cocoa Powder: Cocoa powder is the key ingredient for chocolate flavor in the brownies.
Sugar-Free Chocolate Chips: Sugar-free chocolate chips are included to add delightful bursts of chocolatey goodness to the brownies without adding extra sugar.
Espresso Powder: Espresso powder enhances the chocolate flavor, giving the brownies a deeper, more complex taste.
Pumpkin Puree: Canned pumkin puree adds moisture, a subtle pumpkin flavor, and contributes to the brownies' healthy aspect.
Pumpkin Spice: Pumpkin spice blend infuses the brownies with the warm, comforting flavors of autumn, complementing the pumpkin puree.
See the recipe card for quantities.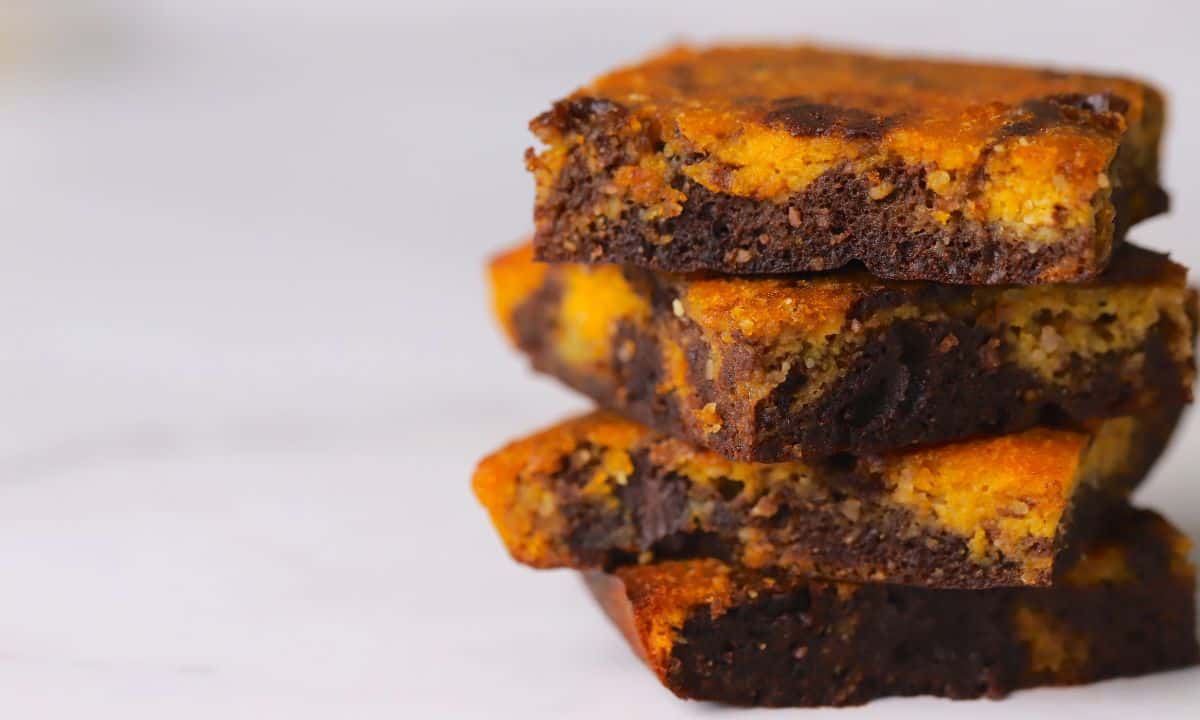 Recipe variations
Pumpkin Swirl Brownies: Incorporate a decadent pumpkin cheesecake swirl into your brownie batter. The creaminess of cream cheese complements the fudgy brownie base, creating a delightful contrast of flavors and textures.
Nutty Pumpkin Brownies: Add a crunchy twist to your brownies by mixing chopped nuts, such as pecans or walnuts, into the batter. The nutty texture and flavor combine beautifully with the pumpkin and chocolate, providing a delightful crunch in every bite.
Pumpkin Spice Caramel Brownies: Elevate your brownies by topping them with a drizzle of this Sugar Free Caramel Sauce for twist on this fall classic.
Steps by step instructions
How to make these low carb pumpkin brownies?
STEP 1: Preheat the Oven - Begin by preheating your oven to 350°F (175°C) and prepare an 8 x 8-inch baking dish by lining it with parchment paper. This will ensure easy removal of the brownies.
STEP 2: Mix Dry Ingredients and Add Wet for the Base - In a single mixing bowl, combine the almond flour, baking powder, salt, and powdered sweetener. Mix these dry components together until well incorporated.
Then, add the large eggs, melted unsalted butter, and vanilla extract. Mix everything together with a rubber spatula until you achieve a uniform base for your brownie batter.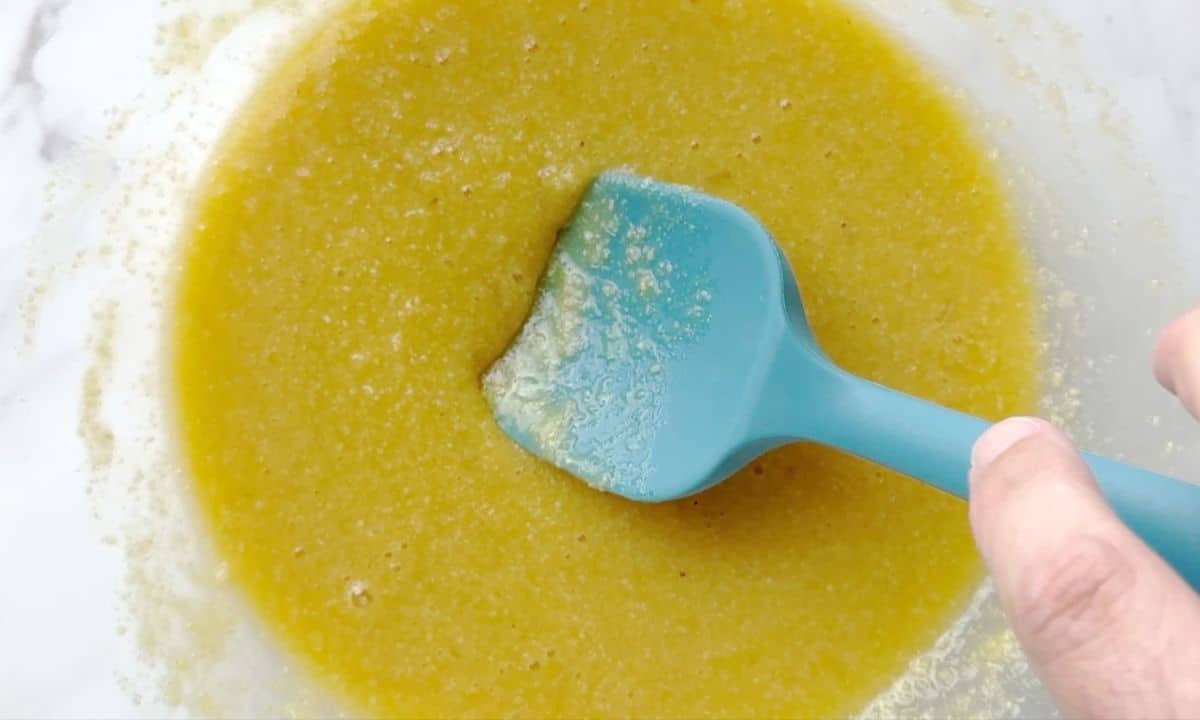 STEP 3: Divide and Flavor - Using two medium-sized bowls, divide the base mixture in half. To one-half, add the pumpkin puree and pumpkin spice, mixing until well combined.
In the other half, add the cocoa powder and espresso powder, again mixing thoroughly. Finally, fold the sugar-free chocolate chips into the cocoa mixture.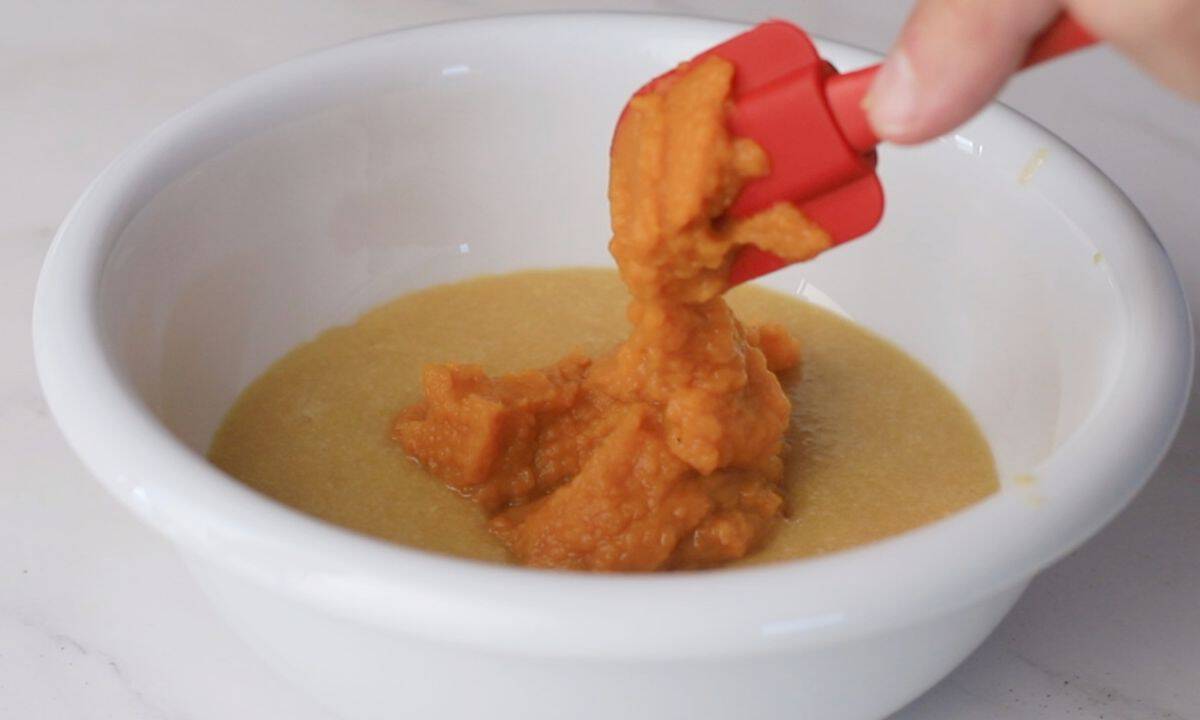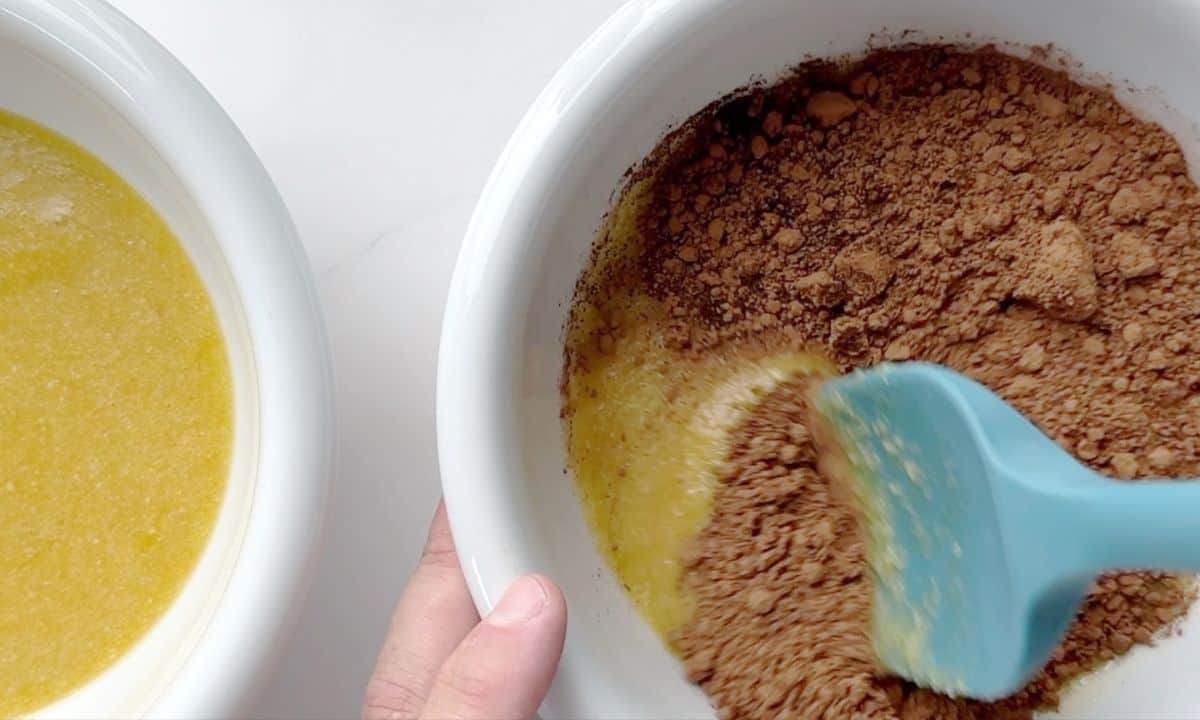 STEP 4: Layer and Swirl - Begin by spreading the chocolate base mixture evenly into the prepared baking dish. Next, carefully spoon the pumpkin base mixture on top of the chocolate base. Use a butter knife to create a swirling pattern by gently running it through the two layers. This will create a beautiful marbled effect.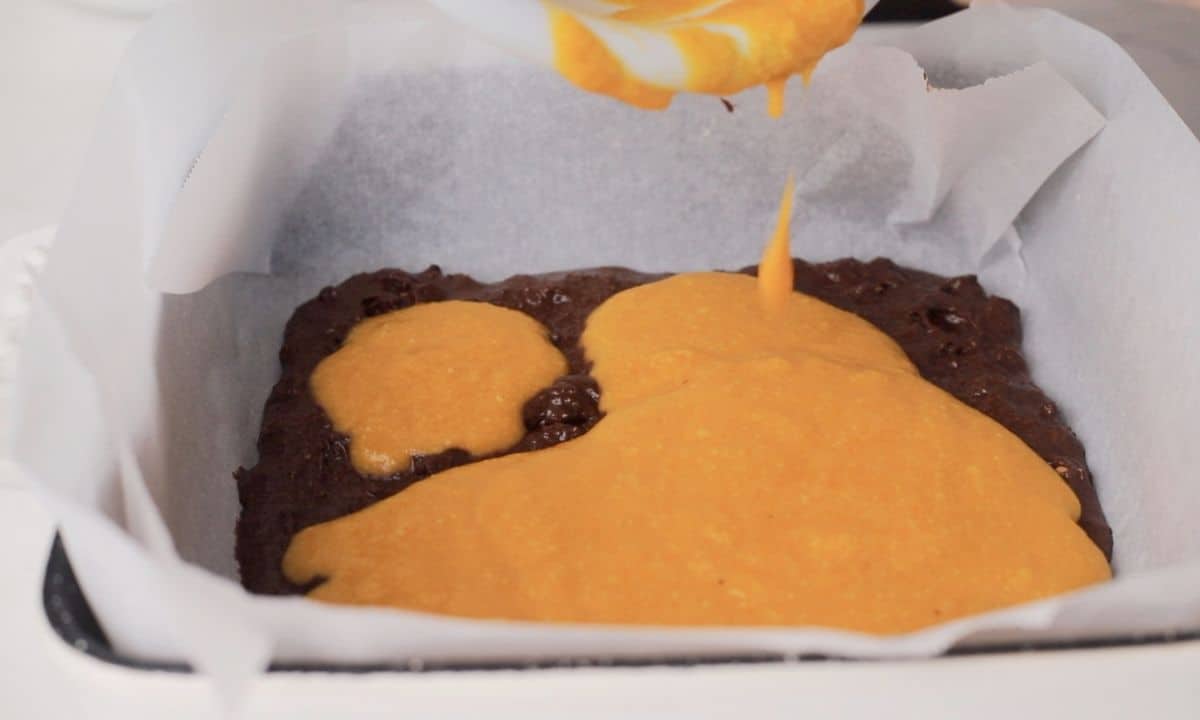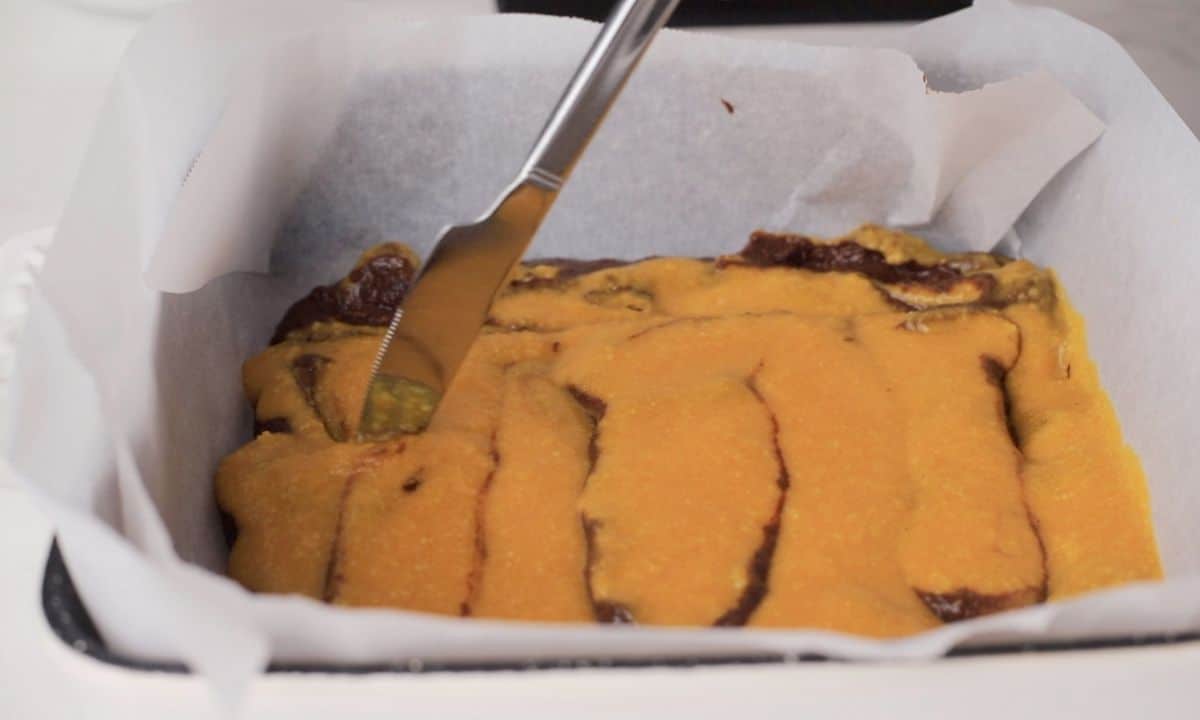 STEP 5: Bake to Perfection - Place the baking dish in the preheated oven and bake at 350°F (175°C) for approximately 45 minutes or until a toothpick inserted into the center comes out clean.
Be sure to keep an eye on the brownies to avoid overbaking. Once done, remove them from the oven and let them cool in the baking dish for a bit before slicing and enjoying your delicious and healthy pumpkin brownies!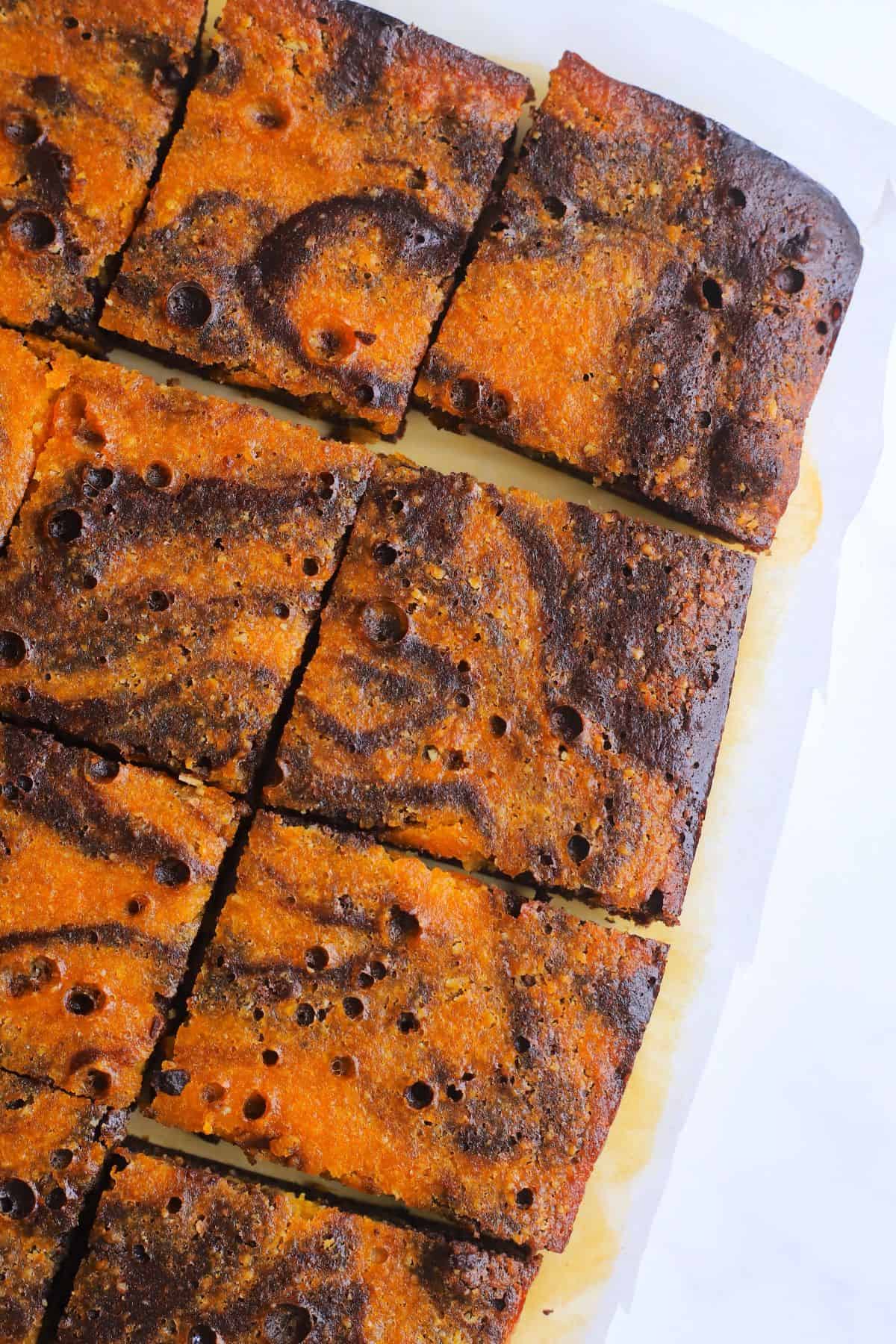 Serving Tips
These healthy pumpkin brownies pair wonderfully with a variety of delightful accompaniments, including:
Sugar-Free Vanilla Ice Cream: Top your warm brownie with a scoop of sugar-free vanilla ice cream for a classic and indulgent combination.
Fresh Berries: A side of fresh, low-carb berries like strawberries, raspberries, or blueberries adds a burst of fruity flavor that complements the rich chocolate and pumpkin notes.
Whipped Cream: A dollop of sugar-free whipped cream provides a light and airy contrast to the dense, fudgy brownies.
Greek Yogurt: Opt for unsweetened Greek yogurt for a creamy, tangy element that balances the sweetness of the brownies.
Nuts: Chopped nuts, such as pecans or almonds, add a satisfying crunch and a hint of nuttiness to your brownie experience.
Maple Syrup: a drizzle of sugar free maple syrup on top of these brownies totally hits the spot.
Feel free to mix and match these options or enjoy your healthy pumpkin brownies on their own, depending on your dietary preferences and cravings.
Recipe tips
Here are two recipe tips for making your these sugar free pumpkin chocolate brownies:
Use High-Quality Cocoa Powder: To achieve the best chocolate flavor in your brownies, opt for high-quality cocoa powder. Premium cocoa powder will provide a richer and more intense chocolate taste, enhancing the overall quality of your brownies.
Let Them Cool Completely: For the perfect texture and flavor, allow your brownies to cool completely in the baking dish before cutting and serving. This resting period allows them to set and develop their fudgy consistency. If you can resist the temptation, the wait will be worth it for a superior brownie experience.
Storage
To store your healthy pumpkin brownies:
Room Temperature: If you plan to consume the brownies within a day or two, you can store them at room temperature in an airtight container or wrapped in plastic wrap. Make sure they are fully cooled before storing.
Refrigeration: For longer storage, it's advisable to keep the brownies in the refrigerator. Place them in an airtight container to prevent them from drying out or absorbing any odors from the fridge. They can typically stay fresh for up to a week when refrigerated.
Freezing: To store brownies for an extended period, consider freezing them. Wrap individual brownie squares tightly in plastic wrap or aluminum foil and place them in an airtight container or a freezer-safe bag. Properly stored, brownies can remain good in the freezer for up to 2-3 months. Thaw them at room temperature or in the refrigerator before enjoying.
Remember to separate layers with parchment paper or wax paper to prevent sticking when stacking brownies in containers or bags.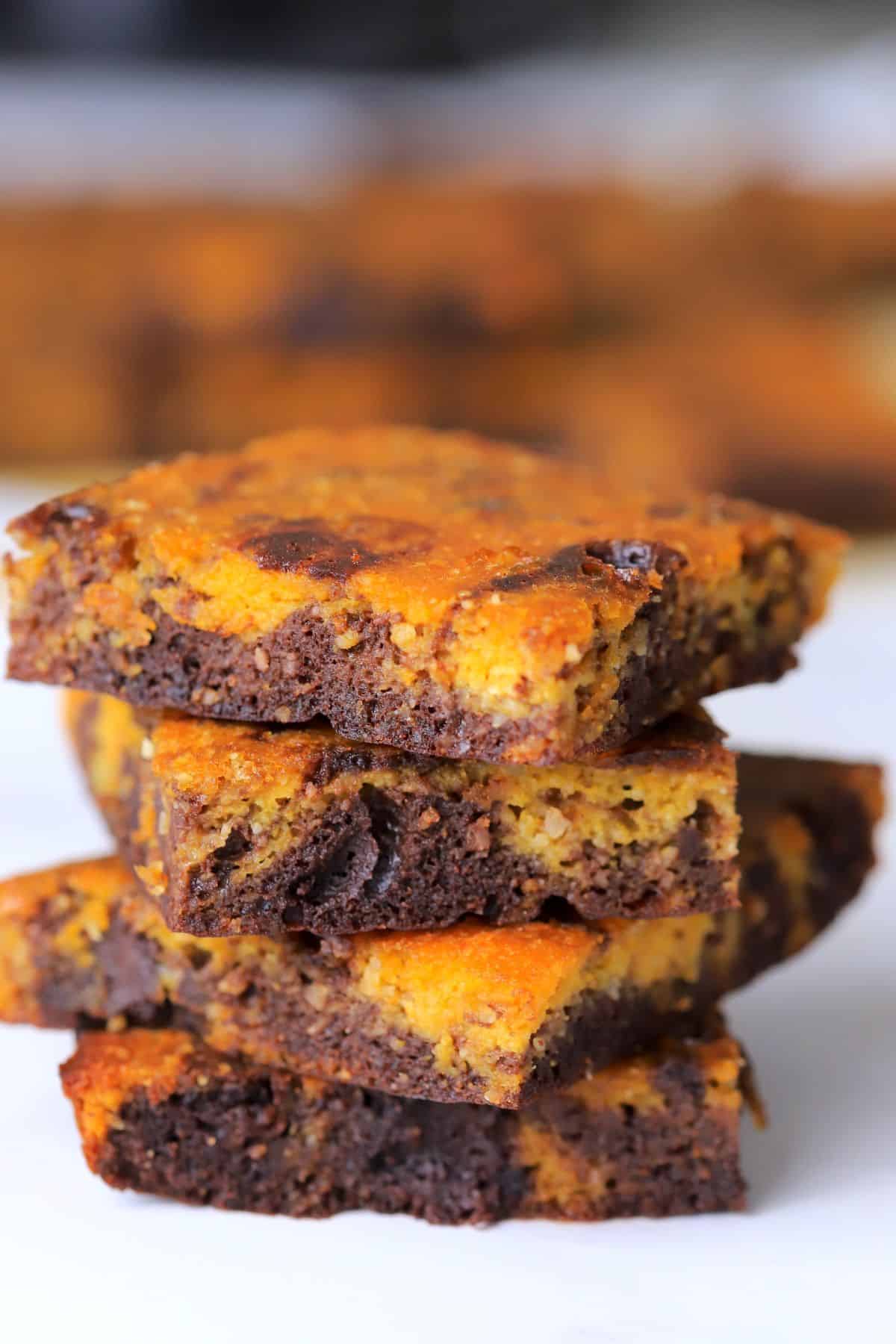 Frequently asked questions
Can I use pumpkin pie filling instead of pumpkin puree?
It's recommended to use pumpkin puree, not pumpkin pie filling, for this recipe. Pumpkin puree is simply pureed pumpkin, whereas pumpkin pie filling contains added sugars and spices. Using pumpkin puree allows you to control the sweetness and flavor more effectively.
Can I reduce the amount of sweetener or use a different sweetener alternative in the recipe?
es, you can adjust the sweetener to suit your taste and dietary preferences. If you prefer a less sweet brownie or want to use a different sugar substitute, feel free to experiment. Just be mindful that altering the sweetener may impact the texture and overall flavor of the brownies, so it's a good idea to taste the batter before baking to adjust to your desired level of sweetness.
Other healthy dessert recipes you might enjoy
REVIEW AND FOLLOW: Have you tried this recipe? If so, please leave a comment and ⭐️ rating below. If you make our recipes and share them, be sure to use our hashtag #ihackeddiabetes on social! We love seeing what you are making.
FOLLOW us on FACEBOOK | INSTAGRAM | PINTEREST for more delicious recipes.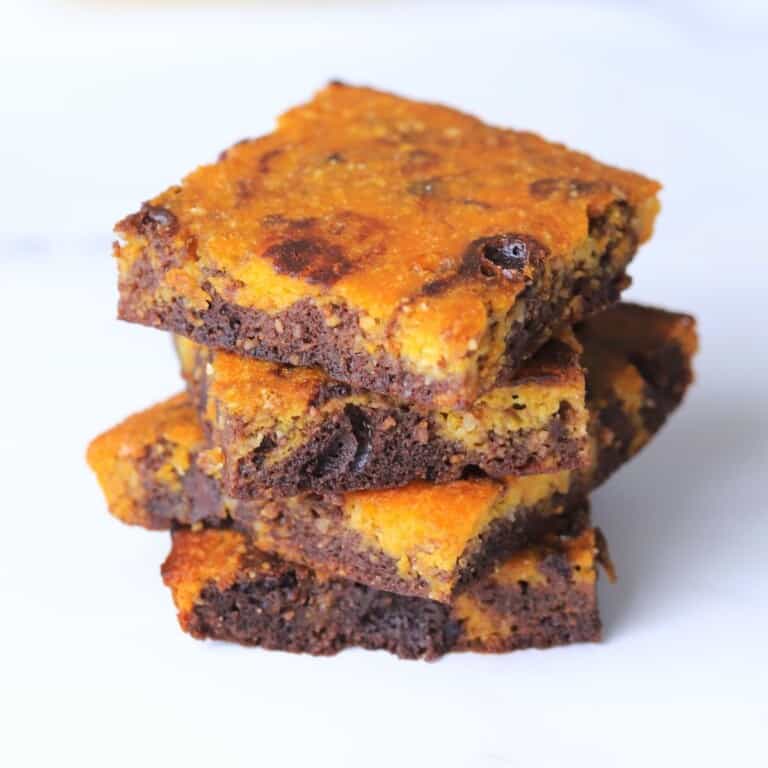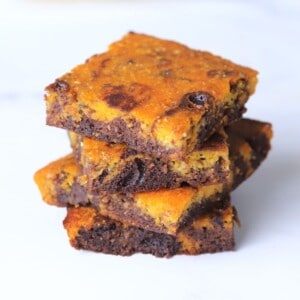 Healthy Pumpkin Brownies
Healthy Pumpkin Brownies, crafted with almond flour, sweetener, and a delightful fusion of pumpkin and chocolate.
Instructions
Preheat your oven to 350°F and line an 8" x 8" baking dish with parchment paper.

In a large bowl mix together the base ingredients. First, mix the dry ingredients and then add the wet ingredients. Combine with a rubber spatula.

½ cup almond flour,

½ teaspoon baking powder,

⅛ teaspoon salt,

¾ cup powdered sweetener sugar substitute,

3 large eggs,

¾ cup unsalted butter,

1 teaspoon vanilla extract

Separate the base ingredient in half using two medium bowls. In the first bowl add the cocoa powder and espresso powder, mixing until fully combined. Then add the chocolate chips and mix until well incorporated.

¼ cup cocoa powder,

1 teaspoon espresso powder,

½ cup sugar free chocolate chips

In the other bowl add the pumpkin puree and the pumpkin spice to the base mixture and mix until well combined.

¼ cup pumpkin puree,

1 teaspoon pumpkin spice

Spread the chocolate base mixture evenly into the prepared baking dish. Next, carefully spoon the pumpkin base mixture on top of the chocolate base. Use a butter knife to create a swirling pattern by gently running it through the two layers. This will create a beautiful marbled effect.

Place the baking dish in the preheated oven and bake at 350°F (175°C) for approximately 45 minutes or until a toothpick inserted into the center comes out clean. Allow it to fully cool in the baking dish before removing. Cut into squares and enjoy.
Nutrition
Calories:
116
kcal
|
Carbohydrates:
2
g
|
Protein:
2
g
|
Fat:
11
g
|
Fiber:
1
g
|
Sugar:
0
g
Notes
Note: For a fudgier consistency, cut the brownies into squares, place them in a dish, cover it with plastic wrap, and allow them to rest for at least 2 days before enjoying. This resting period allows the brownies to develop a denser, more indulgent texture that many brownie enthusiasts adore. Your patience will be rewarded with brownies that are delightfully rich and fudgy. Enjoy the improved texture after this brief period of waiting!
If you prefer your brownies to be thicker and more indulgent, feel free to double the recipe ingredients. Be sure to increase the baking time accordingly to ensure they are cooked through. Keep an eye on them and use a toothpick test to determine when they're done. Thicker brownies may require a few extra minutes in the oven to achieve that perfect fudgy consistency.
This recipe card provides the basic details to make this recipe. For more information, questions or variations please review the content above the recipe card.
Updates and Revisions
If conflicting information between the video and recipe card, the recipe card will always have the most up to date information, ingredients and instructions.
Nutritional Information
All nutritional information is based on third-party calculations and should be considered estimates. Actual nutritional content will vary with brands used, measuring methods, portion sizes and more.
Disclosure
This website contains affiliate links, which means that if you click on a product link, we may receive a commission in return. I Hacked Diabetes is a participant in the Amazon Services LLC Associates Program, an affiliate advertising program designed to provide a means for sites to earn advertising fees by advertising and linking to amazon.com.
LOVE THIS RECIPE?
Check out I Hacked Diabetes on Pinterest