Discover the perfect guilt-free indulgence with our Sugar Free Pumpkin Muffins recipe! This low carb and diabetic-friendly treat is a delightful blend of seasonal flavors and healthy ingredients.
Enjoy the taste of fall without the guilt and dive into this scrumptious recipe today!
Jump To:
With each bite, you'll savor the warm embrace of pumpkin without worrying about added sugars. Easy to make and utterly satisfying, these muffins are a must-try for anyone seeking a delicious, health-conscious option.
Why you'll love these sugar free pumpkin muffins
Healthy Muffins: Fall in love with these pumpkin muffins that are not only sugar-free but also low in carbs, bringing a healthy twist to your snacking routine.
Nutritious: Crafted with almond flour, these treats pack in a wholesome punch of nutrients while satisfying your pumpkin cravings, enhanced by a gentle hint of sugar-free maple syrup.
Warmly Spiced: The gentle touch of pumpkin spice infuses a sense of coziness into every bite, making these muffins a perfect companion to your day.
Your Flavors, Your Way: Customize the sweetness and pumpkin pie spice levels to suit your taste buds, ensuring a personalized treat that hits all the right notes.
Keto-Friendly Pleasure: Designed with your keto journey and diabetic-friendly needs in mind, these keto pumpkin muffins, enriched with the goodness of sugar-free maple syrup. Embrace your low-carb and sugar free keto lifestyle while delivering all the pumpkin goodness you crave.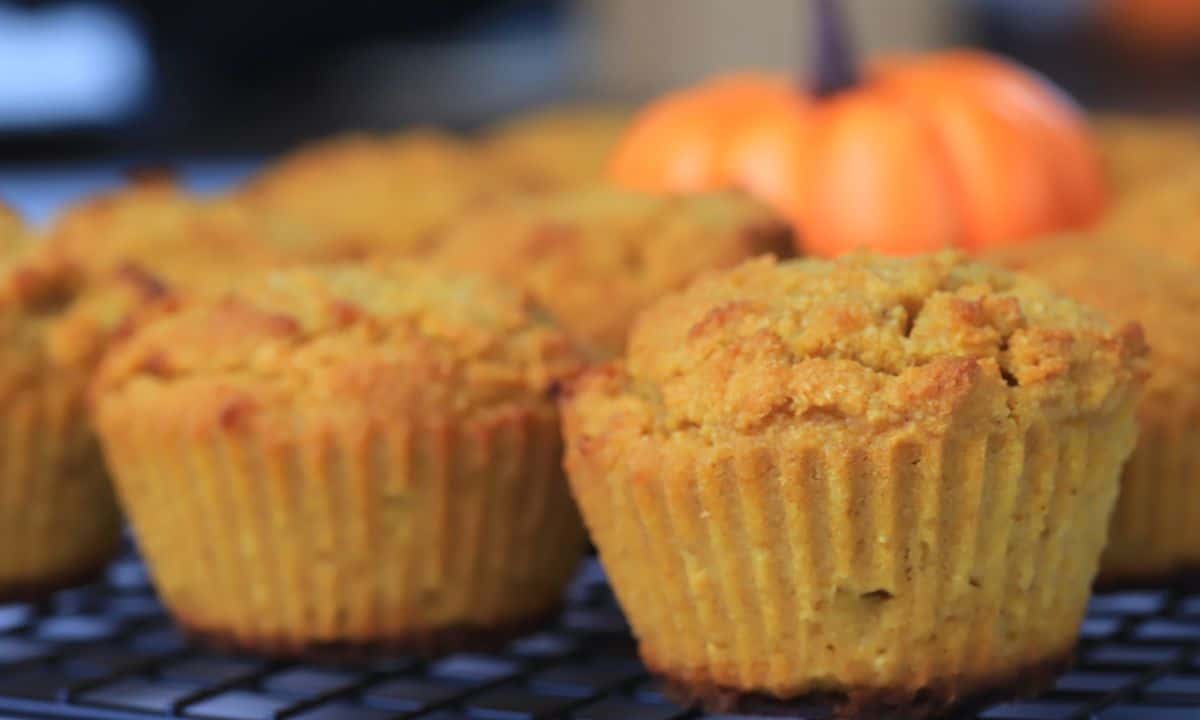 Ingredients Used
Carefully curated to ensure a harmonious blend of flavors, each component has been thoughtfully selected to create a well-rounded and delightful pumpkin muffin experience.
Almond flour: Imparts a nutty richness and contributes to a moist texture.
Baking powder: Acts as a leavening agent, helping the muffins rise and become fluffy.
Salt: Enhances overall flavor and balances sweetness.
Powdered sweetener sugar substitute: Adds sweetness without refined sugar, making the muffins diabetic-friendly. We used allulose for these muffins but you can swap with your preferred sweetener.
Eggs: Bind the ingredients together and provide structure.
Unsalted butter: Imparts richness and moisture.
Pumpkin puree: Infuses authentic pumpkin flavor and moistness.
Pumpkin spice: Creates a warm, comforting spice profile typical of pumpkin treats.
Vanilla extract: Adds depth of flavor and complements pumpkin and spices.
Lakanto maple flavored syrup: Provides a touch of maple sweetness without added sugar.
See the recipe card for quantities.
Steps by step instructions
How to make sugar free pumpkin muffins?
STEP 1: Begin by preheating your oven to 350°F (175°C). This will ensure that the oven is ready when your muffin batter is prepared.
Line a muffin tin with 12 paper or silicone liners or line them up on a baking sheet like I did in the photo below.
STEP 2: In a mixing bowl, combine the almond flour, baking powder, pumpkin spice and salt. Mix them together thoroughly to ensure an even distribution of the dry ingredients.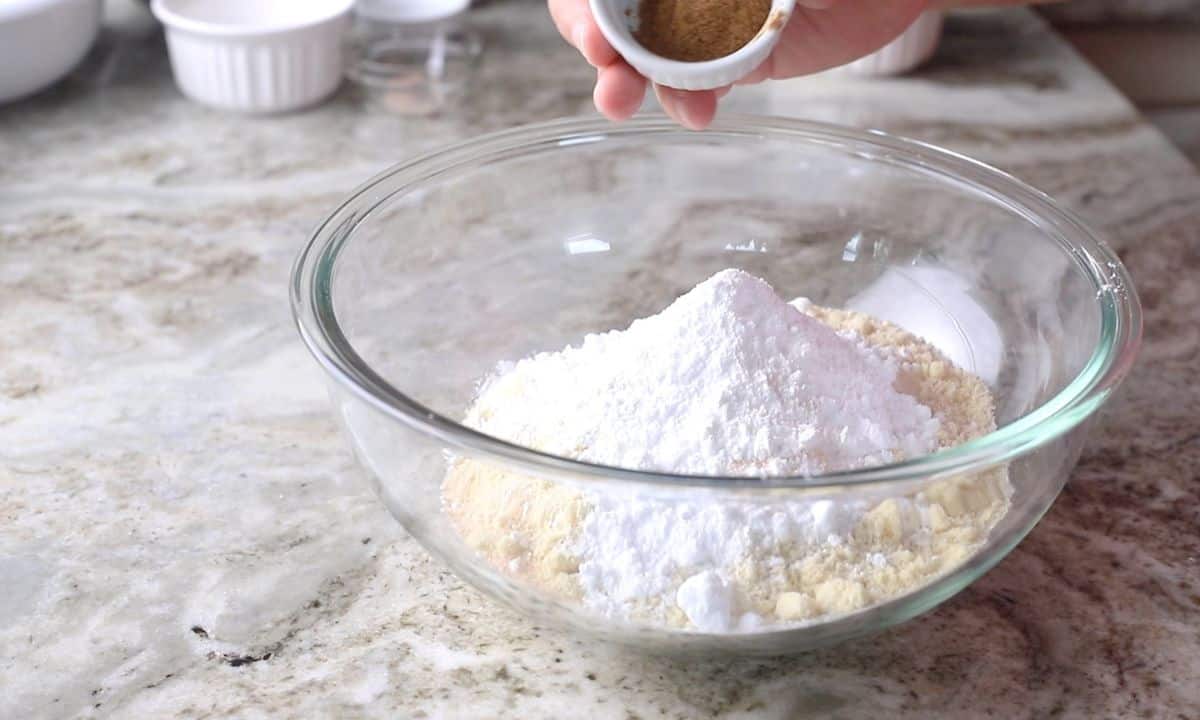 STEP 3: In a separate bowl, whisk the eggs until well combined. Add the unsalted butter (melted and cooled), pumpkin puree, vanilla extract, and Lakanto maple flavored syrup. Mix everything together until the wet ingredients are fully incorporated.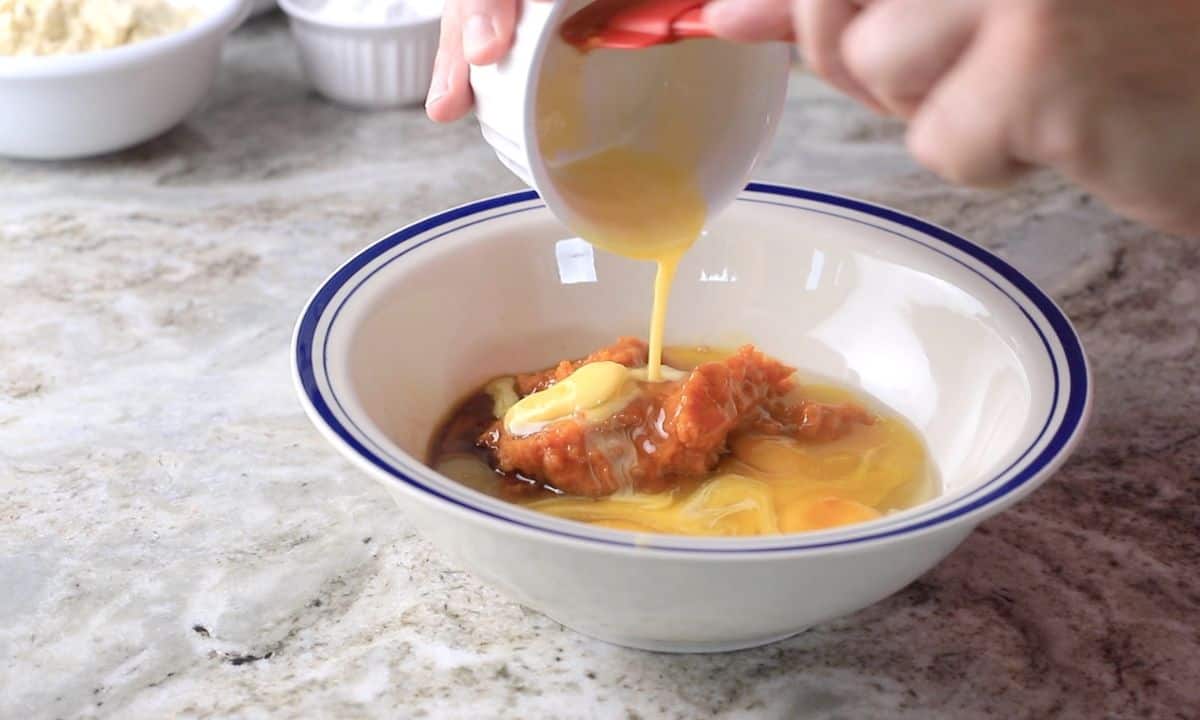 STEP 4: Gradually fold the wet ingredients into the bowl with the dry ingredients. Gently mix the two together until you have a smooth batter. Be careful not to overmix; a few lumps are okay.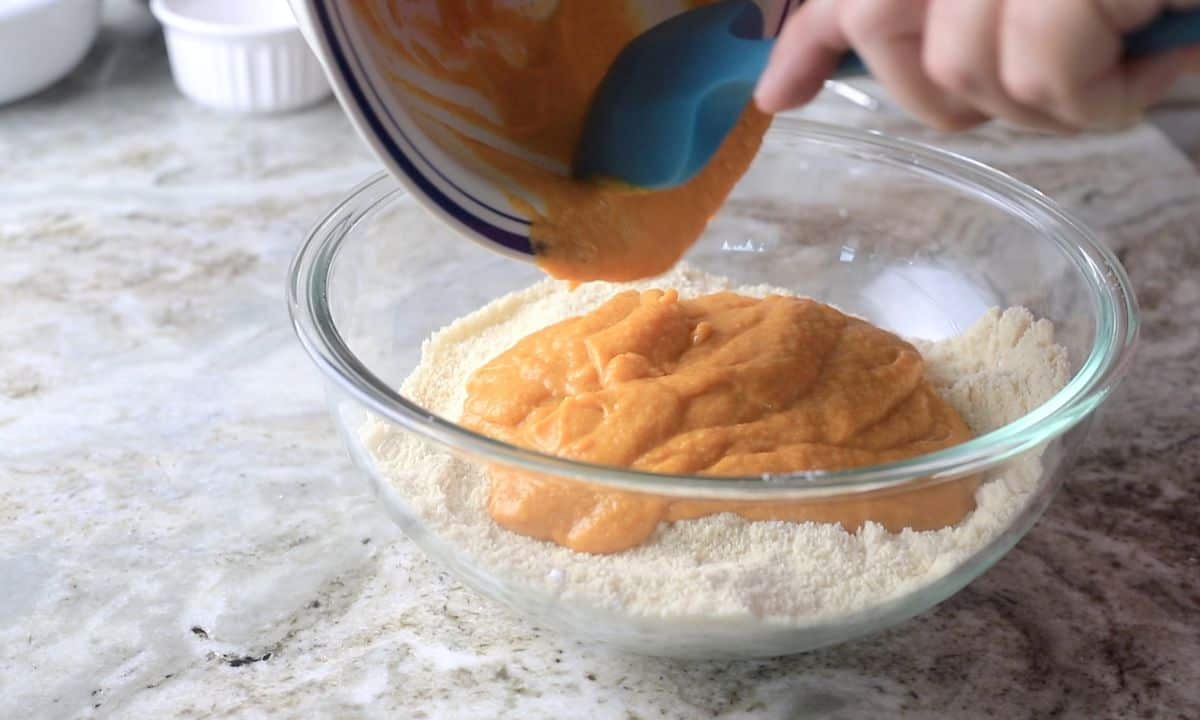 STEP 5: Using a heaping ice cream scoop, fill each muffin liner almost to the top. These muffins will rise during baking, but not excessively, so having the liners nicely full will give you perfectly shaped muffins. A standard ice cream scoop size of 2.5 to 3 tablespoons (approximately 1 to 1.25 ounces) should be suitable.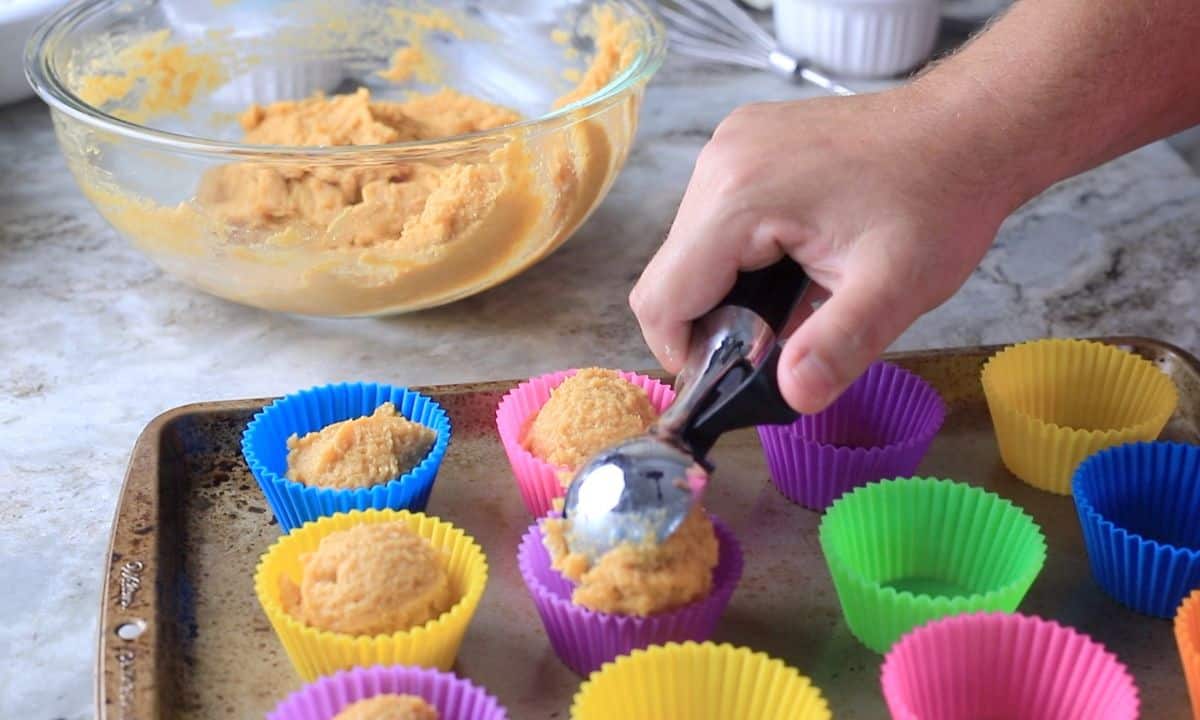 STEP 6: Place the muffins with the cookie sheet in the preheated oven and bake for 25-30 minutes. You can check for doneness by inserting a toothpick into the center of a muffin – it should come out clean when they're ready.
Once baked, remove the muffins from the oven and allow the muffins to cool for a few minutes. Then, transfer them to a wire rack to cool completely before enjoying.
These sugar-free pumpkin muffins are now ready to be relished. Whether as a quick breakfast or a delightful snack, they're sure to bring a touch of seasonal warmth to your day.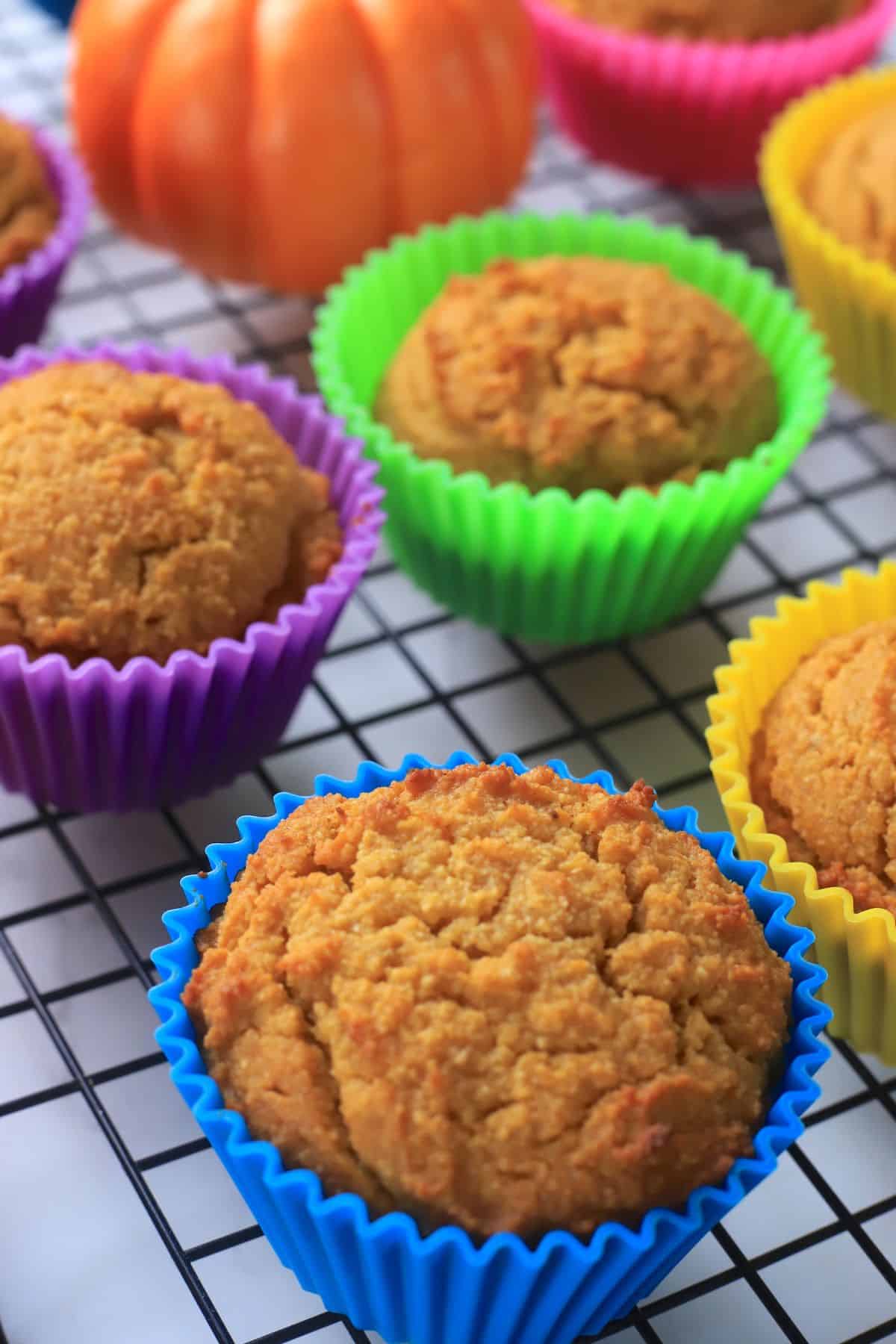 How to use coconut flour instead of almond flour?
Adjust Quantity: Coconut flour is highly absorbent, so use significantly less than the original almond flour. Typically, you'll need around ¼ to ⅓ of the amount of almond flour.
Increase Liquid: Coconut flour absorbs more liquid, so add extra wet ingredients like pumpkin puree, eggs, or even additional butter/oil to maintain moisture.
Experiment Gradually: Due to the unique properties of coconut flour, experimentation might be needed. Start with a smaller quantity of coconut flour, add more liquid, and adjust until you achieve the desired batter consistency.
Baking Time: Coconut flour might alter the baking time. Keep an eye on the muffins, and check for doneness using a toothpick inserted into the center.
Remember, coconut flour behaves differently from almond flour, so anticipate changes in texture and taste. Experimenting and adjusting gradually will help you achieve the best results.
Other pumpkin flavored recipes you might enjoy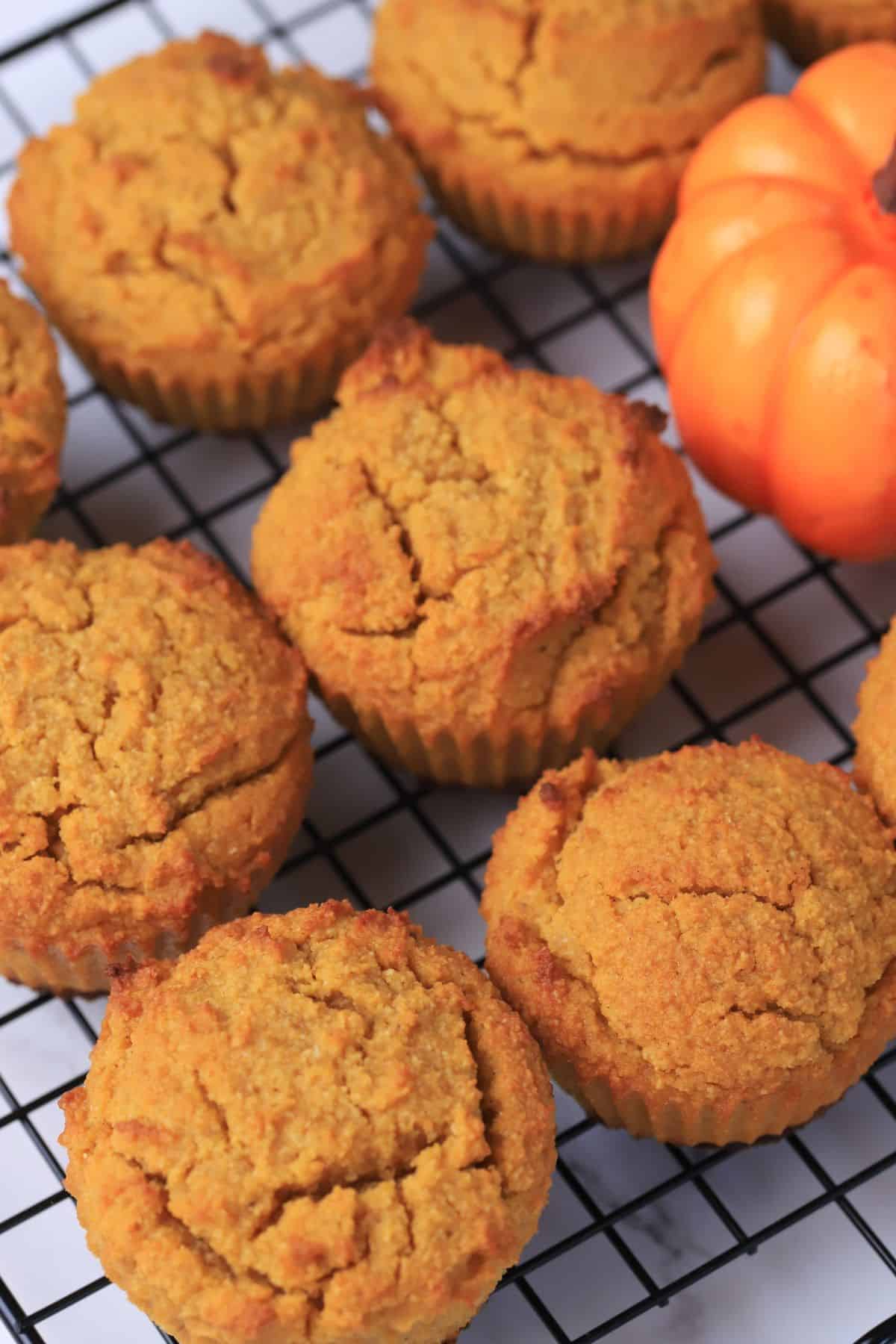 What makes these pumpkin muffins sugar free?
What makes these pumpkin muffins sugar-free are the absence of traditional refined sugar in the recipe. Instead, they are sweetened using alternatives such as sugar substitutes or sugar-free maple syrup, allowing you to enjoy their delicious flavors without the addition of conventional sugars.
Recipe tips
Here are two tips on making the best sugar free pumpkin muffins ever:
Balanced Pumpkin Spice Muffins Flavors: Achieve the perfect balance of pumpkin and spice by adjusting the amount of pumpkin spice according to your preference. For a more robust flavor, increase the pumpkin spice slightly; for a milder taste, use a touch less. This customization ensures your muffins encapsulate the essence of fall in every bite, while also making them an ideal low-carb, sugar-free, and healthy pumpkin treat.
Play with Mix-ins: Customize your sugar-free pumpkin muffins by adding chopped nuts like walnuts or pecans, or even sugar-free chocolate chips. These add-ins provide delightful textural contrast and extra layers of taste. Plus, they align perfectly with your low-carb and healthy pumpkin muffin goals, allowing you to enjoy scrumptious variations while keeping the recipe sugar-free and keto-friendly.
Storage
To store these sugar-free pumpkin muffins, follow these steps:
Cool Completely: Allow the muffins to cool completely on a wire rack after baking. This prevents condensation from forming inside the storage container, which can lead to a loss of freshness.
Wrap or Seal: Wrap each individual muffin in plastic wrap or aluminum foil to keep them protected and prevent them from drying out.
Airtight Container: Place the wrapped muffins in an airtight container. You can also use a resealable plastic bag. This helps maintain freshness and prevents moisture from getting in.
Room Temperature or Refrigerator: If you plan to consume the muffins within a day or two, you can keep them at room temperature. For longer storage, store them in the refrigerator to prolong their shelf life.
Freezer Option: If you want to store them for an extended period, consider freezing the muffins. Wrap each muffin individually, then place them in a freezer-safe container or resealable plastic bag. Frozen muffins can be thawed in the refrigerator or at room temperature.
By following these steps, you can keep your sugar-free pumpkin muffins fresh and delicious for several days or even longer, depending on your storage method.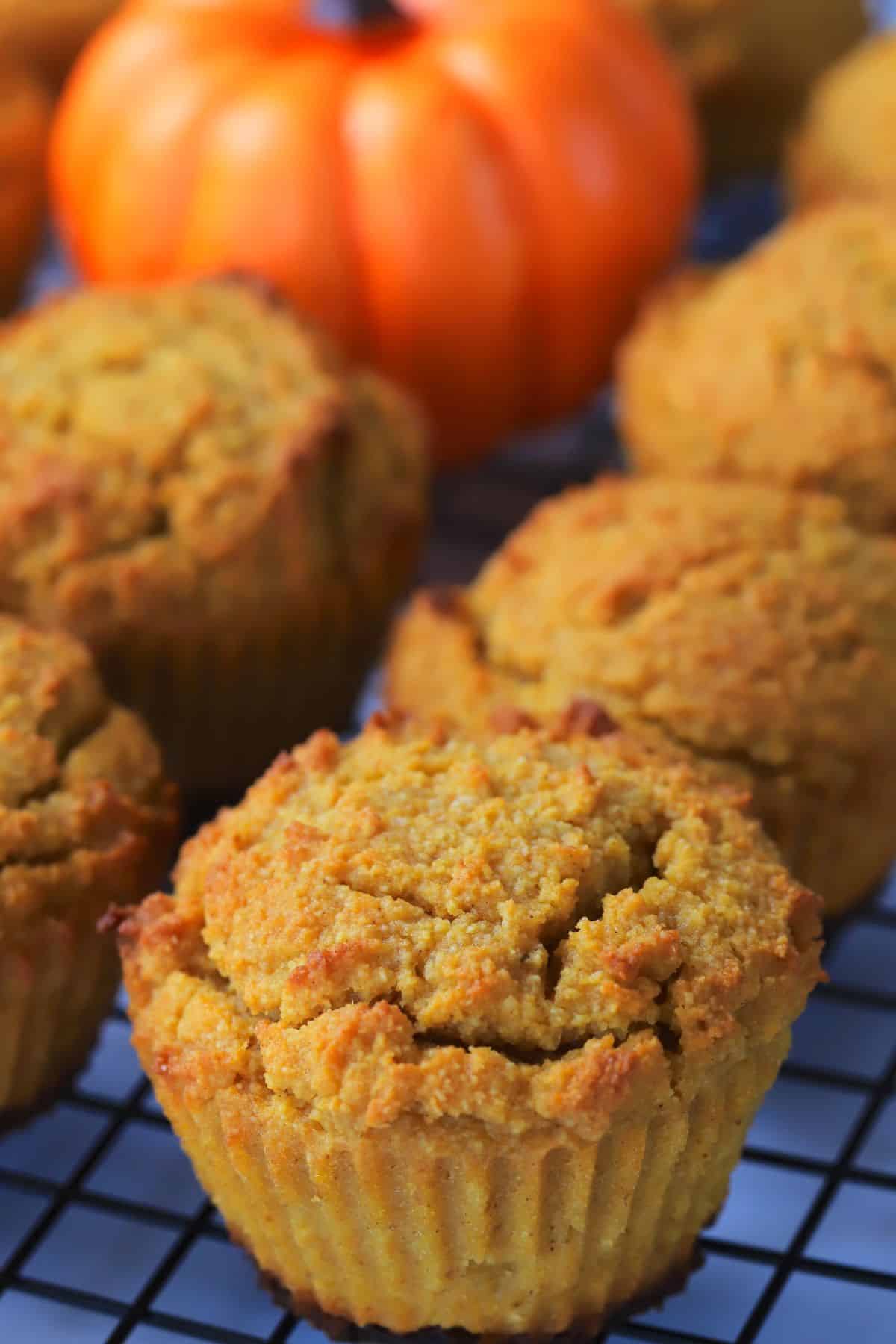 Recipe variations
Here are five variations of the sugar-free pumpkin muffin recipe:
Coconut Delight Muffins Replace the butter with coconut oil for a tropical twist. Add shredded unsweetened coconut to the batter for extra texture and flavor.
Nutty Crunch Muffins Fold in chopped pecans or walnuts to the batter for added crunch and nutty goodness. Use a mix of almond flour and ground flaxseed to enhance the nutty flavor while increasing the fiber content for a heartier, low carb option.
Pumpkin Spice Chai Muffins Infuse the batter with warm chai spices like cinnamon, ginger, and cloves for a unique twist. Replace vanilla extract with chai extract for an aromatic upgrade.
Cream Cheese Swirl Muffins Create a cream cheese swirl by blending softened cream cheese with a touch of maple syrup as a swirl on top of the muffin batter before baking. This adds a tangy contrast to the sweet pumpkin flavor.
Double Chocolate Pumpkin Muffins Stir in sugar-free chocolate chips to the batter for a rich chocolatey indulgence. Add unsweetened cocoa powder and a touch of instant coffee for extra depth of flavor.
Each of these variations maintains the low carb, sugar-free, and pumpkin-inspired essence of the original recipe, offering a range of delightful flavors to satisfy your cravings.
Frequently asked questions
Can I use whole wheat flour instead of almond flour for this recipe?
Yes, you can use whole wheat flour as a substitute, but keep in mind that the texture and taste may differ. Whole wheat flour is denser and contains gluten, which can affect the final outcome. Adjustments in quantities and possibly additional moisture might be necessary.
Can I adjust the sweetness level of these muffins?
Absolutely! Adjust the quantity of your chosen sugar substitute to achieve your preferred level of sweetness. Taste the batter before baking to ensure it meets your desired sweetness.
Are these muffins suitable for those with diabetes?
Yes, these sugar-free pumpkin muffins can be a good option for individuals with diabetes, as they are made without refined sugar. However, always consult with a healthcare professional regarding dietary choices.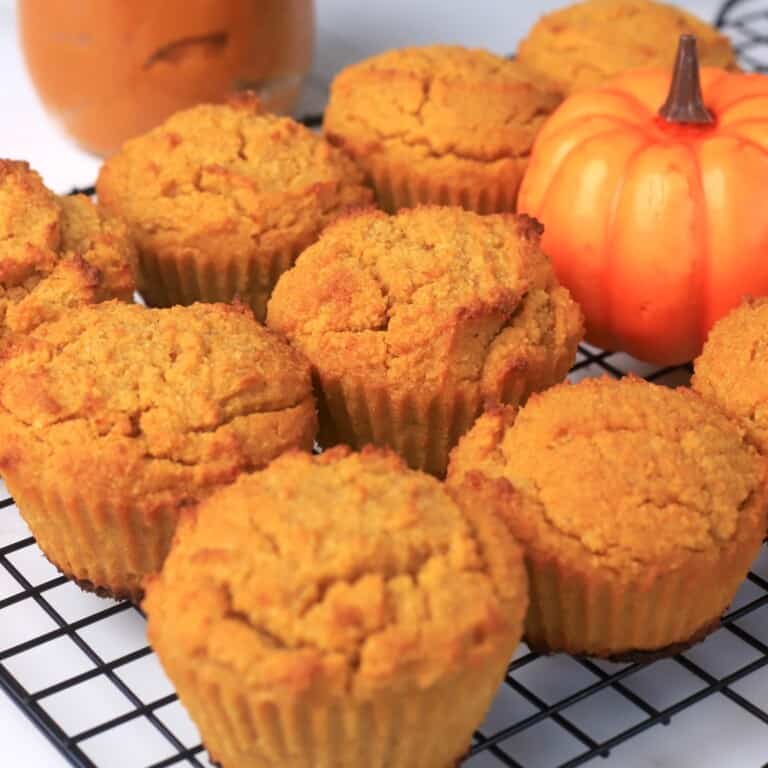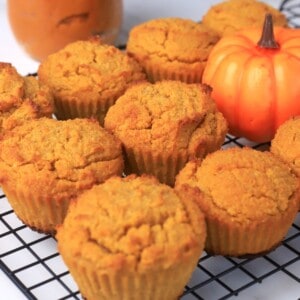 Sugar Free Pumpkin Muffins
Deliciously guilt-free sugar-free pumpkin muffin recipe! These moist and flavorful muffins are perfect for a healthy fall treat. Try them today!
Nutrition
Serving:
1
muffin
Calories:
228
kcal
Carbohydrates:
8
g
Protein:
8
g
Fat:
20
g
Sodium:
300
mg
Fiber:
3
g
Sugar:
2
g
Instructions
Start by preheating the oven to 350°F for the upcoming baking process.

Prepare 12 muffin liners on a baking sheet or in a muffin tin.

Use a large mixing bowl to combine the dry ingredients, ensuring an even distribution.

3 cups almond flour,

1.5 tablespoon baking powder,

½ teaspoon salt,

¾ cup powdered sweetener sugar substitute,

1.5 teaspoon pumpkin spice

In a separate bowl, mix the wet ingredients, achieving a harmonious mixture.

3 large eggs,

5 tablespoon unsalted butter,

¾ cup pumpkin puree,

2 teaspoon vanilla extract,

1 tablespoon lakanto maple flavored syrup

Gradually integrate the wet ingredients into the dry blend, using a gentle folding motion to marry the two components.

Gently fill each muffin cup using a heaping ice cream scoop. See how I did it in the photos above.

Place the muffins into the preheated oven, allowing the muffins to bake for 25-30 minutes at 350°F, or until a toothpick inserted into the center emerges clean, signifying their readiness.
Notes
Recipe Notes:
These muffins are lightly sweetened, complemented by a subtle touch of pumpkin spice. Feel free to adjust the sweetness and pumpkin spice levels according to your preferences, creating a personalized treat that satisfies your cravings just right.
Balanced Pumpkin Spice Flavors: Achieve the perfect balance of pumpkin and spice by adjusting the amount of pumpkin spice according to your preference.
Play with Mix-ins: Customize your sugar-free pumpkin muffins by adding chopped nuts like walnuts or pecans, or even sugar-free chocolate chips.
This recipe card provides the basic details to make this recipe. For more information, questions or variations please review the content above the recipe card.
Updates and Revisions
If conflicting information between the video and recipe card, the recipe card will always have the most up to date information, ingredients and instructions.
Nutritional Information
All nutritional information is based on third-party calculations and should be considered estimates. Actual nutritional content will vary with brands used, measuring methods, portion sizes and more.
LOVE THIS RECIPE?
Check out I Hacked Diabetes on Pinterest