These Canadian Keto Butter Tarts are made with an ooey gooey filling and a buttery crust. Butter tarts are a big deal in Canada. Seriously is there anything more Canadian? Butter tarts are definitely a thing here in Canada but there is no reason you can't make these at home. No matter where you live in the world these keto butter tarts are a must have.
Butter tarts have a delicious mix of flavours and textures with a flaky pastry and a sugar free sweet filling. Think of a pecan pie but with a gooey butter filling that's semi solid. Some butter tarts are made with raisins but for a low carb version these keto butter tarts are made with a hint of maple and pecans.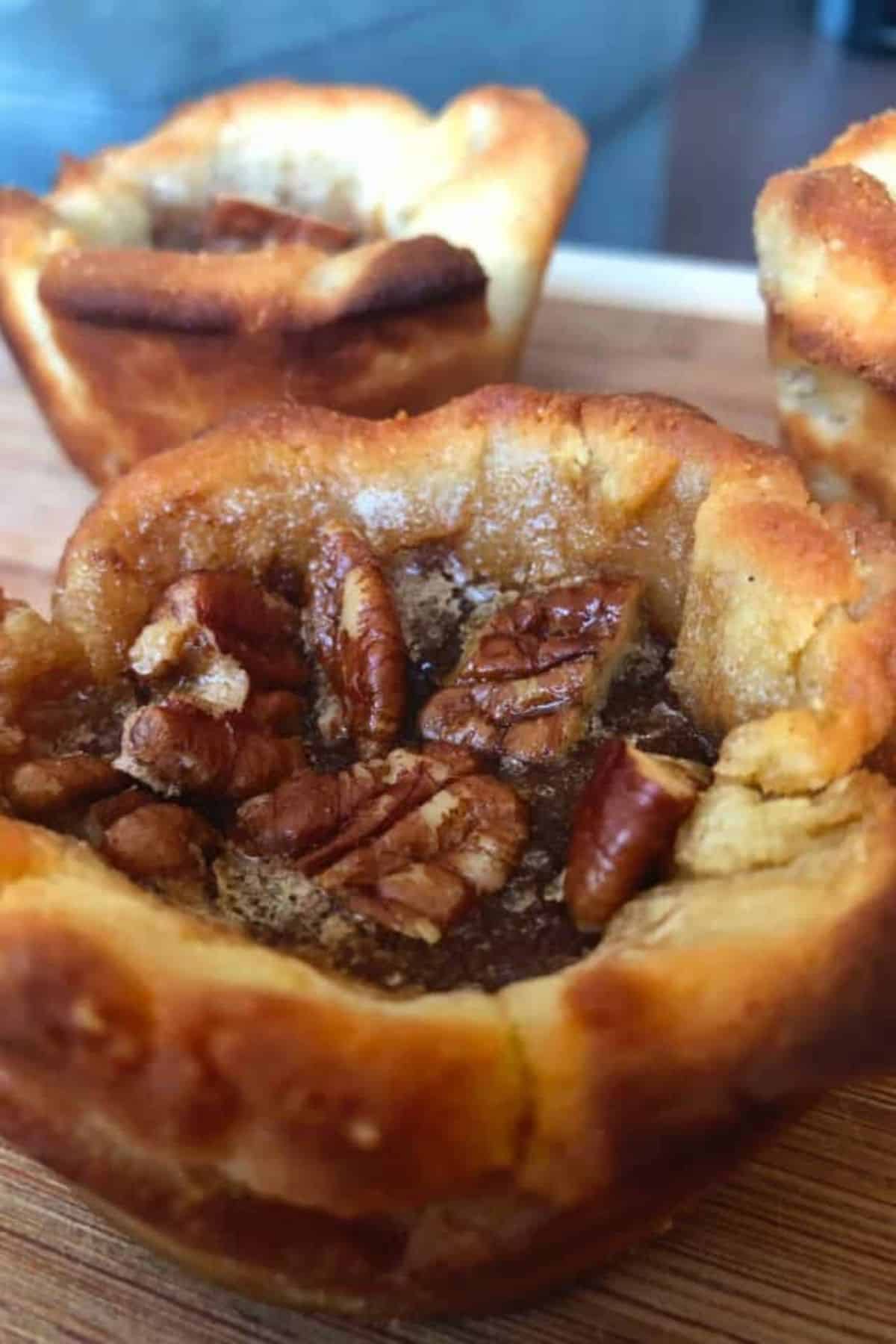 Jump To:
🥘 Ingredients used for these butter tarts
The Pastry Crust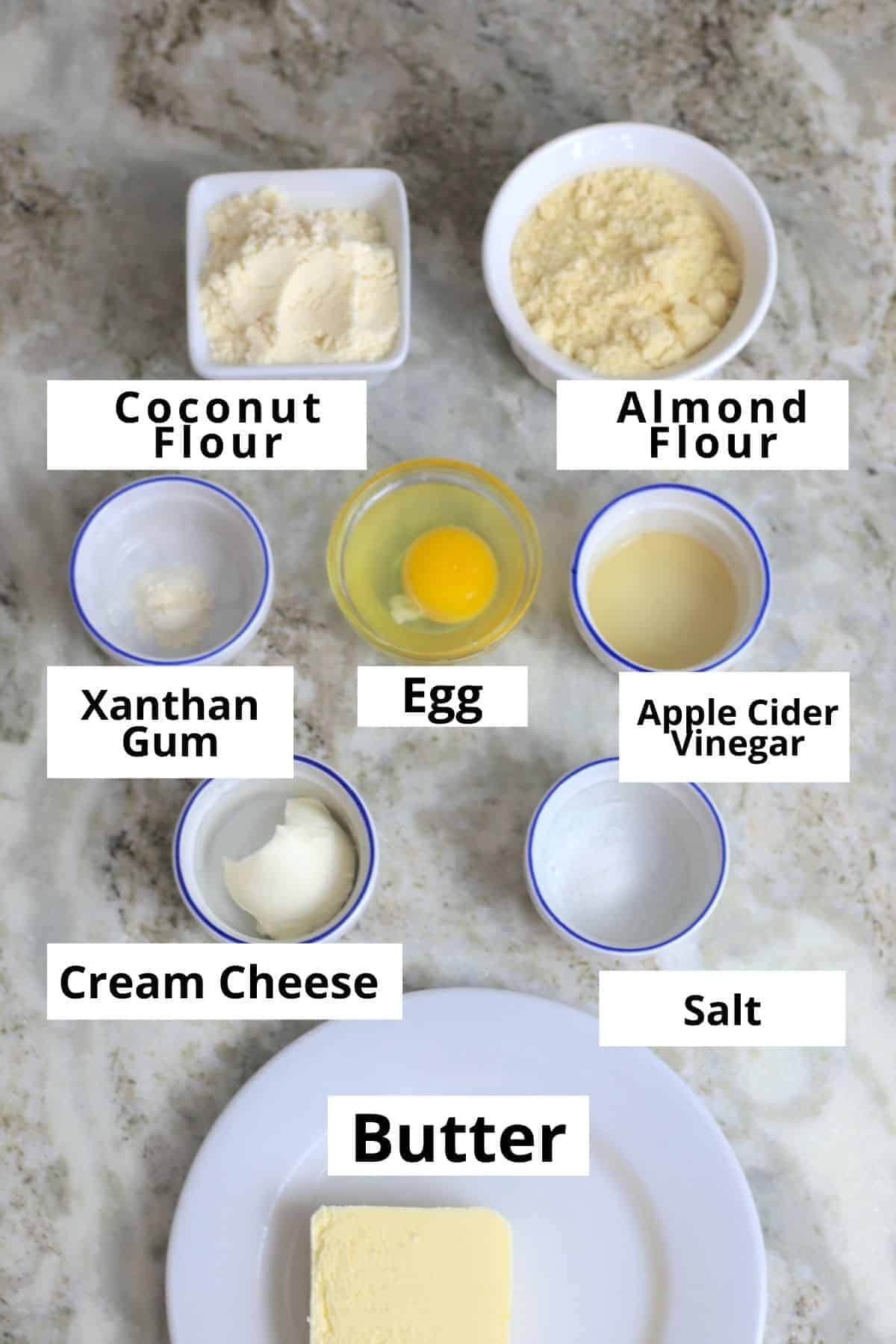 The main ingredients in these buttery pastry tarts are, of course, butter, almond flour, apple cider vinegar and xanthan gum. They all work well together and give this pastry a flaky crust that tastes great.
Butter: helps create the light flaky pastry that we want in these tarts
Coconut Flour: giving a mild sweet taste to the crust
Almond Flour: ground blanched almonds were used for this keto ginger cookie recipe which gives it a slightly nutty flavour plus it's low carb and gluten free.
Apple Cider Vinegar: helps to strengthen the dough and make it more springy
Xanthan Gum: a great low carb stabilizer to prevent the ingredients from separating
Butter Tart Filling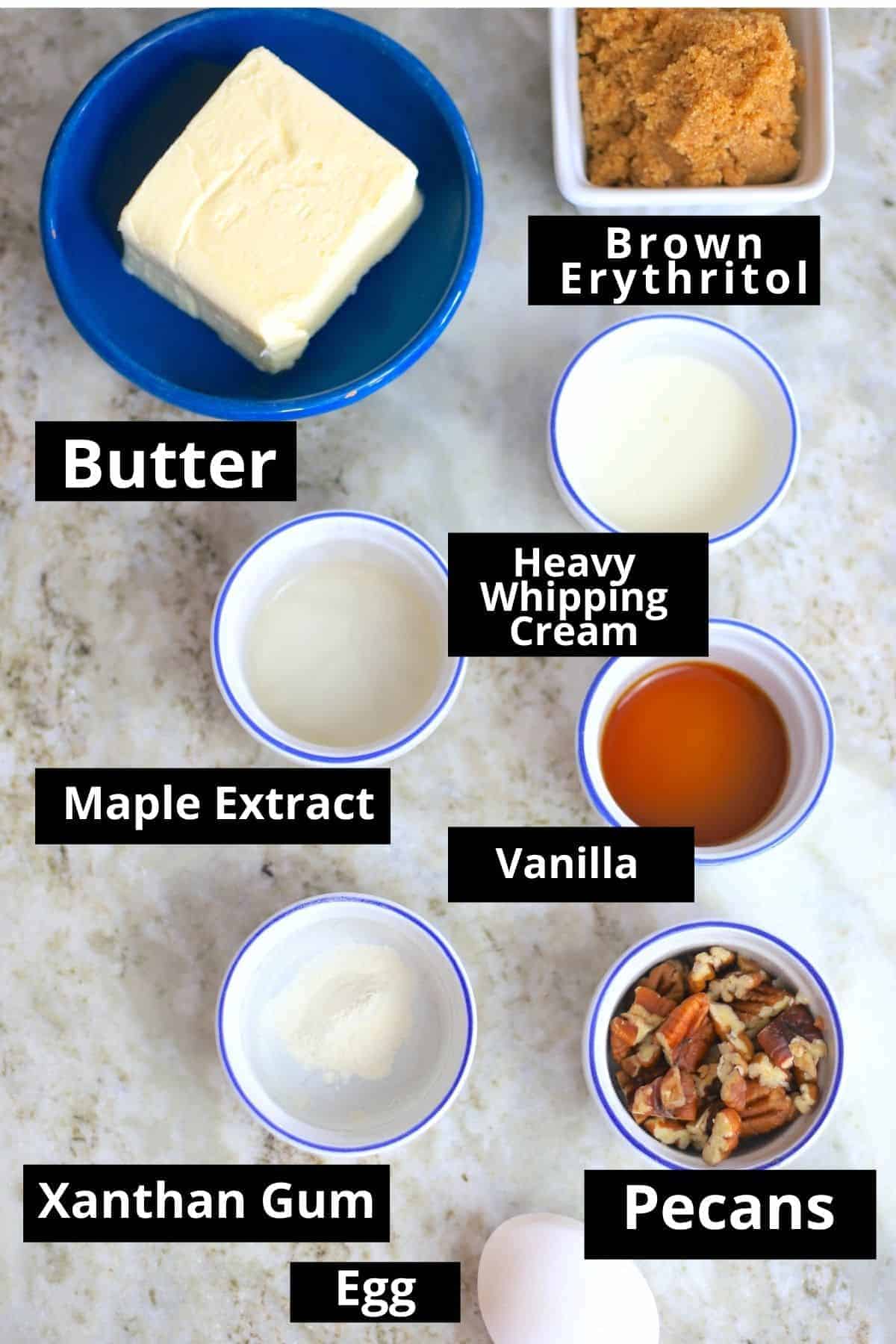 I used brown sugar swerve in the filling to give it more of a caramel flavour. The swerve, butter and maple extract give the filling a sweet and caramel nutty flavour.
Brown Sugar Swerve: this low carb sweetener is made with erythritol and gives these cookies a touch of caramel flavour that makes them ultra lux.
Butter: melting the butter with the brown swerve creates that delightful sweet syrupy liquid for the filling.
Maple Extract: adding that distinct and sweet almost burn note to these butter tarts
Xanthan Gum: brings the ingredients together so they don't separate and keeps it gooey
Eggs: helps thicken ane emulsify the luscious filling
👨🏻‍🍳 Steps to make these butter tarts
How to make these delicious low carb butter tarts
I highly suggest watching the video before making these sugar free butter tarts.
STEP 1: In a large bowl combine with a whisk the coconut flour, almond flour, ½ teaspoon of xanthan gum and salt. Then add the ½ cup of butter and cream cheese and cut with a pastry blender or two forks like I did in the video.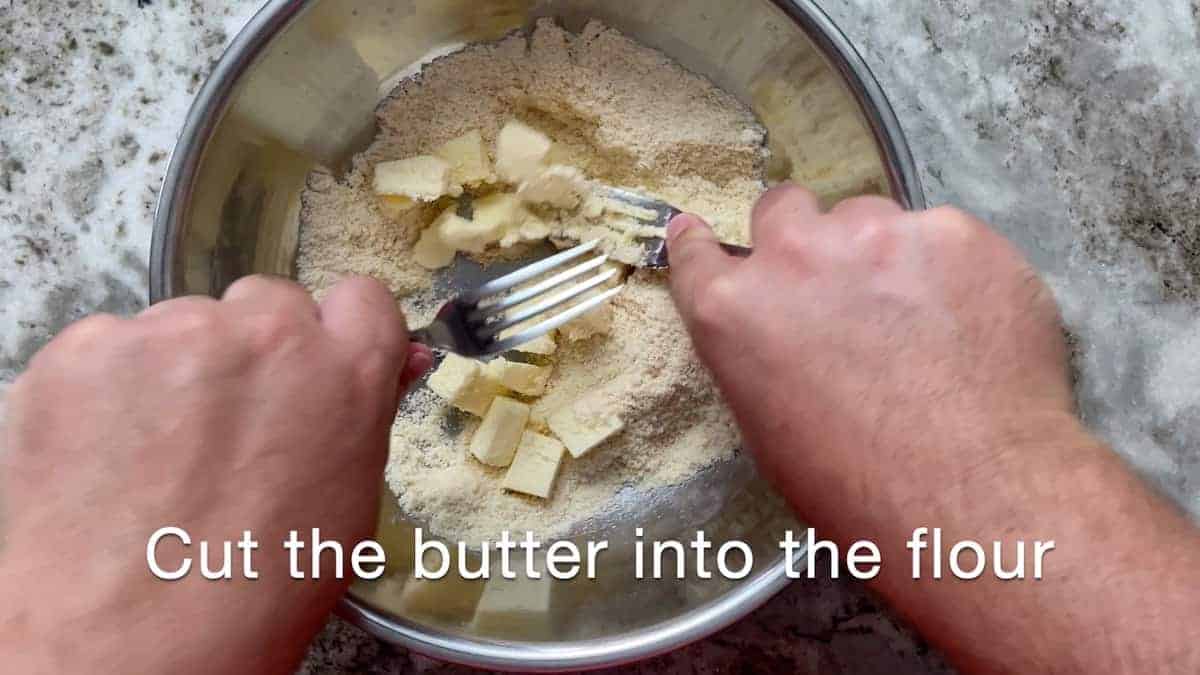 STEP 2: Next add the egg and the apple cider vinegar and mix together with rubber spatula. Once mixed together use your hands to knead the dough for about 1 minute and then shape the dough into a ball and wrap with plastic wrap. Store in the fridge for 1 hour.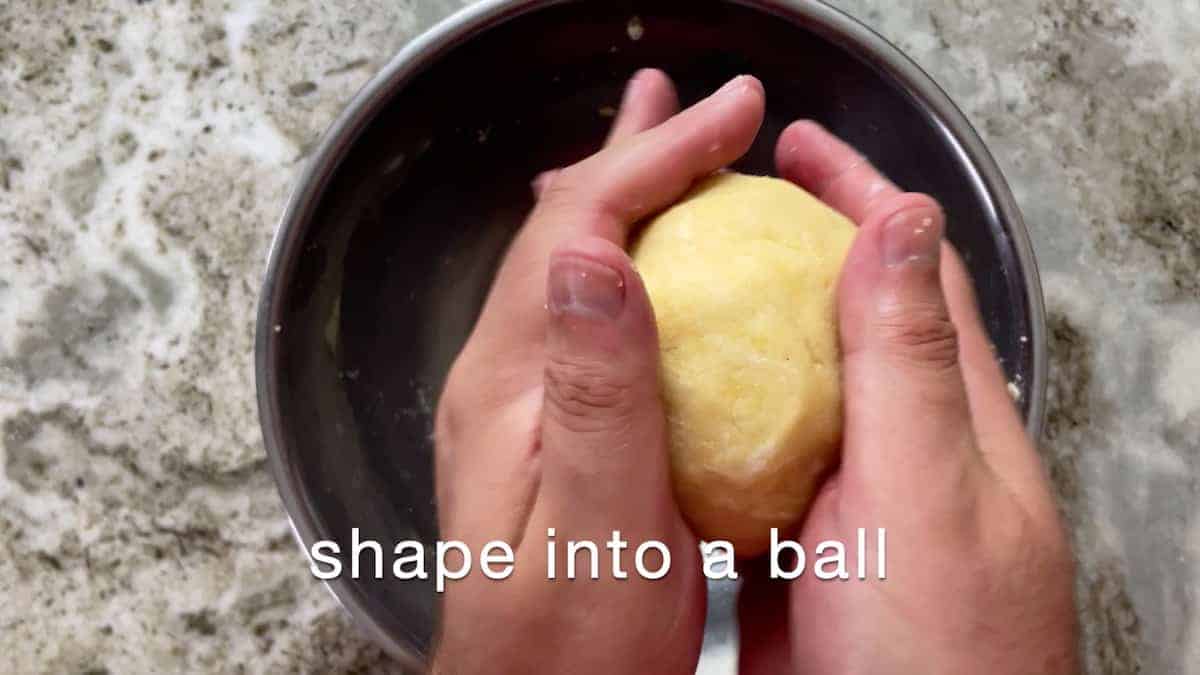 STEP 3: After 1 hour lay some parchment on the counter and sprinkle with coconut flour. Remove dough from plastic wrap and roll out dough with a rolling pin just to loosen it up a little. Next layer another parchment on top of the dough and roll out to about a ¼ inch thick.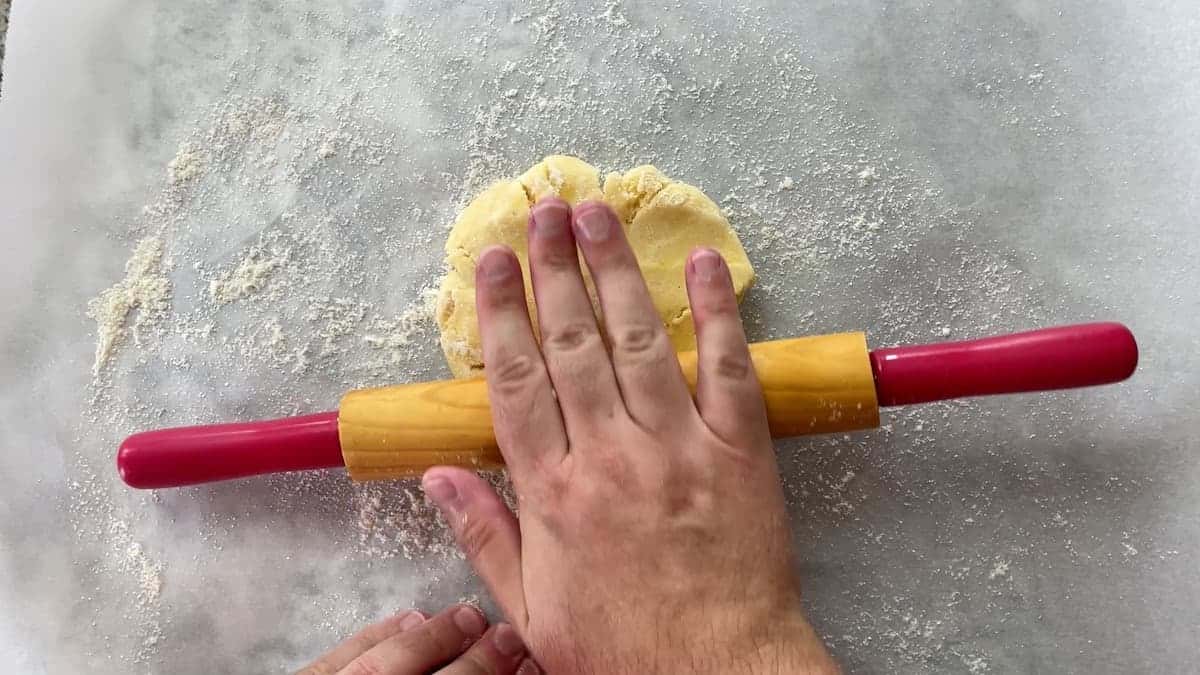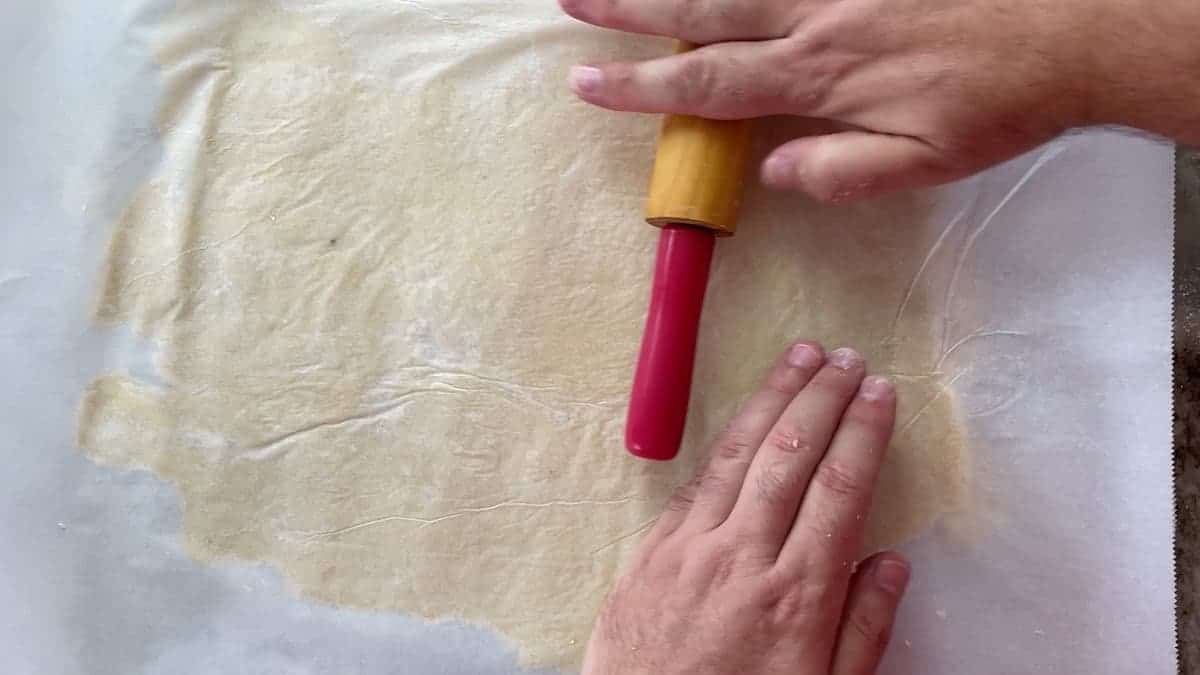 STEP 4: Remove top sheet of parchment and use a 4 inch round cookie cutter to cut 6 circles in the dough.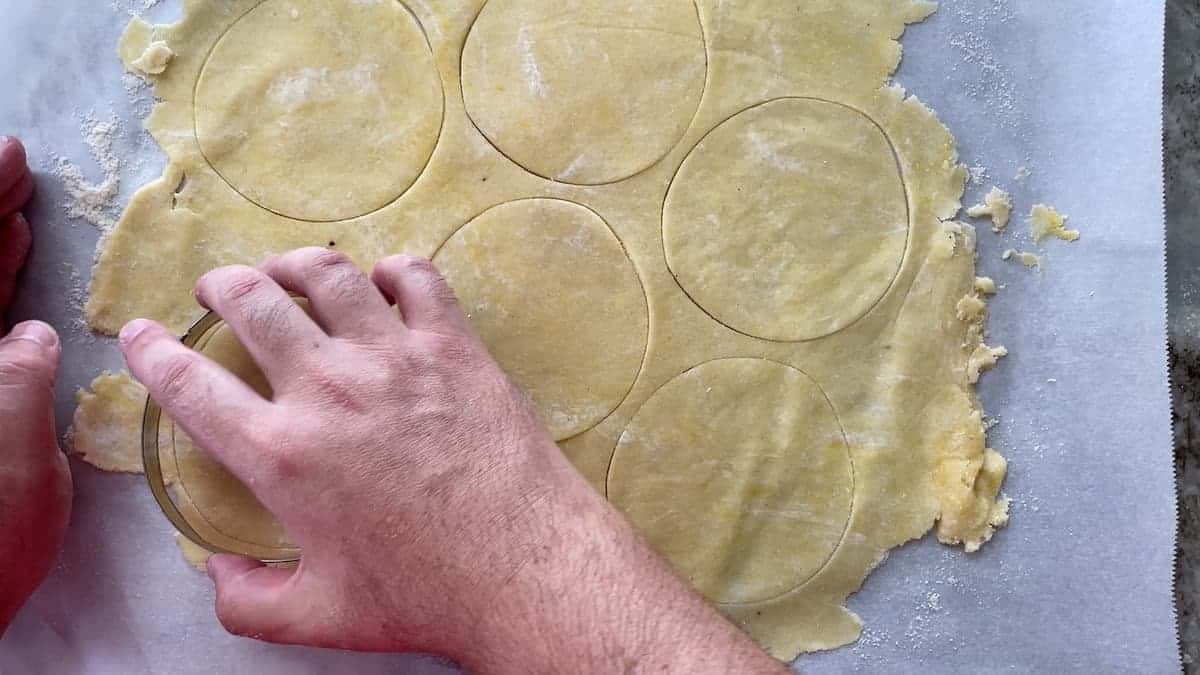 STEP 5: Peel off each shell and place into muffin tins. Dough will likely break but you can use the extra dough to patch any broken pastry shells. See how I did this in the video. Do this quickly while the dough is still cold. The warmer the dough the harder it is to work with. Chill in the fridge until the filling is ready.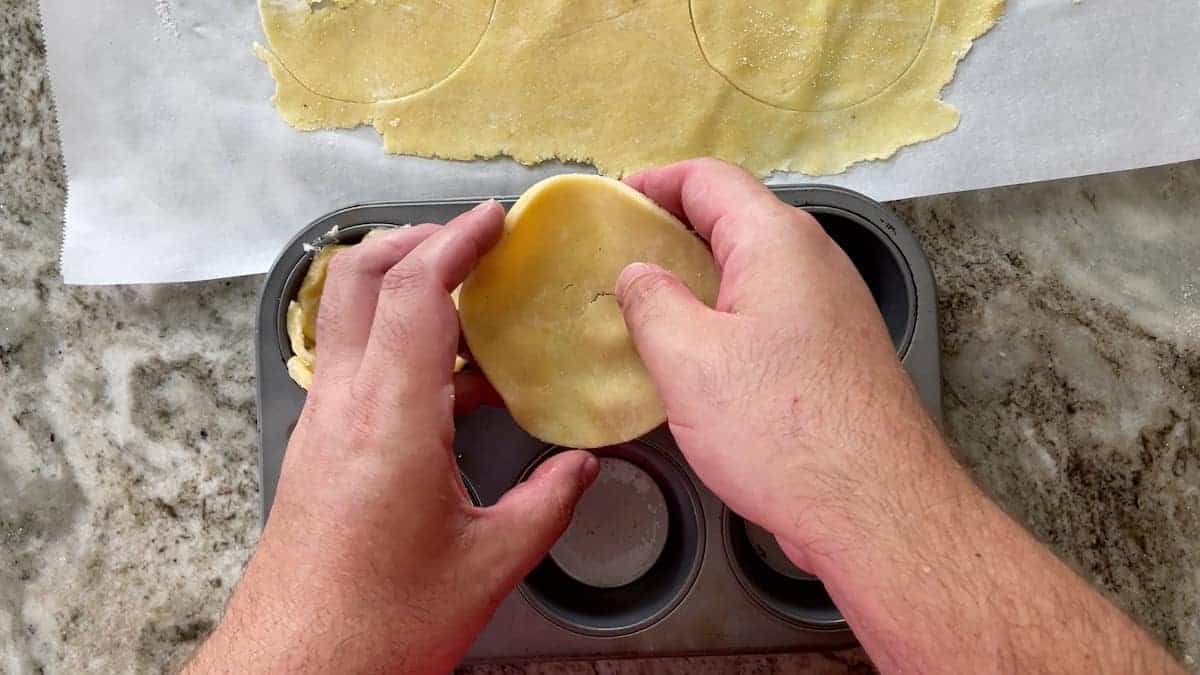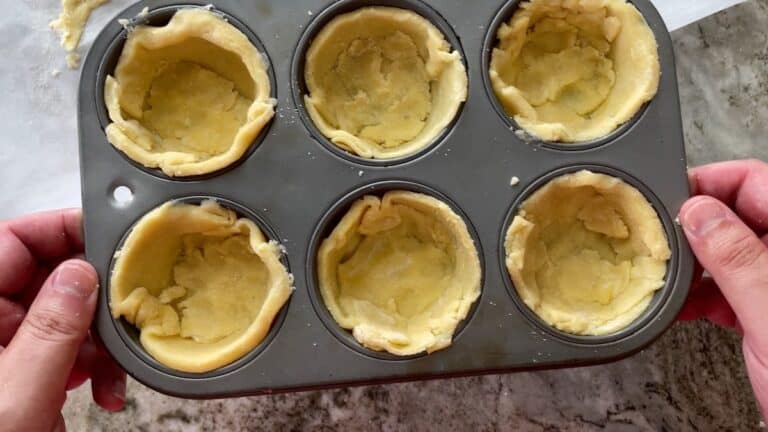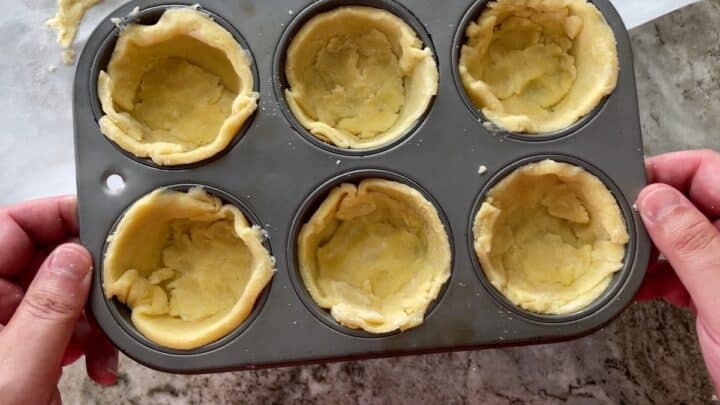 STEP 6: In a medium saucepan on low/medium heat melt together the brown swerve and ½ cup of butter. Allow to simmer for about 1 minute, then remove from heat while continuing to stir.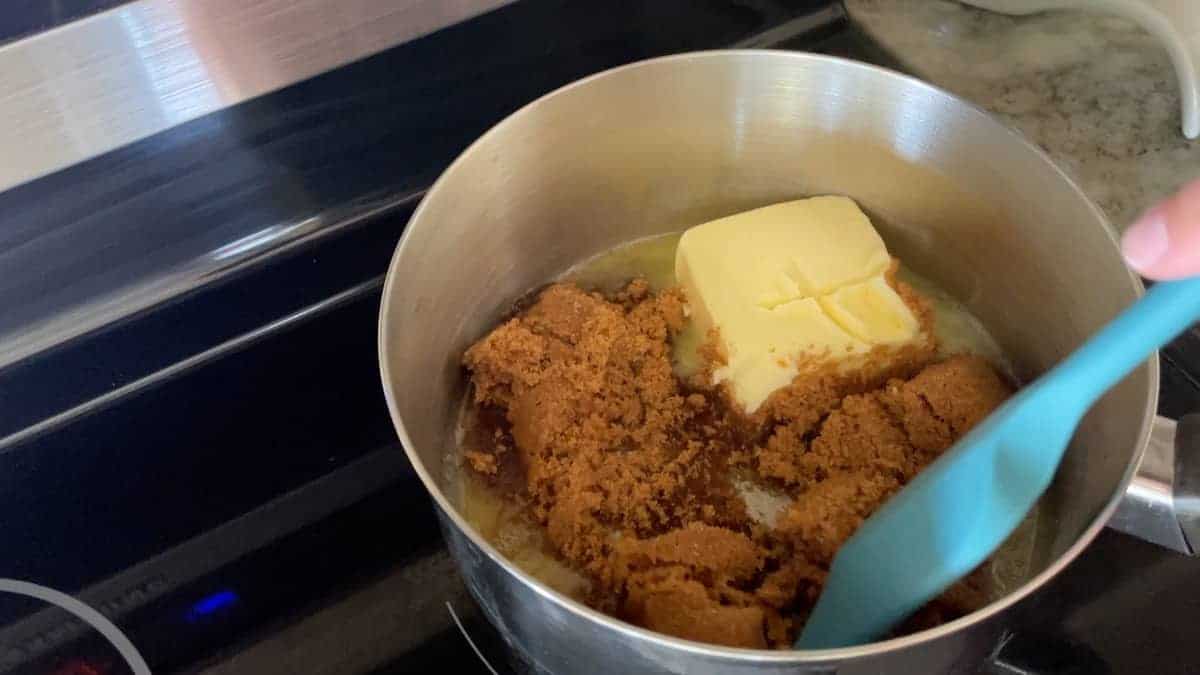 STEP 7: While off the heat whisk in the heavy whipping cream, maple and vanilla extract. Keep whisking until filling is cool to the touch.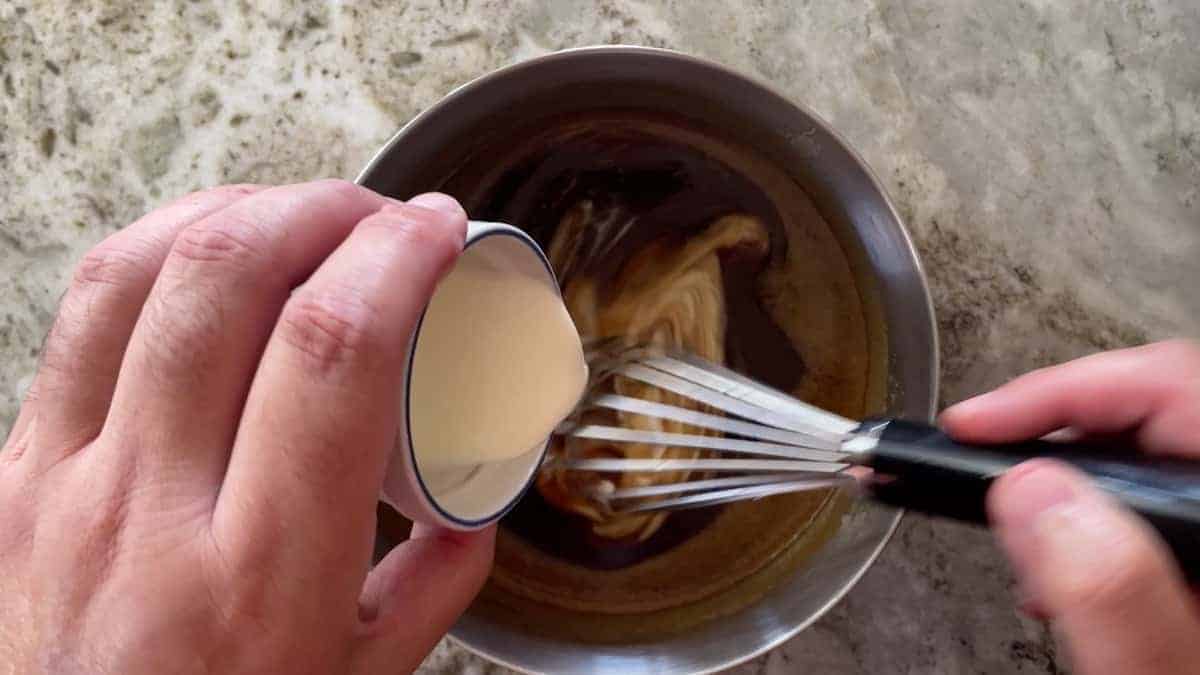 STEP 8: Whisk in the 1 egg and then slowly add the xanthan gum a little at a time while vigorously whisking.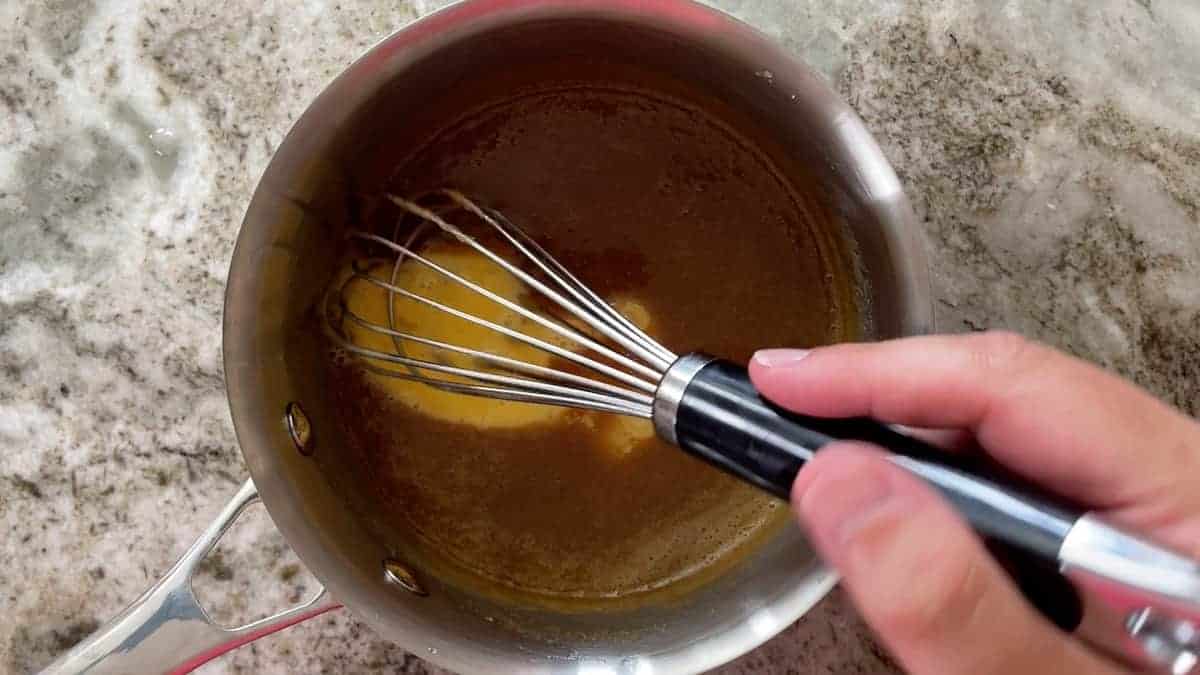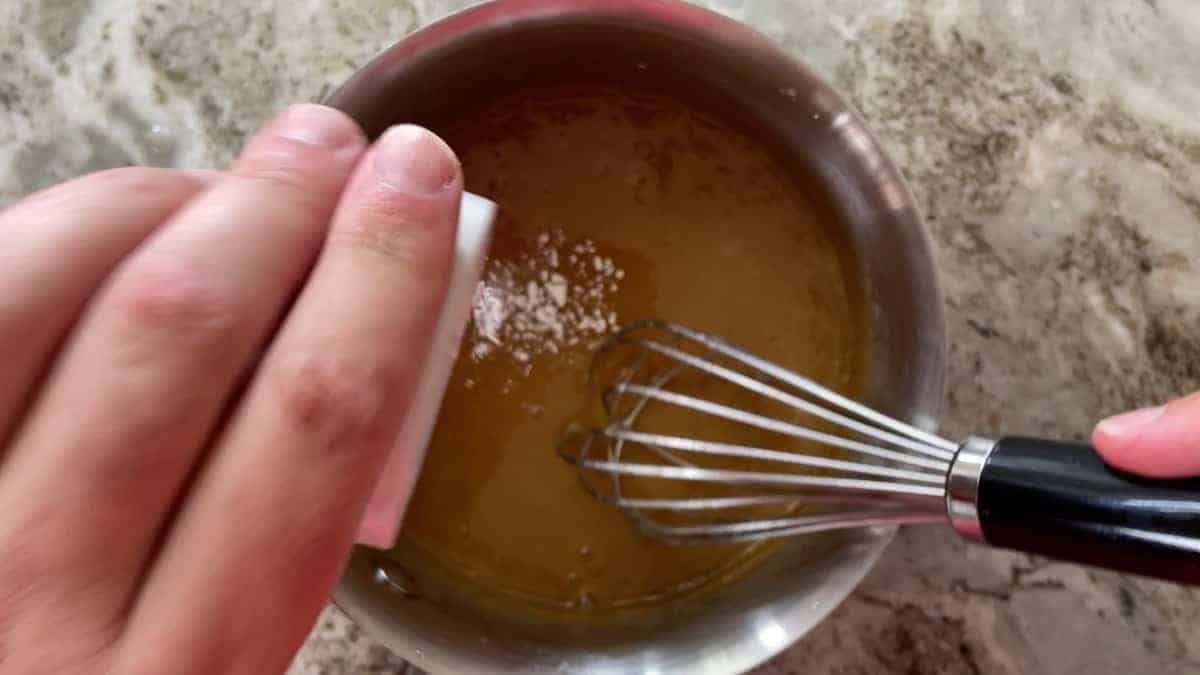 STEP 9: Remove pastry shells from fridge and fill each shell with chopped pecans. Then spoon in about 2 tablespoons of the filling into each shell and top with a pecan.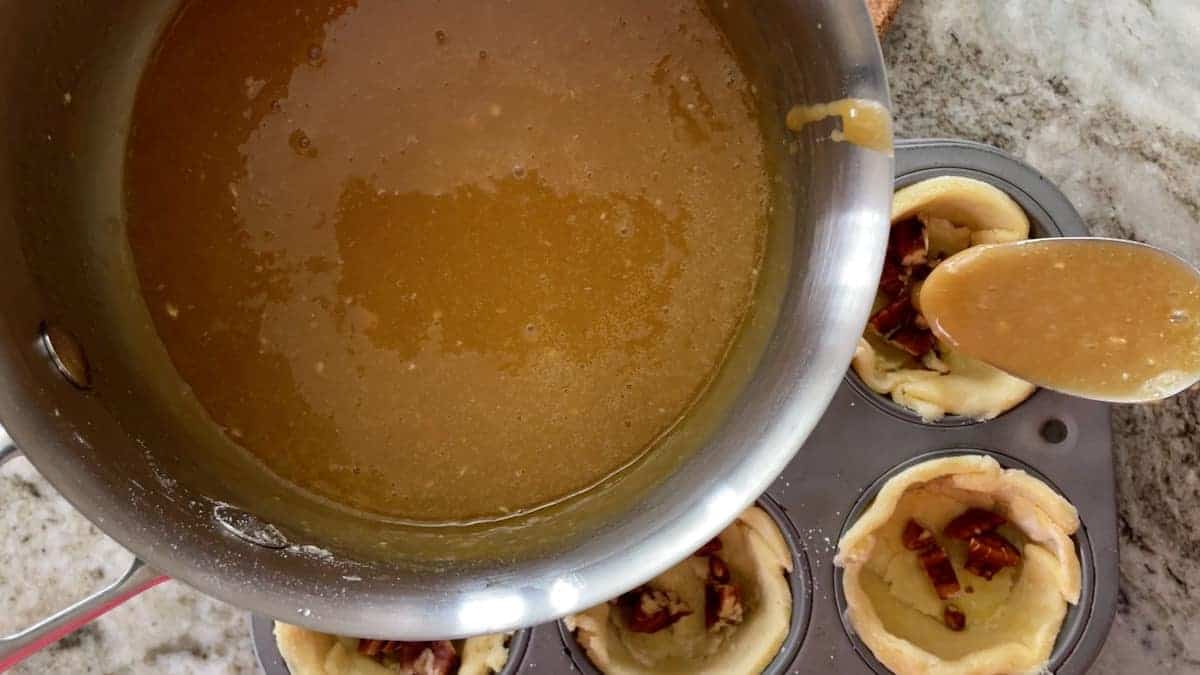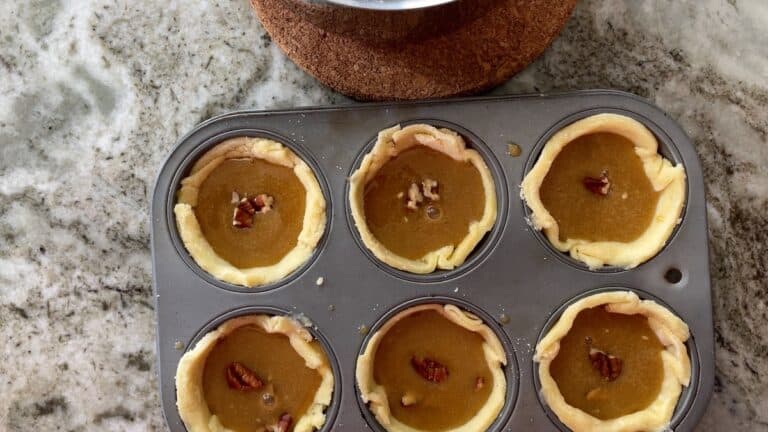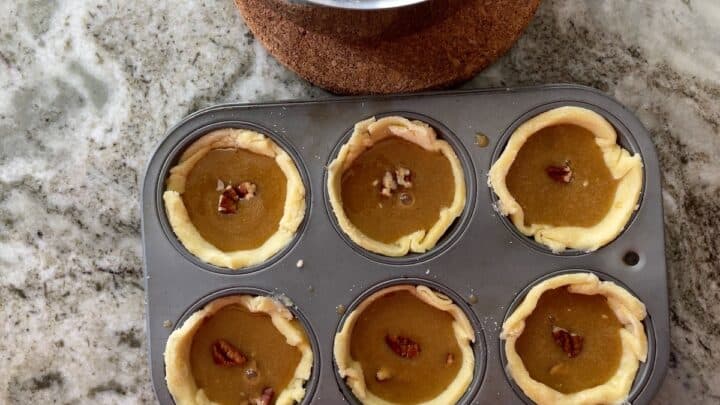 STEP 10: Bake the keto butter tarts in the oven at 375°F for 12-15 minutes. Edges of pastry shells should be golden brown and filling should not be jiggly after baking.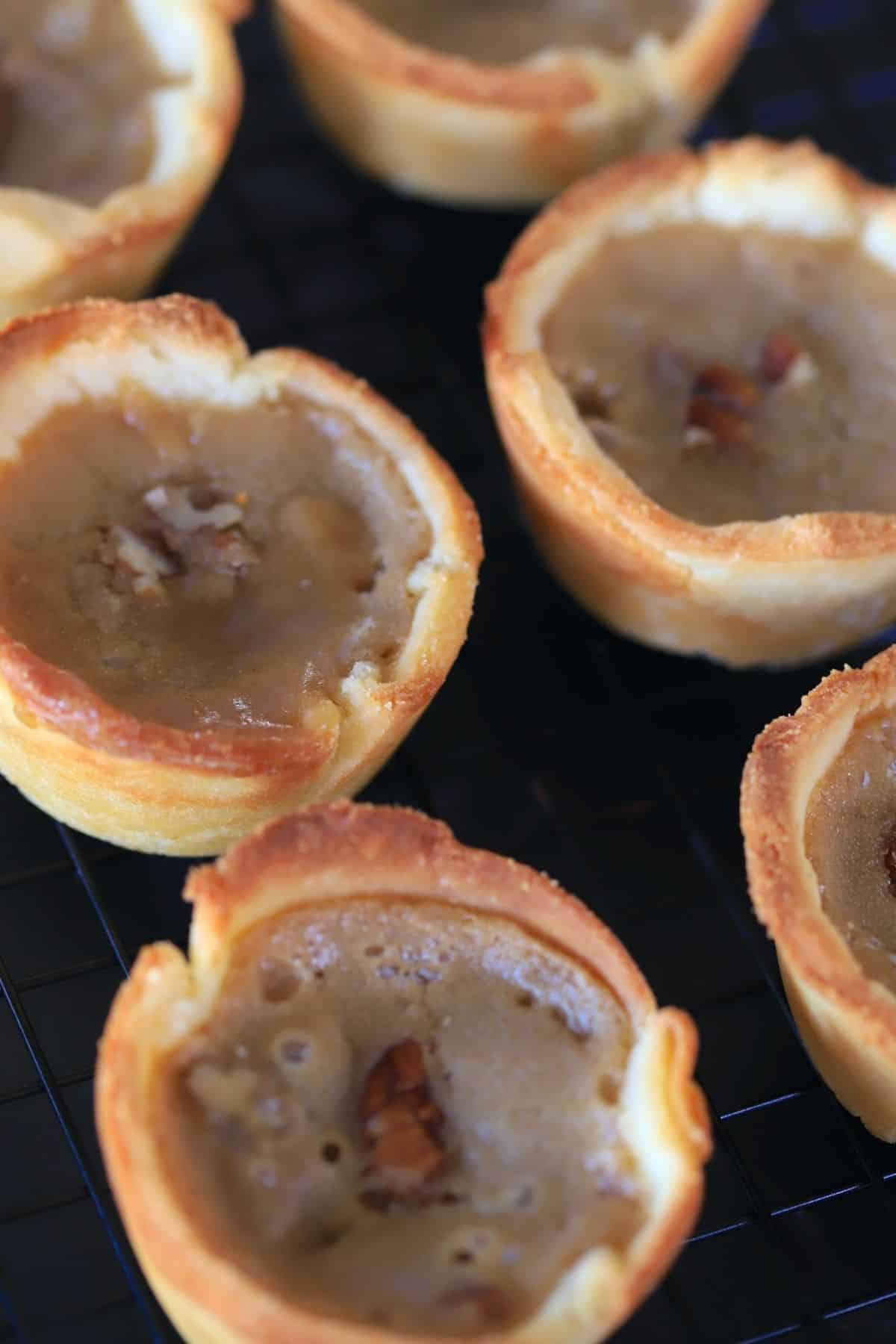 STEP 11: Allow butter tarts to completely cool in the muffin tins. Then turn the butter tarts in the tins to help loosen them up and then twist and lift to remove from muffin tins. Bottoms should be golden.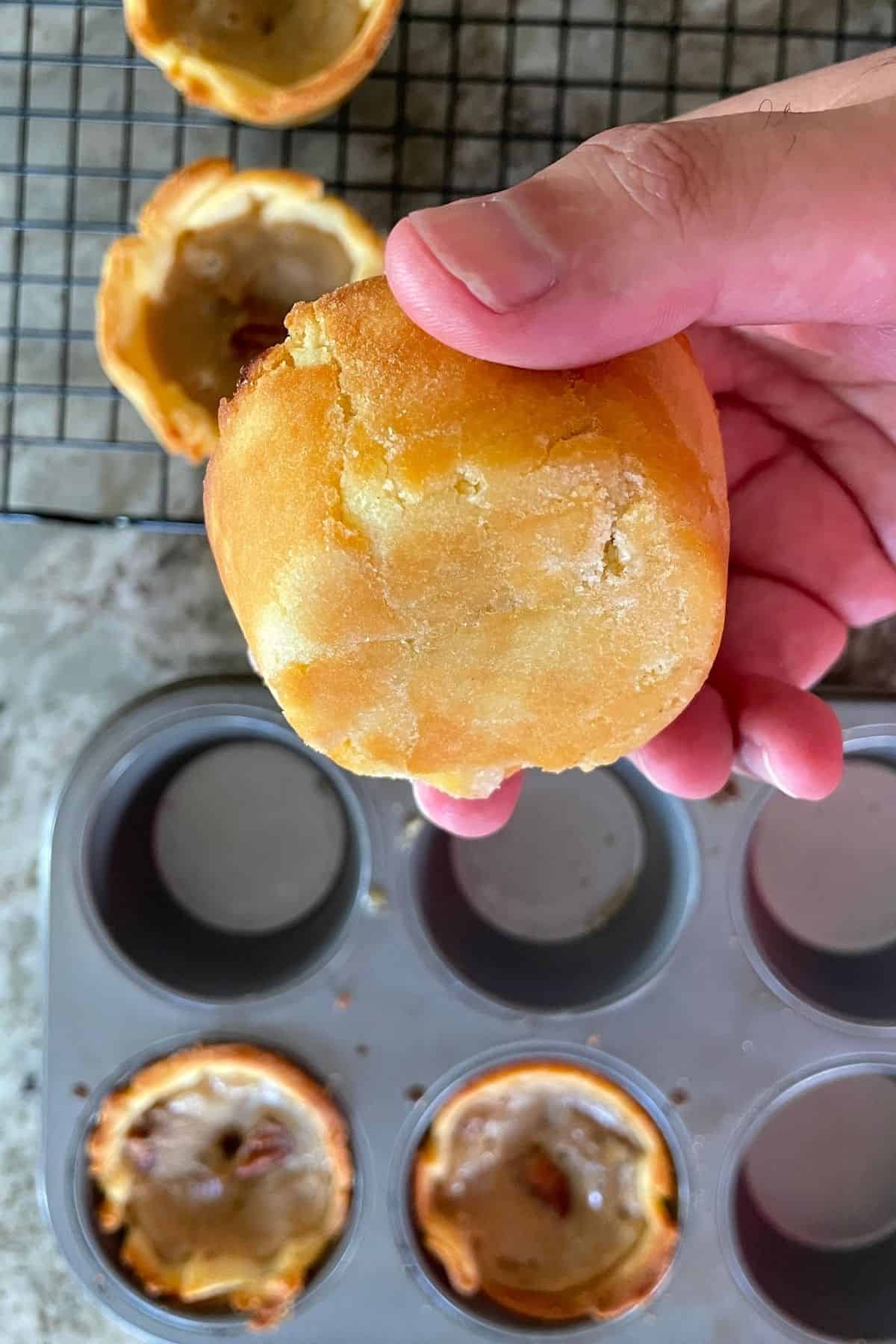 🍴 More diabetic friendly dessert recipes
📋 Substitutions and variations
Maple Extract: if you don't have maple extract you can simply go without or add other fun extract flavours like almond, banana or coconut.
Pecans: not a fan of keto pecan butter tarts, try adding walnuts or even sugar free chocolate chips instead
Sweetener: if you don't have brown swerve or sukrin gold sweetener you can use regular erythritol or your other favourite sweeteners but the tarts will be much lighter and lose a lot of that caramel colour and flavour.
Another favourite recipe of mine that uses a similar pastry crust is my Keto Quiche Lorraine.
👨🏻‍🍳 Top tips and serving suggestions
Top Tip: Do not overcook the filling in the saucepan as it can recrystallize much faster when cooled.
Cooling: Ensure tarts are completely cooled before removing from muffin tins or they may fall apart. Do not flip over the muffin tin onto a cutting board as the filling may fall out in the process. Twist and lift the butter tarts out once they are cooled. Watch the video to see how I did it.
Filling: Don't fill pastry shells more than two-thirds full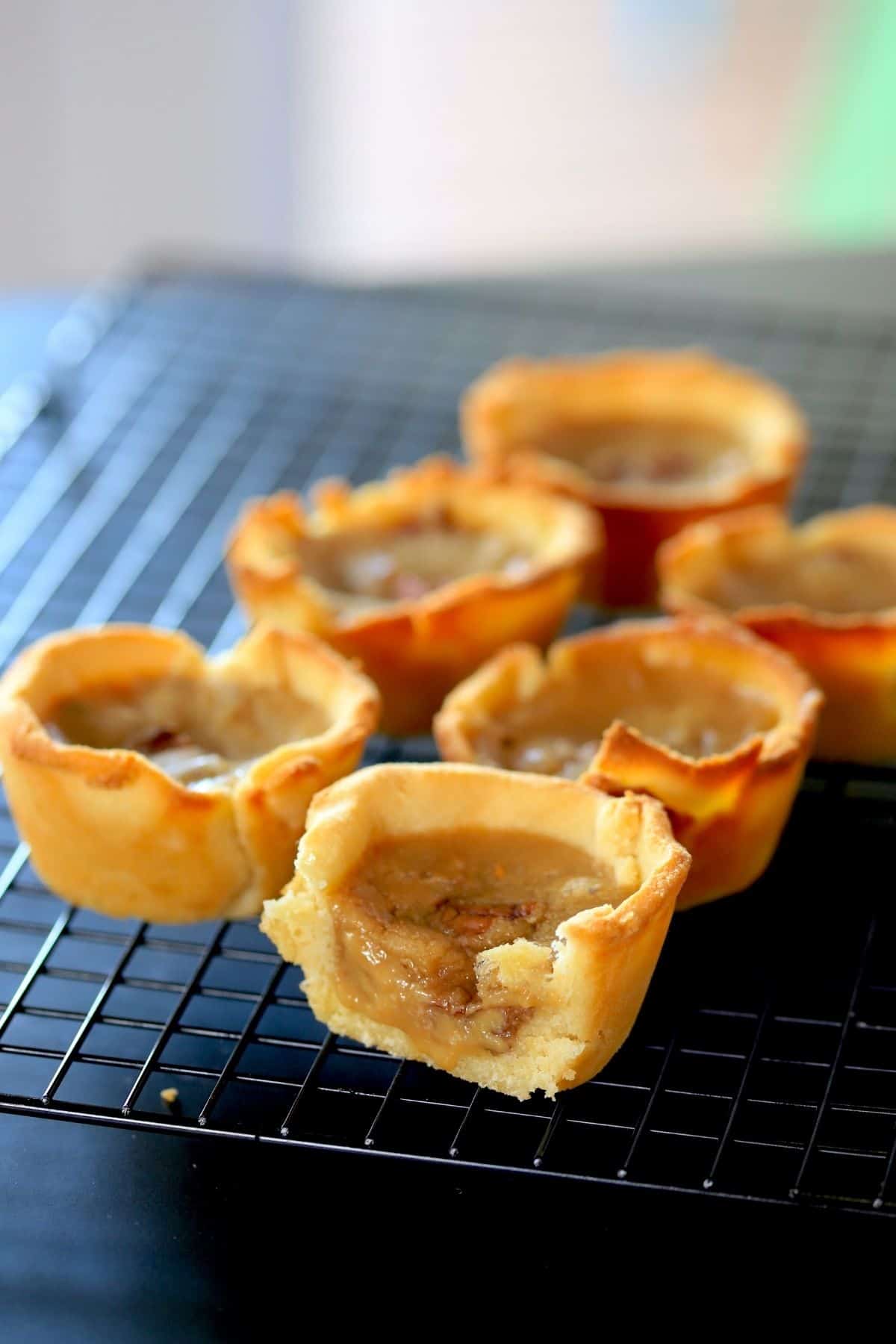 🥣 My kitchen essentials to make these butter tarts
♨️ How to store the butter tarts
The keto butter tarts are best served warm after baking as the filling will crystalize a little. However, a quick 20 second zap in the microwave will bring back some of the gooeyness in the filling. Butter tarts can be stored in an airtight container for up to a week. If freezing, store in an airtight container or freezer bag for up to 3 months. Simply thaw overnight and either warm up in the oven for 10 minutes at 350*F or microwave for 20 seconds after thawing.
💭 Frequently asked questions
What makes these butter tarts keto?
These butter tarts have 3g of net carbs per serving and are likely to fit into a ketogenic and low carb diet.
I am diabetic, can I eat these tarts?
These healthy butter tarts are made sugar free and only contain 3g of net carbohydrates per tart. Therefore, they can be considered as diabetic friendly. However, everyone reacts differently to different foods and you should monitor your blood sugars after consuming a tart to see how it affects you.
Why are my butter tarts runny?
If butter tarts are too runny you can bake them for another 2 minutes to firm them up. Next time you can add an extra egg to the filling to firm it up even more. However, the filling may firm up as it cools.
What makes these butter tarts Canadian?
According to Wikipedia "Butter tarts were common in pioneer Canadian cooking, and they remain a characteristic pastry of Canada, considered a recipe of genuinely Canadian origin." Source here
Do I need to butter or grease the muffin tins?
Due to the plenty of butter in the pastry dough the tarts do not stick to the tins for me. If you have an older muffin pan, you may need to butter the tins a little.
How many calories in these keto butter tarts with pecans?
Each butter tart contains 349 calories.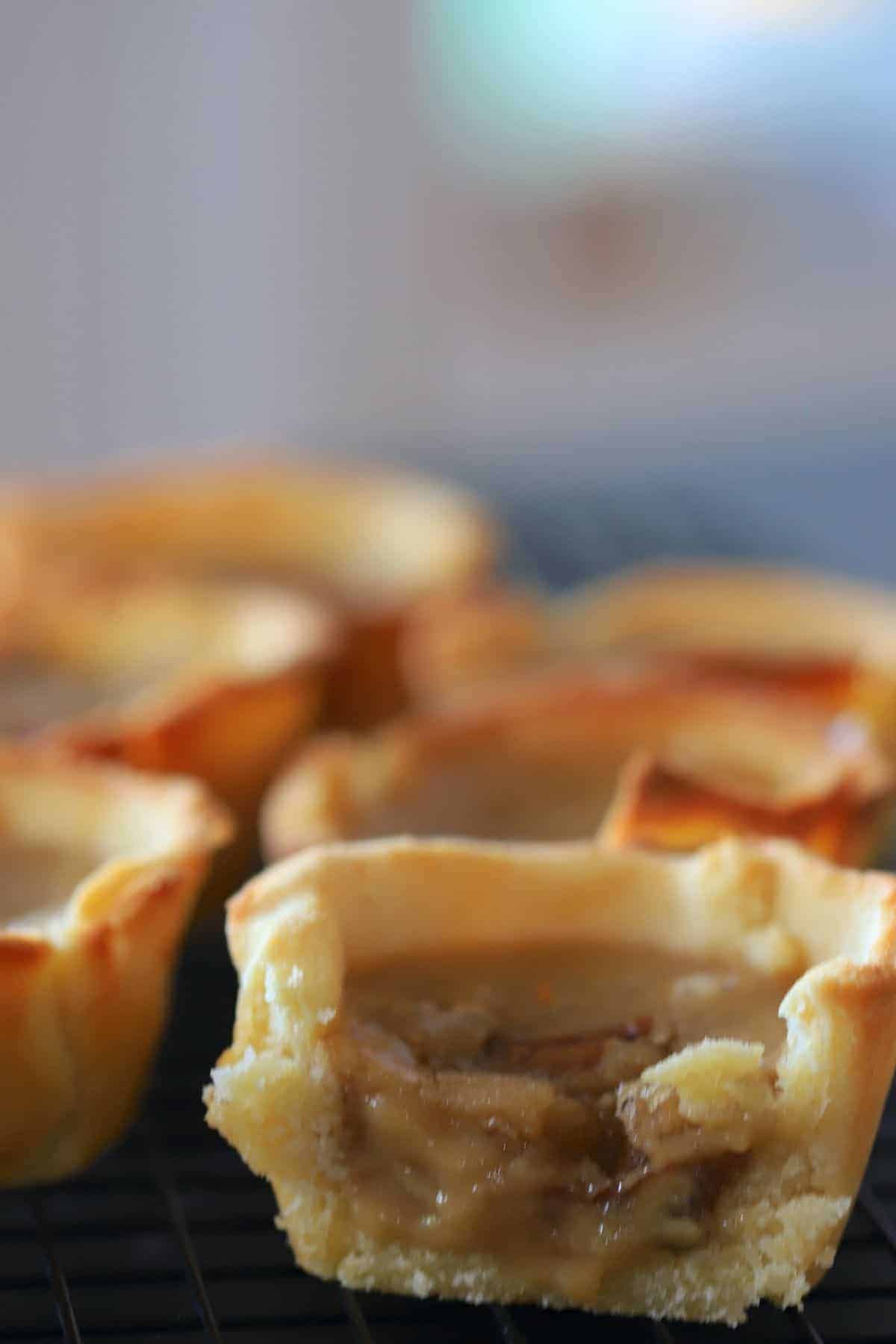 If you enjoyed this recipe I would love if you would share on social or pin on pinterest. Comments and rating are also appreciated!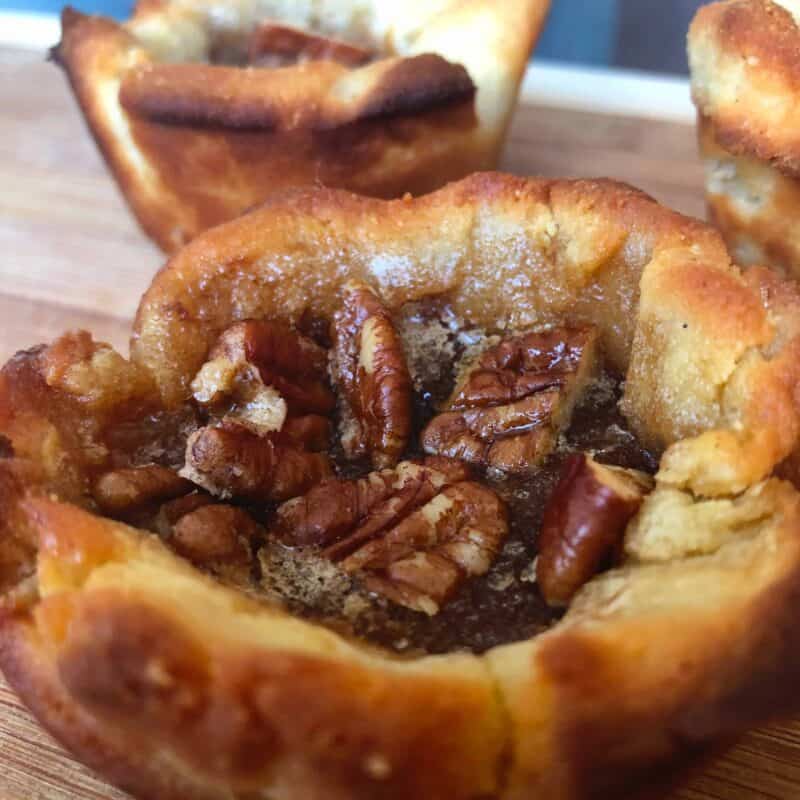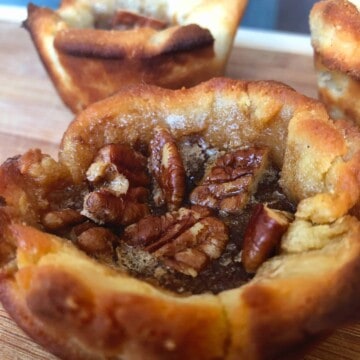 Keto Butter Tarts
Butter tarts have a delicious mix of flavours and textures with a flaky pastry and a sweet filling. Think of a pecan pie but with a gooey butter filling that's semi solid.
Nutrition
Serving:
1
tart
Calories:
349
kcal
Carbohydrates:
9
g
Protein:
6
g
Fat:
31
g
Fiber:
6
g
Sugar:
2
g
Ingredients
Filling
¾

cup

brown sweetener

Sukrin Gold or Swerve Sweetener Brown (Swerve Sweetener Brown)

½

cup

unsalted butter

1

tablespoon

heavy whipping cream

¼

teaspoon

Maple Extract

1

teaspoon

vanilla extract

1

large

egg

½

teaspoon

xanthan gum

6

pecans chopped

save 6 pieces for topping (optional)
Instructions
Pastry Crust
Combine the almond and coconut flour, xanthan gum and salt in a large bowl and whisk together.

Combine the butter into the mixture using a pastry blender or with two forks (do this step quickly so the butter doesn't melt) then do the same with the cream cheese (see video for a visual)

Add the egg and the apple cider vinegar, continue to mix until small pellets form

Grab the mixture with your hands and knead the dough for about 1 minute until well mixed together to shape into a ball.

Wrap ball with plastic wrap and store in fridge for an hour

After 1 hour roll out dough on lightly coconut floured parchment paper, you may want to use another piece of parchment on top to roll out the dough to ¼ thick. Then using a 4" cookie cutter, cut out the shells. If you want a thick crust like the photos above, ⅛" - ¼" should work. Plus thicker makes it easier to peel off the parchment paper.

Place each shell into a muffin tin, no butter or parchment needed as the butter in the crust should be enough. If pastry falls apart during this step use the extra rolled out dough to fill any holes. I did a lot of patch work here and it's ok, nobody is going to know. These tarts are rustic looking.

Place into the fridge until ready to fill.
Filling
In a saucepan on medium/low melt the butter and brown sweetener/sukrin gold. Next, keep stirring, it might appear that the sweetener is not melting but it will. Simmer for 1 minute.

Remove from heat and stir in the cream, maple and vanilla extract.

Let it cool to the touch, about 5 minutes but keep stirring until its cool.

Whisk in the egg and then sprinkle in the xanthan gum a little bit at a time while whisking vigorously.

Chop the pecans and divide into each shell, save 6 pieces for the top. Feel free to add more pecans than suggested if you prefer.

Using a spoon fill in the shells with the filling. About 2 tablespoons or up to two-thirds of the tart.

Bake for 12-15 minutes at 375°F or until pastry shells are golden brown and filling is no longer jiggly.

Allow to cool completely in the muffin tins and then use your fingers and gently twist the tarts to loosen them from the tin. Bottoms of tarts should be lightly golden.
Shop Discounts from DiabetesStore.com
Notes
Each butter tart is approximately 3g net carbs.
All nutritional information is based on third-party calculations and should be considered estimates. Actual nutritional content will vary with brands used, measuring methods, portion sizes and more.
Top Tip: Do not overcook the filling in the saucepan as it will recrystallize much faster when cooled.
This recipe card provides the basic details to make this recipe. For more information, questions or variations please review the content above the recipe card.
Updates and Revisions
If conflicting information between the video and recipe card, the recipe card will always have the most up to date information, ingredients and instructions.
Nutritional Information
All nutritional information is based on third-party calculations and should be considered estimates. Actual nutritional content will vary with brands used, measuring methods, portion sizes and more.
LOVE THIS RECIPE?
Check out I Hacked Diabetes on Pinterest
Food safety
Cook to a minimum temperature of 165 °F (74 °C)
Do not use the same utensils on cooked food, that previously touched raw meat
Wash hands after touching raw meat
Don't leave food sitting out at room temperature for extended periods
Never leave cooking food unattended
Use oils with high smoking point to avoid harmful compounds
Always have good ventilation when using a gas stove
See more food guidelines