This Keto Quiche Lorraine is a delicious and creamy pie with a flaky crust, filled with a savoury egg custard with gruyere cheese and bacon.
With only 2g net carbs per slice it is sure to be a low carb favourite meal for anyone trying to lower their carb intake. A perfect diabetic friendly option without compromising on great taste.
My first time enjoying a quiche lorraine was in France and my jaw dropped after taking the first bite. I was so in love with this scrumptious pie. So I came up with a keto crust for this recipe by using a modified version from my Keto Butter Tarts recipe.
Jump To:
Main ingredients used
The first time I made this low carb quiche lorraine I could not believe how amazing it turned out. The custard like filling was creamy while the gruyere cheese (one of my favourite cheeses) just makes this dish the ultimate quiche.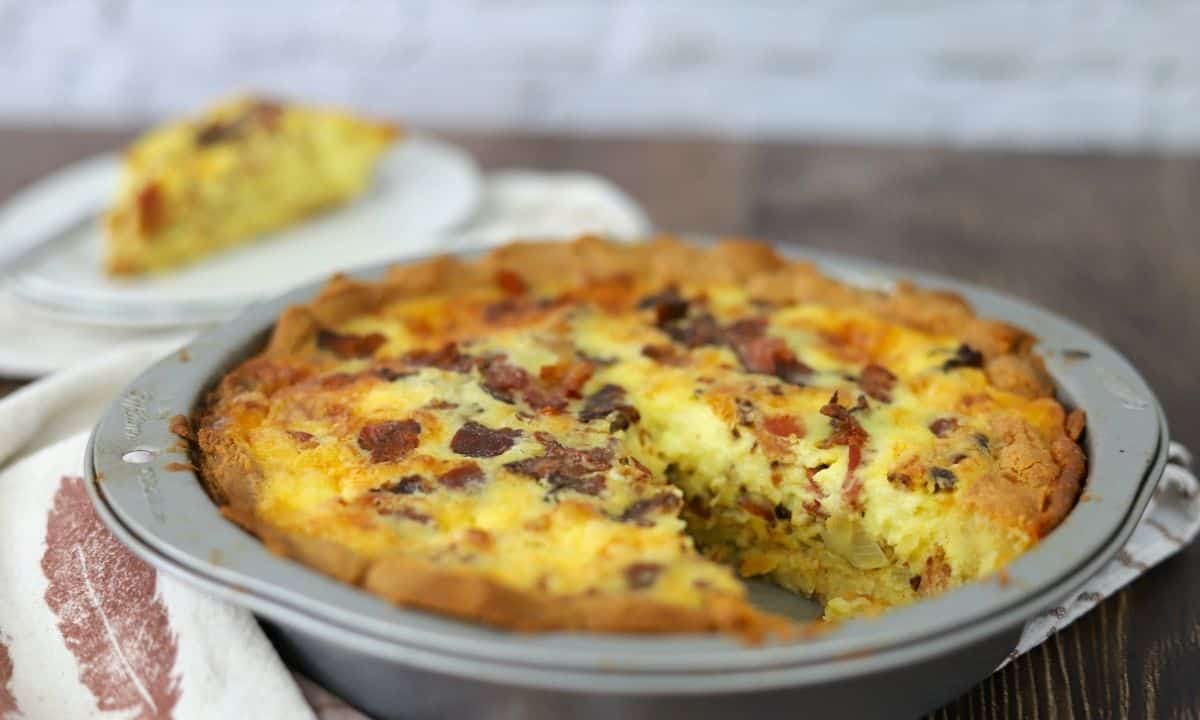 Almond Flour: keeping the carbs low, this pie is made with blanched almond flour.
Bacon: adding that savoury bacon flavour to this quiche is optional but for me it's a must and really gives this low carb dish a pop.
Onions: sauteed onions until soft releases the natural sugars, cooked until almost translucent.
Gruyere Cheese: a little nutty, creamy but slightly sweet and salty. It's become a staple in my house.
The best keto quiche crust
This keto quiche crust can be used for many recipes that ask for a crust. The crust comes out super buttery and crisp every time I make it. It truly is the best keto pie crust I've ever had. No joke!
I use it for meat pies, coconut cream pies and pumpkin pies. No need to make the crust look like it came out of a BON APPÉTIT magazine. This is a rustic dish and the natural, aged and casual look is what makes this pie stand out from the crowd.
What types of cheese to use in a quiche?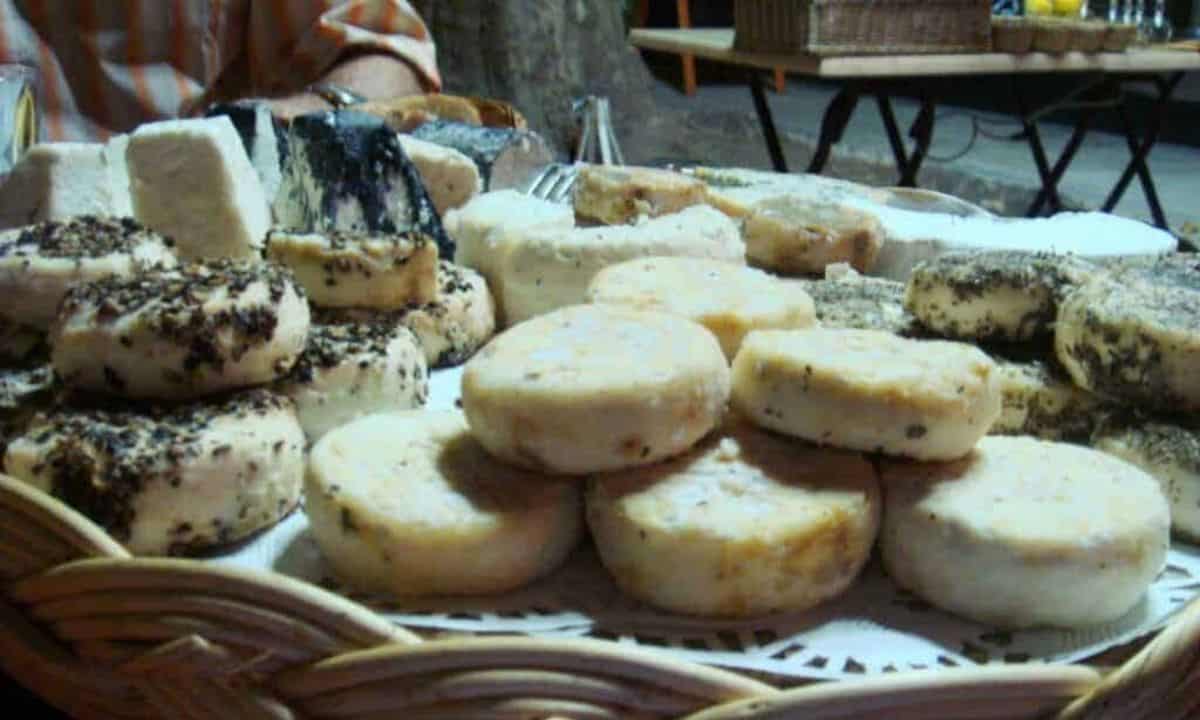 If you know me, you know I love my cheese. I have my top 3 favourite cheeses below. All 3 can be used in this recipe but a white cheddar or swiss cheese can also work. However, I do think Gruyere is the best for this dish.
Comté Cheese
Comté is a French cheese made from unpasteurized cow's milk in the Franche-Comté traditional province of eastern France (Jura) bordering Switzerland and sharing much of its cuisine. This is also where we spend most of our time in France and where my partners family lives, so I may be biased.
Gruyère Cheese
Gruyère is a hard yellow Swiss cheese that originated in the cantons of Fribourg, Vaud, Neuchâtel, Jura, and Berne in Switzerland.
Dubliner Cheese
Dubliner is a sweet, granular cheese aged over a year and manufactured by Carbery, located in County Cork, Republic of Ireland.
I suggest watching the instructional video as there are many steps in this recipe. However, it's is not difficult once you observe how I made it. If you follow the ingredients and directions you will not be disappointed. If you love bacon, cheese and eggs, this quiche is for you!
Step by step instructions
How to make keto quiche lorraine?
STEP 1: For the crust add the almond flour and salt to a large bowl and mix with a fork to combine. Add the cold butter and cream cheese, use two forks or a pastry blender to combine.
STEP 2: Add the 1 large egg and apple cider vinegar, mix with a fork and then use your hands to shape dough into a ball. Wrap in plastic wrap and store in the refrigerator for 1 hour.
STEP 3: Preheat the oven at 375°F. Remove dough from fridge after 1 hour and roll out to a 9" circle on a parchment sheet.
Place an 8" pie pan over the rolled out dough and then flip so the pie crust is not sitting on the pan.
Gently peel off the parchment paper and maneuver the pie crust into the pan, pinching the edges if desired.
STEP 4: Bake the crust in the oven at 375°F for 10-15 minutes until golden brown around the edges. Set aside to cool for 10 minutes.
STEP 5: Let's make the custard filling. First Preheat the oven to 350°F.
STEP 6: Crisp up the bacon in a frying pan on the stove top and then transfer to a dish lined with paper towel. Set aside.
STEP 7: Using the same frying pan saute the onion in the bacon grease and then transfer the onions to the quiche crust with half of the crisped bacon. Top with the shredded gruyere cheese and then the remaining bacon.
STEP 8: In a large bowl mix the 4 eggs with the cream, cayenne and nutmeg and then pour over the contents in the pie.
STEP 9: Bake on a baking sheet at 350°F for 50 minutes. Allow to cool for 5-10 minutes for the custard to set. Slice and enjoy!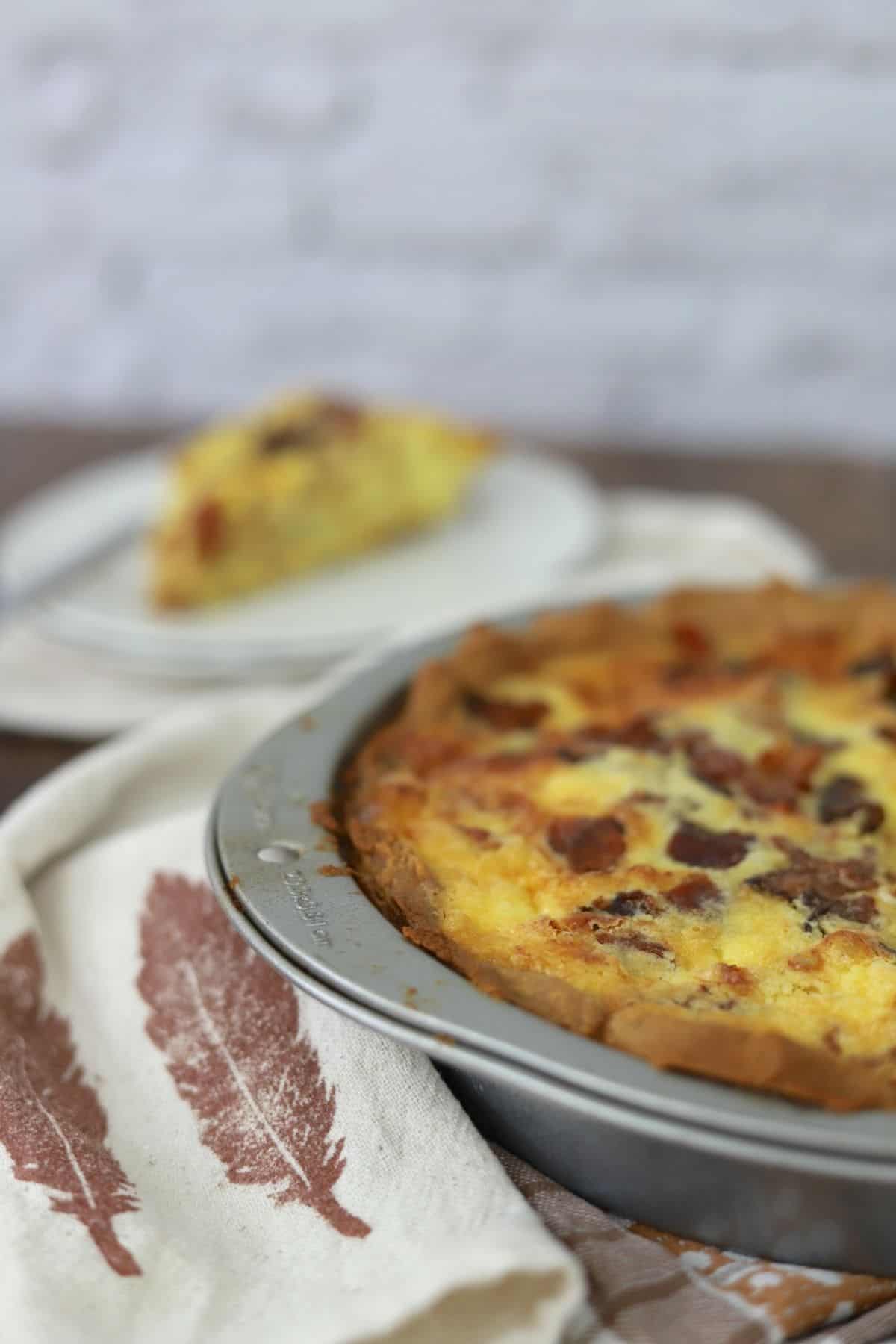 Recipe tips
Top Tip: if you notice the pie crust bubbling in the oven use a fork to poke the air out to flatten them. You may also want to poke holes in the dough before flipping onto the pie pan.
Cold Dough: try to work quickly when rolling out the dough out of the fridge as it will be more difficult to work with as it gets warmer.
What to serve with keto quiche lorraine?
How to store quiche?
Allow the low carb quiche to cool completely and then store on a dish wrapped in plastic wrap in the refrigerator for up to 4 days. Reheat individual slices in the microwave.
Frequently asked questions
Why is it called quiche lorraine?
The word 'quiche' comes from the German word kuchen, meaning cake and Lorraine is a name for a region that was called the Kingdom of Lothringen
Can I use milk instead of heavy cream?
You can use whole milk in this keto quiche recipe if you want to cut back on the amount of fat from the heavy cream.
What can I serve with keto quiche lorraine?
Quiche is often served with a side of soup, some fresh berries or a low carb sweet dessert.
Is quiche a breakfast or dinner?
It has all the ingredients that you may typically have for breakfast. However, the quiche is very filling and can also be served for dinner.
Is keto quiche lorraine low carb?
Each slice contains roughly 2g net carbs and therefore would be considered low carb. This quiche could fit into your daily macros if you are following a keto diet. It is also low on the glycemic index and should be ok with people who have diabetes. However, always check your blood sugars to see how it affects you.
Other low carb recipes you might enjoy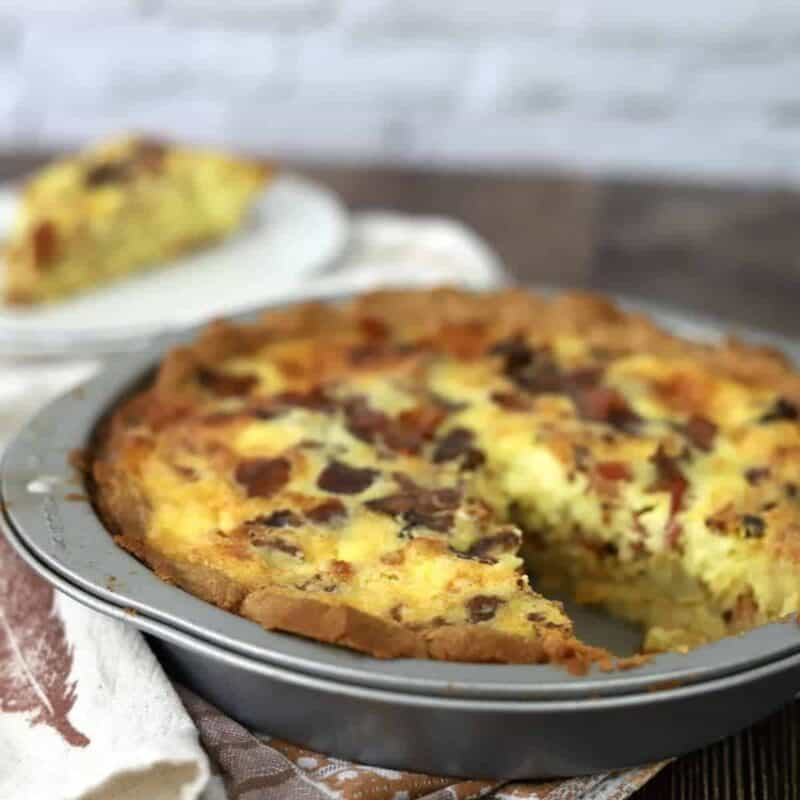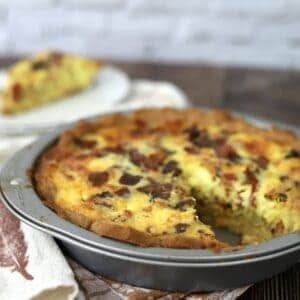 Keto Quiche Lorraine
Golden keto crust with a creamy custard filling made with eggs, gruyere and bacon.
Nutrition
Serving:
1
Slice
Calories:
401
kcal
Carbohydrates:
3
g
Protein:
13
g
Fat:
39
g
Fiber:
1
g
Sugar:
1
g
Ingredients
Custard Filling
9

Slices

Bacon

diced

1

medium

Onion

diced

4

large

Eggs

1

cup

Gruyere Cheese

grated

1

cups

Heavy Whipping Cream 35%

¼

teaspoon

salt

⅛

teaspoon

cayenne pepper

⅛

teaspoon

ground nutmeg
Instructions
Quiche Crust
In a large bowl add the almond flour and ⅛ teaspoon of salt

Mix with a fork to combine

Add the ½ cup of cold butter and combine with two forks or use a pastry blender. You want this to be in chunks to make it easier to combine but you want to do it quickly so the butter does not melt.

Next add the cream cheese and do the same as you did with the butter, combining into the mixture

Add 1 large egg and apple cider vinegar and mix in with a fork

Use your hands to form dough into a ball (it will be sticky)

Lay out some plastic wrap and drop ball onto the plastic. Wrap and keep in the fridge for at least 1 hour

After 1 hour remove dough from the fridge

You need to work quickly here while the dough is still cold

Roll out parchment paper sheet onto a hard surface such as your countertop

remove dough from plastic wrap and lay it onto the parchment paper

Using a rolling pin or tumbler roll out the dough to form a 9" circle. It does not have to be a perfect circle

Take your 8" pie pan and lay it onto the formed dough

If the dough warmed up it will stick to the parchment.

if the dough is hard to get off the parchment, simply peel it off and mold the dough with your fingers onto the pie pan.

Pinch a lip around the edges of the crust and then use a fork to poke holes throughout the dough to avoid any bubbling up

Place crust in oven at 375°F for 10 to 15 minutes or until golden brown around the edges

If you notice any bubbling up while it's in the oven, poke the bubbles with a fork

Once out of the oven, set aside to cool for 10 minutes
Custard Filling
Add the diced bacon to a frying pan and cook until crisp, remove from pan onto a paper towel

Remove bacon grease from frying pan leaving about 1 tablespoons of grease

Dice a medium onion and saute in the leftover bacon grease, if not using bacon saute onion in 1 tablespoon of olive oil

Once onion is soft add it onto the quiche crust

Next add only half of the crisped bacon

Now add all of the gruyere cheese

Next add the remaining crisped bacon

Mix the 4 eggs with the cream, cayenne and nutmeg

Add the egg mixture to the quiche

Place the pie pan onto a baking sheet and bake at 350° for about 50 minutes

Remove from oven and let stand for 5 minutes to allow the custard to set

Slice pie into 8 slices and enjoy
Notes
2g net carbs per slice
All nutritional information is based on third-party calculations and should be considered estimates. Actual nutritional content will vary with brands used, measuring methods, portion sizes and more.
This recipe card provides the basic details to make this recipe. For more information, questions or variations please review the content above the recipe card.
Updates and Revisions
If conflicting information between the video and recipe card, the recipe card will always have the most up to date information, ingredients and instructions.
Nutritional Information
All nutritional information is based on third-party calculations and should be considered estimates. Actual nutritional content will vary with brands used, measuring methods, portion sizes and more.
LOVE THIS RECIPE?
Check out I Hacked Diabetes on Pinterest