Fuel your day with these delicious 3 Ingredient Protein Powder Pancakes. Indulge in a guilt-free, low-carb delight made with just 3 wholesome ingredients.
Perfect for a protein-packed breakfast that satisfies without sacrificing flavor. Get your morning boost now with these sugar free zero carb pancakes.
Jump To:
So, whether you're in need of a post-workout refuel or a nourishing breakfast, these low carb high protein pancakes have got you covered.
Whip them up over medium heat, indulge in the delectable flavors, and fuel your day with a delightful balance of taste and nutrition.
Why you'll love these protein powder pancakes
Protein Powerhouse: Elevate your breakfast game with these protein powder pancakes, ensuring you kickstart your day with a healthy dose of muscle-fueling protein.
Whey Wonder: Crafted using top-quality whey protein powder, these pancakes not only satisfy your taste buds but also provide you with the benefits of a gluten-free protein-rich diet.
Simple Recipe: Prepare these pancakes effortlessly by mixing eggs, vanilla whey protein powder, and a touch of sour cream. Quick and convenient for your busy mornings.
Versatile and Flavorful: Experiment with different protein powder variations, like plant based vegan protein powder options, to suit your preferences. The touch of vanilla protein powder enhances the flavor, earning this recipe high ratings across the board.
Warm and Wholesome: As they sizzle over medium heat, the based protein powder pancakes emanate a warm, inviting aroma. The balance of protein power and taste satisfaction ensures you savor every moment of your meal.
Zero Carb Pancakes: These sugar-free pancakes boast an added benefit of being zero-carb, making them an ideal choice for those seeking a delicious treat without the carb content. Don't have to think about net carbs in this recipe.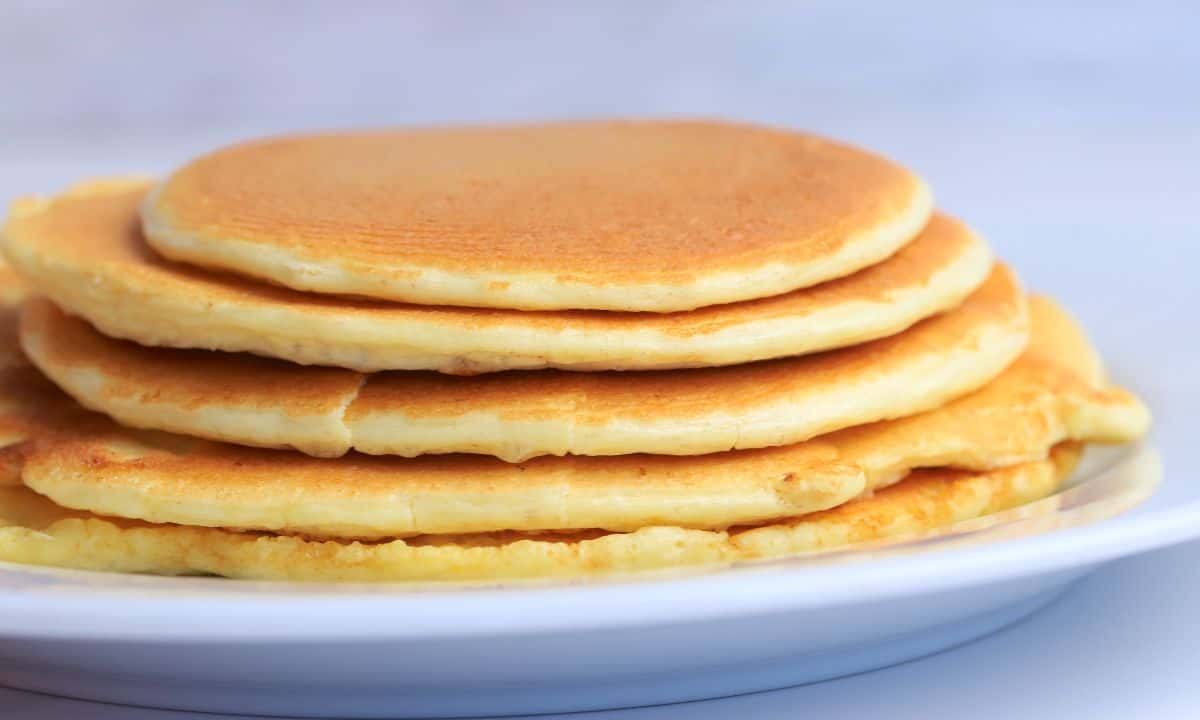 Ingredients Used
Crafted from a harmonious blend of essential elements, these protein powder pancakes promise a delectable balance of flavor and nourishment in every bite.
Eggs: serve as the foundation of these protein powder pancakes, providing structure and binding while contributing to their fluffy texture. You can just use the egg whites if you prefer but add another 1-2 tablespoons of sour cream.
Vanilla Whey Protein Powder: Vanilla whey protein powder not only boosts the protein content but also imparts a pleasant vanilla flavor, elevating the taste profile of the pancakes.
Sour Cream: Sour cream adds moisture to the batter, resulting in tender and moist pancakes, and contributes a subtle tang that balances the sweetness.
Together, these ingredients work harmoniously to create protein-packed pancakes with a delightful balance of flavor and texture.
Optional Ingredients: Although not utilized in this particular recipe, baking powder and vanilla extract are optional ingredients that can be incorporated.
See the recipe card for quantities.
Steps by step instructions
How to make protein powder pancakes?
STEP 1: Place a frying pan over medium heat and add a small amount of butter to grease the surface.
In a mixing bowl, combine the eggs, vanilla whey protein powder, and sour cream. Stir the mixture until it forms a smooth batter (see video)
Place a frying pan over medium heat and add a small amount of butter to grease the surface.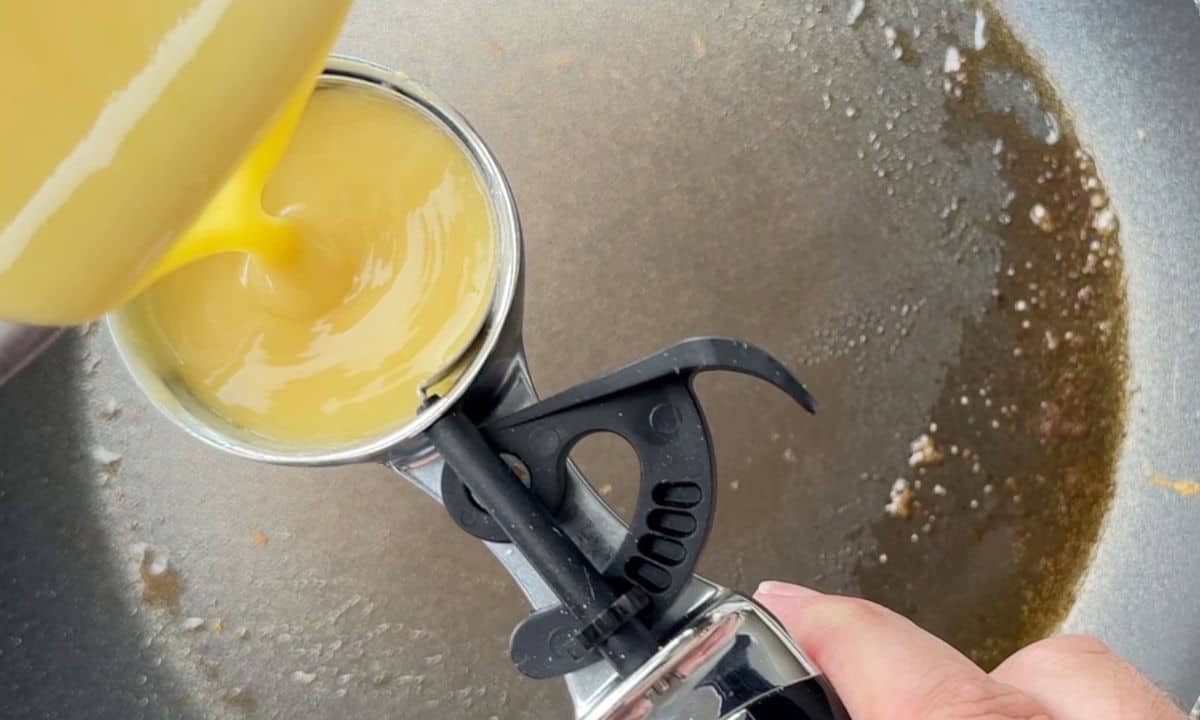 STEP 2: Once the butter has melted and the pan is evenly coated, ladle a portion of the batter onto the pan to form a pancake.
I used an ice cream scoop to make perfect medium-sized pancakes.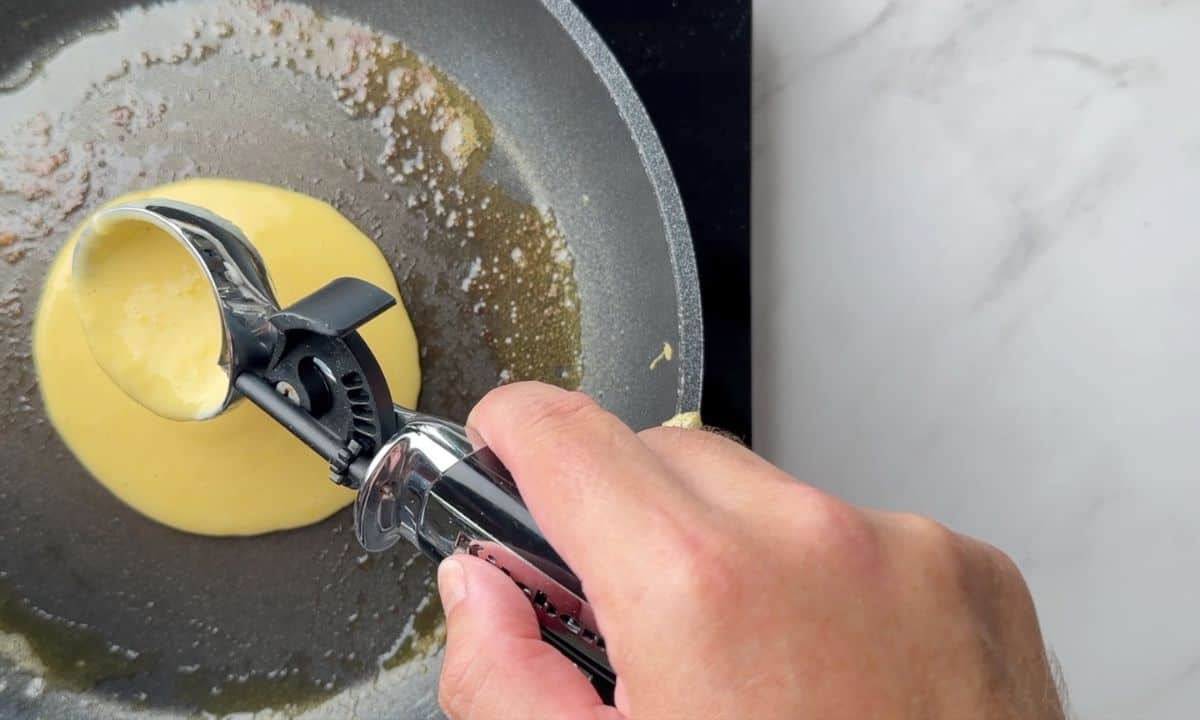 STEP 3: Allow the pancake to cook for approximately 2-3 minutes on one side, or until bubbles start forming on the surface.
Gently flip the pancake using a spatula and cook for about 1 minute on the other side, until both sides are golden brown and the pancake is cooked through.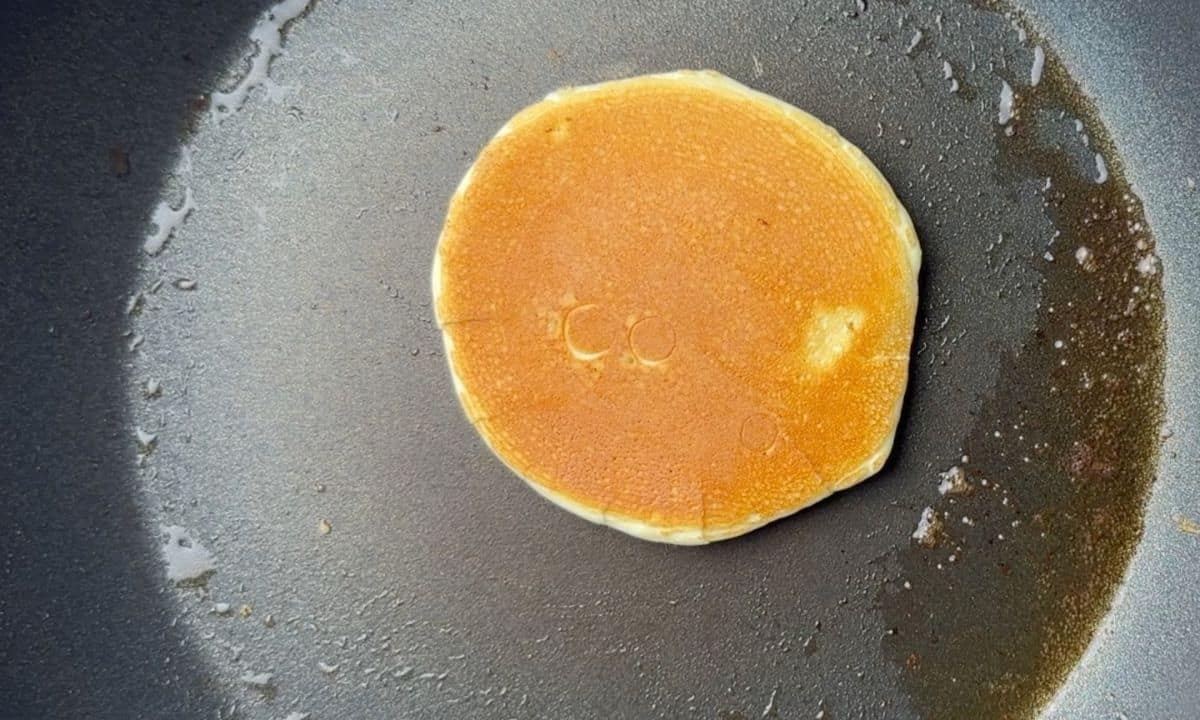 STEP 4: Repeat the process with the remaining batter, greasing the pan with butter as needed. Serve the protein powder pancakes warm, perhaps with your favorite toppings, and enjoy a delicious and protein-rich breakfast treat.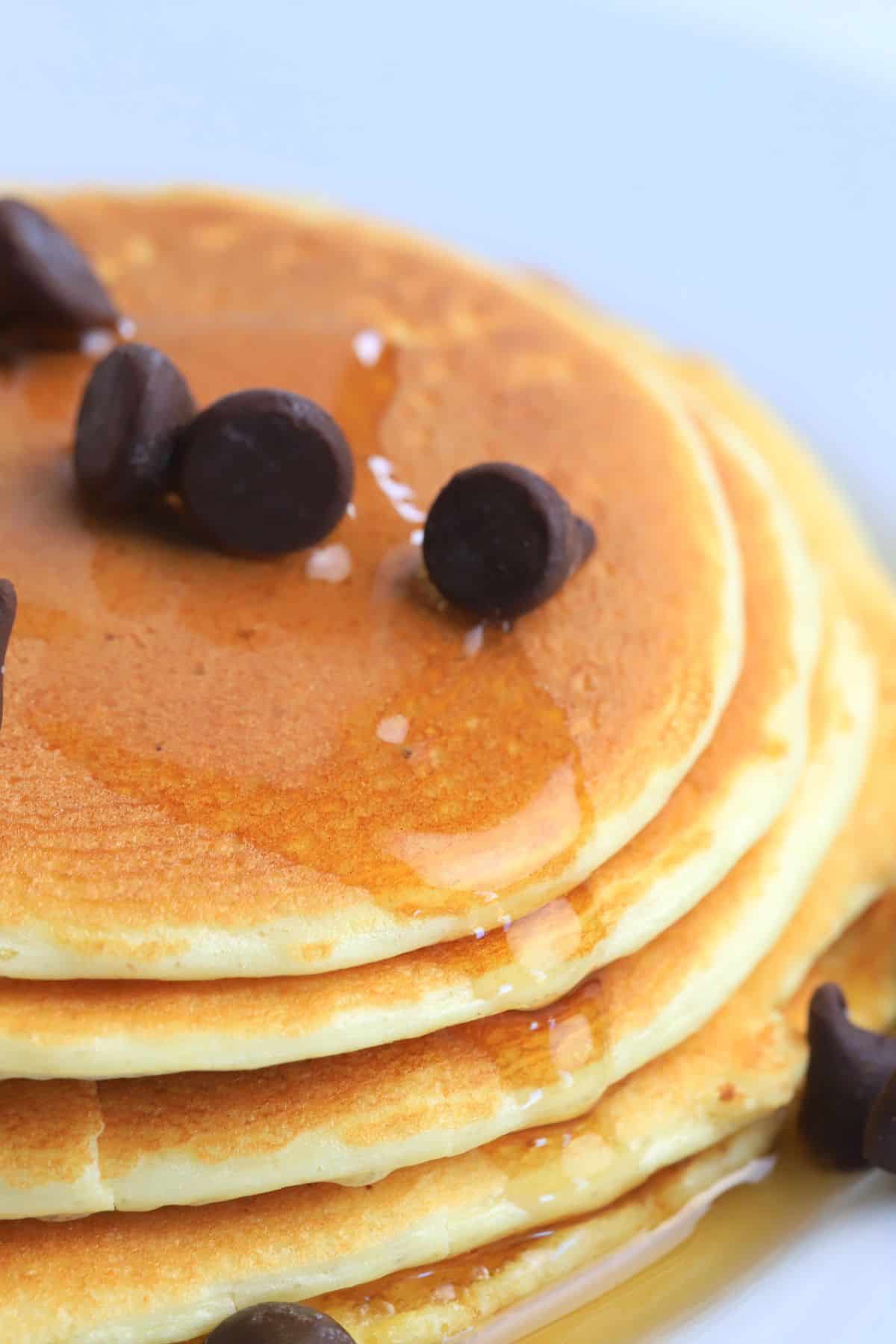 What can I top the 3 ingredient pancakes with?
You can elevate this protein pancakes recipe while maintaining their sugar-free, gluten free and low-carb status by opting for these delicious toppings:
Fresh Berries: Top your pancakes with a colorful assortment of fresh berries like strawberries, blueberries, or raspberries. They provide natural sweetness, vibrant color, and essential vitamins.
Whipped Cream: Choose sugar-free whipped cream to add a luscious and creamy touch to your pancakes without the added sugars.
Nut Butter: Spread a thin layer of sugar-free nut butter, such as almond or peanut butter, for a satisfying dose of healthy fats and protein.
Chopped Nuts: Sprinkle crushed nuts like almonds, walnuts, or pecans for a delightful crunch and extra nutrients.
Greek Yogurt: A dollop of plain Greek yogurt adds creaminess and a protein boost, enhancing the overall texture and taste.
Cinnamon: A dash of cinnamon not only adds warmth and flavor but also has potential health benefits.
Sugar-Free Maple Syrup: Opt for sugar-free maple syrup to enjoy that classic pancake experience without the extra carbs.
Sugar Free Chocolate Chips: top the pancakes with a few sugar free chocolate chips for some added texture and chocolate flavor.
These topping choices not only keep your pancakes low-carb and sugar-free but also introduce a variety of flavors and textures for a delicious and guilt-free meal.
Which Protein Powder Is Ideal for This Recipe?
For this recipe, several protein powders are well-suited, catering to diverse preferences. One standout option is Transparent Labs' Grass-Fed Whey Protein Powder, which not only boasts the benefits of grass-fed sourcing but also stands as a clean product, offering a touch of sweetness from stevia.
Another excellent choice is Perfect Sports Diesel French Vanilla Whey Protein Powder, known for its rich flavor profile that complements the pancakes perfectly.
As a third alternative, consider Optimum Nutrition's Gold Standard 100% Whey, renowned for its quality and versatile flavor options. Each of these protein powders can elevate your pancakes to a new level of deliciousness and nutrition.
Other protein rich content you might enjoy
Recipe tips
Enhance your protein powder pancakes with these two tips for an even more exceptional experience:
Golden Browning: To achieve that inviting golden hue and a satisfying crunch, allow the pancakes to cook patiently before flipping. This ensures they develop a deliciously crisp exterior while maintaining a tender interior, creating a delightful contrast in every bite.
Texture Refinement: Achieve a perfect balance of textures by experimenting with different cooking times. Adjust the heat and cooking duration slightly to achieve your preferred level of fluffiness and crispiness, ensuring your low carb protein pancakes are cooked to perfection.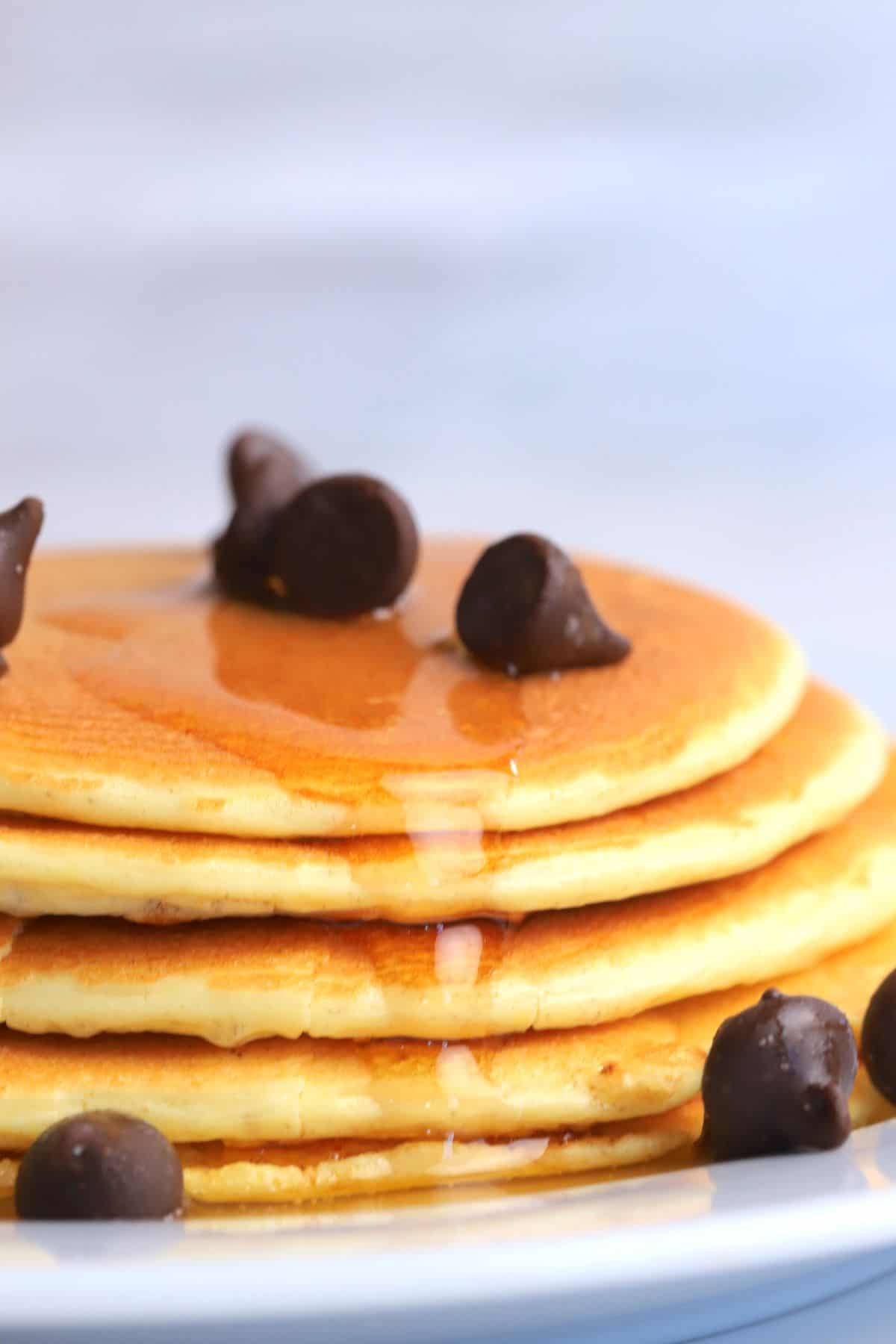 Storage
Storing your 3 ingredient protein pancakes for later enjoyment is easy, and they can become a convenient quick snack. Here's how to do it:
Cooling and Storage: After cooking your protein powder pancakes, allow them to cool to room temperature. Once cooled, stack the pancakes with a layer of parchment paper or wax paper in between each one to prevent sticking.
Freezer Option: To save them for an extended period, place the stack of pancakes in a sealable freezer-safe bag. Make sure to press out any excess air before sealing the bag. Frozen pancakes can stay fresh for several weeks.
Quick Snacking: When you're ready for a quick snack, simply take a pancake from the freezer and pop it in the toaster or microwave for a brief moment to reheat. Once heated, the sugar free pancakes become crisp, similar to chips, and are ready to be enjoyed.
Maple Syrup Dip: To add a delightful twist, pair your reheated low carb pancakes with sugar-free maple syrup. Use the pancake as a "chip" and dip it into the syrup for a satisfying and guilt-free treat.
By following these steps, you'll have a stash of protein-packed pancakes that can be easily transformed into a delicious and quick snack, perfect for dipping into sugar-free maple syrup for an enjoyable flavor combination.
Recipe variations
Here are some low carb high protein pancake variations:
Chocolate Protein Bliss: Satisfy your chocolate cravings by incorporating chocolate protein powder into the batter. Top with sugar-free whipped cream and a sprinkle of cocoa powder for a guilt-free treat.
Berry Burst: Boost your antioxidant intake by folding in a handful of mixed berries, like blueberries and raspberries, into the batter. These naturally sweet bursts of flavor add a refreshing touch to your pancakes.
Nutty Goodness: Amp up the protein content by mixing in crushed nuts like almonds or walnuts. Their crunchiness complements the whey pancakes perfectly, offering a satisfying texture and added nutrients.
Spiced Pumpkin Flair: Embrace fall flavors by adding pumpkin puree and a touch of pumpkin spice to the batter. The result is a warm and cozy pancake that's rich in protein and low in carbs.
Coconut Paradise: Transport yourself to a tropical getaway by incorporating unsweetened shredded coconut into the pancake batter. The coconut's natural sweetness and texture create a delightful twist that pairs perfectly with the protein-rich pancakes, offering a taste of paradise in every bite.
These variations keep the essence of high-protein, low-carb goodness while infusing exciting flavors and textures to keep your breakfasts intriguing and satisfying.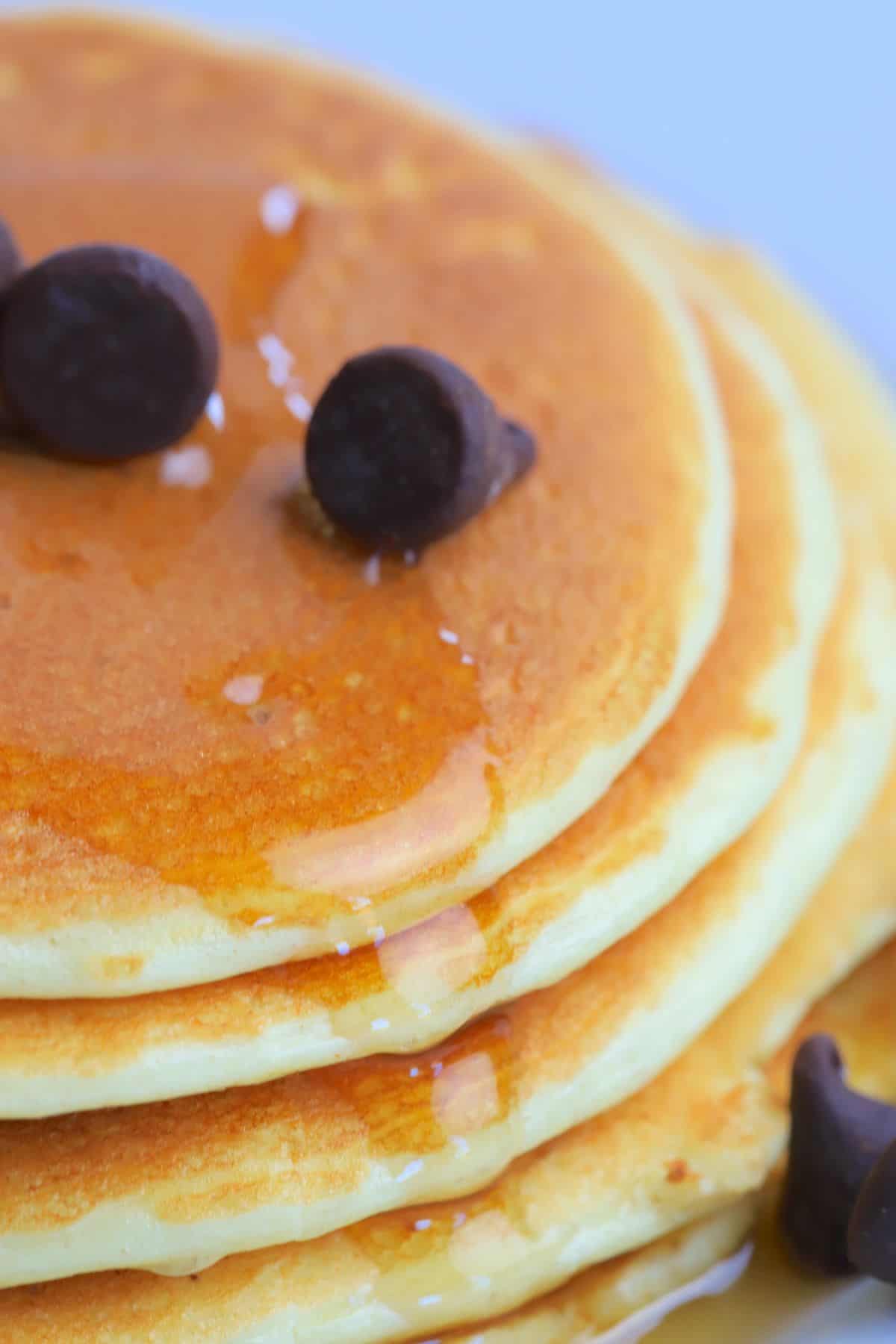 Frequently asked questions
Can I use a different type of protein powder in the recipe?
Yes, you can definitely experiment with various protein powders to suit your preferences. Whey, plant-based, and casein protein powders are common alternatives. Just ensure to maintain the recommended quantity for a balanced texture and flavor.
Can I make a larger batch of these whey pancakes and store them for later?
Absolutely! After cooking, allow the pancakes to cool completely, then layer them with parchment or wax paper to prevent sticking. Store them in a freezer-safe bag, removing excess air before sealing. Frozen pancakes can be reheated for quick and convenient snacks.
How do I avoid pancakes that are too dry or too dense?
Achieving the right texture is key. Start by ensuring your batter is well-mixed but not overworked. Cooking over medium heat is essential – too high a heat can lead to dryness. Be patient when cooking; allow bubbles to form before flipping, and use a timer to avoid overcooking. Adding a touch more sour cream or liquid like almond milk to the batter can also help maintain moisture.
Are these keto pancakes?
Yes, these pancakes align well with a keto diet. Not only are they keto-friendly, but they are also suitable for individuals seeking diabetic-friendly, low-carb, and gluten-free options. With their protein-rich foundation and thoughtful ingredient choices, these keto protein pancakes can be a delicious addition to your dietary plan while keeping carb intake in check.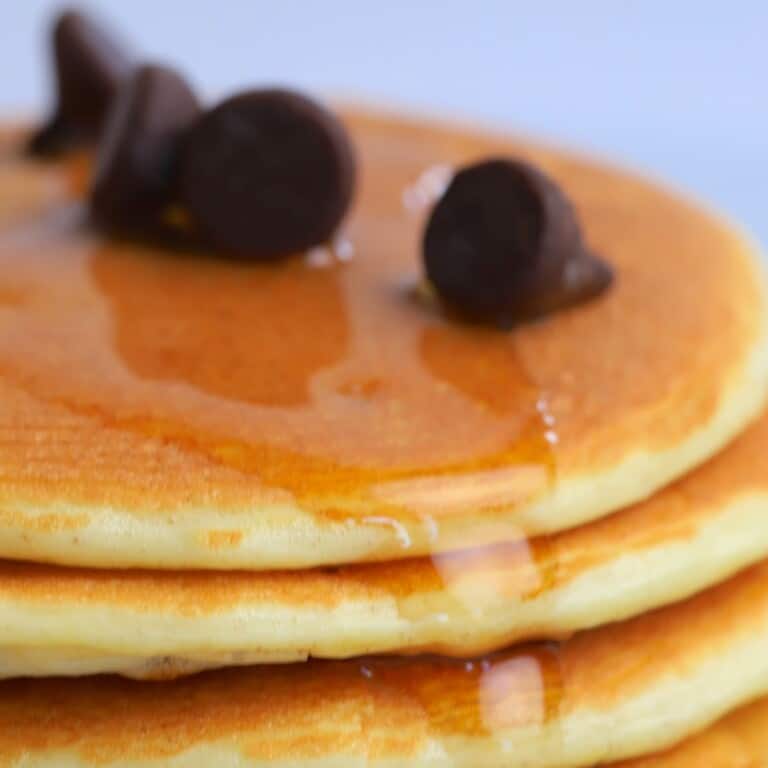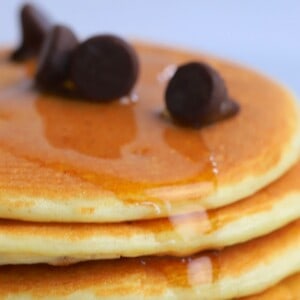 Protein Powder Pancakes
Fuel your day with these scrumptious 3 ingredient protein powder pancakes! A guilt-free, low-carb, protein-packed breakfast that satisfies.
Nutrition
Serving:
1
pancake
Calories:
57
kcal
Carbohydrates:
0
g
Protein:
9
g
Fat:
2
g
Fiber:
0
g
Sugar:
0
g
Instructions
Add a small amount of butter to a pan over medium heat.

In a large bowl combine the ingredients together. Whisk until a smooth batter is formed.

2 large eggs,

2 scoops low carb vanilla whey protein powder,

3 tablespoon sour cream

Using a laddle or ice cream scoop, to pour pancakes into the frying pan. Fry on one side for 2-3 minutes or until bubbles form and then flip and continue to cook for about 1 minute.

Continue until the batter is complete.
Notes
Recipe Notes:
Golden Browning: To achieve that inviting golden hue and a satisfying crunch, allow the pancakes to cook patiently before flipping. 

Texture Refinement: Achieve a perfect balance of textures by experimenting with different cooking times. 
This recipe card provides the basic details to make this recipe. For more information, questions or variations please review the content above the recipe card.
Updates and Revisions
If conflicting information between the video and recipe card, the recipe card will always have the most up to date information, ingredients and instructions.
Nutritional Information
All nutritional information is based on third-party calculations and should be considered estimates. Actual nutritional content will vary with brands used, measuring methods, portion sizes and more.
LOVE THIS RECIPE?
Check out I Hacked Diabetes on Pinterest
Food safety
Cook to a minimum temperature of 165 °F (74 °C)
Do not use the same utensils on cooked food, that previously touched raw meat
Wash hands after touching raw meat
Don't leave food sitting out at room temperature for extended periods
Never leave cooked food unattended
Use oils with high smoking point to avoid harmful compounds
Always have good ventilation when using a gas stove
See more food guidelines