I can't think of a quicker and tastier appetizer than these Air Fryer Keto Maple Bacon Wrapped Brussel Sprouts. Made with just 3 ingredients and full of all the sweet and salty umami flavours.
Jump To:
These appetizers are perfect for your next holiday party or save them all for yourself and make a meal out of this recipe.
This appetizer was inspired by my Bacon Wrapped Cream Cheese Jalapeno Poppers.
Air fryer low carb bacon wrapped brussels sprouts recipe are a quick and easy way to make brussel sprouts but if you haven't tried them wrapped in bacon you are certainly missing out.
🥘 Ingredients Used
The air fried brussels are only made with 3 ingredients and the 3rd one is optional.
Brussel Sprouts: when cooked properly brussel sprouts have a sweet, nutty and smokey flavour. In the air fryer they are simply exquisite.
Bacon: for that sweet, salty and umami flavour you can't get from anything else. Plus we get that added crispness that is irresistible.
Maple: giving sweet hints of caramel and toffee I used a low carb Lakanto Maple Flavoured Syrup in this recipe.
👨🏻‍🍳 Steps by step instructions
How to make the Bacon Wrapped Brussel Sprouts in the Air Fryer
STEP 1: Preheat air fryer to 400°F. Cut 4 bacon slices in half to make 8 bacon wrapped brussel sprouts. Double the bacon and brussel sprouts if you want more. Then stretch out a half bacon slice on a cutting board and wrap it around a trimmed and cleaned brussel sprout. Reinforce with a toothpick pinned through the bacon and brussel sprout to hold it together in the air fryer.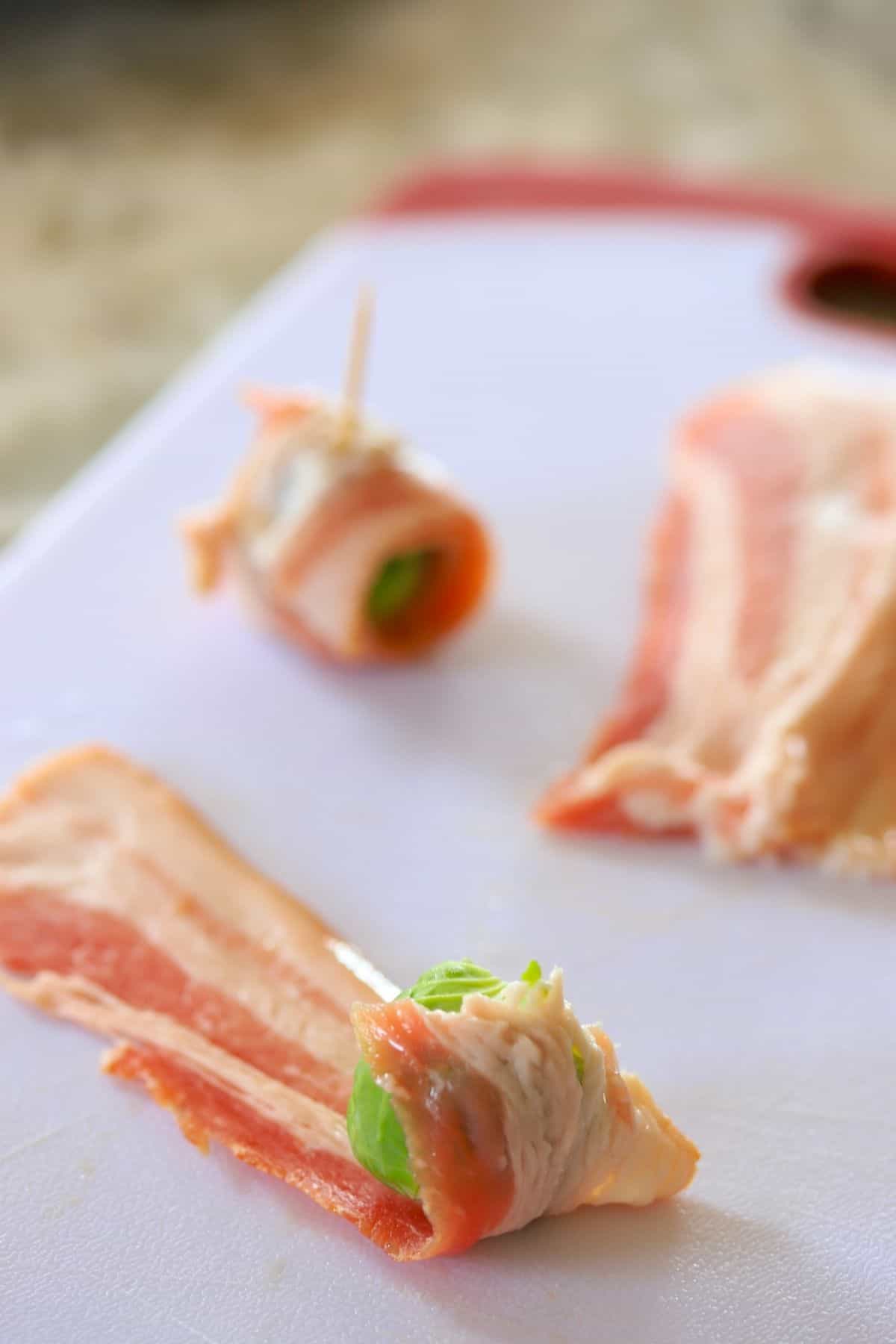 STEP 2: Once you have all the brussel sprouts wrapped with bacon, brush lightly with some Lakanto maple flavoured syrup. Brushing with maple is optional, they will still taste amazing without the added maple.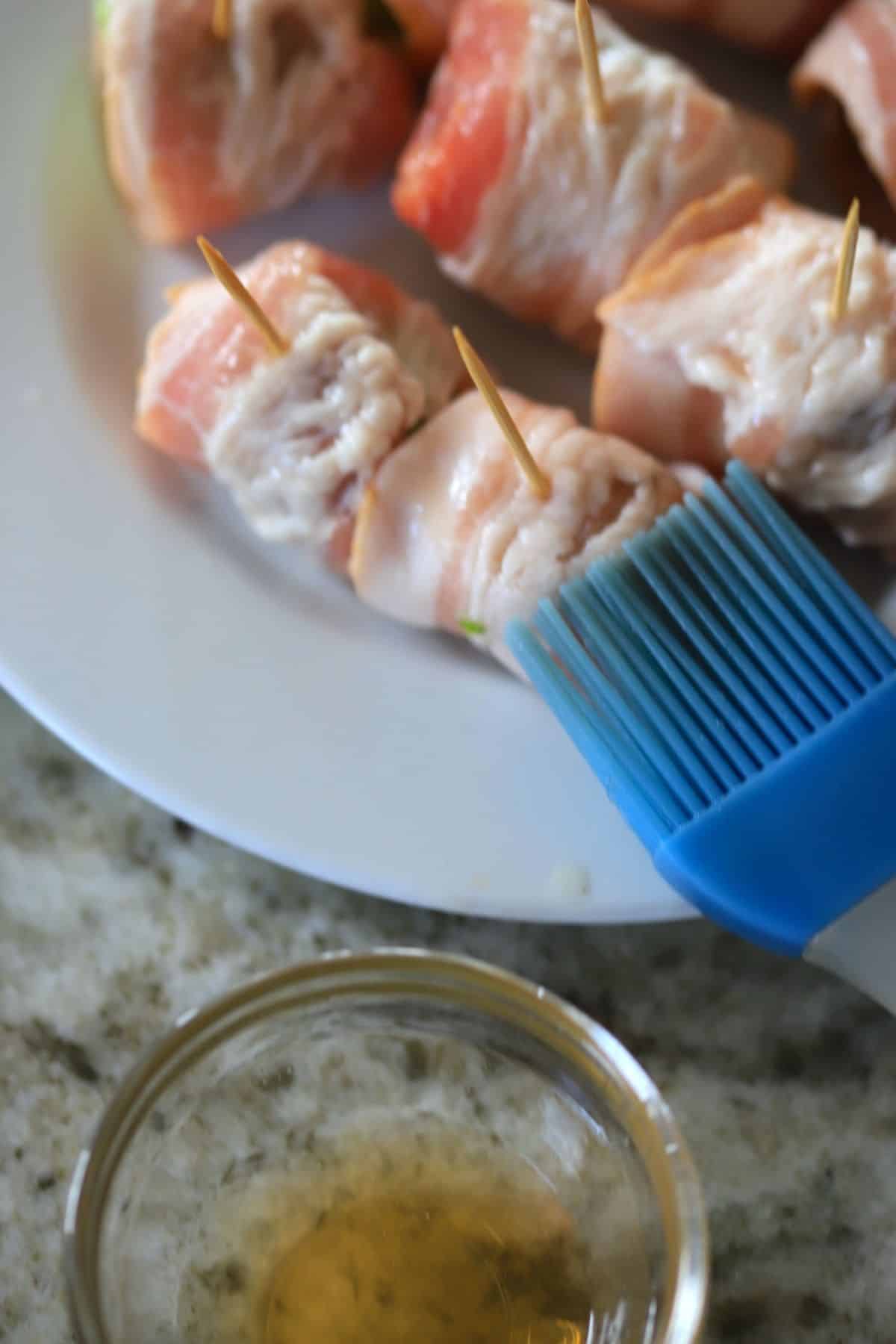 STEP 3: Place the bacon wrapped brussel sprouts in the air fryer basket and cook at 400°F for 6 minutes, then move them around a bit and cook for another 4 minutes.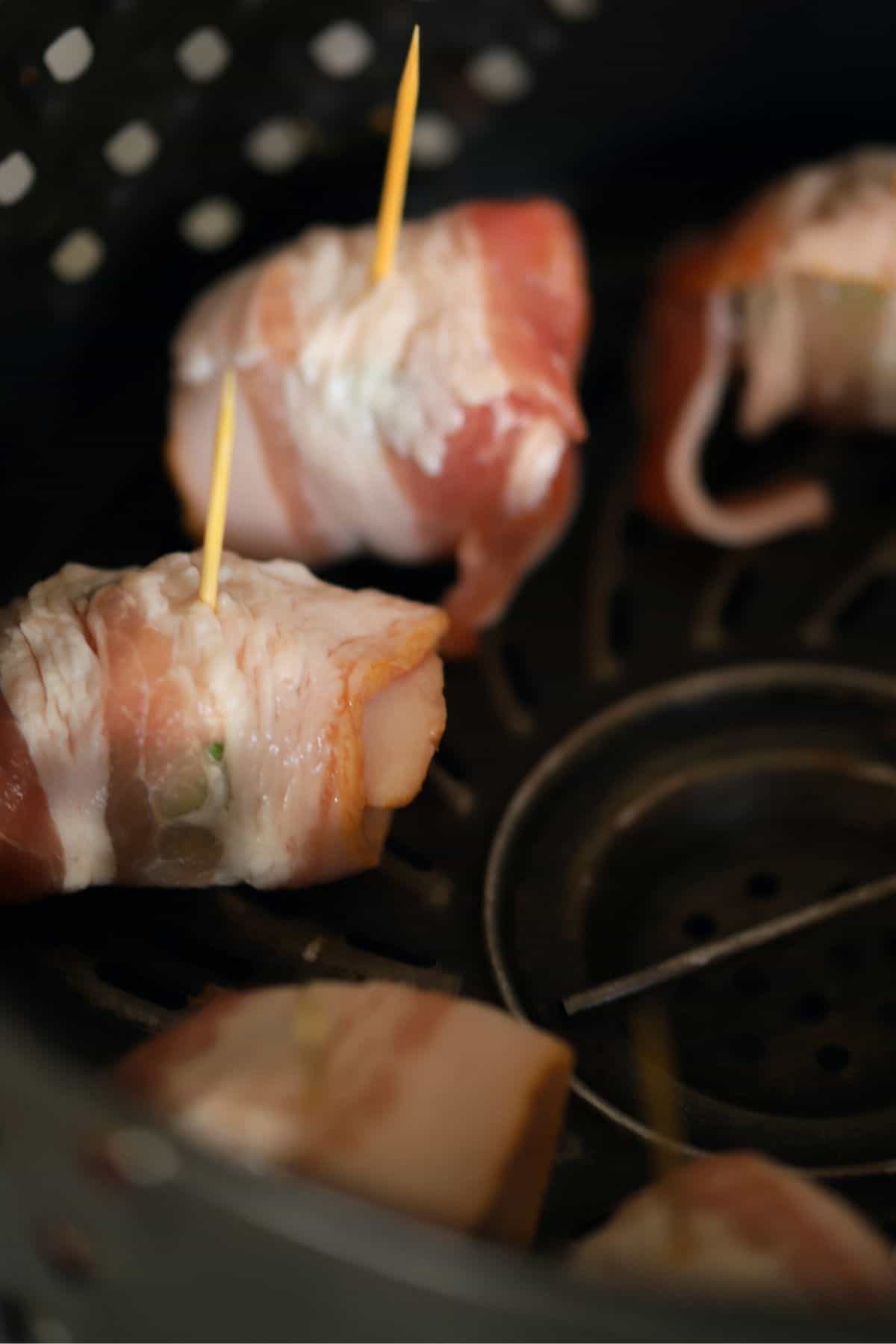 STEP 4: Once cooked remove the air fryer brussels from air fryer basket and place on a plate lined with paper towel if needed. Enjoy these brussel sprouts dipped into more sugar free maple syrup or some soy sauce for a salty flavour.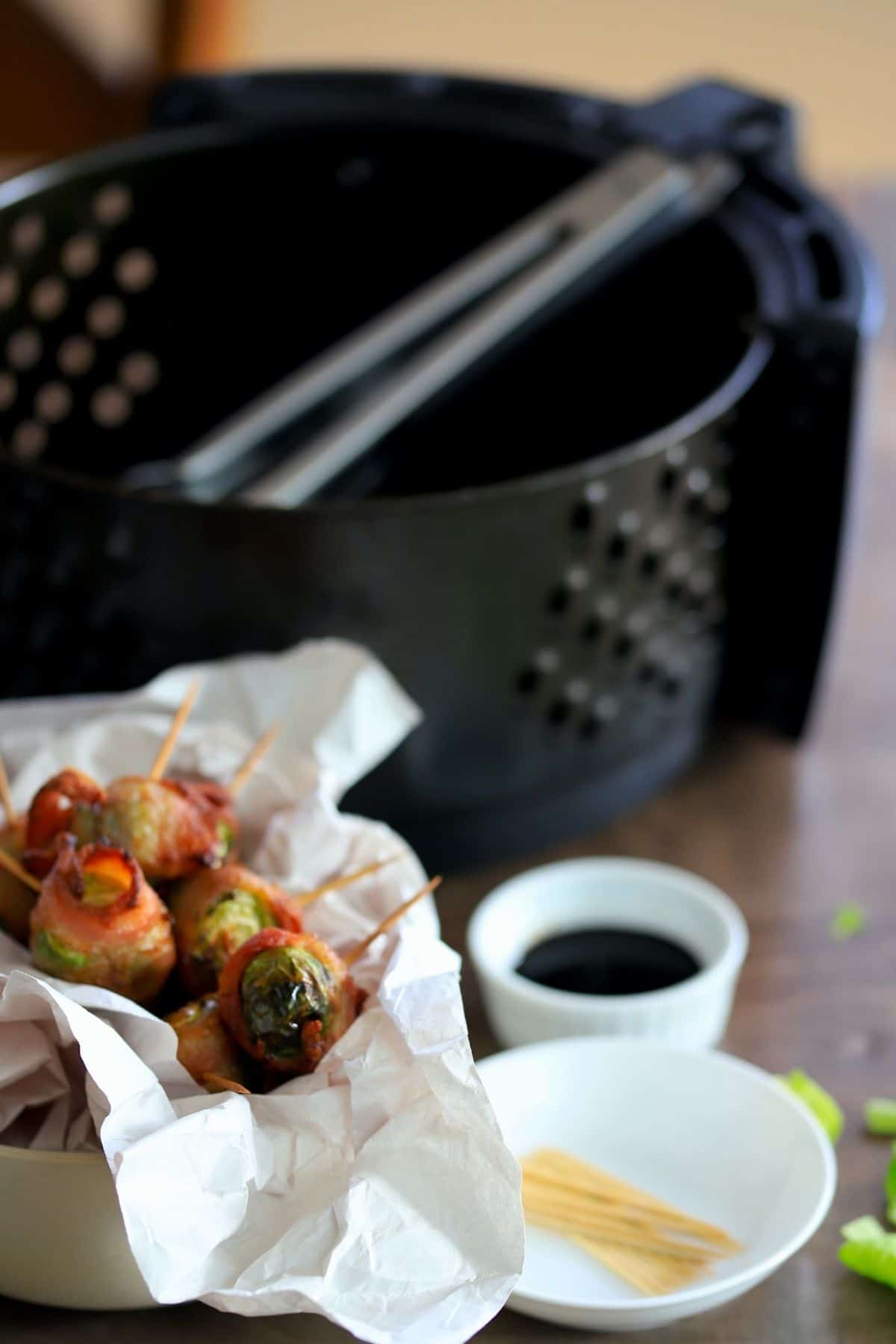 Other air fryer and keto recipes you might enjoy
👨🏻‍🍳 Recipe tips
Top Tip: ensure to stretch each bacon slice so that it will wrap around the full circumference of the brussel sprout. Otherwise you may want to use a longer strip of bacon. Thick cut bacon should not be used as it will be too difficult to wrap around the brussel sprout.
The toothpicks pierced through these nuggets also come in handy to hold and dip the fried brussel sprouts.
Serving: serve these air fryer keto bacon wrapped brussel sprouts with a dipping bowl of soy or tamarind sauce and a dipping bowl of lakanto maple syrup.
Storage: these low carb appetizers are best served right out of the air fryer but if you want to store any leftovers you can store in an airtight container for up to 3 days. I do not recommend freezing them.
Crispy: I find the 10 minutes in the air fryer worked best for my preference of crispiness but you may want to add on a couple more minutes if you like the bacon to be extra crispy.
Maple: the maple is optional, if you don't have lakanto maple syrup try using a nutty coffee skinny syrup like hazelnut or salted caramel.
Oven Method: alternatively you can make these roasted brussel sprouts in the oven in a roasting pan at 425°F and increase the length of time to around 20 minutes.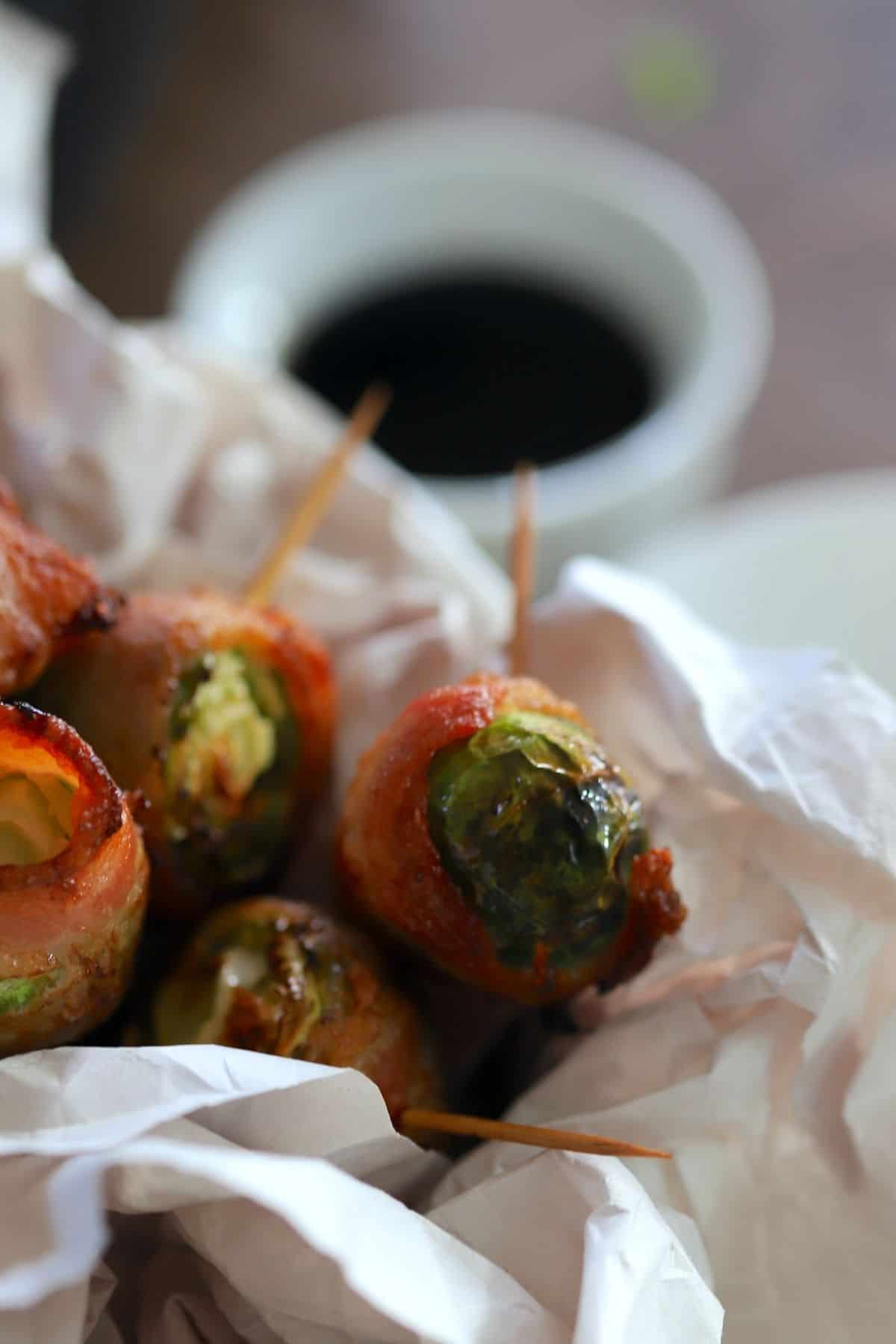 ♨️ Recipe variations
Keto air fryer brussel sprouts are perfect and crispy as they are and I would only recommend having fun with dipping them into different sauces. Here are just a few:
Spicy Mayo - Mix some mayo with some spicy seasonings like cayenne pepper or chipotle powder for a spicy dip.
Dill - sprinkle some dill weed or dill popcorn seasoning over some sour cream and mix it until well combined. If you love dill as much as I do, you will love this dip.
BBQ Sauce - these bacon wrapped brussel sprouts are amazing dipped in a low carb barbecue sauce
Parmesan Cheese - skip the dips all together and sprinkle the air fryer brussel sprouts with grated parmesan cheese after removing them from the basket.
This recipe is also gluten free and perfect for a low carb , keto and diabetic friendly diet.
See this crunchy version of my Air Fryer Crispy Green Bean recipe.
🥣 Equipment used to make this recipe
I do love my Air Fryer and use it more often than the oven or stove. There are many air fryers on the market, here are just a few.
I Hacked Diabetes is a participant in the Amazon Services LLC Associates Program, an affiliate advertising program designed to provide a means for me to earn fees by linking to Amazon.com and affiliates sites.
💭 Frequently asked questions
Do you need to soak brussel sprouts before cooking?
No, just wash and trim the brussel sprouts. They do not need to be soaked or precooked prior to placing in the air fryer.
Do I need to soak the toothpicks?
No, since we are only cooking for 10 minutes the toothpicks will be ok as is.
How many net carbs per bacon wrapped brussel sprout?
Each bacon wrapped brussel sprout is roughly 1g of net carbs, depending on the size and amount of bacon wrapped around them.
Is Lakanto Maple Flavoured Syrup safe for diabetics?
As I always mention, all foods affect people differently and you should always test and sample a little to see how it affects your blood sugars. I find this syrup does not spike my blood sugars if I have a small amount.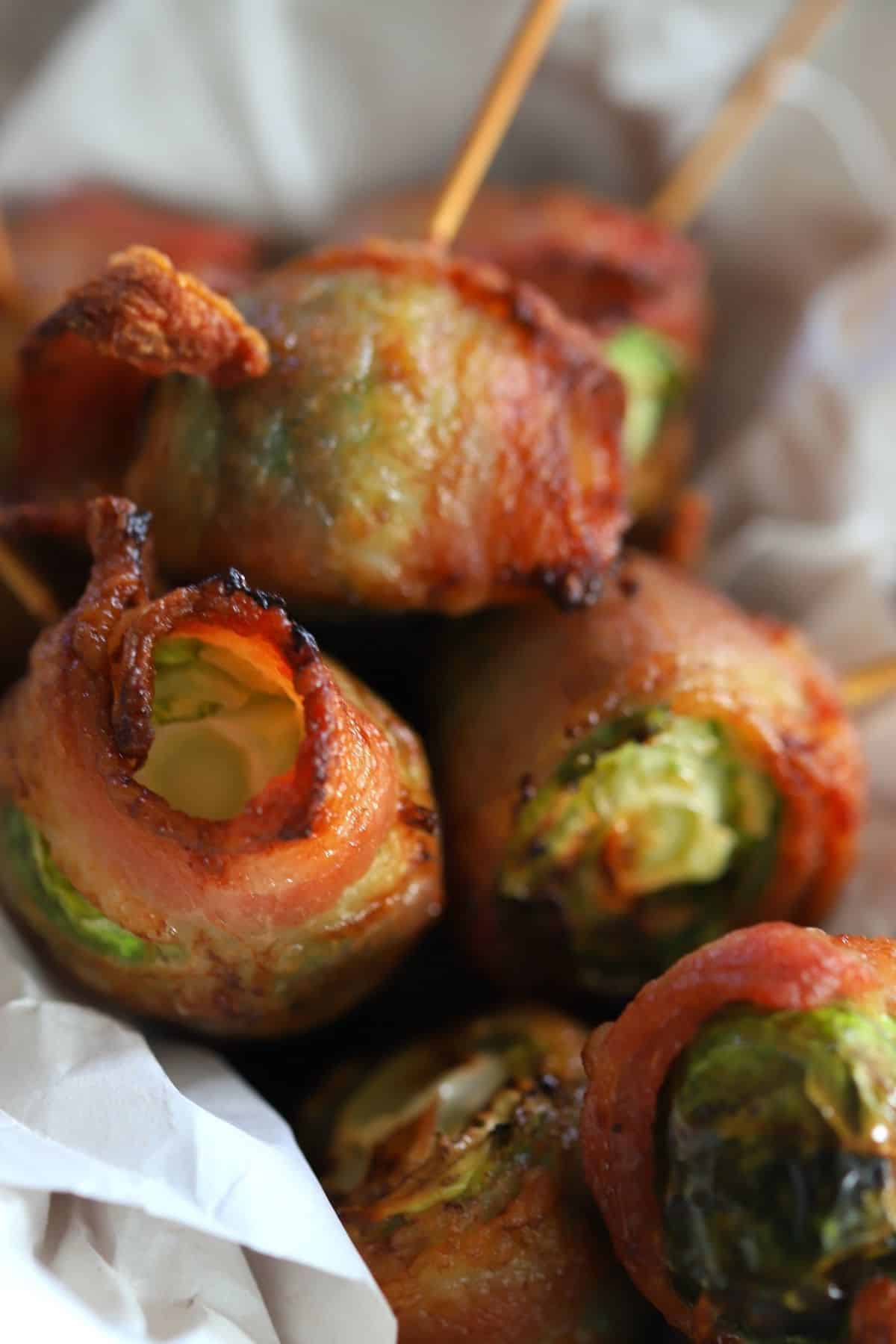 If you enjoyed this recipe, don't forget to give it a recipe rating in the recipe card.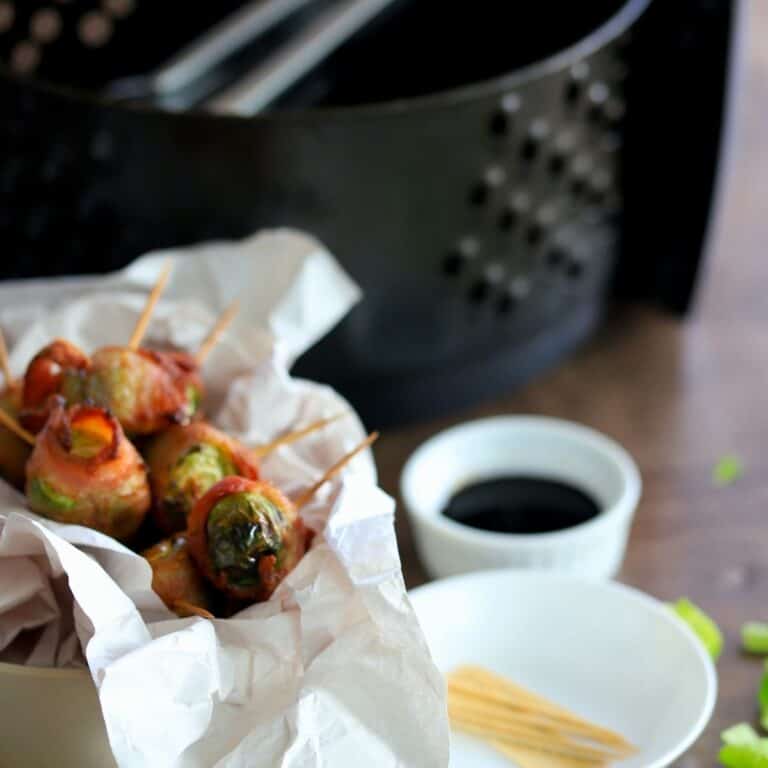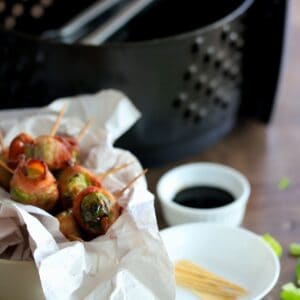 Air Fryer Keto Maple Bacon Wrapped Brussel Sprouts
Brussel sprouts wrapped in bacon and brushed with a low carb maple syrup. It only takes 10 minutes in the air fryer.
Nutrition
Calories:
29
kcal
Carbohydrates:
2
g
Protein:
2
g
Fat:
2
g
Fiber:
1
g
Sugar:
1
g
Instructions
Preheat Air Fryer to 400°F

Trim and wash the brussel sprouts

Cut each bacon slice in half

On a flat surface stretch out half slices of bacon and wrap the brussel sprouts. Secure with a wooden toothpick. Brush with the maple sweetener.

Transfer to air fryer basket and cook at 400°F for 6 minutes, shake basket and then cook for another 4 minutes.

Transfer brussel sprouts to a dish lined with paper towel.
Notes
Top Tip: ensure to stretch each bacon slice so that it will wrap around the full circumference of the brussel sprout. Otherwise you may want to use a longer strip of bacon. Thick cut bacon should not be used as it will be too difficult to wrap around the brussel sprout.
This recipe card provides the basic details to make this recipe. For more information, questions or variations please review the content above the recipe card.
Updates and Revisions
If conflicting information between the video and recipe card, the recipe card will always have the most up to date information, ingredients and instructions.
Nutritional Information
All nutritional information is based on third-party calculations and should be considered estimates. Actual nutritional content will vary with brands used, measuring methods, portion sizes and more.
LOVE THIS RECIPE?
Check out I Hacked Diabetes on Pinterest
🌡️ Food safety
Cook to a minimum temperature of 165 °F (74 °C)
Do not use the same utensils on cooked food, that previously touched raw meat
Wash hands after touching raw meat
Don't leave food sitting out at room temperature for extended periods
Never leave cooking food unattended
Use oils with high smoking point to avoid harmful compounds
Always have good ventilation when using a gas stove
See more food guidelines