Sugar Free Collagen Donuts combine the rich, indulgent flavor of chocolate with the benefits of collagen, all without added sugar, and they're gluten-free. Perfect for a healthy and guilt-free treat!
Jump To:
Indulge in the best of both worlds with sugar-free collagen donuts. These delightful treats blend the goodness of collagen powder, known for its beauty and joint benefits, with a guilt-free recipe.
Made using almond flour and sweetened with a low-carb sweetener, these donuts are gluten-free and keto-friendly. Enjoy a tasty snack that's as good for your health as it is for your taste buds, just like these Gingerbread Donuts.
Why you'll love this sugar free collagen donut recipe?
Collagen-Infused Goodness: You'll love this recipe for its incorporation of collagen powder, which offers a fantastic way to enhance your beauty and support your joints. These donuts aren't just a treat; they're a step towards healthier skin and hair.
Sugar-Free Sweetness: Indulge without the guilt! With a low-carb sweetener, you can satisfy your sweet tooth while keeping sugar out of the equation. These donuts are perfect for those watching their sugar intake. You might also enjoy these Air Fryer Chocolate Donuts.
Gluten-Free and Keto-Friendly: If you're following a gluten-free or keto diet, these donuts are a perfect match for your lifestyle. They're crafted with almond flour and designed to fit into your dietary choices seamlessly. These Low Carb Toasted Coconut Donuts are also gluten free.
Protein-Packed Pleasure: With the inclusion of collagen powder and eggs, these donuts offer a significant protein boost. It's a delightful and nutritious way to fuel your body.
Customizable Delight: Whether you want to add a little extra cocoa with chocolate chips or decorate with low-carb sprinkles, this recipe allows you to get creative. Make them your own, and enjoy every customized bite. Save these Sugar Free Eggnog Donuts for the holiday season.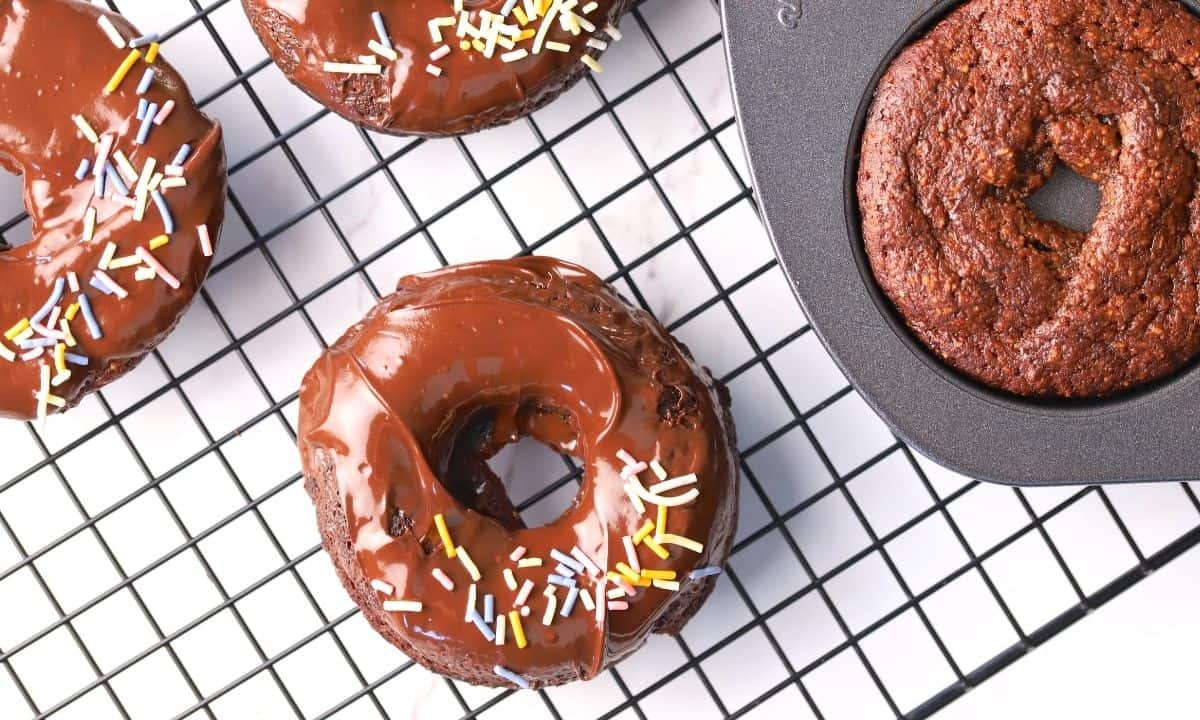 Benefits of adding collagen to your diet
Improved Skin Health: Collagen is a vital component of healthy skin, and incorporating it into recipes can help promote skin elasticity and hydration. This may lead to a reduction in the appearance of fine lines and wrinkles, contributing to a more youthful complexion.
Joint and Bone Support: Collagen is essential for joint and bone health. Including collagen in recipes can assist in strengthening joints and bones, potentially reducing the risk of conditions like osteoarthritis and osteoporosis.
Enhanced Protein Intake: Collagen is a protein source that is easy to incorporate into various recipes. It can provide an additional source of protein to support muscle growth and repair, making it particularly valuable for individuals following low-carb or keto diets.
By adding collagen to recipes, you can enjoy these health benefits while simultaneously enhancing the flavor and nutritional value of your dishes. See this Sugar Free Electrolyte Smoothie made with collagen protein powder.
Main ingredients used
These ingredients come together to create a delicious, sugar-free, gluten-free, and keto-friendly donut that's not only satisfying for your taste buds but also beneficial for your overall well-being.
Almond Flour: Almond flour is used as the primary dry ingredient in this recipe because it's gluten-free and provides a nutty flavor and a moist texture to the donuts.
Collagen Powder: Collagen powder is added to provide the health benefits associated with collagen, such as improving skin, hair, and joint health, making these donuts not only delicious but also nutritious.
Low Carb Sweetener: A low-carb sweetener is used to maintain the sweetness of the donuts without adding sugar. This keeps the donuts keto-friendly and suitable for those looking to reduce sugar intake.
Baking Powder: Baking powder is a leavening agent that helps the donuts rise and become fluffy and light in texture.
Cocoa Powder: Cocoa powder is responsible for the rich chocolate flavor in the donuts. It's a key ingredient for creating that classic chocolatey taste.
See the recipe card for all the ingredients and quantities.
Collagen Selection for the Recipe
For this recipe, select a collagen powder or collagen peptides that best suit your dietary preferences. Common options include bovine collagen (derived from cows), marine collagen (sourced from fish), or porcine collagen (from pigs).
The key is to use an unflavored collagen without added sugars, as this ensures that your sugar-free collagen donuts maintain their desired flavor and benefits.
Recipe variations
Here are some delicious variations to this collagen donuts recipe while keeping it sugar free and gluten free.
Blueberry Bliss Donuts: Enhance your sugar-free, low-carb, and gluten-free collagen donuts by adding fresh or frozen blueberries to the batter, infusing each bite with a burst of fruity delight. For an extra layer of sweetness, consider drizzling the finished donuts with a sugar-free blueberry glaze.
Cinnamon Spice Donuts: Elevate your donut experience with a dash of ground cinnamon and a pinch of nutmeg in your sugar-free, low-carb, and gluten-free donut batter. The result is a warm, spiced flavor that pairs wonderfully with a sugar-free cream cheese frosting for the perfect contrast.
Lemon Poppy Seed Donuts: For a zesty twist, add the zest of a lemon to your collagen donut batter. Incorporate poppy seeds for a delightful crunch and visual appeal. Top them off with a lemon glaze made from a low-carb sweetener for an extra layer of tangy sweetness.
Peanut Butter Chocolate Donuts: Indulge in a nutty delight by mixing sugar-free peanut butter into your collagen donut batter, providing a protein-rich twist to your sugar-free, low-carb, and gluten-free treat. To complete the classic peanut butter-chocolate combination, add a handful of sugar-free chocolate chips.
Raspberry Delight Donuts: For a burst of tartness and vibrant color, add freeze-dried raspberries to collagen donuts. Top them with a sweet and tangy sugar-free white chocolate glaze to create a delightful contrast.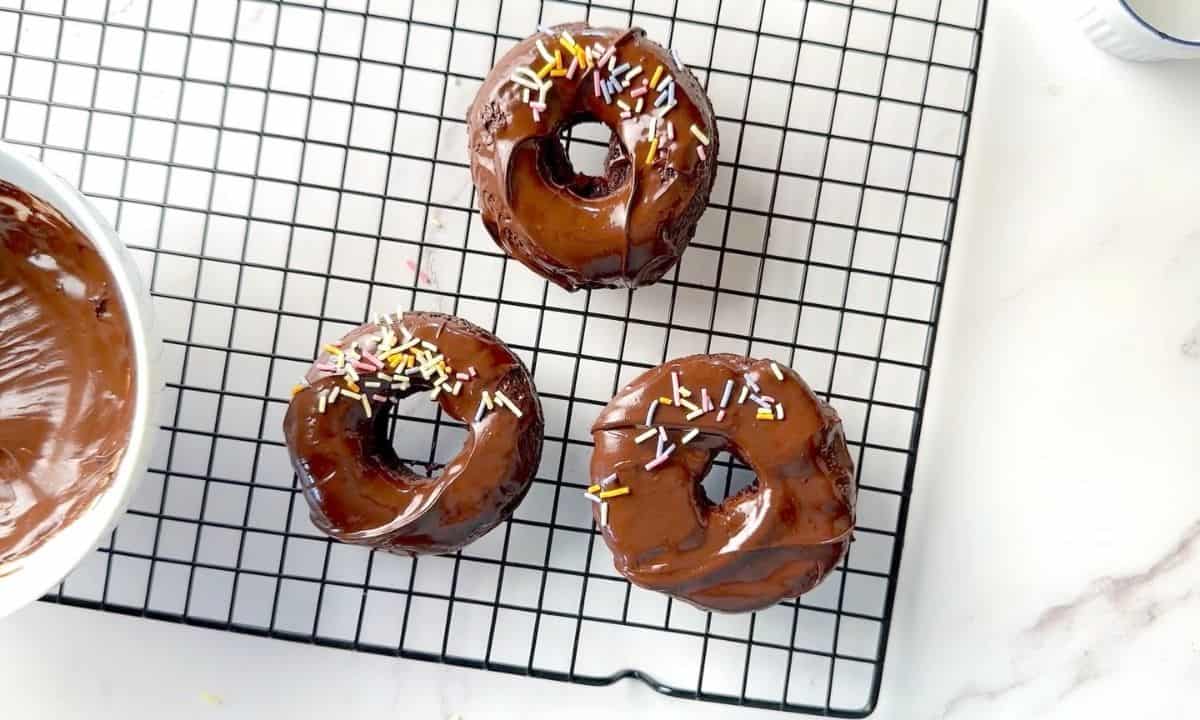 Steps by step instructions
How to make the sugar free collagen protein donuts?
STEP 1: Preheat Oven - Begin by preheating your oven to 350°F (175°C).
STEP 2: Prepare the Donut Pan - Grease a standard-sized donut pan with coconut oil or non-stick cooking spray. This ensures your donuts won't stick to the pan.
STEP 3: Mix Dry Ingredients and Add Wet Ingredients - In a large bowl, combine almond flour, collagen powder, low carb sweetener, baking powder, cocoa powder, espresso powder, and xanthan gum. Mix these dry ingredients thoroughly.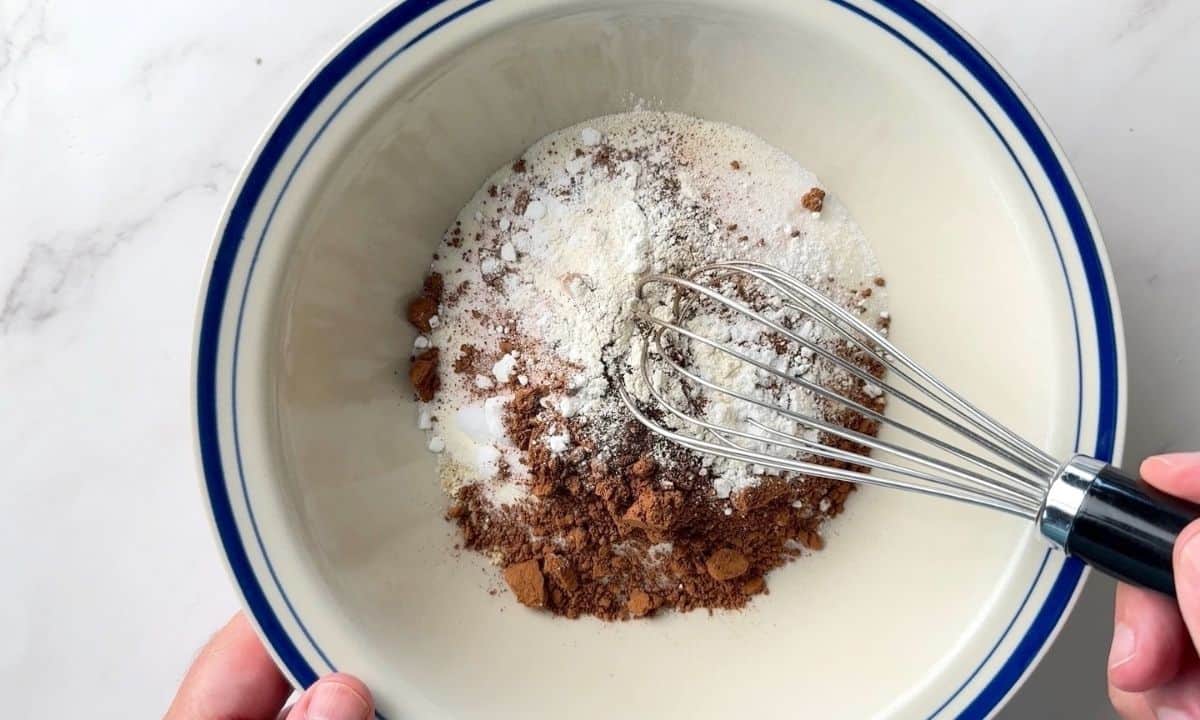 Then, add the egg, egg yolks, melted unsalted butter, vanilla extract, and heavy whipping cream directly into the bowl with the dry ingredients. Stir the mixture until you have a smooth batter.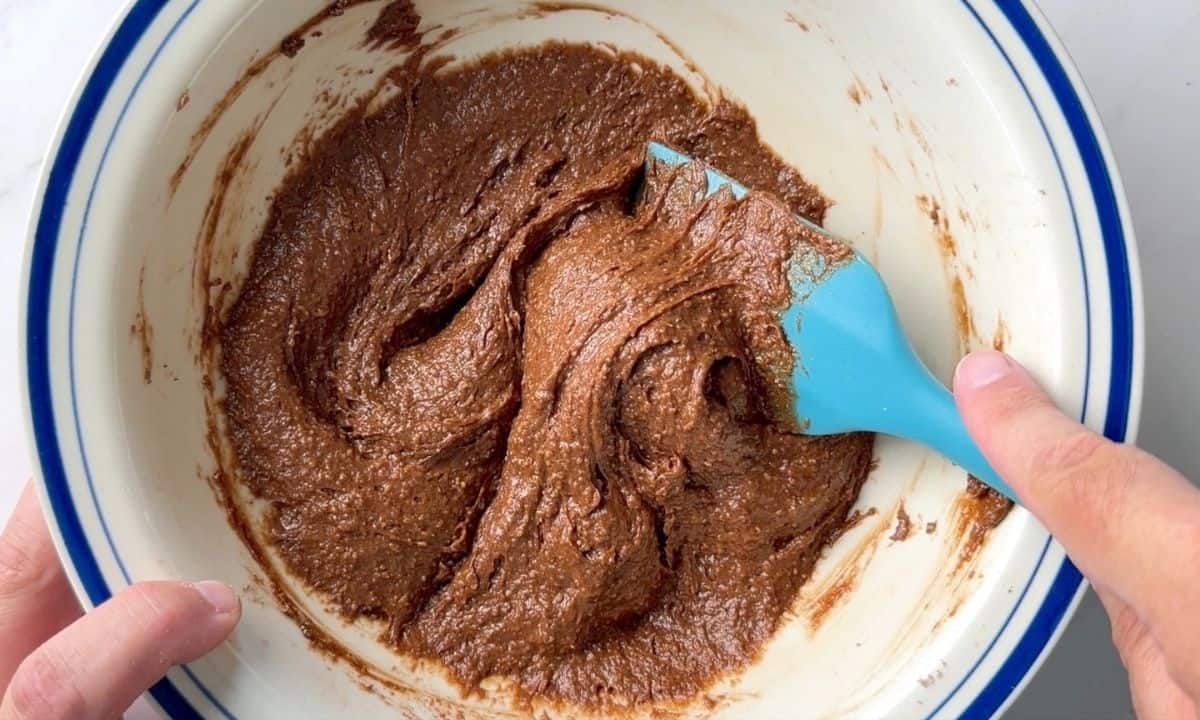 STEP 4: Fill the Donut Pan - Carefully transfer the batter into a piping bag or a plastic storage bag with the corner snipped off. Pipe the batter into the greased donut pan, filling each mold equally. This should yield approximately 6 donuts.
Lightly dab the batter in the molds with a wet finger or brush before baking. This can help in spreading the batter and creating donuts with a more uniform appearance.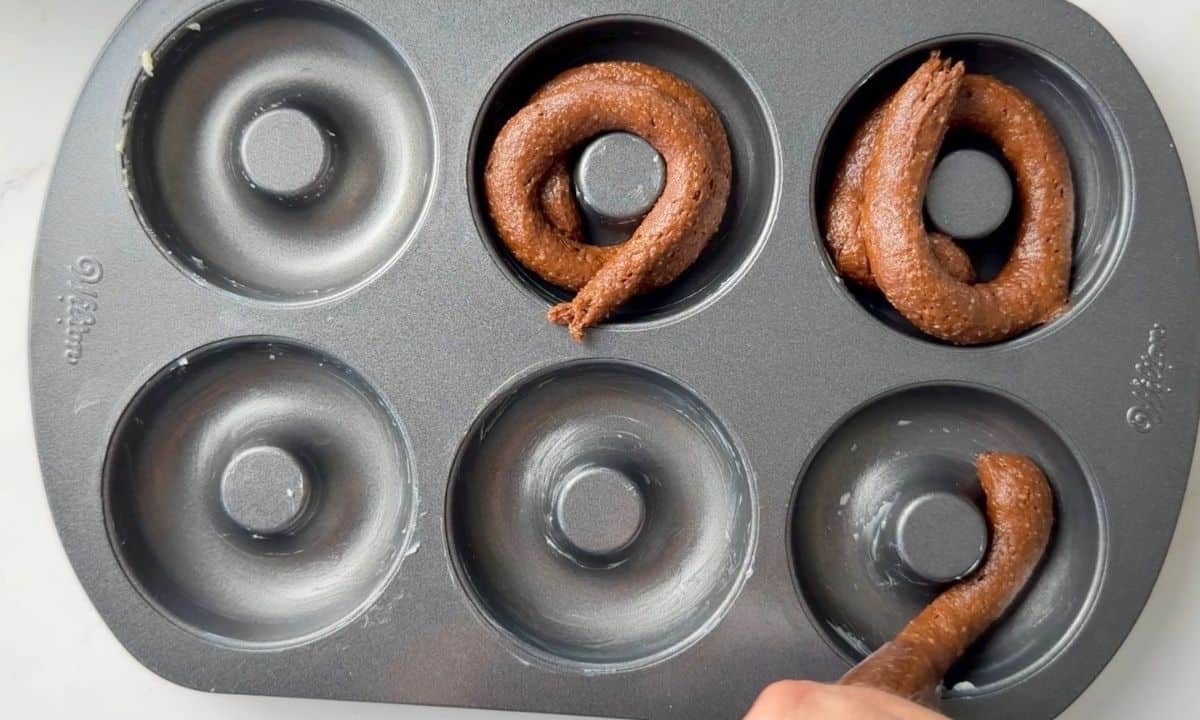 STEP 5: Bake and Cool - Place the donut pan in the preheated oven and bake for 16-18 minutes or until the donuts are firm to the touch and a toothpick inserted comes out clean. After removing the donuts from the oven, allow them to cool in the pan for a few minutes, then gently transfer them to a cooling rack.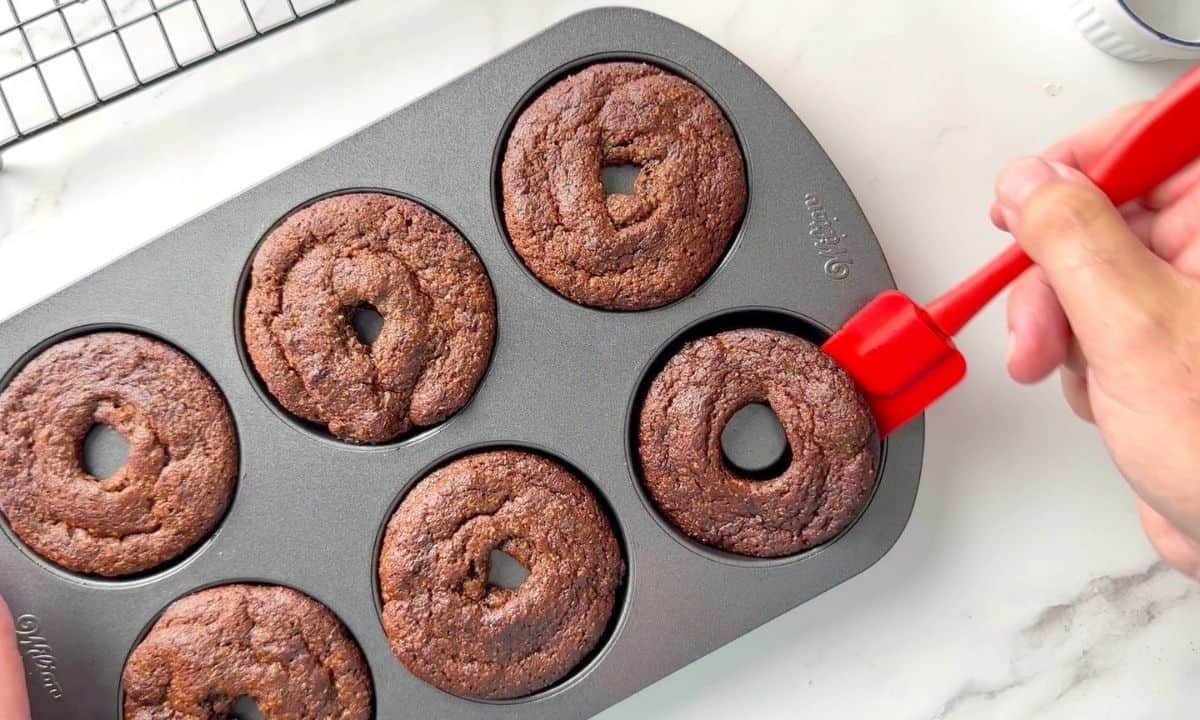 STEP 6: Chocolate Coating and Sprinkle - While the donuts are cooling, melt sugar-free chocolate chips (you can use a microwave or double boiler). Once the donuts are completely cooled, dip each donut into the melted chocolate, ensuring the top is fully coated. While the chocolate is still wet, sprinkle the donuts with sugar-free sprinkles to add a touch of color and flavor.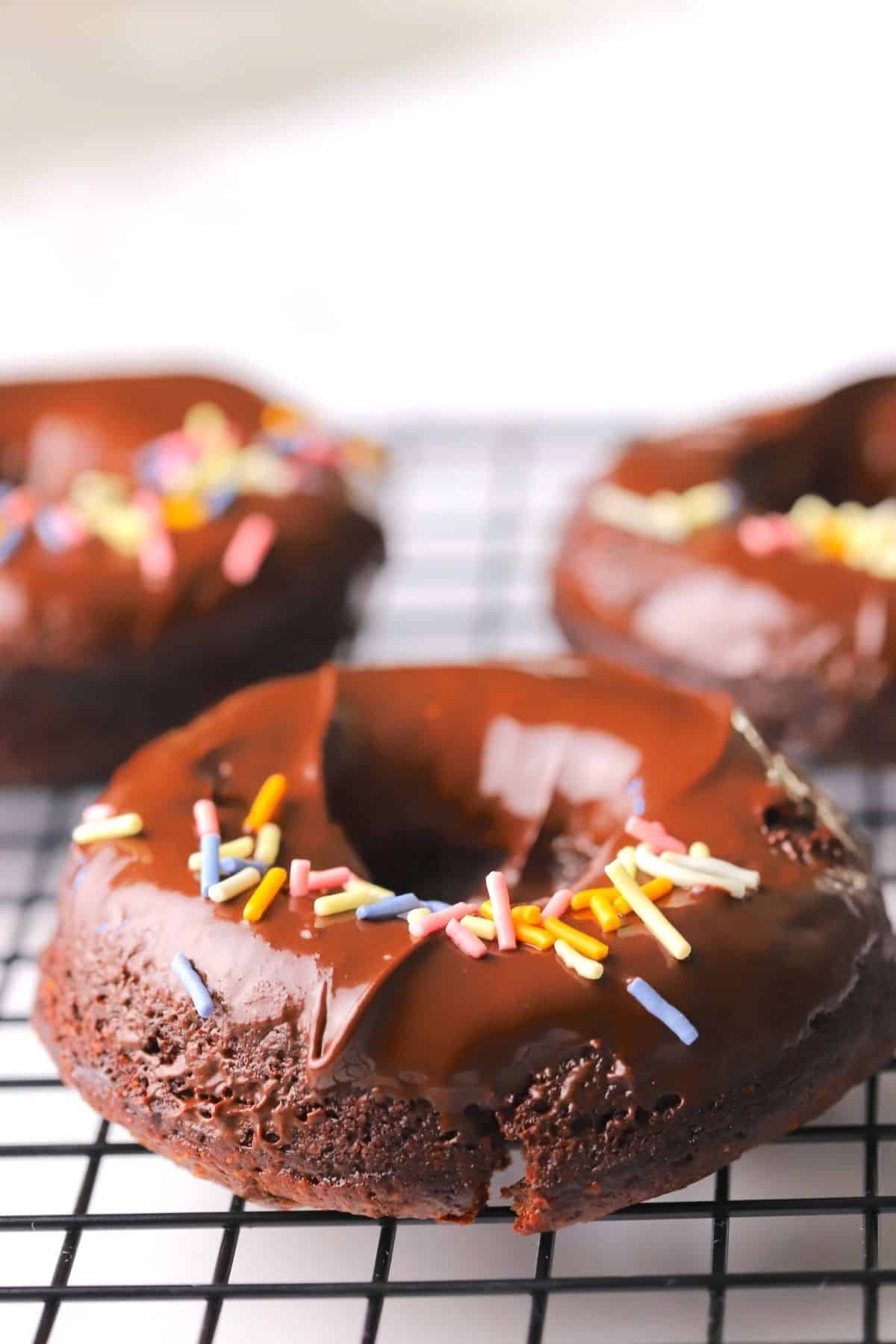 Recipe tips
Here are two helpful recipe tips for making sugar-free collagen donuts:
Proper Cooling Time: After baking, be patient and allow the donuts to cool in the pan for a few minutes before transferring them to a cooling rack. This helps them set and avoids potential sticking to the pan.
Use a Non-Stick Donut Pan: Invest in a quality non-stick donut pan to ensure your sugar-free collagen donuts easily release from the pan without sticking. This will make the whole process smoother and help maintain the donuts' shape.
Storage
To store your sugar-free collagen donuts, place them in an airtight container or a resealable plastic bag. They can be stored at room temperature for up to two days.
If you want to keep them fresh for a longer period, refrigerate them for up to one week.
You can freeze sugar-free collagen donuts. To freeze, wrap them individually in plastic wrap or foil and place them in an airtight container or a freezer-safe bag.
Donuts can be stored in the freezer for up to three months. When you're ready to enjoy them, simply thaw them at room temperature or warm them in the oven for a few minutes to regain their freshness.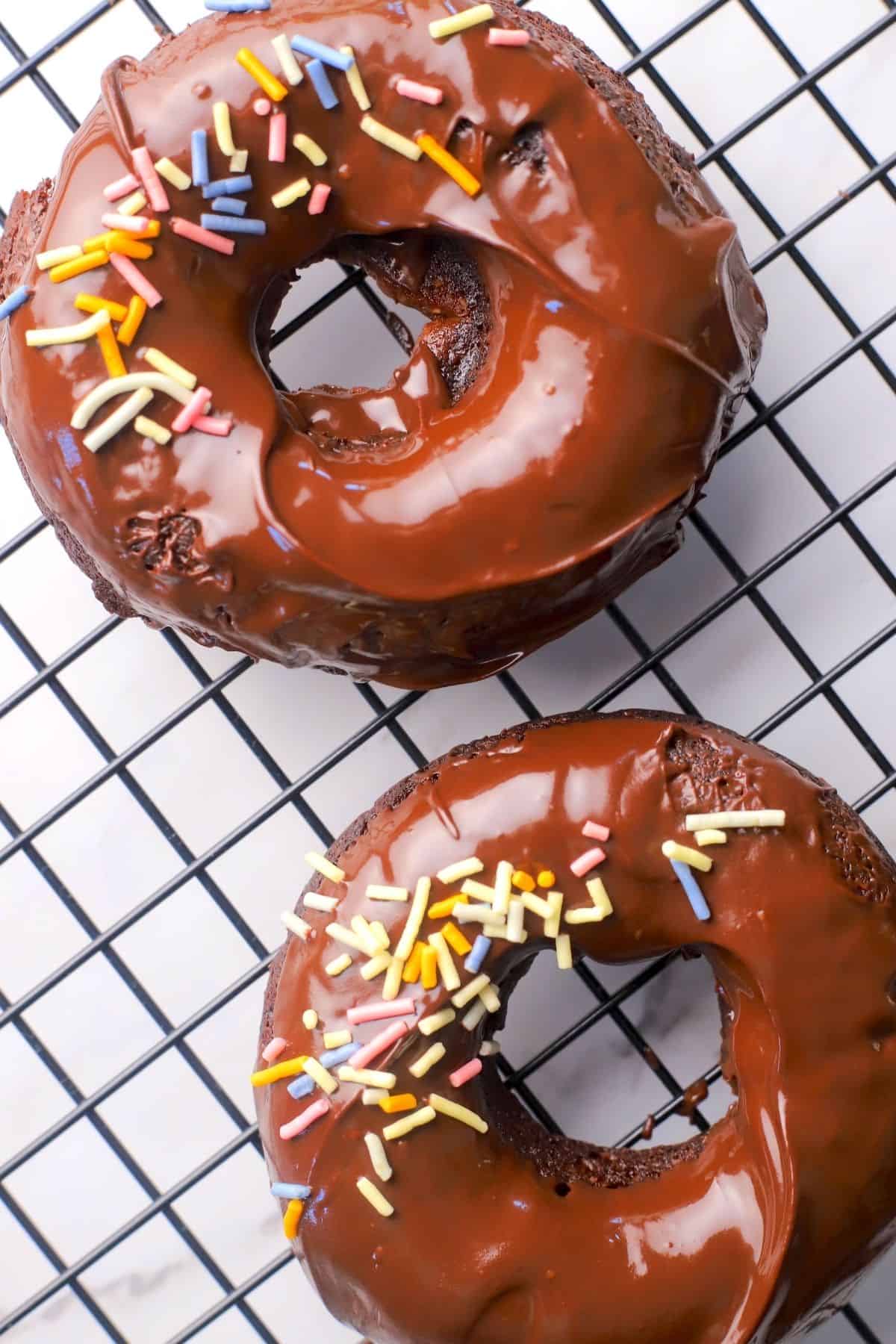 Frequently asked questions
Can I use different sweeteners in this recipe, or is a specific one recommended?
You can experiment with various low-carb sweeteners, but be aware that the sweetness level may vary. Erythritol, stevia, or monk fruit sweeteners are common alternatives. Adjust the quantity to your preferred level of sweetness.
Are there any vegan options for this recipe?
You can make a vegan version of these donuts by substituting the eggs and dairy-based ingredients. Use flax eggs (1 tablespoon of ground flaxseed mixed with 2.5 tablespoons of water for each egg) and plant-based milk and butter alternatives. Check that your collagen powder is vegan-friendly.
Can I skip the chocolate coating and sprinkles for a simpler version?
Absolutely, you can enjoy these donuts without the chocolate coating and sprinkles. Skipping these steps will result in a plainer, but still delicious, sugar-free collagen donut.
Can I use almond milk instead of heavy whipping cream in this recipe?
Yes, you can use almond milk as a dairy-free alternative to heavy whipping cream in this recipe, but be mindful of the thinner consistency and adjust the quantity to achieve the desired texture.
Can I use coconut flour instead of almond flour?
Using coconut flour as a substitution for almond flour may alter the texture and would typically require an adjustment of ¼ to ⅓ cup of additional liquid (e.g., almond milk or water) for every ¼ cup of coconut flour used, as coconut flour absorbs more moisture than almond flour.
More dessert recipes you might enjoy
REVIEW AND FOLLOW: Have you tried this recipe? If so, please leave a comment and ⭐️ rating below. If you make our recipes and share them, be sure to use our hashtag #ihackeddiabetes on social! We love seeing what you are making.
FOLLOW us on FACEBOOK | INSTAGRAM | PINTEREST for more delicious recipes.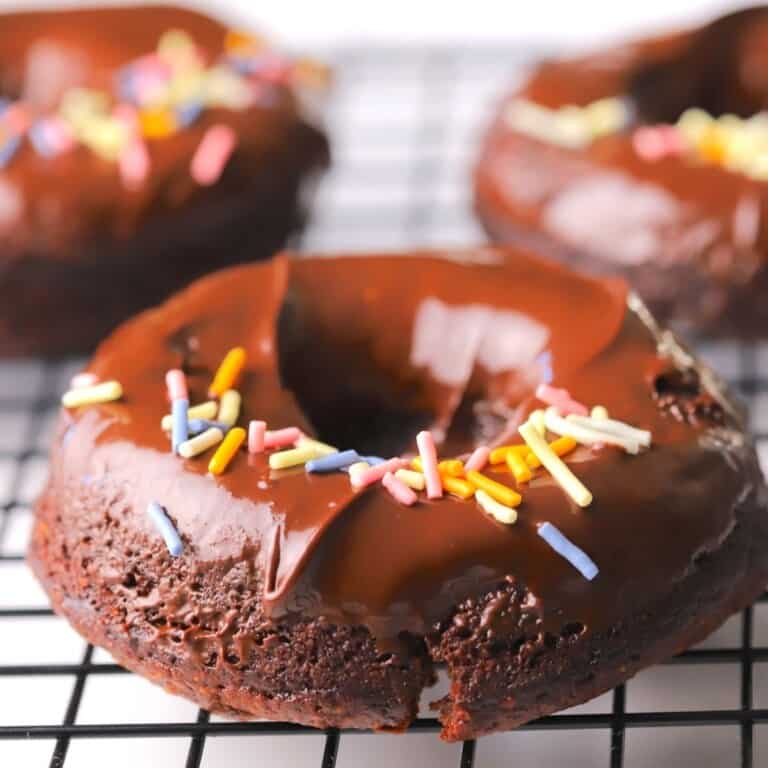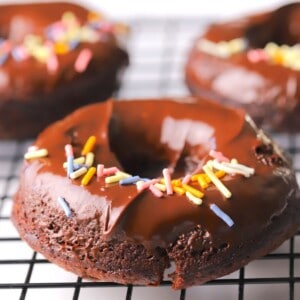 Sugar Free Collagen Donuts
Sugar free collagen donuts with almond flour and chocolate cocoa, dipped in melted sugar-free chocolate. Perfect for a healthy and guilt-free treat!
Instructions
Begin by preheating your oven to 350°F (175°C).

In a large bowl, combine the dry ingredients.

¾ cup almond flour,

½ cup collagen powder,

¼ cup low carb sweetener,

2 teaspoon baking powder,

2 tablespoon cocoa powder,

½ teaspoon espresso powder,

½ teaspoon xanthan gum

Add Wet Ingredients: To the same bowl with dry ingredients. Stir until you have a smooth batter.

1 large egg,

2 large egg yolks,

¼ cup unsalted butter,

1 teaspoon vanilla extract,

2 tablespoon heavy whipping cream

Carefully transfer the batter into a piping bag or a plastic storage bag with the corner snipped off. Pipe the batter into a greased donut pan.

Lightly dab the batter in the molds with a wet finger or brush before baking.

Place the donut pan in the preheated oven and bake for 16-18 minutes.

In a microwave or using a double boiler, melt the chocolate. In the microwave, heat it in short bursts, stirring between each, until smooth. Alternatively, use a double boiler by placing a heatproof bowl over simmering water, stirring until the chocolate is melted and smooth. Allow the donuts to cool before dipping them in the melted chocolate and topping with sugar-free sprinkles.

¼ cup unsweetened or low carb chocolate chips,

2 tablespoon low carb sprinkles
Nutrition
Calories:
264
kcal
|
Carbohydrates:
7
g
|
Protein:
14
g
|
Fat:
20
g
|
Fiber:
3
g
|
Sugar:
1
g
Notes
Cool Donuts in Pan: Allow donuts to cool in the pan briefly before moving to a rack to prevent sticking.
Get a Non-Stick Pan: Invest in a non-stick donut pan for easy release and better-shaped donuts.
This recipe card provides the basic details to make this recipe. For more information, questions or variations please review the content above the recipe card.
Updates and Revisions
If conflicting information between the video and recipe card, the recipe card will always have the most up to date information, ingredients and instructions.
Nutritional Information
All nutritional information is based on third-party calculations and should be considered estimates. Actual nutritional content will vary with brands used, measuring methods, portion sizes and more.
Disclosure
This website contains affiliate links, which means that if you click on a product link, we may receive a commission in return. I Hacked Diabetes is a participant in the Amazon Services LLC Associates Program, an affiliate advertising program designed to provide a means for sites to earn advertising fees by advertising and linking to amazon.com.
LOVE THIS RECIPE?
Check out I Hacked Diabetes on Pinterest