These Keto Gingerbread Donuts with Cream Cheese Icing have a soft and pillowy texture with warm gingerbread spices and topped with a creamy icing. Perfect donuts to accompany a warm beverage or as dessert after a meal. The low carb icing is optional as the donuts themselves are a perfect sweet and savoury combo and always hit the spot.
Jump To:
Gingerbread donuts are not too gingery and have a nice warm and mellow flavour. The flavours of gingerbread can be used in many forms such as an actual bread or keto gingerbread loaf, gingerbread houses during the holidays or gingerbread cookies, cakes and muffins. I typically crave gingerbread flavours in the fall all the way until spring.
See my super soft and chewy Keto Ginger Molasses Cookies
🥘 Ingredients Used
This keto gingerbread donut recipe is made with a touch of molasses, some warm spices, almond flour and brown erythritol.
Almond Flour: ground blanched almonds were used for this recipe which gives it a slightly nutty flavour plus it's low carb and gluten free.
Molasses: a mixture of dark liquid that gives these donuts a rich, deep flavor with slightly sweet and tangy undertones.
Ground Ginger: slightly peppery and sweet, with a pungent and spicy aroma
Brown Sugar Swerve: this low carb sweetener is made with erythritol and gives these donuts a touch of caramel flavour.
👨🏻‍🍳 Steps by step instructions
How to make Keto Gingerbread Donuts with Cream Cheese Icing
STEP 1: First mix the dry ingredients in a large mixing bowl and then mix the wet ingredients in a separate large mixing bowl and then combine them together to form the donut batter.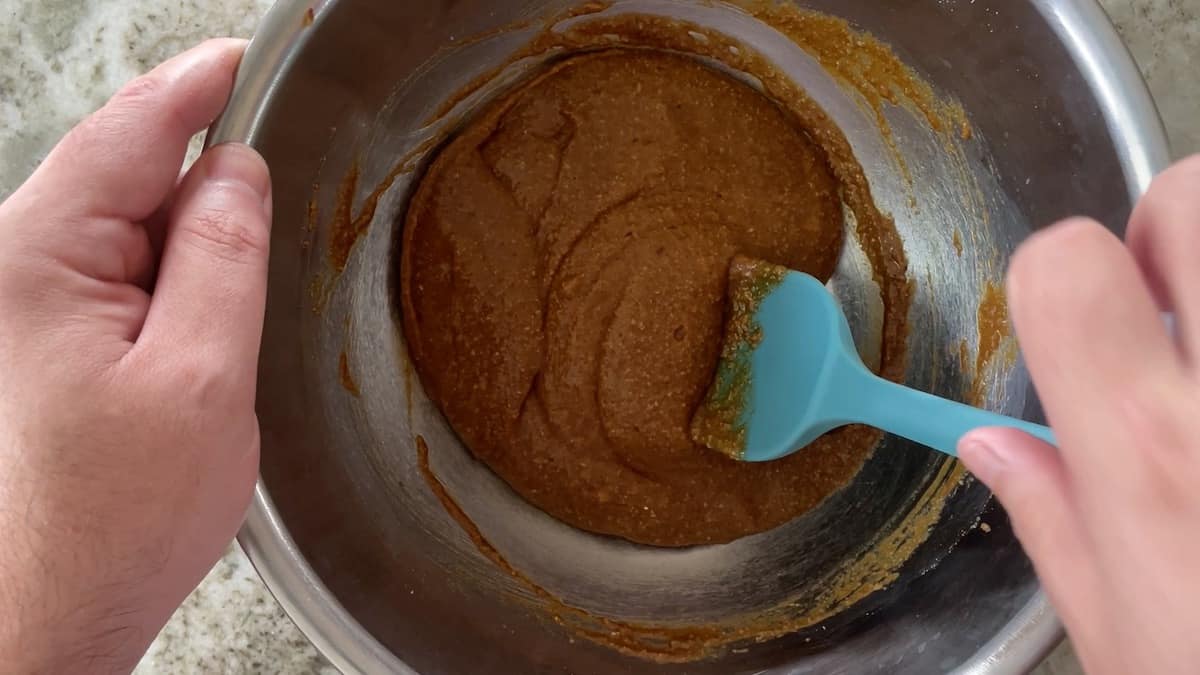 STEP 2: Transfer the donut batter to a piping bag and pipe into a generously greased donut pan. I greased my donut pan with coconut oil. Alternatively you can simply use a spoon to transfer into the donut molds in the pan.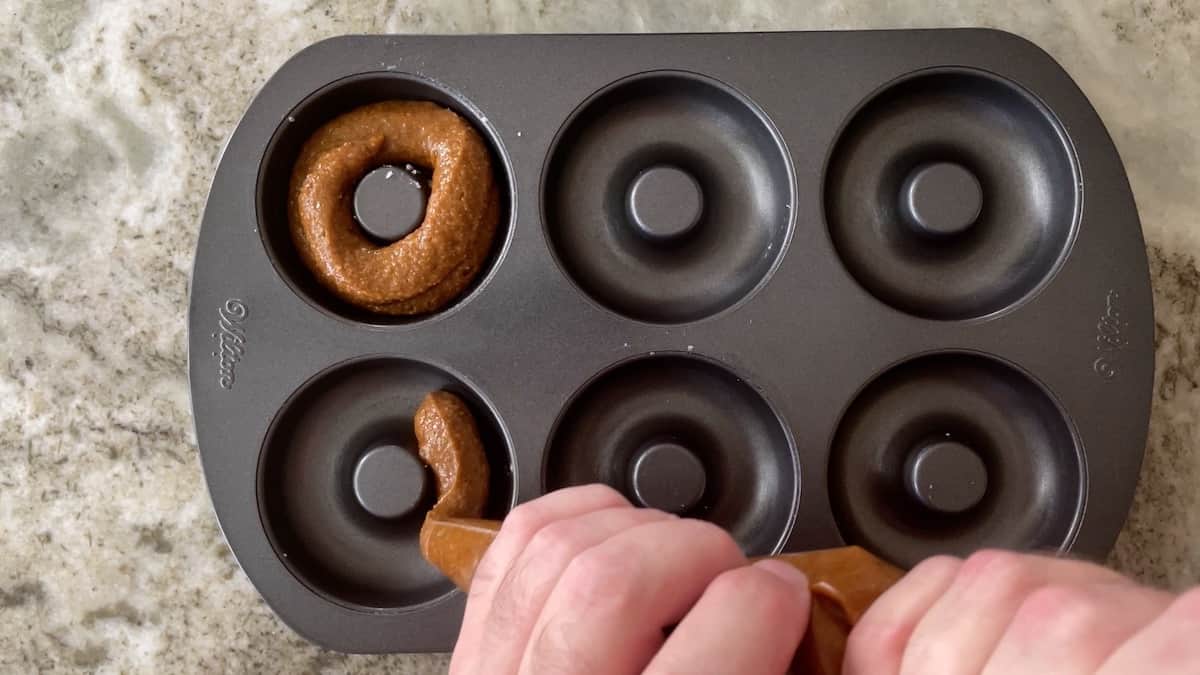 STEP 3: Use your finger to flatten out the donuts in the pan before placing them in the oven. They will puff up while baking.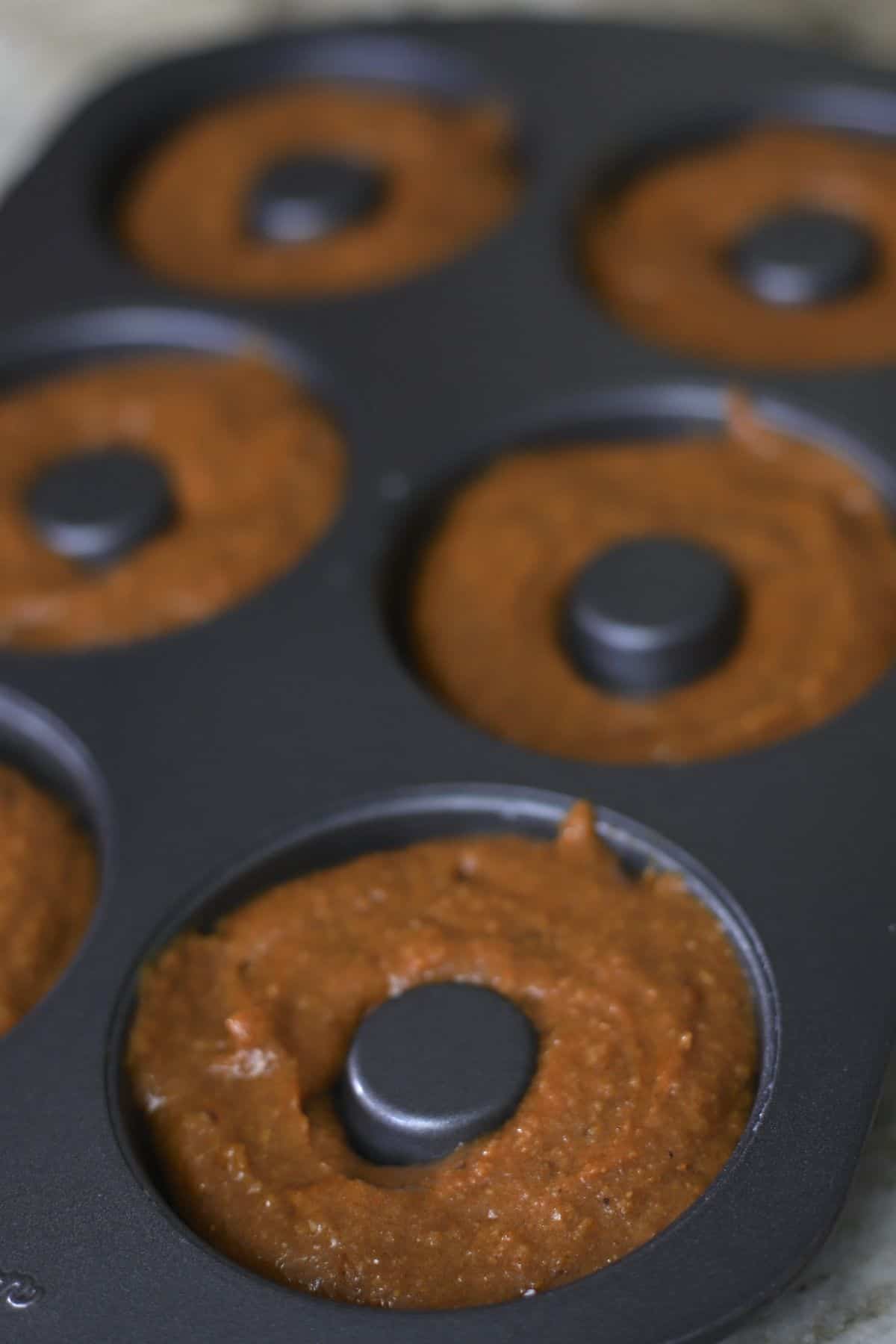 STEP 4: Bake in a preheated oven at 350°F for 16-18 minutes. If a toothpick inserted comes out clean the donuts are ready. Allow the donuts to cool in the donut pan and then gently remove them by loosening with a rubber spatula and then turning them while you lift them out of the donut pan.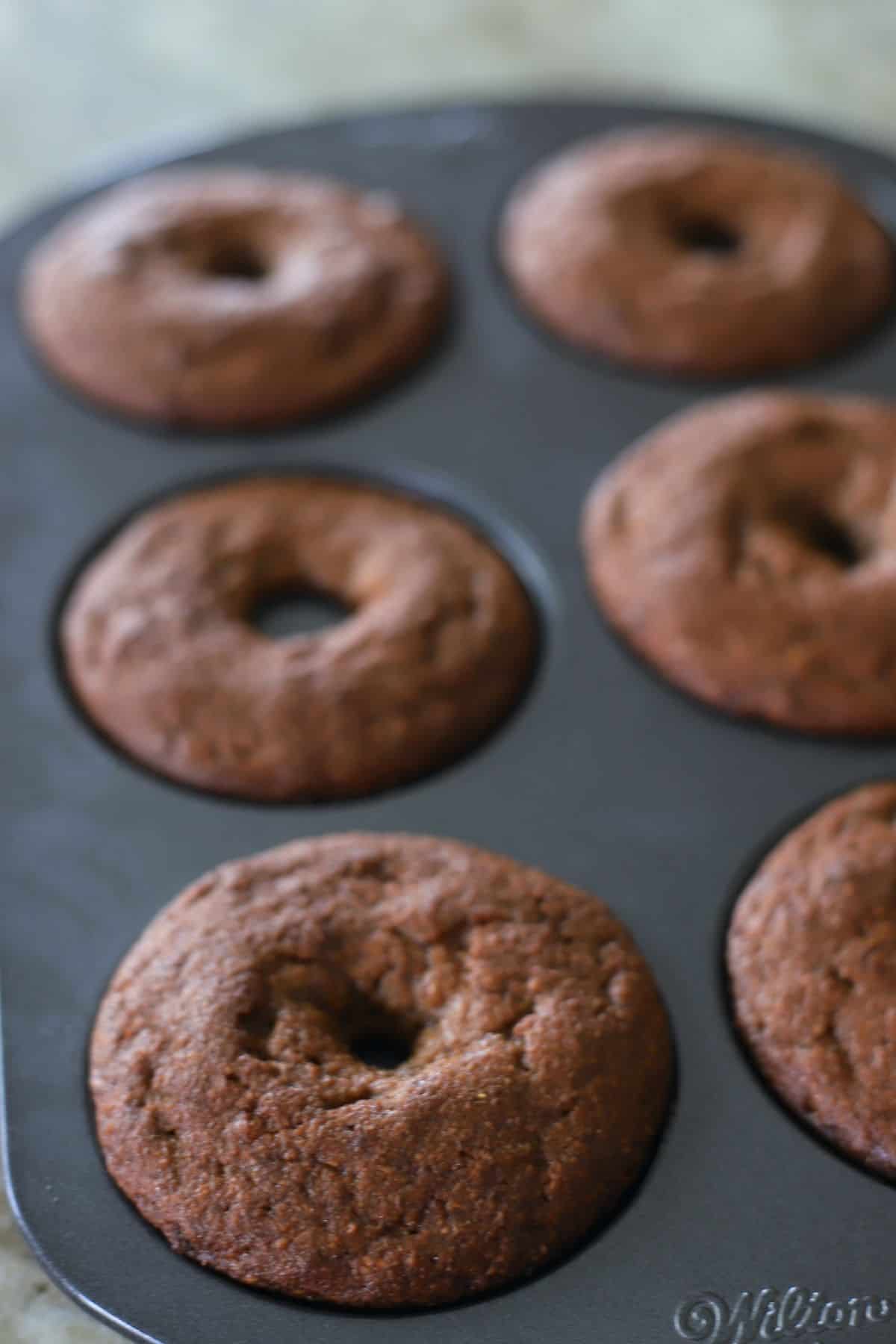 STEP 5: To make the glaze use a medium sized mixing bowl and mix together the melted butter and softened cream cheese. If cream cheese is still hard, I zapped it in the microwave for 15 seconds to soften it up. Once the butter and cream cheese are mixed together, add in the powdered erythritol and mix again until smooth.
The icing will still be thick at this point so we then slowly add the cream. I used 5% cream but any cream or milk will work. You simply want to loosen up the mixture to your desired consistency. I used about 1.5 tablespoons of cream to get to the my desired consistency. Did I tell you I'm not good at decorating cakes or any baked goods for that matter? I love to do it but I honestly suck at it.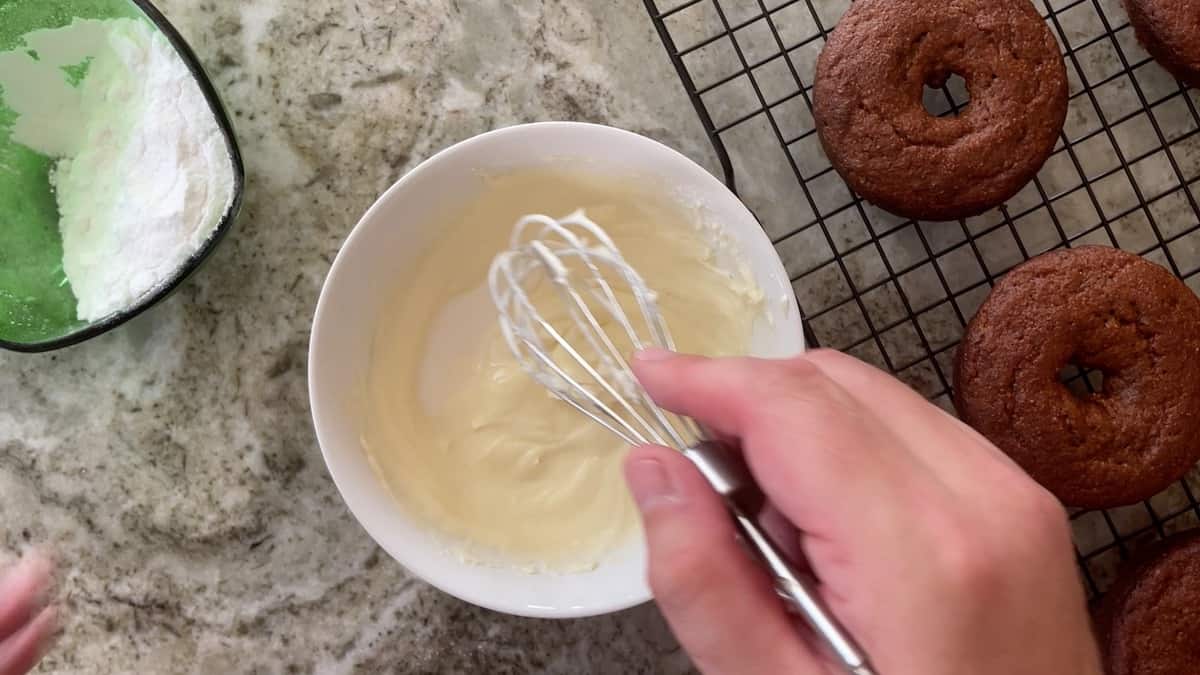 STEP 6: Once the donuts have completely cooled, dip them into the low carb cream cheese icing. I always get confused whether to dip the bottom side or the top, I tried both ways and it doesn't really make a difference to me. Then place on a rack in case they drip over, you don't want them sitting in the icing.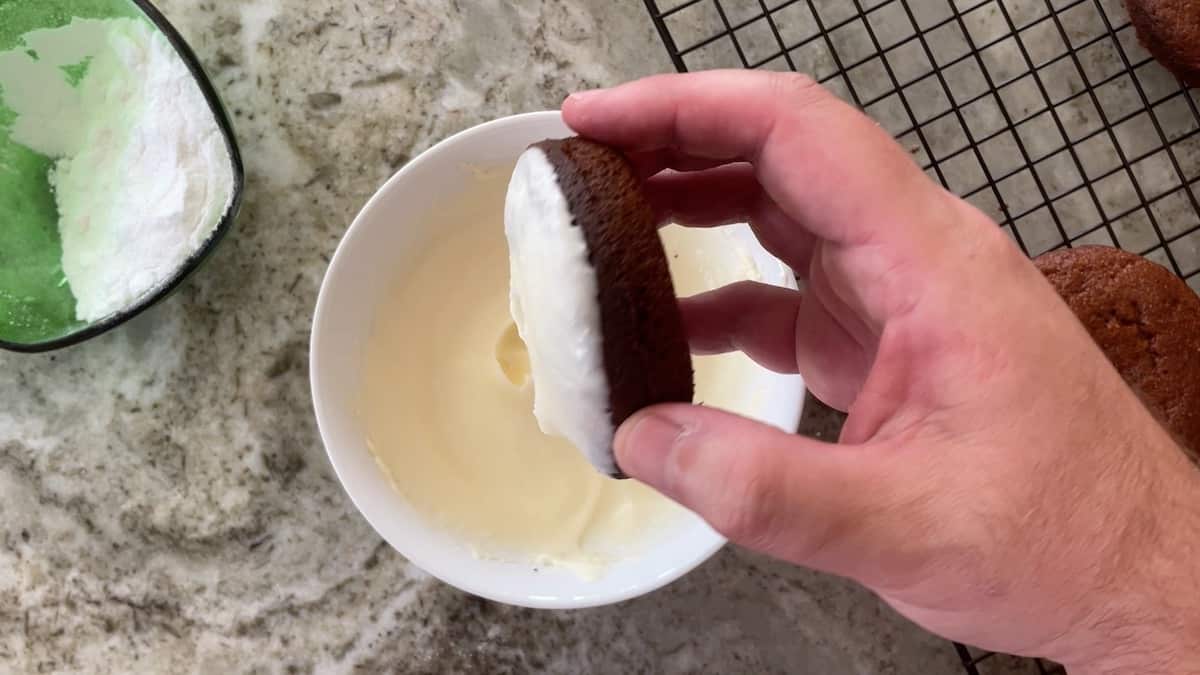 STEP 7: from a height, sprinkle the donuts with some ground ginger for a golden effect.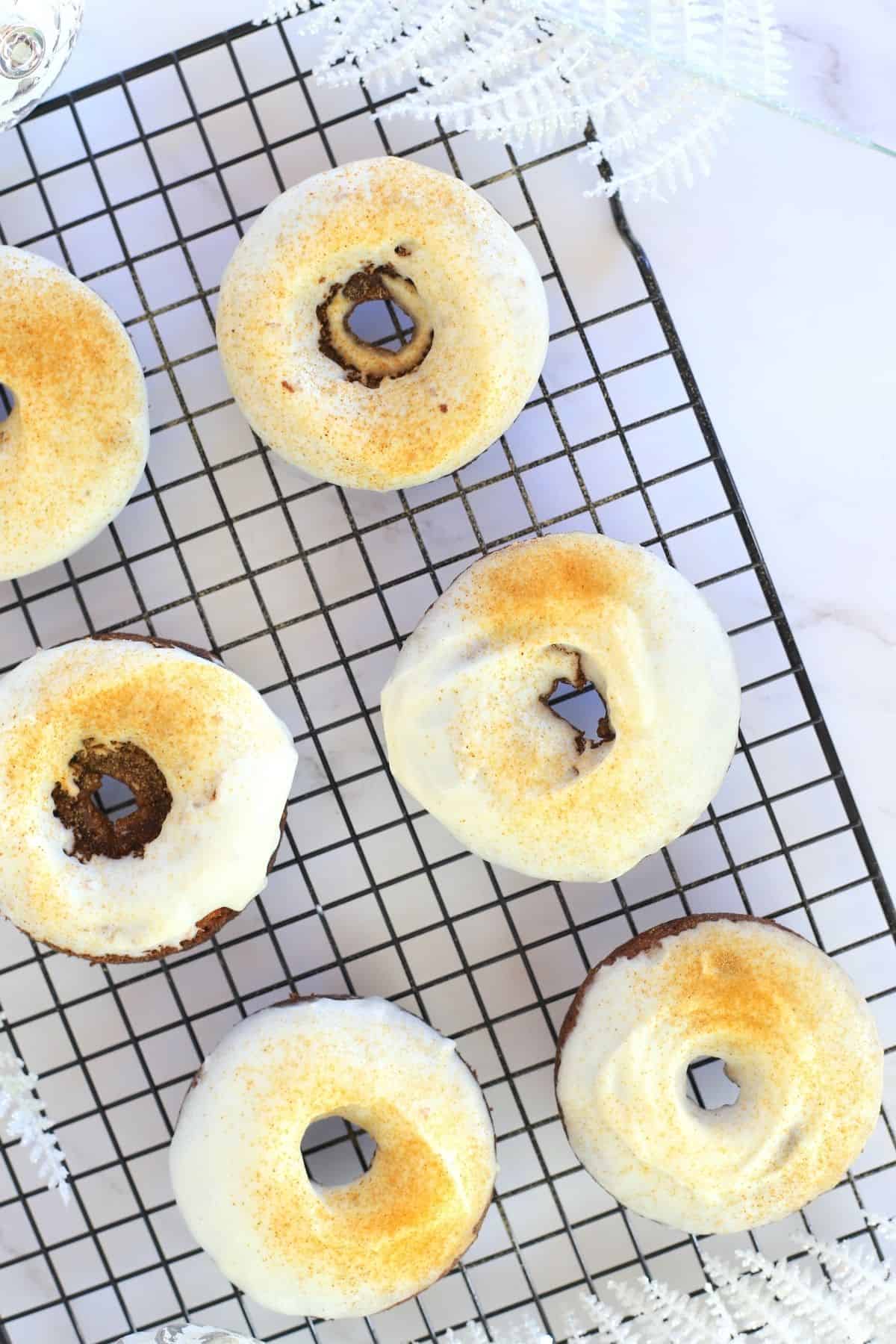 👨🏻‍🍳 Recipe tips
Top Tip: generously grease the donut pan before adding the donut batter or they may be difficult to release from the pan. Allow to cool and become firmer before removing the sugar free gingerbread donuts from the pan.
Serving: enjoy the donut with a warm beverage like a hot coffee or tea. I also have served them as a dessert during the holiday season and they were a hit.
Storage: store in an airtight container in the fridge for up to 3 days. If you store them without the icing you can store them for up to 5 days in the fridge.
Freezing: you can store them in the freezer without the icing in an airtight container or freezer bag for up to 2 weeks. Remove donuts from freezer and let thaw on the counter for 2 hours before consuming. Simply make the icing when you are ready to consume them.
♨️ Recipe variations
These keto gingerbread donuts are great as is but if you want to add a twist to them or lower the net carbs, here are a few variations:
Molasses - lower the amount of net carbs per donut and reduce or leave out the molasses. The ginger flavours will still be there but you will be missing some of the rich molasses flavours. Removing the molasses completely will make the donuts roughly 1 net carb each.
Sweetener - if you don't have brown erythritol you can simply use regular erythritol. The molasses in the donuts will still give you the flavour that the brown sweetener does.
Ginger - if you want an even more ginger flavoured donut try adding a minced tablespoon of ginger to the batter. Or, sprinkle some small bits of fresh minced ginger on top of the glaze.
Sprinkles - make these keto donuts more festive and some low carb sprinkles on top of the glaze.
Cinnamon Sugar - use keto cinnamon sugar instead of a glaze and sprinkle the donuts with a mixture of cinnamon and granulated erythritol.
Not only are these donuts Keto, Low Carb, Sugar Free and Diabetic Friendly, they are also Gluten Free.
For another keto donut recipe my Low Carb Toasted Coconut Donut is my all time favourite donut.
💭 Frequently asked questions
I have type 2 diabetes, can diabetics eat these donuts?
These donuts are made without sugar and I use almond flour and other low carb products to keep the amount of carbs as low as I can without compromising on taste and flavour. Therefore, these donuts only have 1 gram of sugar per donut and can be suitable for diabetics. However, please monitor your blood sugars after consuming as different foods affect everyone differently.
Do I need to glaze this sugar free gingerbread donut recipe?
No, the glaze is optional.
Are baked donuts as good as fried donuts?
Yes they are. Baked donuts will have fewer calories as fried donuts are fried in fat and will add more calories to the donuts. Plus it will make these donuts heavier if fried.
Do I need a donut pan to make these donuts?
A donut pan would be ideal but you can use a muffin tin and use some tinfoil to shape them into donuts by poking your finger up the middle of tinfoil to form the donut hole and then place in the muffin tin. Use cooking spray on the tinfoil to avoid any sticking.
🍽 Other dessert recipes you might enjoy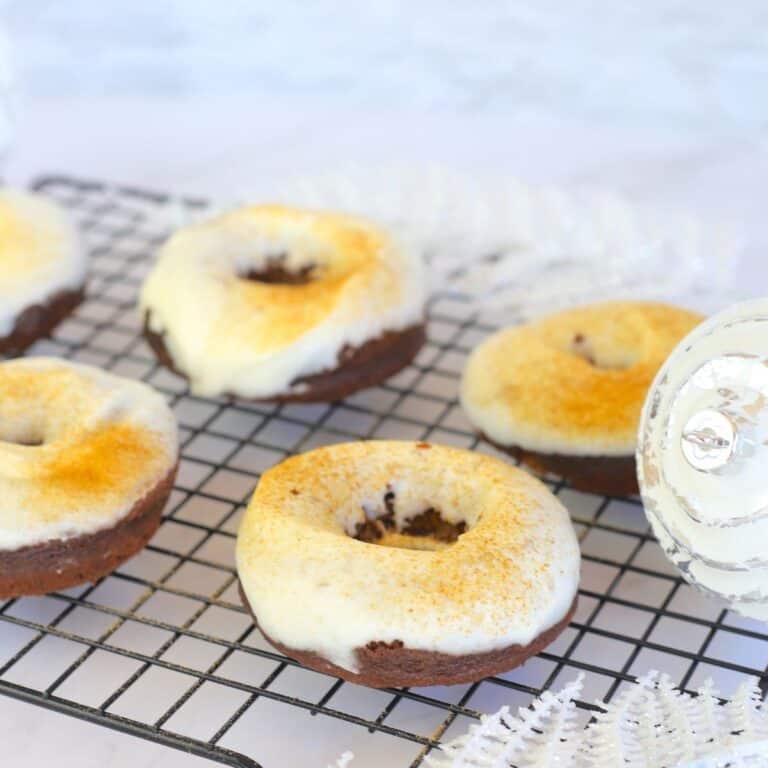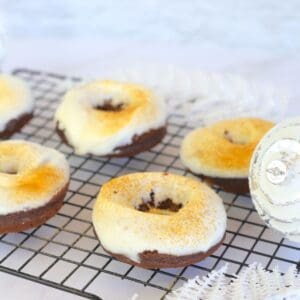 Keto Gingerbread Donuts with Cream Cheese Icing
Sugar free Gingerbread donuts with a cream cheese icing full of all the ginger and warm spice flavours.
Nutrition
Calories:
150
kcal
Carbohydrates:
4
g
Protein:
4
g
Fat:
13
g
Fiber:
1
g
Sugar:
2
g
Ingredients
Glaze
2

tablespoon

cream cheese

2

tablespoon

melted butter

¼

cup

low carb sweetener

1.5

tablespoon

cream or milk
Instructions
Donuts
In separate large mixing bowls, mix the wet and dry ingredients separately and then combine them together in one bowl.

Generously grease a donut pan. Transfer the batter to a piping bag and pipe into donut molds in a donut pan. Alternatively you can use a spoon to scoop into donut pan molds.

Bake at 350°F for 16-18 minutes until a toothpick comes out clean.

Allow to cool in pan before carefully removing the donuts. they may stick a little if the pan was not generously greased. Use a rubber spatula to loosen from the pan.
Glaze
Whisk together the melted butter and softened cream cheese and then whisk in the powdered erythritol. Add the cream or milk a little at a time until you have reached desired consistency. You may want a thick and goopy icing or a thin and loose icing. I used 1.5 tablespoons for a thick icing.
Notes
Top Tip: Generously grease the donut pan to avoid any sticking.
This recipe card provides the basic details to make this recipe. For more information, questions or variations please review the content above the recipe card.
Updates and Revisions
If conflicting information between the video and recipe card, the recipe card will always have the most up to date information, ingredients and instructions.
Nutritional Information
All nutritional information is based on third-party calculations and should be considered estimates. Actual nutritional content will vary with brands used, measuring methods, portion sizes and more.
LOVE THIS RECIPE?
Check out I Hacked Diabetes on Pinterest
🌡️ Food safety
Cook to a minimum temperature of 165 °F (74 °C)
Do not use the same utensils on cooked food, that previously touched raw meat
Wash hands after touching raw meat
Don't leave food sitting out at room temperature for extended periods
Never leave cooking food unattended
Use oils with high smoking point to avoid harmful compounds
Always have good ventilation when using a gas stove
See more food guidelines