Toasted coconut donuts are my all time favourite donut from Tim Hortons. In my opinion these Low Carb Toasted Coconut Donuts are the same if not better than Tim Hortons or Dunkin Donuts.
Since being diagnosed with Type 2 Diabetes I thought I would never eat one again. However, after a few attempts at perfecting the recipe, I can now enjoy them once again.
Jump To:
Ingredient notes
Ingredients in the low carb toasted coconut donuts
Toasted Coconut: Toasting the coconut brings out a nutty flavour that is different from plain coconut. It gives it a nice colour and the fragrance is to die for. For this recipe I simply toasted unsweetened coconut in a dry frying pan until lightly browned. Make sure you purchase the unsweetened coconut. I used flaked coconut in the low carb toasted coconut donuts but you can use flaked or shredded as long as it's unsweetened.
Cacao Powder: this is the good stuff that is the closest form to chocolate. There is a big difference between cacao powder and cocoa powder and the most important is the flavour of cacao is intense and has a lot less sugar than the cocoa powder.
Coconut Oil: continuing on a coconut theme this was a must to intensify the coconut flavour throughout the donut. Plus the fatty acids in coconut oil encourages the body to burn fat which makes this donut almost a superfood. Just kidding but I like to think it is.
Almond Flour: I could have continued with the coconut theme here and used coconut flour but I find coconut flour tends to dry out the donuts and it loses it's moisture. If you have nut allergies and want to use coconut flour, a good starting point is to substitute 1 cup of almond flour with ¼ cup of coconut flour. You will also need to add 1 egg for every ¼ cup of coconut flour.
Step by step instructions
STEP 1: Toast shredded coconut in a dry frying pan until lightly browned
STEP 2: Mix the wet ingredients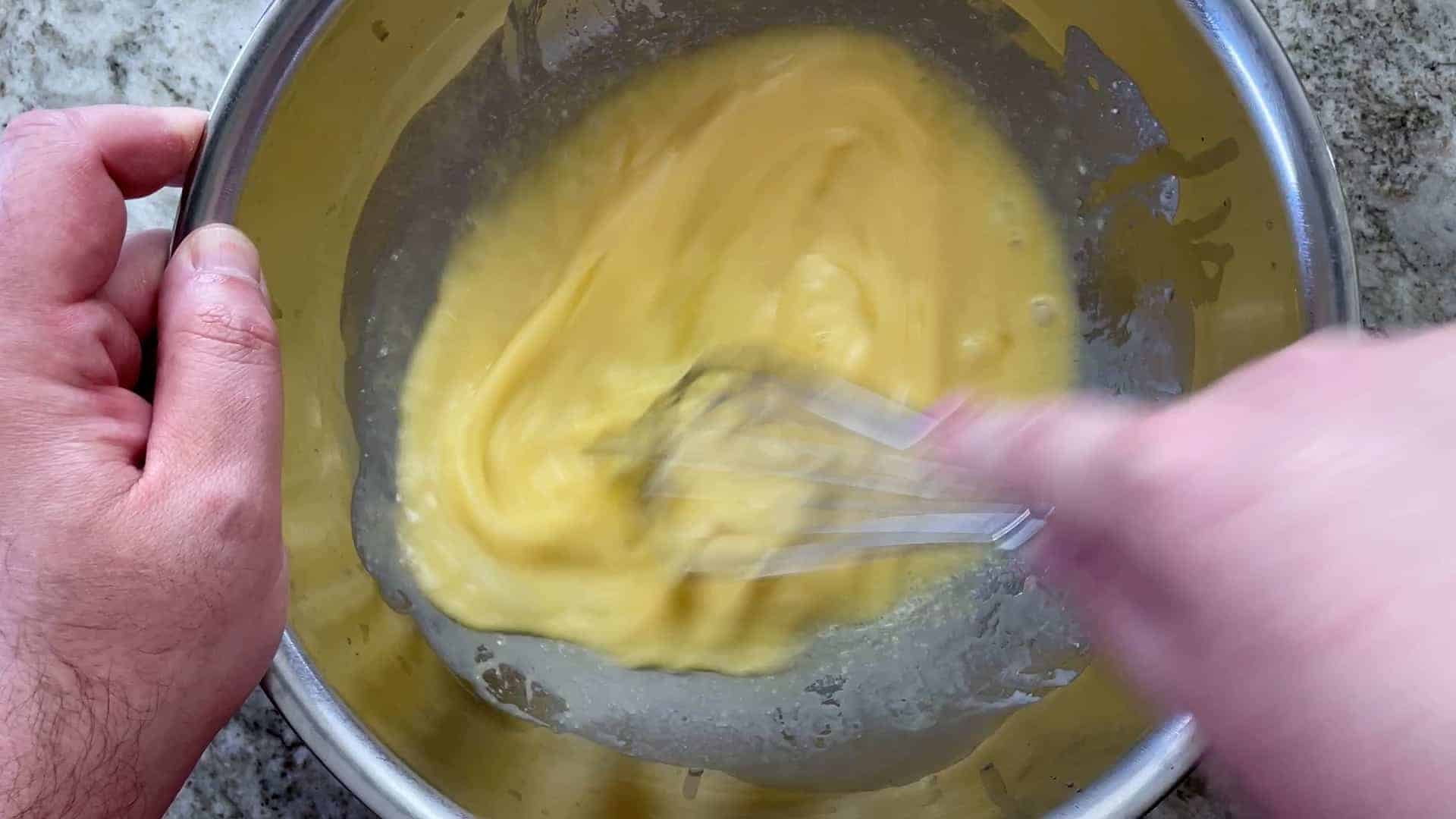 STEP 3: Add in the dry ingredients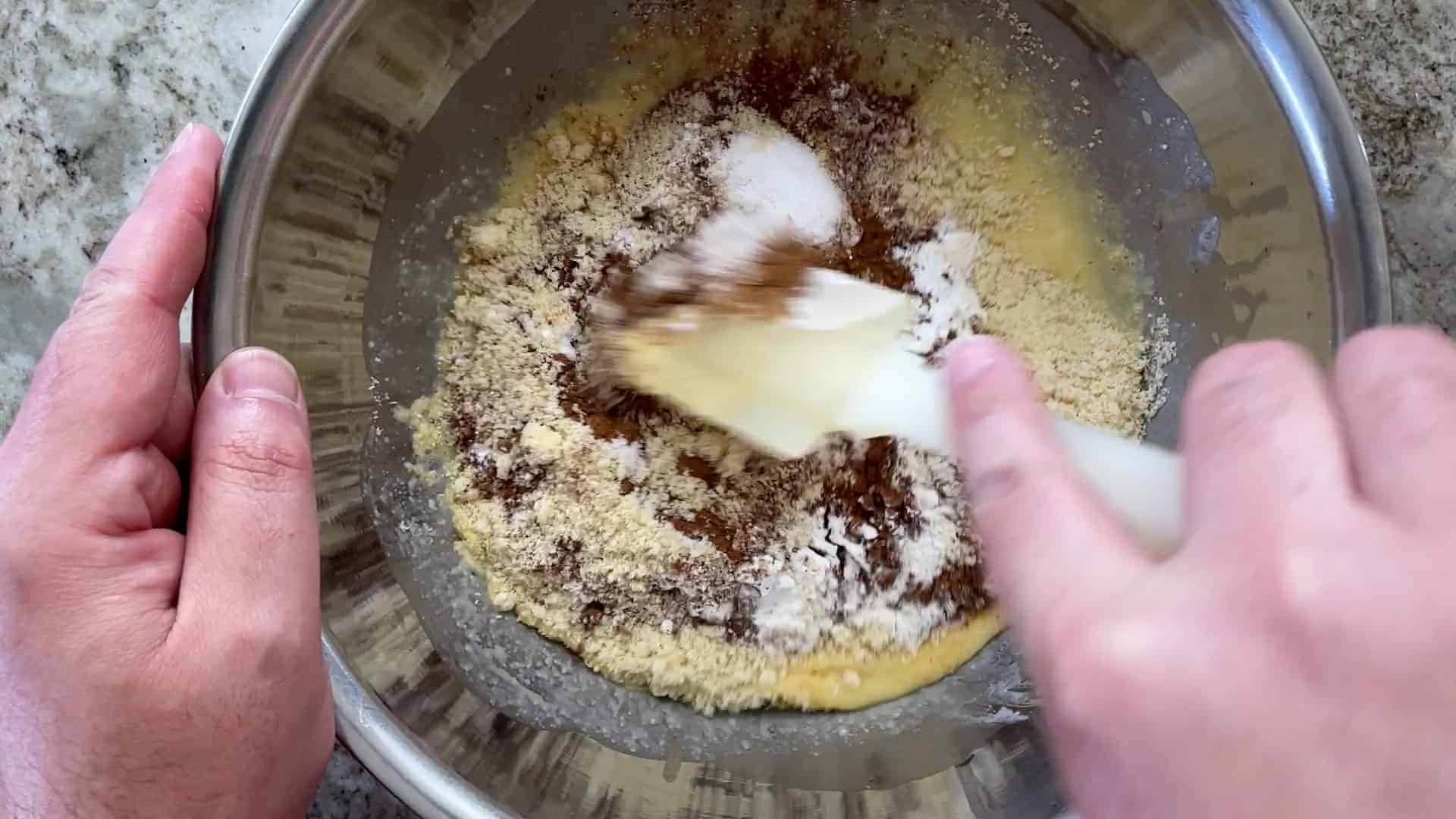 STEP 4: Pipe or spoon the batter into a coconut oil greased and sprayed donut pan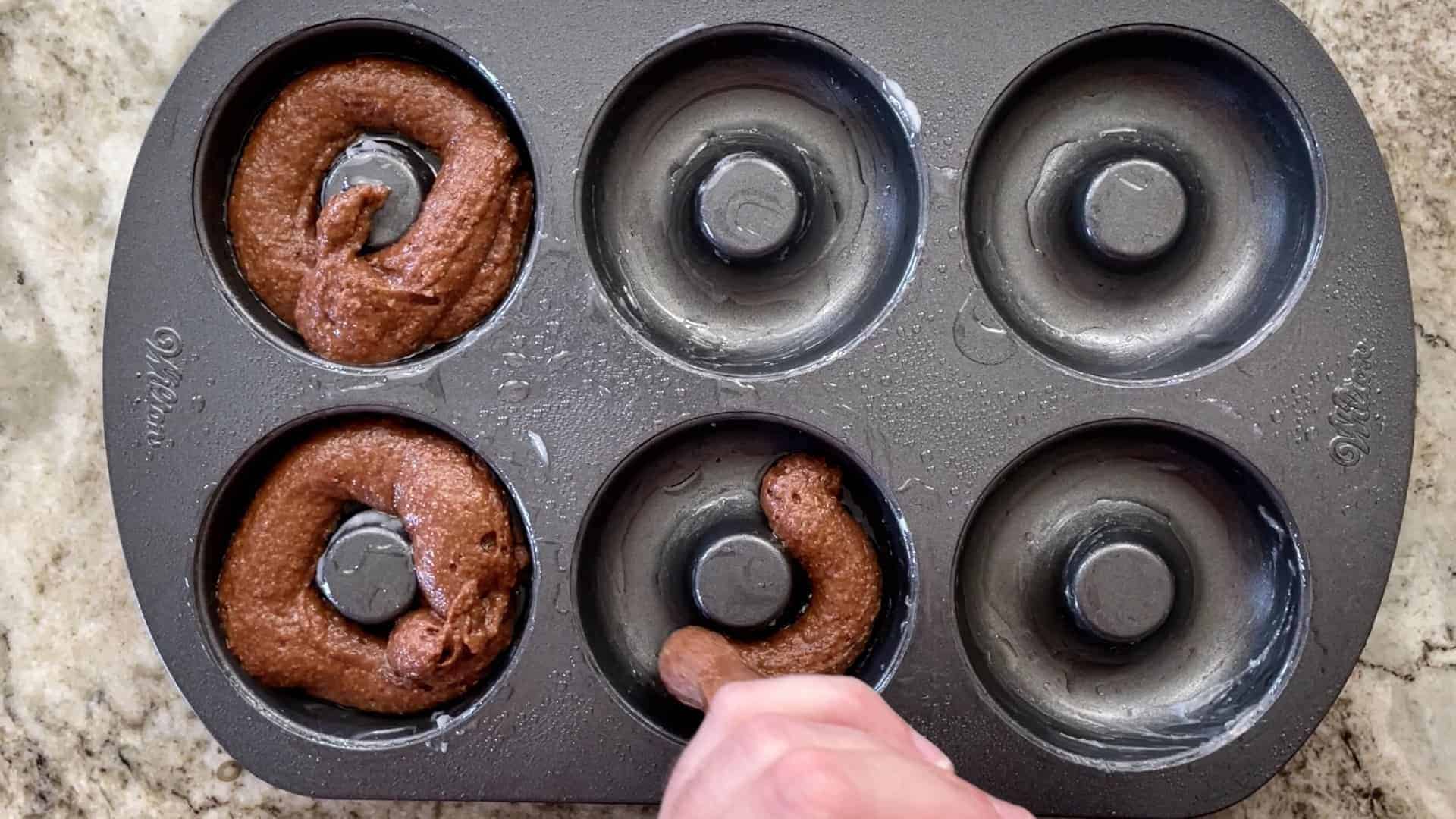 STEP 5: Bake at 350 for 22-24 minutes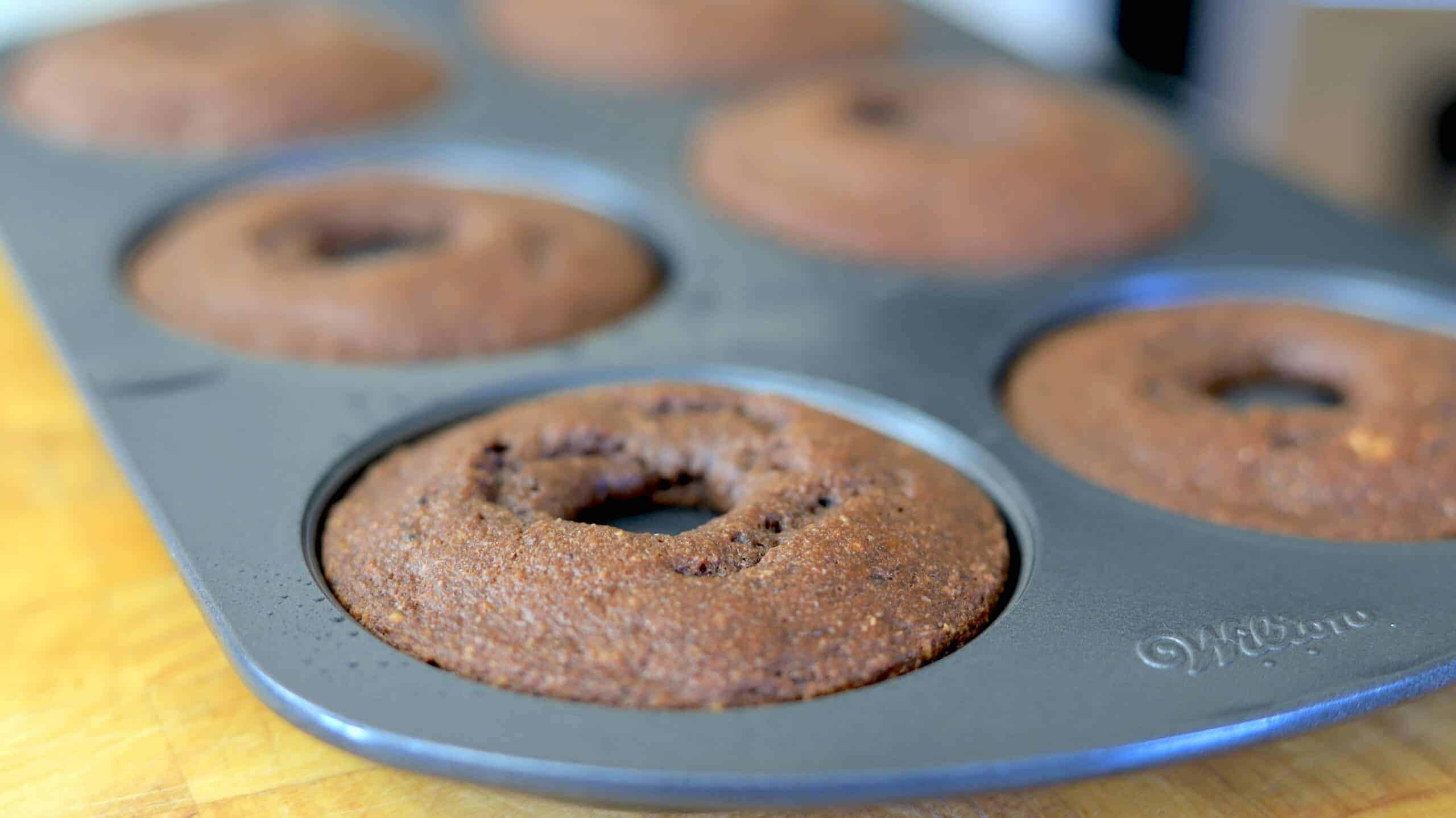 STEP 6: Combine the glaze ingredients together in a medium size bowl and set aside
STEP 7: Allow donuts to cool completely before removing from pan
STEP 8: Dip tops of donuts into the glaze and then dip into toasted coconut to coat the tops of the donut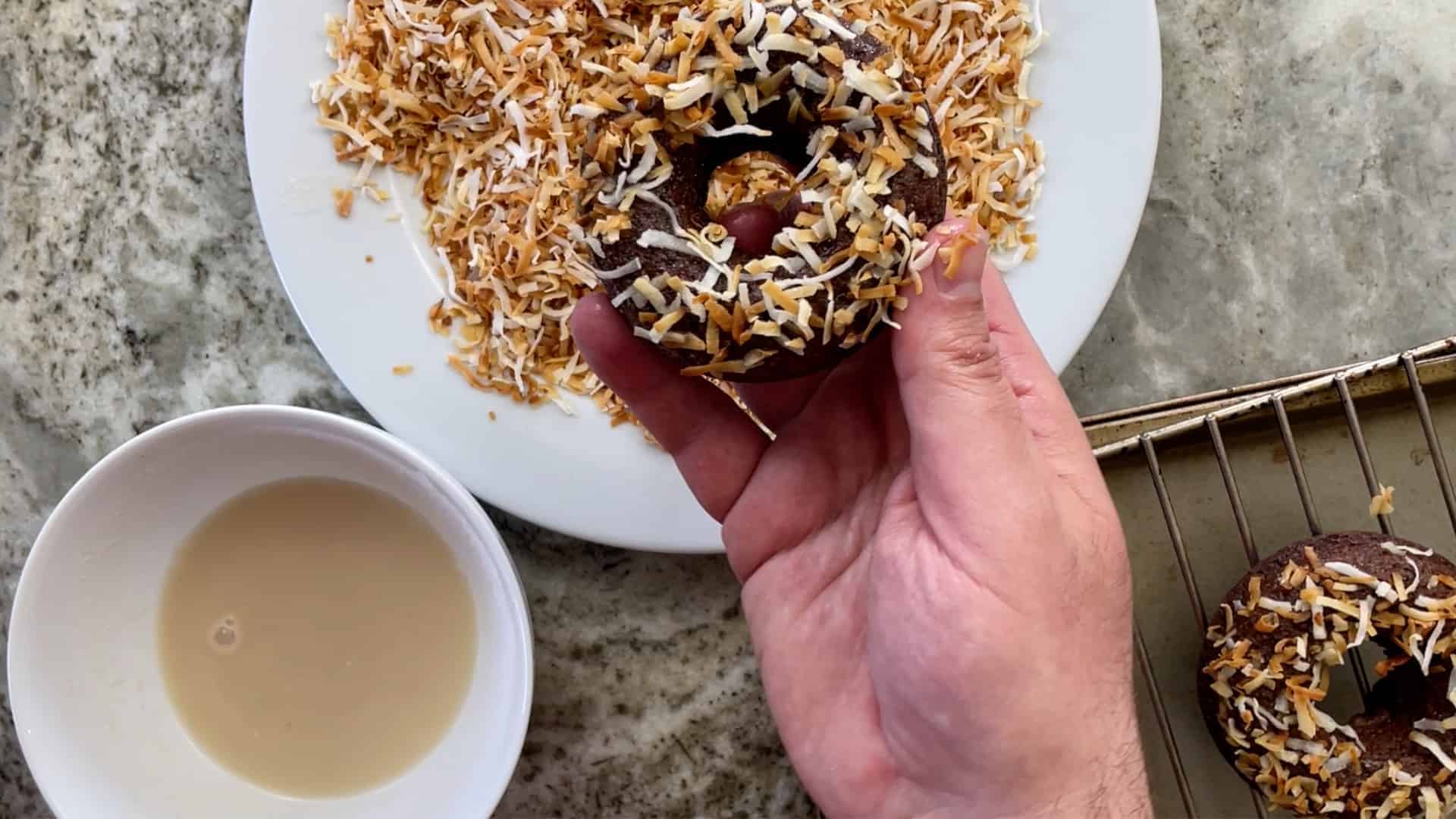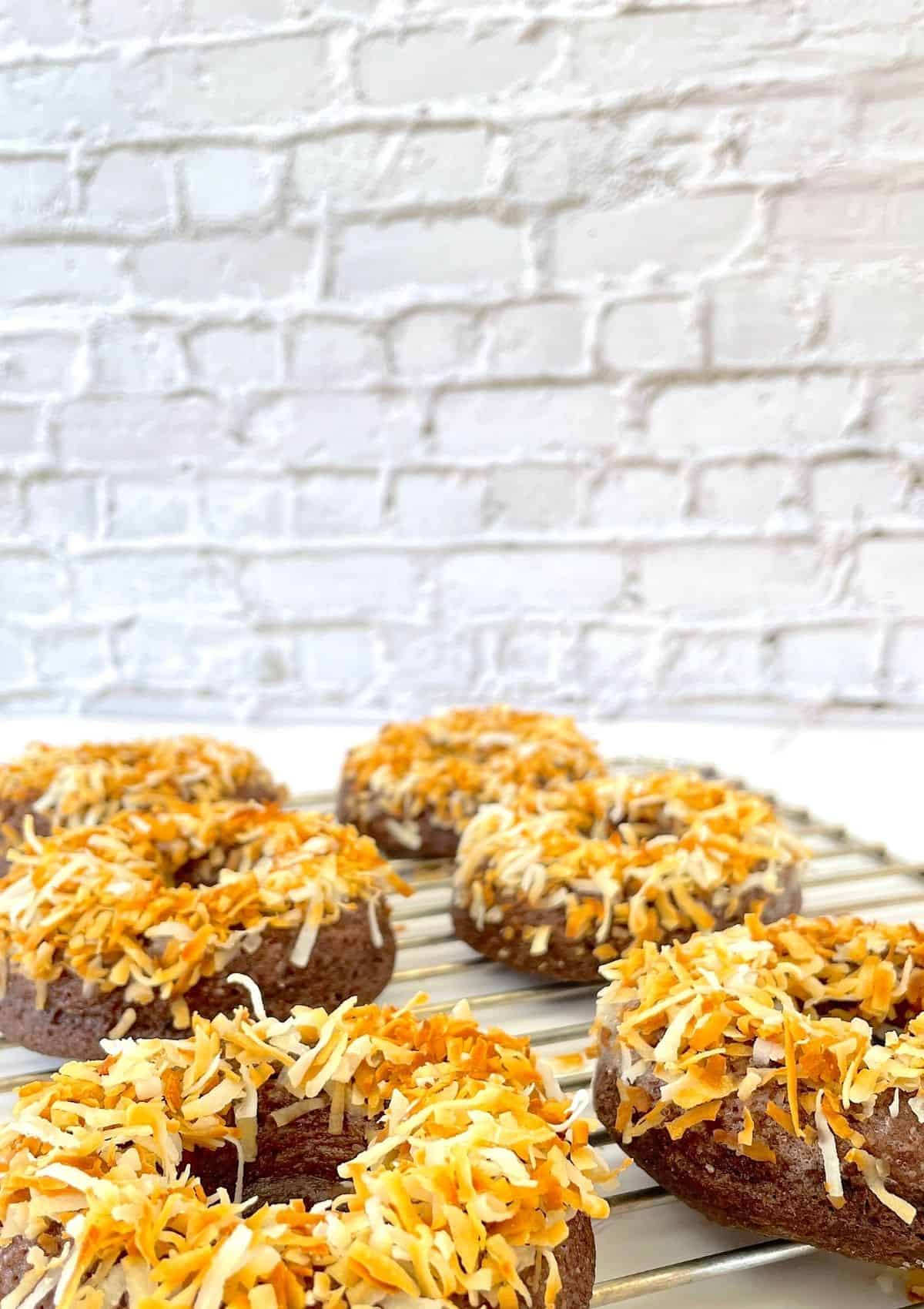 Recipe tips and serving suggestions
Glaze: The glaze can harden within a couple hours. You want to make sure the glaze is made while donuts are in the oven and once slightly cooled you can start the assembly. The glaze is what makes the coconut stick.
Storage: Store in an airtight container and enjoy within 3-4 days. Alternatively you can freeze the donuts once they are cooled for up to 3 months and top later. Allow the donuts to thaw out of the freezer for 1 hour and then glaze and top with toasted coconut.
Plain donut: You can make these low carb toasted coconut donuts without the cacao powder for a plain doughnut. Alternatively if you simply want a glazed donut you can dip in the glaze without topping with coconut.
Topping with coconut: You can dip the glazed donut into the toasted coconut or you can lay the donuts on a wire rack and top them with the toasted coconuts. Dipping in the coconut does work but I prefer lots of coconut on my donuts so I also added more on top after dipping.
Coconut oil and spray: I greased th donut pan with coconut oil and for added measure I also sprayed it with coconut oil. However the spray is optional.
Want to make donuts in the air fryer? See my Air Fryer Sugar Free Chocolate Donuts recipe.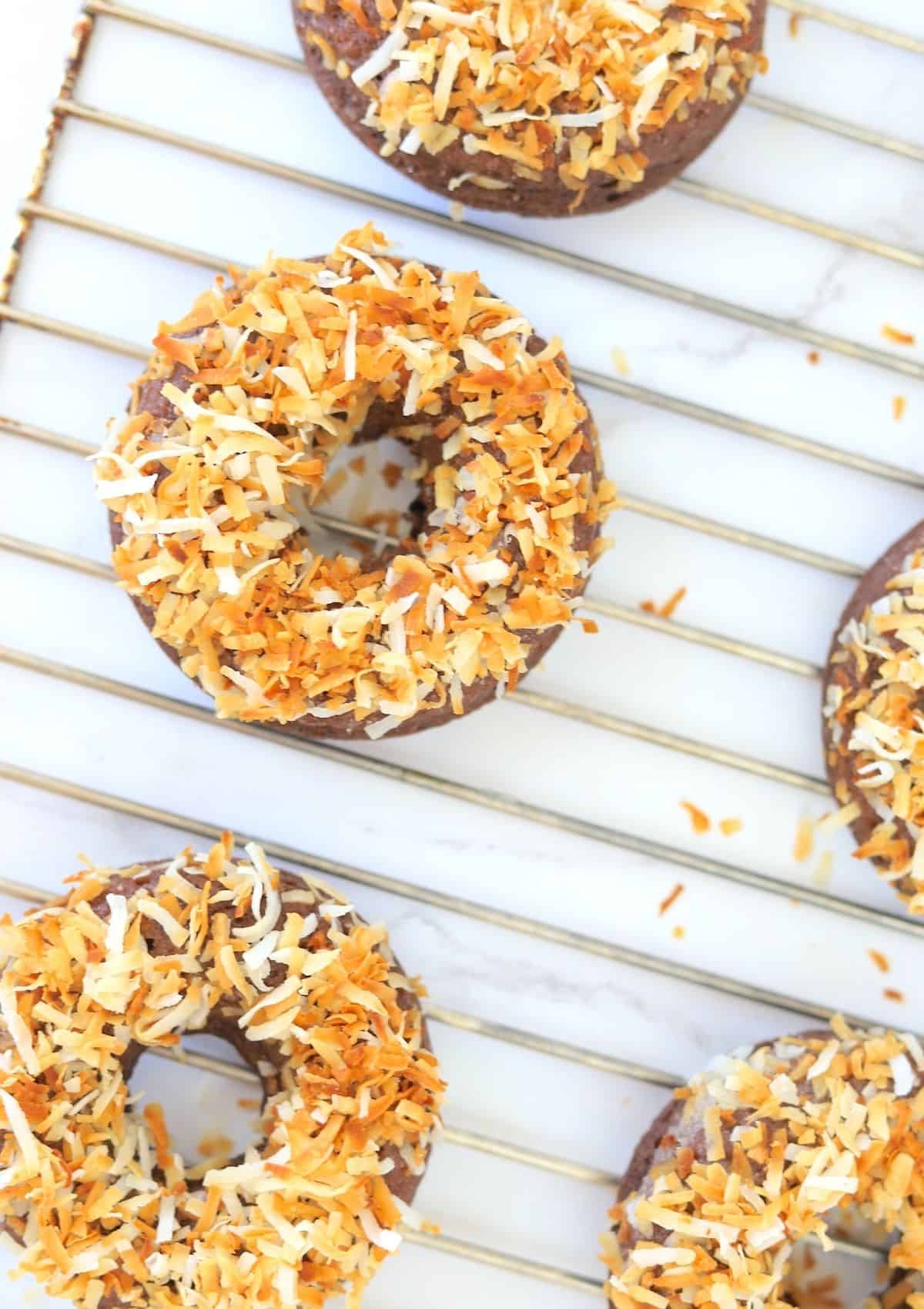 Frequently asked questions
Is the glaze optional for the toasted coconut donut?
Since the glaze acts as the glue for the coconut to stick to the donuts it is required. However, if you prefer a plain chocolate donut the glaze would be optional.
How would you store these donuts?
You can store them in an airtight container for 3-4 days or keep them in the fridge for 2-3 weeks. If you want to freeze them, do so without the glaze or coconut topping in an airtight container for up to 3 months.
Can I make donut holes instead?
Yes, you can. Simply use a donut hole mold or a muffin mold to make its shape and assemble them the same. Bake for 20-22 minutes. You will know when they are done by poking with a toothpick and it comes out clean.
I have diabetes, will these low carb toasted coconut donuts affect my blood sugars?
Different ingredients affect people differently and the highs and lows of diabetes can be tricky. I always tell people they need to test out what works for them until they have a good understanding on what type of ingredients affect their blood sugars. These low carb toasted coconut donuts are made with almond flour and erythritol which have a lower glycemic index than regular flour and sugar. You may also want to try out some other dessert recipes.
How many calories in these donuts?
Each donut has 205 calories.
Are these donuts keto?
Yes, at only 2g net carbs per donut they are sure to fit into your macros.
Are these donuts baked or fried?
These donuts are made by baking them in the oven and are not fried.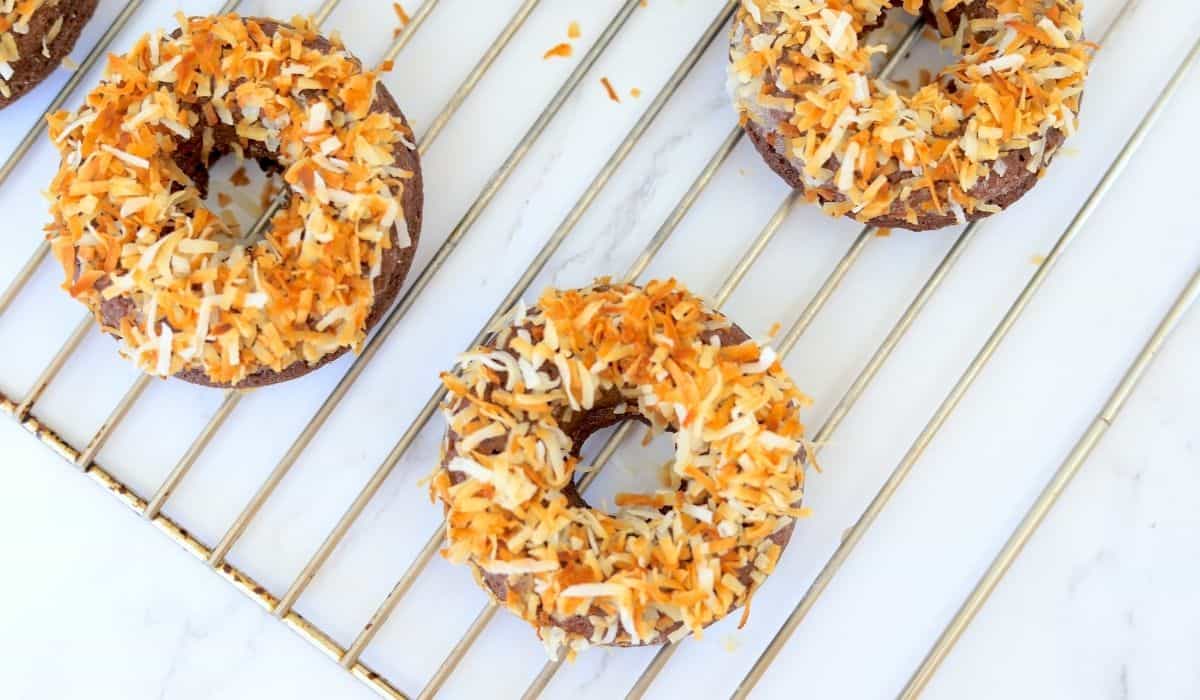 Other low carb dessert recipes you might enjoy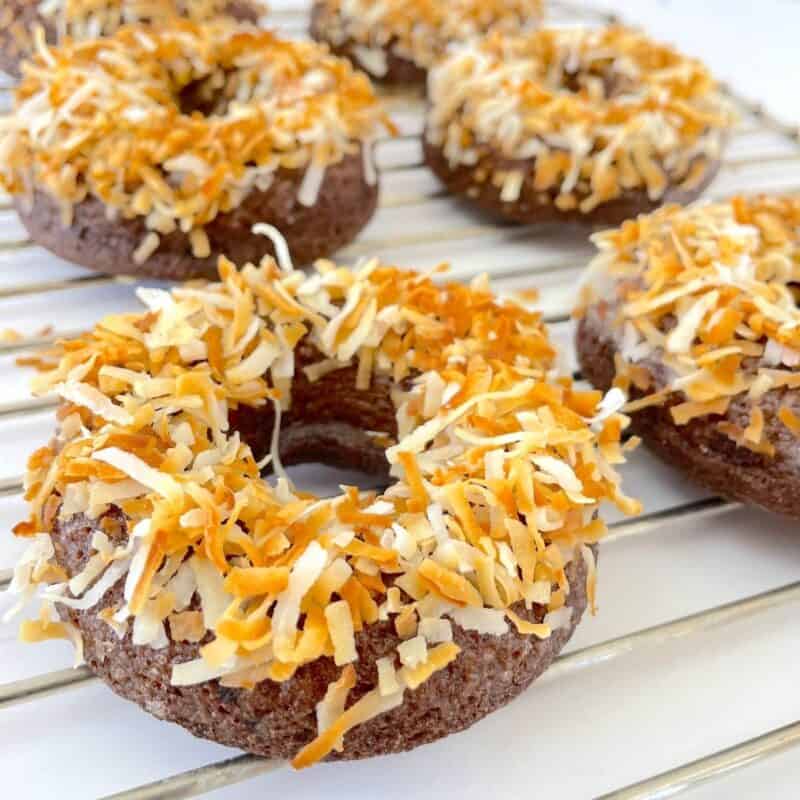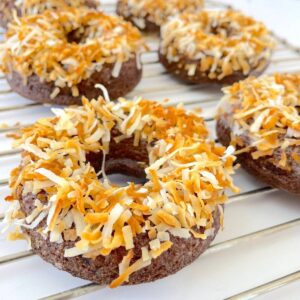 Low Carb Toasted Coconut Donut
An easy to make low carb toasted chocolate donut made sugar free.
Nutrition
Serving:
1
donut
Calories:
205
kcal
Carbohydrates:
5
g
Protein:
5
g
Fat:
19
g
Saturated Fat:
13
g
Polyunsaturated Fat:
0
g
Monounsaturated Fat:
0
g
Trans Fat:
0
g
Cholesterol:
93
mg
Sodium:
166
mg
Potassium:
99
mg
Fiber:
3
g
Sugar:
1
g
Instructions
Donuts
In a large bowl mix the wet ingredients with a whisk or spatula until well incorporated

Add the dry ingredients and mix until combined

Grease a doughnut pan with coconut oil. You can also spray with coconut oil if you have any on hand (optional)

Add batter to a piping bag and pipe into donut pan. Alternatively you can use a spoon to transfer the batter to the donut pan. Fill each to about ¾ full as the donuts will rise. I only had a 6 donut pan and baked the last 2 separately.

You will know donuts are ready when poked with a toothpick and it comes out clean. Roughly 22-24 minutes as ovens vary.

Remove from oven and allow to cool before assembling with glaze and toasted coconut
Toasted Coconut
Add the shredded coconut to a dry frying pan on medium heat. Remove from heat once coconut is lightly browned and allow to cool.
Glaze
Combine ingredients in a bowl and mix until combined

Optional adding coconut flavouring to the glaze if you want additional coconut flavour
Assembly
Once donuts have cooled dip each donut into the glaze and then press down into the toasted coconut. You may want to add additional coconut to the donut by scooping some out with a spoon and sprinkling on top of the donut.
Notes
I added 3 drops of coconut flavouring to the glaze but this is optional if you want more coconut flavour.  I used one on one coconut flavour.
This recipe card provides the basic details to make this recipe. For more information, questions or variations please review the content above the recipe card.
Updates and Revisions
If conflicting information between the video and recipe card, the recipe card will always have the most up to date information, ingredients and instructions.
Nutritional Information
All nutritional information is based on third-party calculations and should be considered estimates. Actual nutritional content will vary with brands used, measuring methods, portion sizes and more.
LOVE THIS RECIPE?
Check out I Hacked Diabetes on Pinterest