Delicious Sugar Free Peanut Butter Fudge Bombs are high in fat and low in carbs so they produce a boost of energy without the sugar highs. Lightly sweetened with a small dollop of sugar free strawberry jam.
If fudge and fat bombs got married, this would be their child. I almost want to call them F-Bombs but that may have a different meaning. These keto treats are perfect for a snack whenever you feel you need a pick me up during the day.
Jump To:
Doesn't everyone love peanut butter? Super fudgy, these keto peanut butter fudge bombs are great stored in the fridge or freezer. There is no sugar or sweetener added other than the sweet taste from the small dollop of sugar free jam on top of the bomb.
I was inspired to make these cute little fudge bombs while making my Double Chocolate Fudge Cookies because I enjoyed the little snack with the big flavour which is very satisfying. It also makes a perfect diabetic friendly snack without spiking my blood sugars.
Ingredients used for this recipe
Only 6 ingredients are needed to make these delicious low carb peanut butter fudge bombs.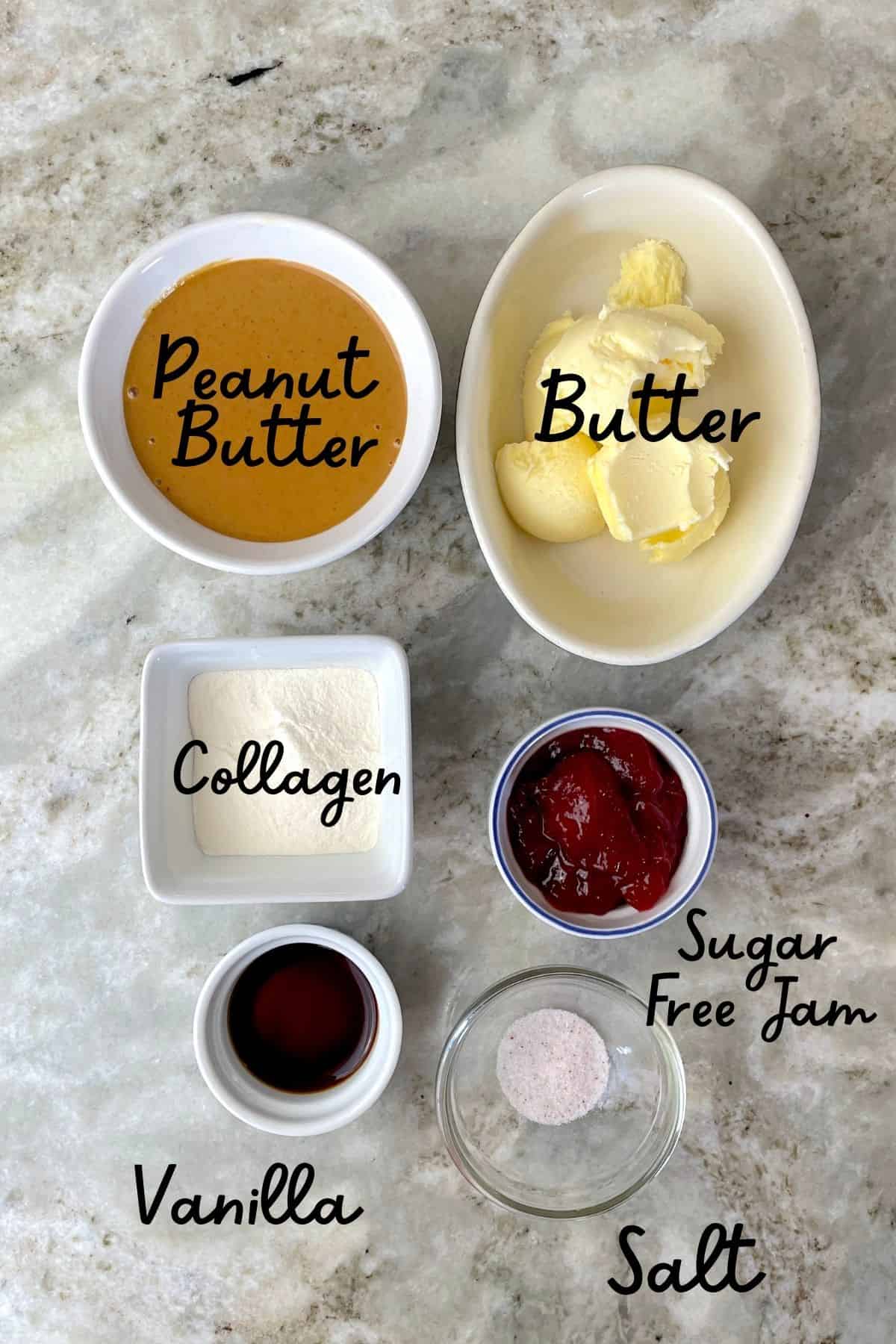 Peanut Butter: a smooth all natural creamy peanut butter was used for this recipe to keep carbs low.
Butter: unsalted butter was added to this recipe to keep the fat bombs fudgy while keeping it's consistency when kept cool. Alternatively you can use coconut oil.
Powdered Collagen: this collagen powder has virtually no taste and adds a rich texture while also providing more protein to these super fudgy fat bombs.
Sugar Free Jam: using a small amount of sugar free jam helps keep these bombs low carb while giving a touch of sweetness and flavour to the peanut butter. It's like PB & J in a keto fat bomb.
Vanilla: helps bring out the flavours of all the ingredients.
Salt: only use if your natural peanut butter does not contain a lot of salt. (optional)
Steps by step instructions
How to make Sugar Free Peanut Butter Fudge Bombs
STEP 1: In a large mixing bowl, combine all the ingredients together with a rubber spatula. Ensure you use softened butter, if cold you can microwave it for about 20 seconds on high to soften it and then add to the natural peanut butter.
STEP 2: Once you get the combined ingredients as smooth as possible, use a small cookie scoop to transfer to a silicone mini muffin pan or mold resting on a baking sheet. Only one scoop per mold. Then place a small dollop of the sugar free strawberry jam on top of each fudge bomb.
Freeze for 1 hour, then remove and enjoy.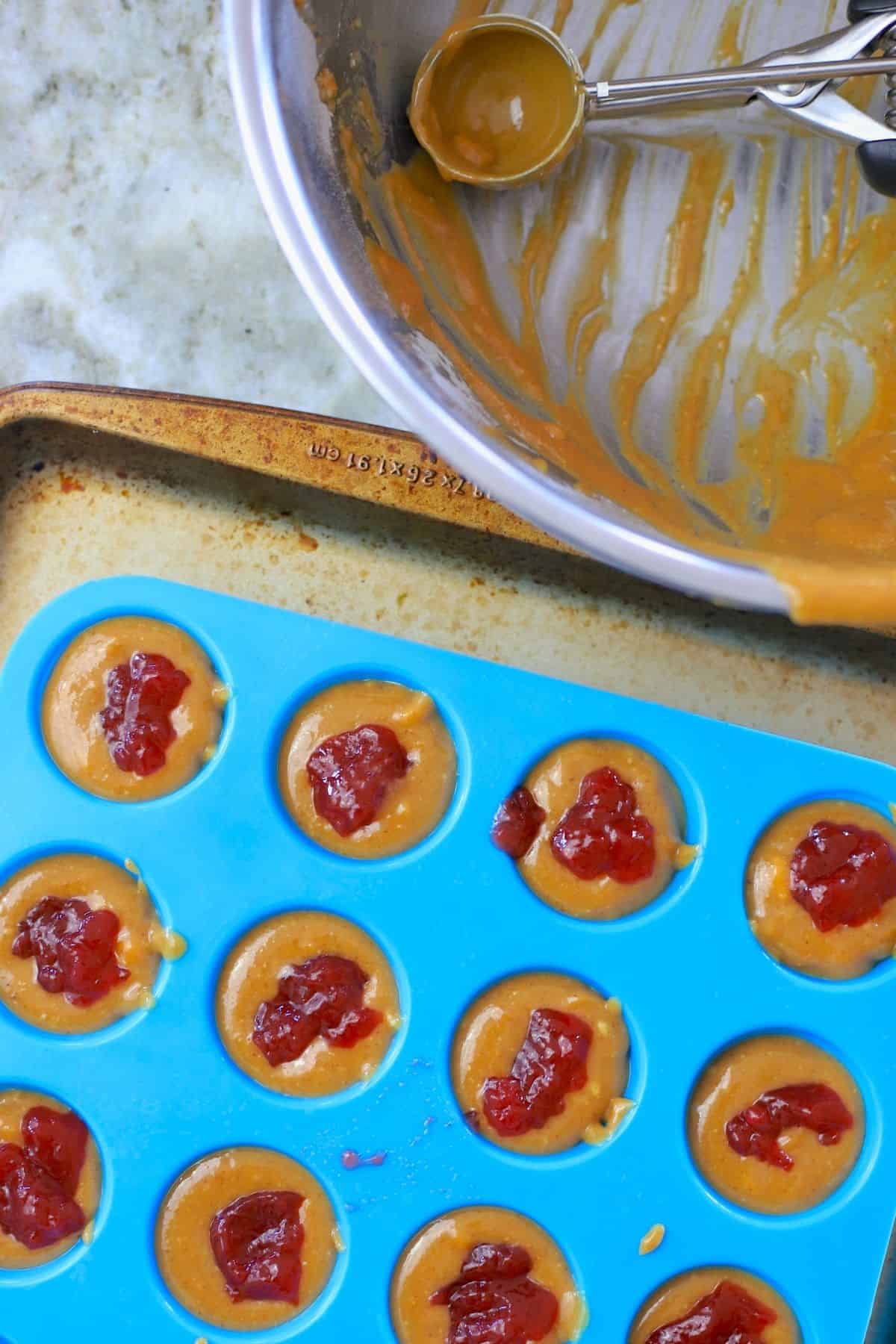 Recipe tips
This sugar free peanut butter fudge bomb recipe is super easy to make, here are a few tips.
Top Tip: using a silicone mold is the easiest way to pop these bombs out without struggling. I would not suggest to use a metal muffin pan.
Tip: don't be afraid to use other sugar free jam flavours if you don't have strawberry.
Set in the fridge: Freeze for at least 1 hour after transferring to the molds.
Serving: enjoy on their own or with your favourite warm beverage.
I prefer to store the bombs in the fridge as I like the gooey fudgy texture. However if you prefer a firmer bomb, store in the freezer.
Storage: for fudgy bombs store in an airtight container in the fridge for up to a week.
If you prefer a more firmer fudge bomb, store in an airtight container in the freezer for up to a month. To consume, remove from freezer and let stand at room temperature for a few minutes.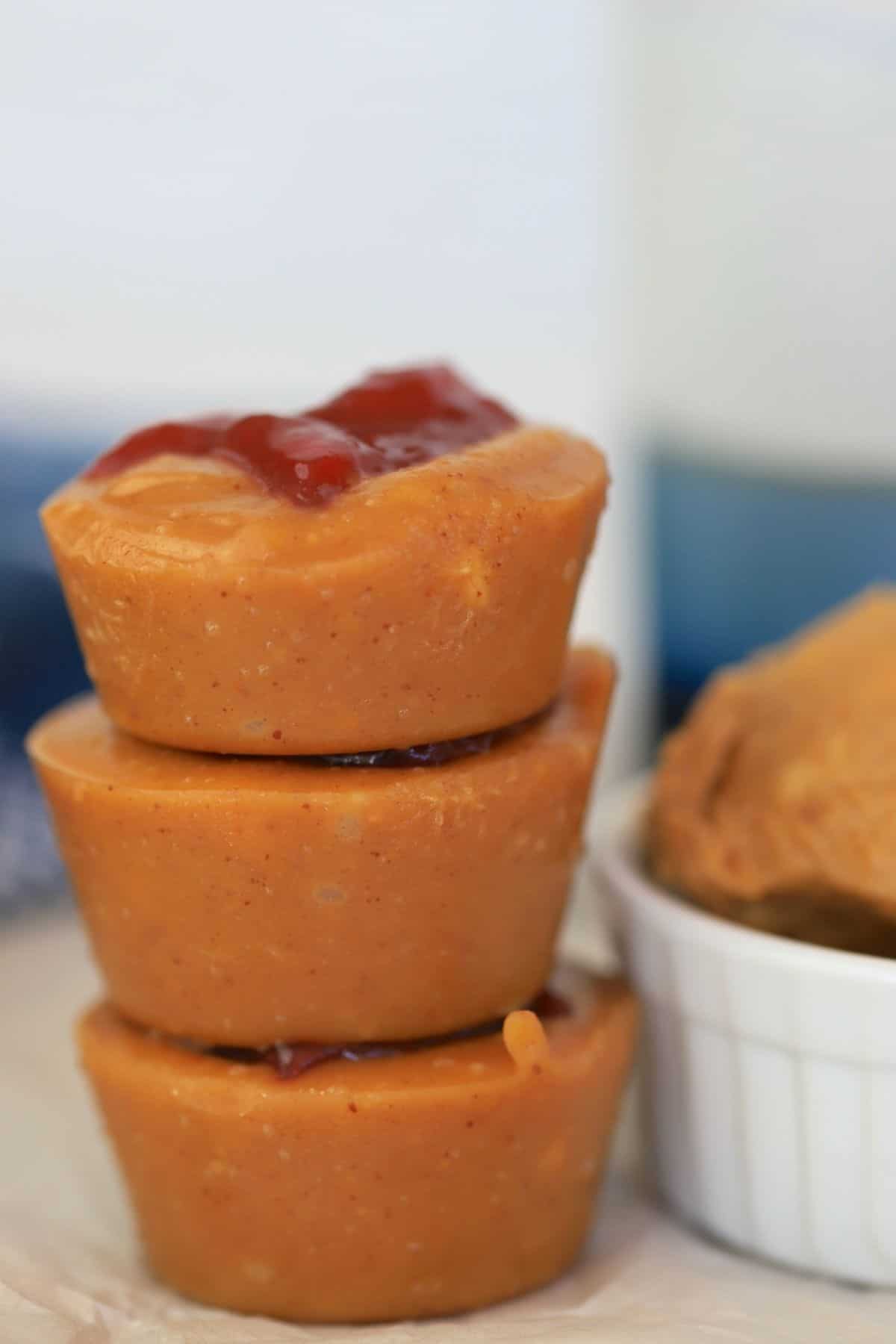 Frequently asked questions
How many carbs per fudge bomb?
Each fudge bomb contains 1g net carb.
Are these sugar free peanut butter fudge bombs safe for diabetics?
One fudge bomb contains 1g of sugar and can be safe for diabetics without spiking blood sugars. However, as I always say, different foods affect people differently and you should always check your blood sugars after consuming new foods or recipes.
Is this a fudge recipe or a fat bomb recipe?
It's fudgy like fudge but it's fatty and kept cold like fat bombs. So I would say it's a hybrid of both.
Other recipes you might enjoy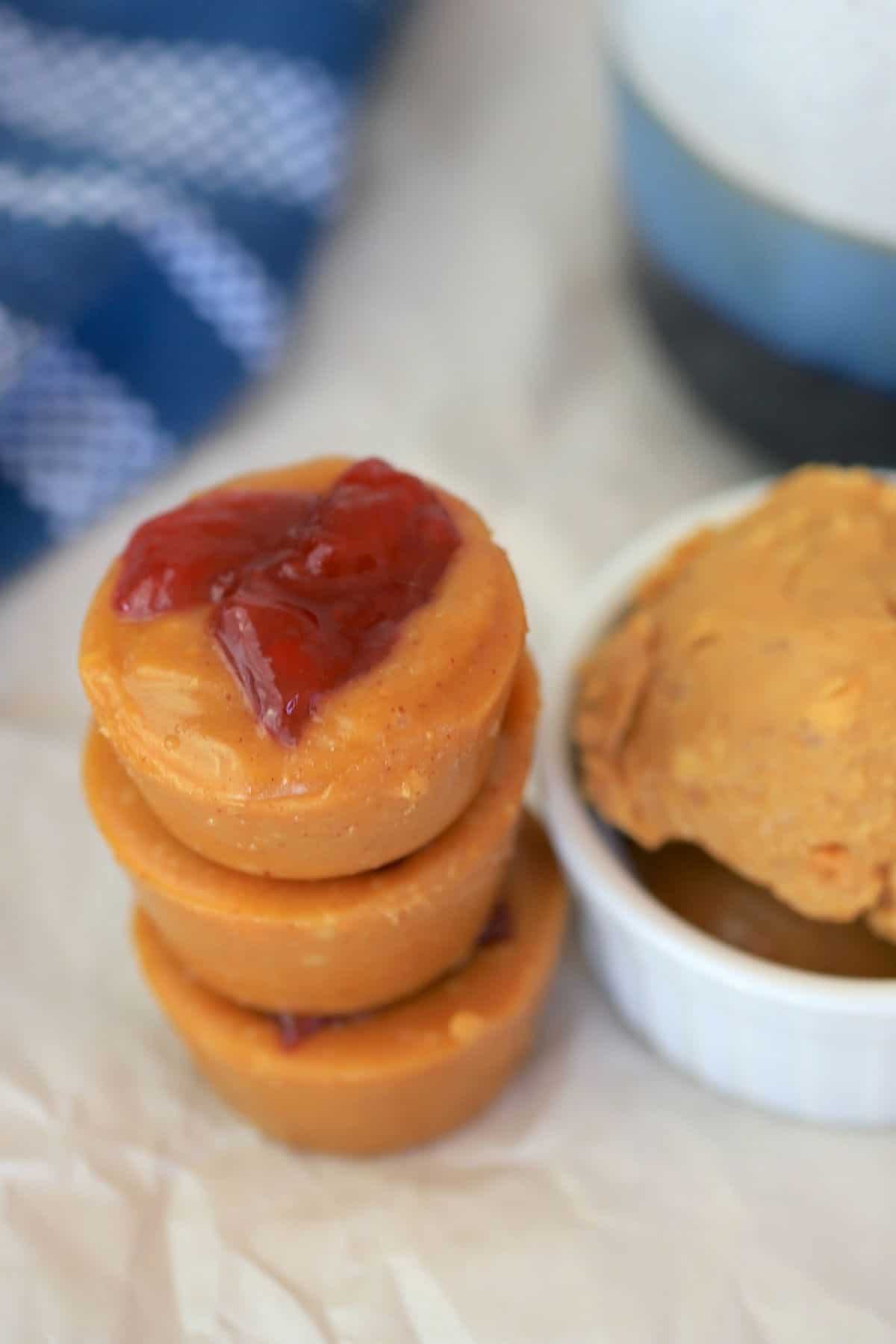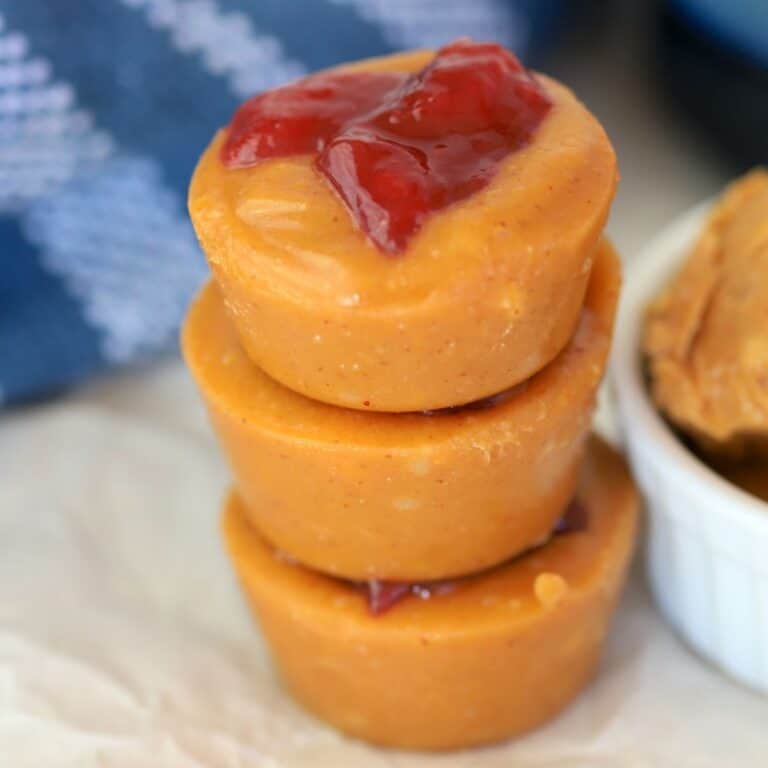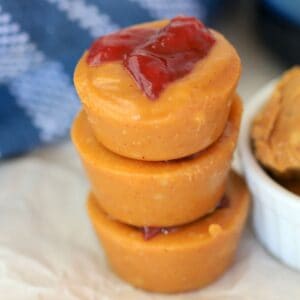 Sugar Free Peanut Butter Fudge Bombs
Sugar Free Peanut Butter Fudge Bombs with unsweetened strawberry jam are super fudgy and a delicious treat for dessert or a healthy snack.
Instructions
Combine all ingredients in a large mixing bowl with a rubber spatula.

Once smooth and creamy, transfer to the silicone mini muffin molds with a small cookie scoop. Only 1 scoop per bomb.

Drop a dollop (¼ tsp) of the sugar free strawberry jam on to each fudge bomb.

Freeze for 1 hour before consuming.
Nutrition
Calories:
332
kcal
|
Carbohydrates:
3
g
|
Protein:
50
g
|
Fat:
14
g
|
Fiber:
2
g
|
Sugar:
1
g
Notes
Top Tip: using a silicone mold is the easiest way to pop these bombs out without struggling. I would not suggest to use a metal muffin pan.
This recipe card provides the basic details to make this recipe. For more information, questions or variations please review the content above the recipe card.
Updates and Revisions
If conflicting information between the video and recipe card, the recipe card will always have the most up to date information, ingredients and instructions.
Nutritional Information
All nutritional information is based on third-party calculations and should be considered estimates. Actual nutritional content will vary with brands used, measuring methods, portion sizes and more.
Disclosure
This website contains affiliate links, which means that if you click on a product link, we may receive a commission in return. I Hacked Diabetes is a participant in the Amazon Services LLC Associates Program, an affiliate advertising program designed to provide a means for sites to earn advertising fees by advertising and linking to amazon.com.
LOVE THIS RECIPE?
Check out I Hacked Diabetes on Pinterest
Food safety
Cook to a minimum temperature of 165 °F (74 °C)
Do not use the same utensils on cooked food, that previously touched raw meat
Wash hands after touching raw meat
Don't leave food sitting out at room temperature for extended periods
Never leave cooking food unattended
Use oils with high smoking point to avoid harmful compounds
Always have good ventilation when using a gas stove
See more food guidelines