Delight in the wholesome goodness of our sugar-free biscuit dinner rolls! These savory cheesy treats are perfect for guilt-free indulgence at dinnertime. Made with carefully selected ingredients, these sugar-free rolls offer a delicious and healthy alternative.
Try our easy-to-follow recipe today and experience the joy of homemade dinner rolls without the sugar.
Jump To:
Our sugar-free biscuits are a delightful twist on the classic dinner roll, offering a healthier alternative without compromising on taste. Crafted with the utmost care, these rolls are made with wholesome ingredients carefully selected to create a guilt-free indulgence.
Perfectly fluffy and irresistibly delicious, these sugar-free biscuits will become a staple at your dinner table. Whether you're following a sugar-free diet or simply looking for a healthier option, these biscuits are sure to please both your taste buds and your wellbeing. You might also enjoy this Low Carb French Baguette recipe.
Why you'll love these sugar free biscuits?
Elevate your dining experience with these homemade delights and savor the goodness of sugar-free baking.
Low-Carb Option: If you're following a low-carb or keto lifestyle, these biscuits are a fantastic choice. Almond flour and cream cheese provide a low-carb alternative to traditional biscuits, allowing you to enjoy a tasty treat while sticking to your dietary preferences.
Gluten-Free Friendly: By using almond flour instead of wheat flour, these biscuits are naturally gluten-free. They offer a wonderful option for individuals with gluten sensitivities or those who are following a gluten-free diet.
Customizable Flavors: While the recipe includes dried oregano, you can easily customize the flavors to suit your preferences. Add your favorite herbs, spices, or even some diced jalapeños or bacon bits for a unique twist and personalized taste.
Family-Friendly: These sugar-free biscuits are a hit with the whole family. Even picky eaters won't be able to resist their cheesy, savory goodness. They make a delightful addition to any family meal or gathering.
Easy to Make: This recipe is beginner-friendly and easy to follow. With just a few simple steps, you can have freshly baked sugar-free biscuits on your table in no time. It's a perfect recipe for both seasoned bakers and those new to the kitchen.
Main ingredients used in this recipe
This recipe features a combination of flavorful and health-conscious ingredients that come together to create irresistible sugar-free biscuits.
Shredded Cheddar Cheese: The shredded cheddar cheese adds a rich and savory taste to the biscuits, creating a burst of flavor with every bite.
Almond Flour: Almond flour serves as a nutritious and gluten-free alternative to traditional flour, lending a delicate nutty flavor and contributing to a moist and tender texture.
Cream Cheese: provides moisture and richness to the biscuits, resulting in a soft and creamy texture that melts in your mouth.
Egg: The egg acts as a binding agent, ensuring the ingredients come together smoothly while adding structure and contributing to the biscuits' light and airy consistency.
Dried Oregano: Dried oregano adds an aromatic and herbaceous note to the biscuits, infusing them with a delightful hint of Mediterranean flavors.
Pinch of Salt: A pinch of salt enhances the overall taste by balancing the flavors and intensifying the savory elements, creating a well-rounded and satisfying biscuit experience.
See the recipe card for quantities.
Steps by step instructions
How to make sugar-free biscuits
STEP 1: Preheat the oven to 375F.
In a large bowl mix the cheddar, almond flour and cream cheese together until well combined. Then microwave the mixture on high for 1 minute, mix again and then another 30 seconds.
STEP 2: Add the egg, oregano and salt and mix until well combined.
Using a generous spoonful of the biscuit dough, drop it onto a baking sheet lined with parchment paper. Shape it into a circle, keeping in mind that perfection is not necessary for these biscuits.
STEP 3: Bake the rolls at 375°F for approximately 15-20 minutes, keeping in mind that oven temperatures can vary. Adjust the temperature and cooking time if needed.
The rolls are done when they develop a light golden brown color on top.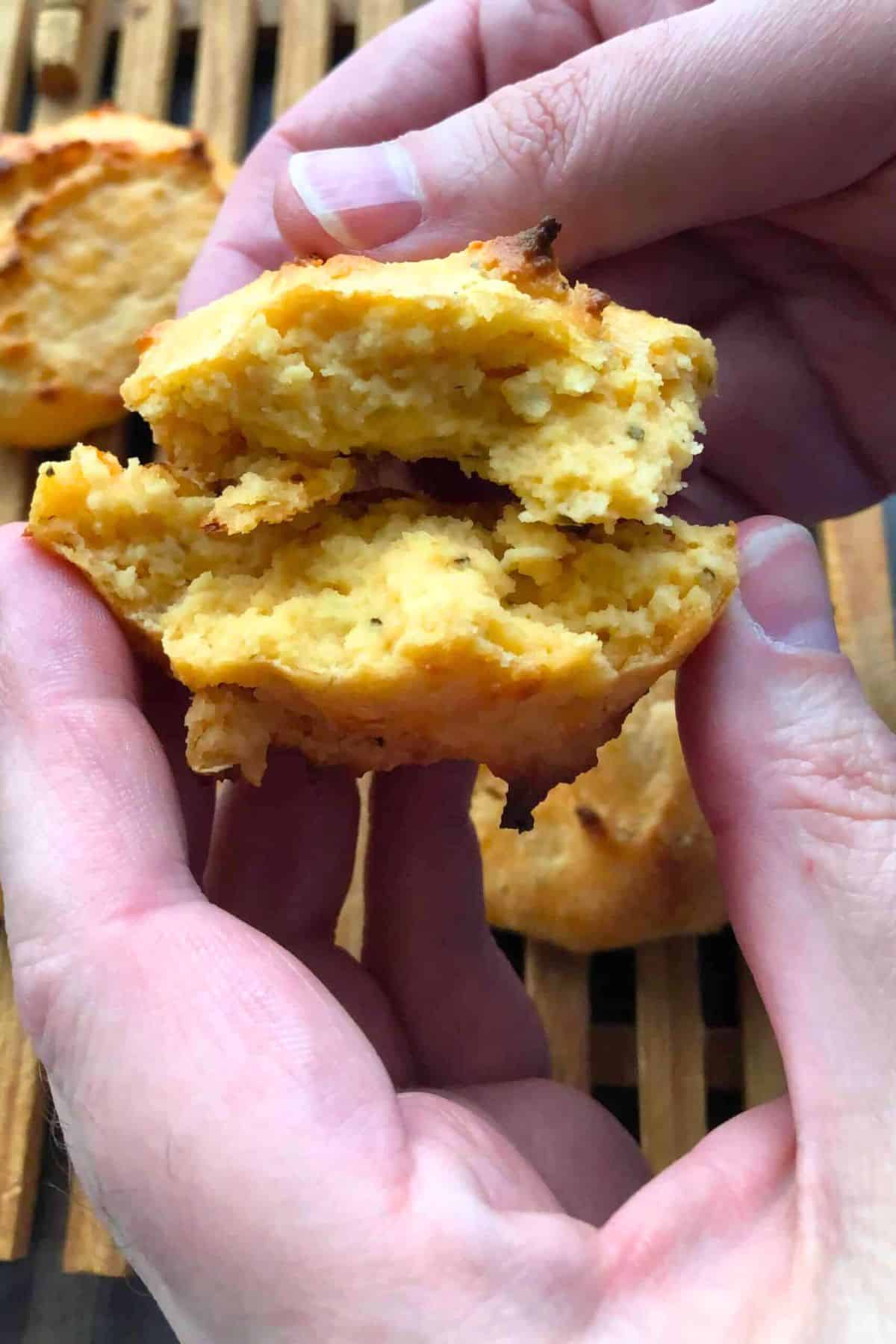 Other recipes you might enjoy
Recipe tips
Tips on making the best sugar-free biscuits ever:
Keep Ingredients Cold: To achieve flaky and tender biscuits, it's crucial to keep the ingredients, such as butter and cream cheese, cold throughout the preparation process. This ensures that the fats remain solid until they melt in the oven, creating steam pockets that contribute to a light and airy texture.
Avoid Overmixing: When combining the ingredients, be careful not to overmix the dough. Overmixing can result in tougher biscuits. Mix the ingredients just until they come together, and resist the temptation to keep kneading or stirring. The dough should be crumbly with visible chunks of butter or cheese for optimal biscuit texture.
By following these tips, you'll be well on your way to baking the most delightful and mouthwatering biscuits. Enjoy the process and savor the delicious results!
Storage
To store the biscuits, allow them to cool completely to room temperature. Then, place them in an airtight container or a resealable plastic bag. You can also wrap them tightly in aluminum foil or plastic wrap.
Properly stored, the biscuits will stay fresh at room temperature for up to 2 days. If you want to keep them for longer, store them in the refrigerator for up to 5 days.
To enjoy the biscuits at their best, reheat them in a preheated oven at 350 degrees Fahrenheit for a few minutes until warmed through.
Recipe variations
Here are five low-carb and sugar-free recipe variations to add some variety to your biscuit repertoire:
Cheesy Garlic Biscuits: Add minced garlic and shredded mozzarella cheese to the dough for a flavorful twist. Brush the tops with melted butter and sprinkle with garlic powder and grated Parmesan cheese before baking.
Herb and Parmesan Biscuits: Mix in a combination of dried herbs such as basil, thyme, and rosemary to the dough. Fold in grated Parmesan cheese for an aromatic and cheesy delight.
Jalapeño Cheddar Biscuits: Incorporate finely diced jalapeños and shredded cheddar cheese into the dough for a spicy kick. These biscuits are perfect for adding some heat to your meal.
Everything Bagel Biscuits: Create a savory biscuit reminiscent of an everything bagel by adding a mixture of sesame seeds, poppy seeds, dried onion flakes, and garlic powder to the dough. Sprinkle extra seasoning on top before baking.
Bacon and Chive Biscuits: Crumble cooked bacon and finely chop fresh chives to incorporate into the dough. The combination of savory bacon and aromatic chives will take your biscuits to the next level.
With these variations, you can enjoy a diverse range of flavors while sticking to your low-carb and sugar-free lifestyle. Get creative and experiment with different ingredients to find your favorite combination!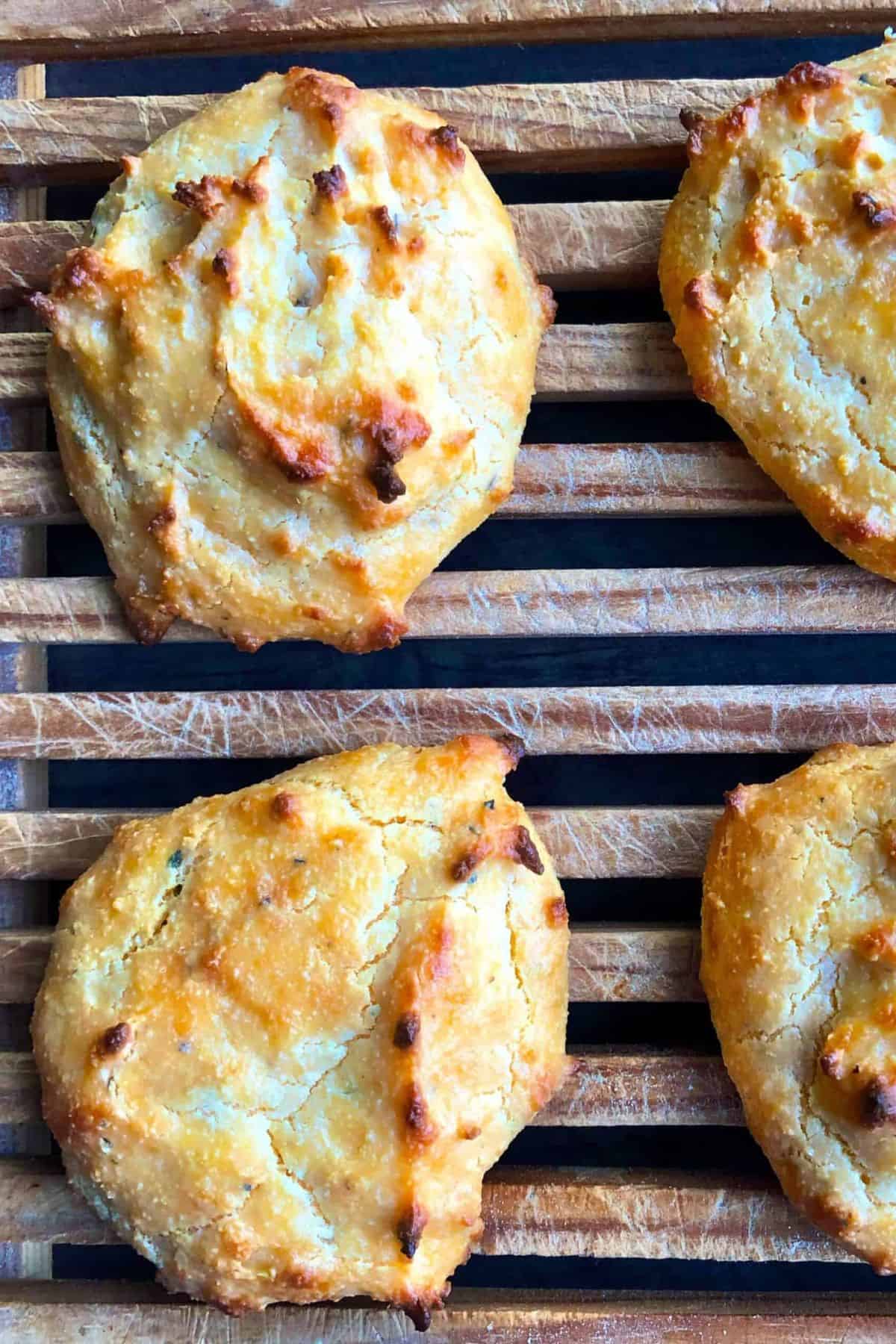 Frequently asked questions
Can I substitute almond flour with another type of flour?
Almond flour provides a unique texture and flavor, but you can experiment with other low-carb flours like coconut flour. Keep in mind that the ratios and consistency may vary, so adjustments might be needed.
Can I use a different type of cheese?
Absolutely! While cheddar cheese adds a savory taste, you can substitute it with other varieties like mozzarella, Swiss, or even a blend of cheeses for a unique flavor profile.
How can I make the biscuits crispier?
For a crispier texture, you can bake the biscuits for a few extra minutes, or increase the oven temperature slightly. However, be cautious not to overbake them, as they can become dry.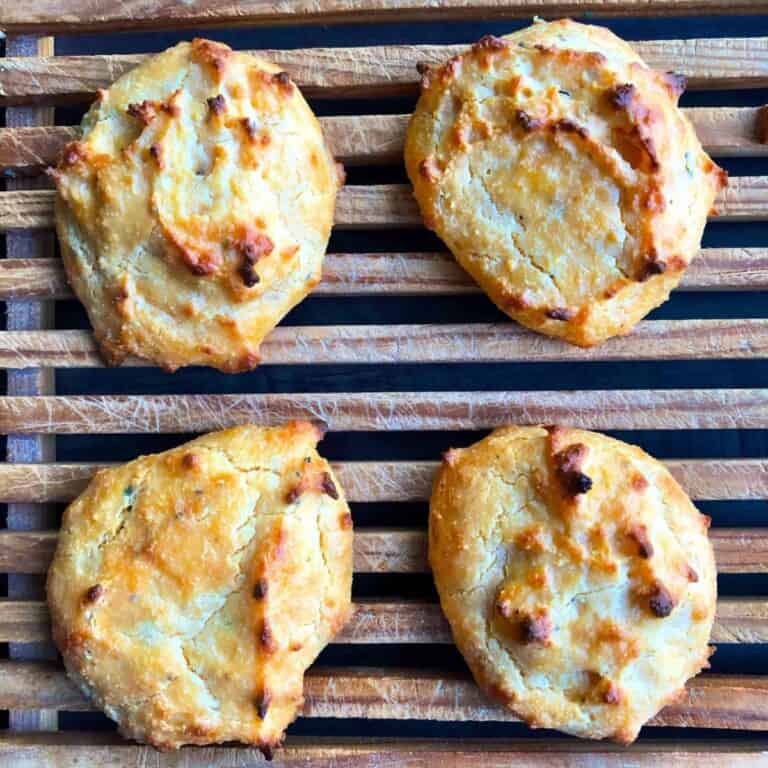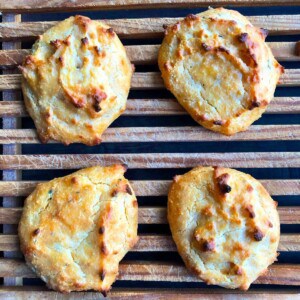 Sugar Free Biscuits
Scrumptious sugar-free biscuit recipe! Made with wholesome ingredients, these delectable treats are perfect for a healthier lifestyle. Try our easy-to-follow recipe today and savor the satisfaction of sugar-free baking.
Nutrition
Serving:
1
roll
Calories:
352
kcal
Carbohydrates:
8
g
Protein:
14
g
Fat:
31
g
Fiber:
3
g
Sugar:
2
g
Instructions
Mix cheddar, almond flour and cream cheese in a bowl.

1.5 cups cheddar cheese,

1 cup almond flour,

4 oz cream cheese

Microwave on high for 1 minute, then mix and microwave for another 30 seconds.

Add egg, oregano and salt and mix until all combined

1 large egg,

1 teaspoon dried oregano,

Pinch of salt

Using a large spoon scoop out a full spoon and drop onto a baking sheet lined with parchment paper.

Bake at 375 for about 15-20 minutes (many ovens are different and therefore you may need to increase temps and cooking times)

You will know rolls are ready when they start to brown a little bit on the top.
Notes
Recipe Tips:
Keep Ingredients Cold: To achieve flaky and tender biscuits, it's crucial to keep the ingredients, such as butter and cream cheese, cold throughout the preparation process. 

Avoid Overmixing: When combining the ingredients, be careful not to overmix the dough. Overmixing can result in tougher biscuits. 
This recipe card provides the basic details to make this recipe. For more information, questions or variations please review the content above the recipe card.
Updates and Revisions
If conflicting information between the video and recipe card, the recipe card will always have the most up to date information, ingredients and instructions.
Nutritional Information
All nutritional information is based on third-party calculations and should be considered estimates. Actual nutritional content will vary with brands used, measuring methods, portion sizes and more.
LOVE THIS RECIPE?
Check out I Hacked Diabetes on Pinterest