When following a keto diet, it's essential to find the Best Nuts for Keto, as they provide essential nutrients, ample healthy fats, and protein while being relatively low in carbs.
The ketogenic (keto) diet has gained immense popularity for its ability to promote weight loss, boost energy levels, and improve overall health. Nuts and seeds are excellent choices for keto-friendly snacks and meals, helping you maintain ketosis and stay on track with your dietary goals.
Jump To:
Health benefits of eating nuts
Eating nuts can offer several significant benefits for individuals following a keto, low carb, or diabetic-friendly diet. Here are five reasons why incorporating nuts into such diets can be advantageous:
Rich Source of Healthy Fats: Nuts are abundant in healthy fats, particularly monounsaturated and polyunsaturated fats. These fats are beneficial for heart health, as they can help reduce LDL cholesterol levels and lower the risk of cardiovascular diseases. For those on a keto diet or a low carb diet, nuts provide a valuable source of energy without significantly impacting blood sugar levels.
Low in Net Carbs: Nuts are naturally low in carbohydrates, making them an ideal snack option for individuals managing their carb intake. They typically have a low net carb content, which is calculated by subtracting the dietary fiber from the total carbohydrates. This means that the effective carb count in nuts is relatively low, making them suitable for keto and diabetic-friendly diets.
Satiating and Weight Management: They are nutrient-dense and packed with fiber, protein, and healthy fats. This combination helps promote a feeling of fullness and satiety, which can aid in weight management. For those on a low carb or keto diet, nuts can be a satisfying snack that helps control hunger and reduces the desire to overeat.
Stabilizing Blood Sugar: Despite being low in net carbs, nuts have a minimal impact on blood sugar levels due to their high fiber content. Fiber slows down the absorption of sugars and carbohydrates in the digestive system, helping to maintain more stable blood glucose levels. This benefit is especially valuable for individuals with diabetes or those following a diabetic-friendly diet.
Nutrient-Rich: Nuts are a treasure trove of essential nutrients, including vitamins, minerals, and antioxidants. They contain nutrients like vitamin E, magnesium, zinc, and selenium, which are vital for overall health and well-being. Incorporating a variety of nuts into a keto, low carb, or diabetic-friendly diet ensures you receive a diverse range of nutrients to support various bodily functions.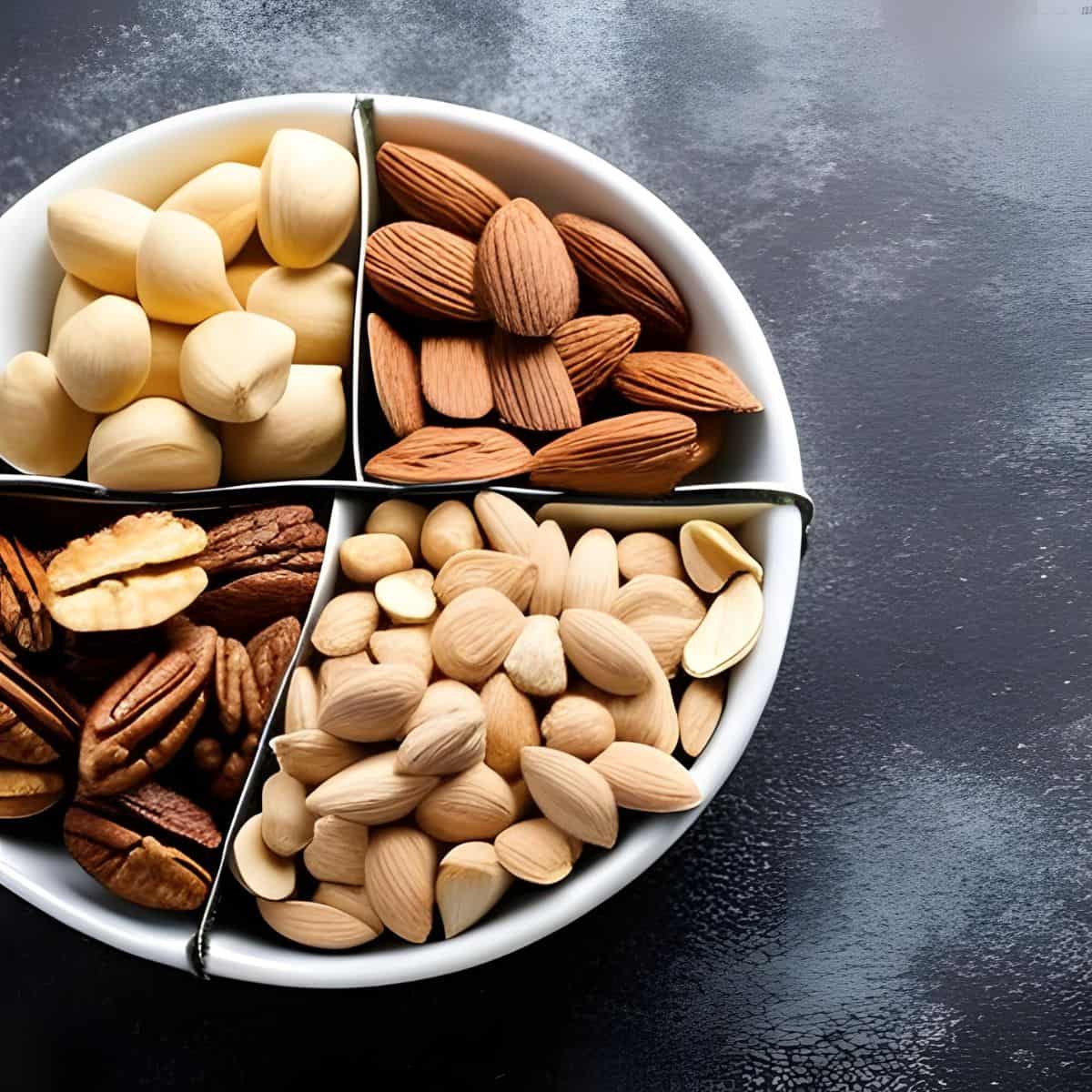 Best nuts for keto
We've compiled a list of the best nuts for keto, along with their carb content per one-ounce serving, so you can make informed choices while enjoying your favorite snacks and meals.
Macadamia Nuts: Macadamia nuts are a true keto superstar. With only 1 gram of net carbs per ounce (4 total carbs), they are one of the lowest carb nuts available. These creamy and delicious nuts also boast a high content of monounsaturated fats, which are heart-friendly and support a healthy cardiovascular system.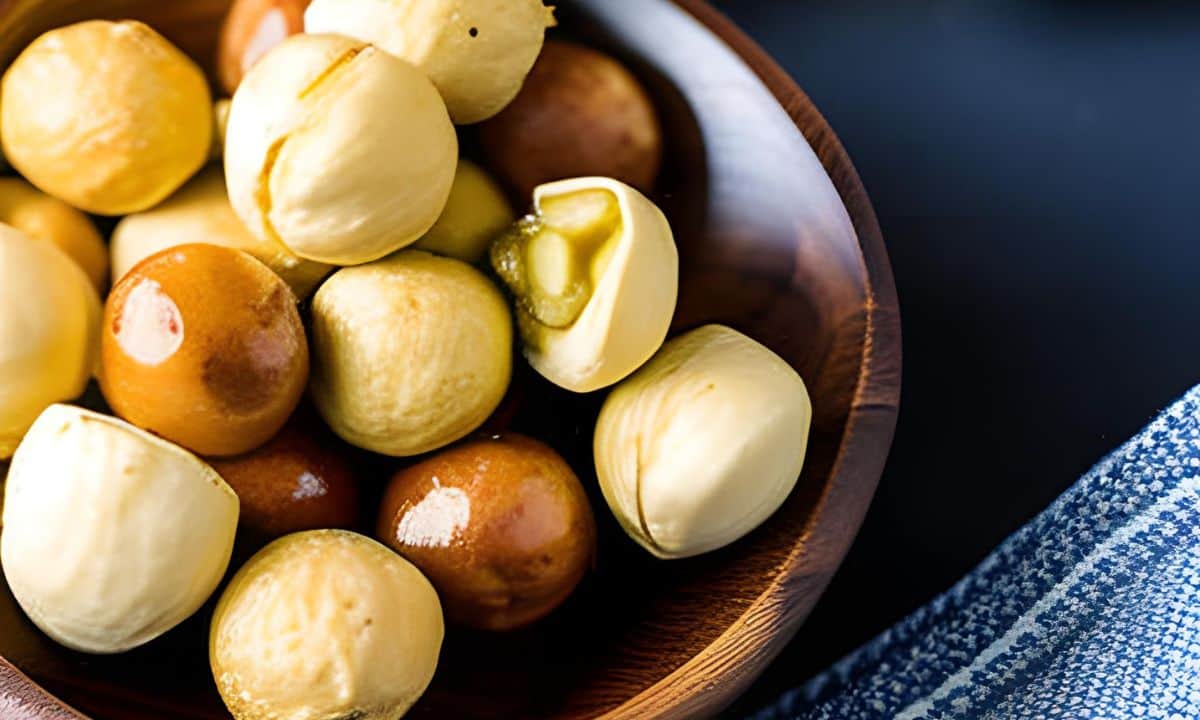 Brazil Nuts: Brazil nuts keto snacks are not only a good source of healthy fats and protein but also rich in selenium, a powerful antioxidant that supports immune function and helps combat oxidative stress. One ounce of Brazil nuts contains about 2 grams of net carbs (3 total carbs).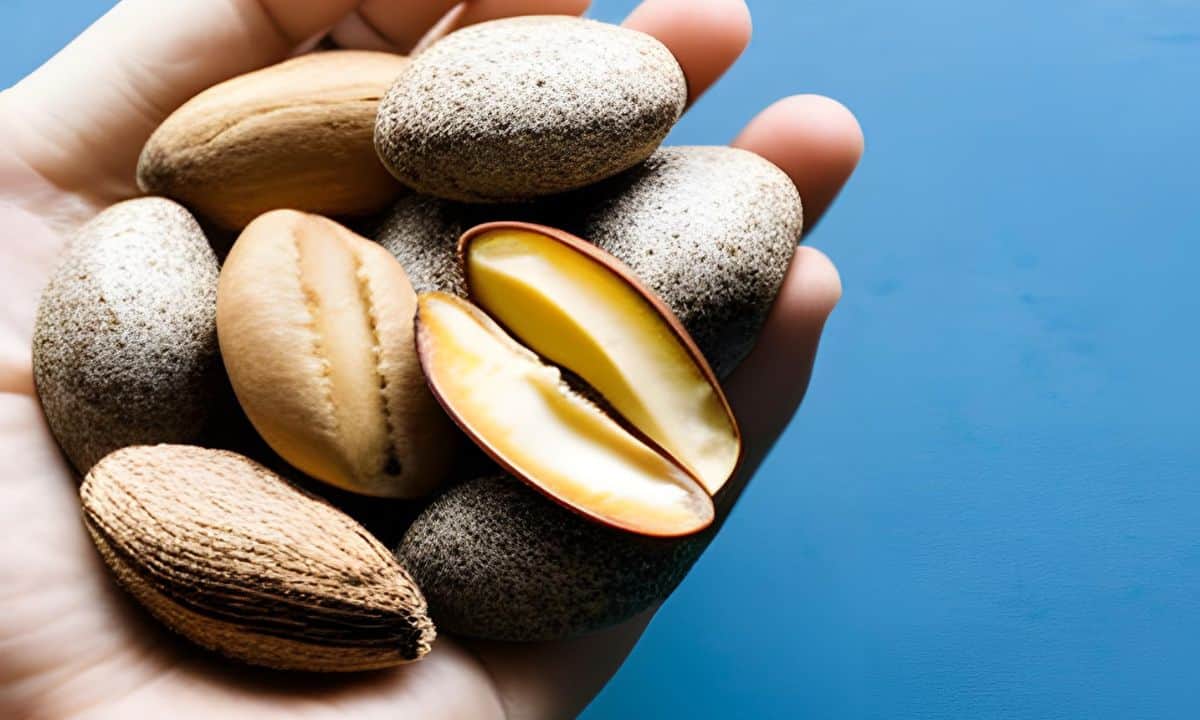 Pecans: Pecans are known for their rich, buttery flavor and are a great addition to various dishes and desserts. They contain around 1.2 grams of net carbs per ounce (4 total carbs) and are loaded with fiber, making them a satisfying and keto-friendly snack.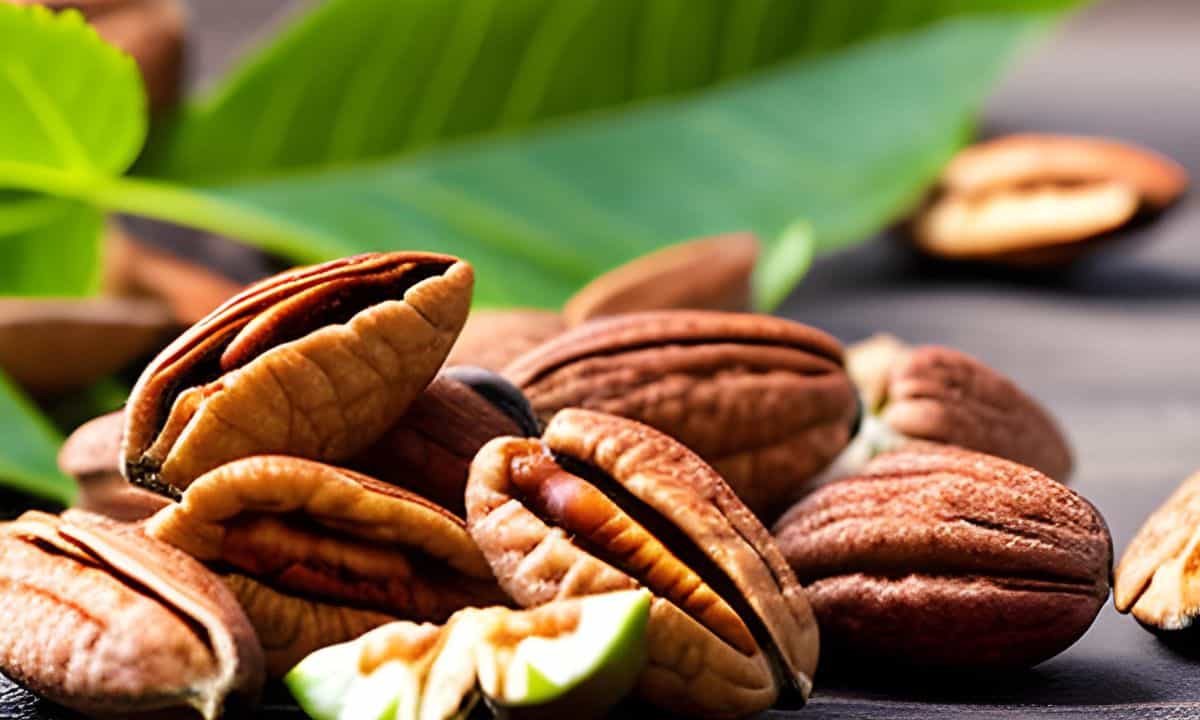 Walnuts: Walnuts are packed with omega-3 fatty acids, which contribute to improved heart health and brain function. With approximately 2 grams of net carbs per ounce (4 total carbs), they are a smart choice for your keto diet.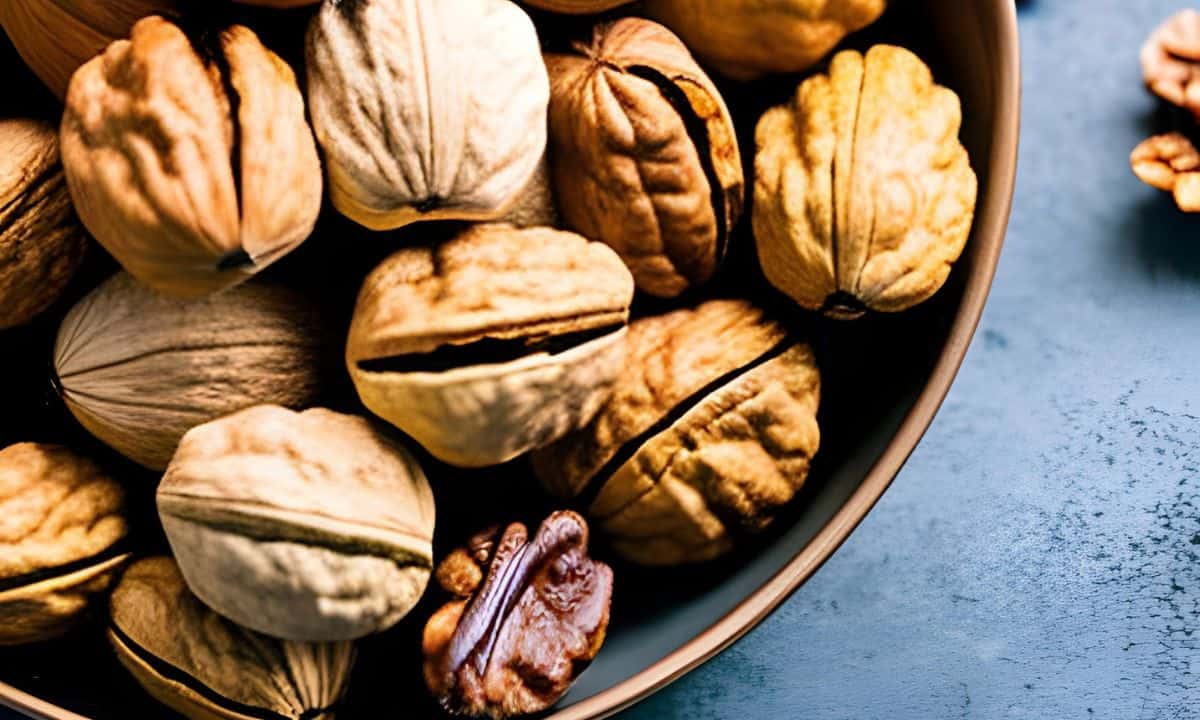 Almonds: Almonds are widely popular and versatile, making them an easy addition to your keto meal plan. They contain about 2.7 grams of net carbs per ounce (6 total carbs) and are a good source of vitamin E and magnesium, supporting your overall well-being.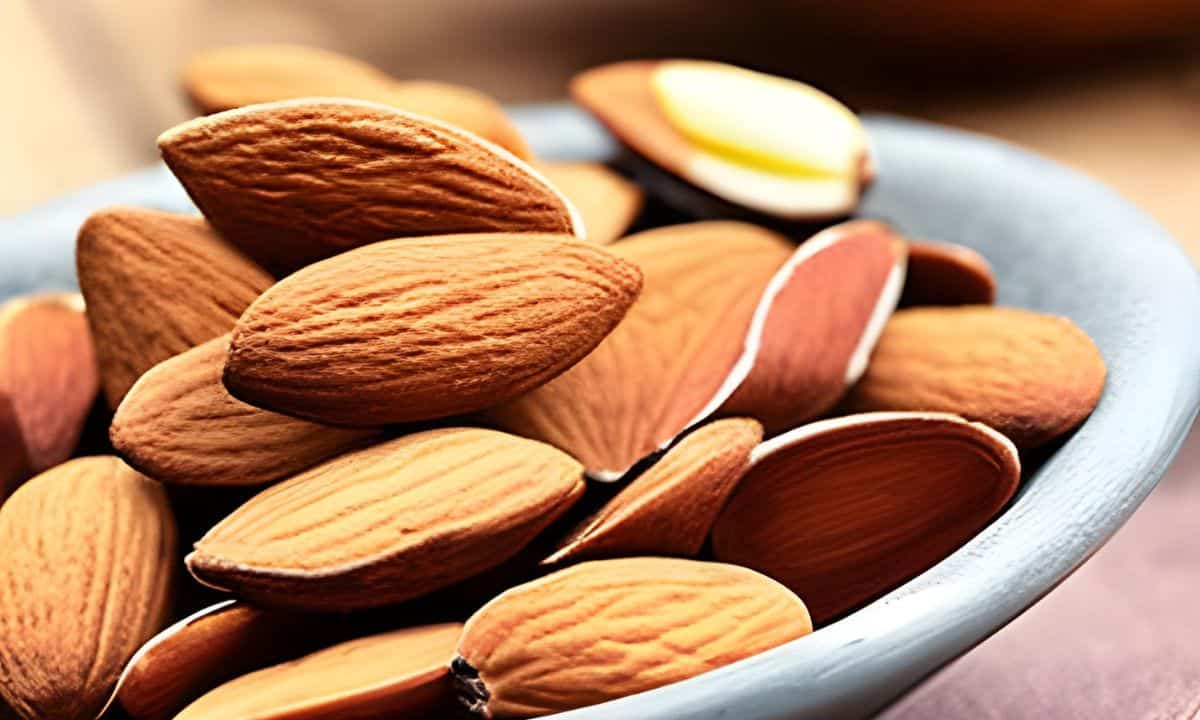 Pine Nuts: Pine nuts are not only delicious in pesto sauces and salads but also offer a range of health benefits. They have roughly 3.7 grams of net carbs per ounce (4 total carbs) and provide essential minerals like zinc and iron.
Moderation and portion control
Moderation and portion control play pivotal roles in maintaining a balanced and healthy diet. It's essential to be mindful of the quantity of food we consume, especially when it comes to calorie-dense items like nuts.
While nuts offer numerous health benefits, they are energy-dense and can contribute to your daily calories quickly. Practicing portion control allows us to enjoy the nutritional advantages of nuts without overindulging. A simple one-ounce serving of nuts can be incredibly satisfying, providing a delicious and nutrient-packed snack.
Remember, a handful of nuts can go a long way in promoting satiety and preventing excessive caloric intake, making them a perfect choice for anyone striving to manage their weight or adhere to specific dietary goals.
By practicing moderation with nuts and incorporating them into a diverse diet, we can benefit from their healthy fats, protein, fiber, vitamins, and minerals while also enjoying other nutrient-rich foods.
Incorporating keto nuts into your meals
Incorporating nuts into keto meals is both easy and delicious. These nutrient-rich and low-carb gems can add texture, flavor, and essential fats to your dishes. Here are some creative ways to include nuts in your keto meals:
Keto-friendly Snacks: Enjoy nuts as a quick and convenient snack option. A handful of almonds, walnuts, or macadamia nuts can provide a satisfying and energy-boosting snack between meals.
Nutty Breakfasts: Sprinkle chopped nuts over your keto-friendly breakfast options, such as Greek yogurt, chia seed pudding, or smoothie bowls. Nuts add a delightful crunch and an extra dose of healthy fats to kickstart your day.
Nut Butters: Spread almond, peanut, or macadamia nut butter on low-carb bread or keto-friendly pancakes. Nut butters are versatile and can be used as a dip for celery or cucumbers too.
Nut Milks for Smoothies and Lattes: Replace dairy milk with unsweetened almond milk or macadamia nut milk in your keto smoothies and lattes. These nut milks add creaminess without the extra carbs, making your morning beverages keto-friendly.
Salads with a Crunch: Add sliced or chopped nuts to your salads for a satisfying crunch and extra nutrients. Pecans, walnuts, or sliced almonds pair exceptionally well with leafy greens and avocado.
Keto Baking: Incorporate ground nuts like almond flour or hazelnut meal into your keto baking recipes. They work as great low-carb alternatives to traditional wheat flour and contribute to moist and flavorful baked goods.
Meat and Nut Combos: Create nut crusts for meats like chicken, fish, or pork. Crushed macadamia nuts or almonds mixed with herbs can form a delicious and keto-friendly crust.
Stir-fries and Curries: Toss in some peanuts or cashews into your keto stir-fries or curry dishes for an added texture and taste.
Trail Mix: Prepare a keto-friendly trail mix with nuts, seeds, and a few dark chocolate pieces. It's a great on-the-go snack with a good balance of fats and protein.
Nutty Soups: Blend roasted nuts into soups to create a creamy texture without using high-carb thickeners.
Remember to be mindful of portion sizes to avoid exceeding your daily carb limit, as nuts are calorie-dense. But with a bit of creativity, incorporating nuts into your keto meals can enhance both the taste and nutritional value of your diet.
Keto recipes you might enjoy
Nuts to avoid on keto
While nuts are generally a great addition to a keto diet due to their healthy fats and low-carb content, there are a few nuts that should be avoided or consumed in moderation to stay within the daily carb limit.
These nuts tend to have higher carb content compared to others, and portion control becomes essential. Here are the nuts to be cautious about on a keto diet:
Cashews: Cashews are delicious, but they have a higher carbohydrate content compared to many other nuts. One ounce of cashews contains around 9 grams of net carbs, making them one of the higher carb nuts. If you choose to include cashews in your keto diet, do so in small quantities and be mindful of their carb count.
Chestnuts: Chestnuts are relatively starchy and have a higher carbohydrate content than other nuts. One ounce of chestnuts contains approximately 17 grams of net carbs, making them unsuitable for a strict keto diet.
Pistachios: While pistachios are nutrient-dense and flavorful, they contain around 5 grams of net carbs per ounce. As a result, portion control is crucial when incorporating pistachios into your keto meal plan.
Honey-Roasted or Candied Nuts: Avoid honey-roasted or candied nuts, as they often have added sugars and carbohydrates that can quickly add up and hinder ketosis.
Mixed Nut Blends: Be cautious with store-bought mixed nut blends, as they may contain higher carb nuts and additional ingredients that could impact your carb intake.
Seasoned Nuts: Flavored or seasoned nuts may contain added sugars or high-carb ingredients. It's best to avoid them and opt for plain, raw, or lightly salted nuts to ensure they fit within your keto carb limit. Also, excessive consumption of seasoned nuts, particularly those with high sodium content, may contribute to elevated blood pressure, so it's essential to enjoy them in moderation as part of a balanced diet.
It's essential to read the nutrition labels and be aware of the carb content of different nuts to make informed choices. Remember that while these nuts should be approached with caution on a strict keto diet, they can still be enjoyed in moderation if they fit within your daily carb allowance.
For a well-rounded keto diet, prioritize nuts with lower net carb counts, such as macadamia nuts, pecans, and walnuts, which offer an excellent balance of flavor and nutrients without compromising ketosis.
How to store nuts to maintain their freshness?
Properly storing nuts is crucial to maintain their freshness, flavor, and nutritional value. Here are some storage tips to ensure your nuts stay at their best:
Cool and Dry Environment: Store nuts in a cool, dry place, away from direct sunlight, heat, or moisture. Exposure to light, heat, and humidity can cause nuts to become rancid and lose their crunch.
Airtight Containers: Transfer nuts to airtight containers or resealable bags to prevent air from getting in. Oxygen can lead to oxidation, which can degrade the quality of nuts over time.
Refrigeration: For longer-term storage, consider refrigerating nuts, especially in warmer climates. Nuts have a higher fat content, and refrigeration can slow down the oxidation process, helping to preserve their freshness.
Freezing for Extended Storage: Nuts can be frozen to extend their shelf life further. Place them in airtight containers or freezer bags and store in the freezer for up to several months. Thaw frozen nuts in the refrigerator before use.
Labeling: If you have multiple types of nuts stored, label the containers with their names or use clear containers for easy identification.
Keep Shells Intact: If storing nuts with shells, keep the shells intact until ready to use. This helps protect the nuts from external elements and maintains their quality.
Avoid Moisture: Avoid washing nuts before storage, as moisture can lead to mold growth. Instead, wash them just before consuming, if necessary.
Rotate Stock: If you frequently use nuts, try to rotate your stock. Use older nuts first to ensure you always have fresh supplies on hand.
Avoid Strong Odors: Keep nuts away from strong-smelling foods, as they can absorb odors easily.
By following these storage tips, you can keep your nuts fresh and flavorful for an extended period, ensuring that you can enjoy their wholesome goodness in your keto meals, snacks, and recipes.
Apart from keto friendly nuts, there are also some seeds that are keto-friendly and worth considering, such as chia seeds, flaxseeds, and pumpkin seeds. These seeds are rich in fiber, healthy fats, and protein, making them ideal additions to your keto recipes.
Frequently asked questions
How many nuts can I eat on keto without exceeding my carb limit?
It's essential to practice portion control on a keto friendly diet. Generally, a one-ounce serving of nuts contains around 2-6 grams of net carbs, depending on the type. Be mindful of your daily carb limit and adjust your nut intake accordingly.
Can nuts help with keto flu symptoms?
Nuts are a good source of magnesium and other electrolytes, which can help alleviate keto flu symptoms. However, for more severe symptoms, consider supplementing with electrolytes and staying hydrated.
Can I eat nuts if I have nut allergies or intolerances?
If you have nut allergies or intolerances, it's essential to avoid nuts completely or consult with a healthcare professional before including them in your diet. There are other keto-friendly options available, such as seeds and coconut, that can be used as alternatives.
Conclusion
In conclusion, nuts and seeds can be valuable allies in your keto journey, providing you with a satisfying and nutrient-dense snacking option. Experiment with various nuts and seeds to create delicious keto-friendly recipes that align with your dietary goals. Always consult with a healthcare professional or nutritionist to ensure that the keto diet is suitable for your individual needs and health condition.
Remember, a well-planned keto diet, incorporating the best nuts and seeds, can contribute to improved health and weight management, allowing you to enjoy a tasty and fulfilling way of eating.
Note: The nutritional values mentioned here are approximate and may vary based on different sources. Always check the product labels for accurate information.
Disclaimer: This blog post is for informational purposes only and does not constitute medical advice. Consult with a healthcare professional before making any significant changes to your diet or lifestyle.