When it comes to Keto Friendly Pasta Noodles there seems to be quite a bit of variety. When I first started eating a low carb keto diet I was excited to try all the different kinds of low carb pasta.
As an Italian, I have many many years under my belt of eating my share of pasta. Therefore, finding keto pasta for myself was the utmost priority when I first started looking after my health.
When I think of pasta, I want it to be chewy, al dente and have a neutral flavor. Sometimes we make compromises because we can't get close enough to the real thing but those are my initial "wants" for keto pasta noodles.
Jump To:
What is al dente pasta?
Al dente is Italian for "to the tooth", in other words, tender but firm. There should be a slight bit to the pasta. If it's too soft it will be mushy, if it's too hard it will feel crunchy.
Types of low carb noodles
When it comes to low carb pasta there are 2 kinds. The processed pasta usually comes in a package or a box and the natural kind is made from a vegetable like zucchini noodles.
When I chose to review different kinds of pasta, I was excited to taste the packaged stuff as I wanted something as quick as the traditional pasta.
Even though I was excited about quick options where I could open the package, rinse and toss with my favorite sauce, it still didn't quite have that "al dente" bite that I was used to.
Low carb pasta reviews
First up is one of the first pasta I tried when I started the ketogenic diet. It is the Nupasta brand and a noodle made from the Konjac plant. Also, some other brands are Miracle Noodle they might also be called shirataki noodles.
Konjac has almost no calories but is very high in fiber and low in carbs.
They have about 1/10th the calories of regular pasta and a typical package is 25 calories and 6 grams of fiber
This was my go-to noodle during my first month or so of keto. I really enjoyed the ease of giving it a good rinse and tossing it with a tomato or pesto sauce.
Later I learned to cook the noodles in a dry pan to remove some of that fishy taste that really bothered me.
Konjac Noodles
Pros
The noodles are a great vessel to carry sauce and give me that feeling of having pasta. Swirling the noodles with a fork and scooping up delicious sauce and loads of parmesan truly make me feel like I am in my mom's kitchen devouring a bowl of pasta.
Cons
You really need to rinse the noodles for a good several minutes as they are packed in liquid that has a strong fishy smell.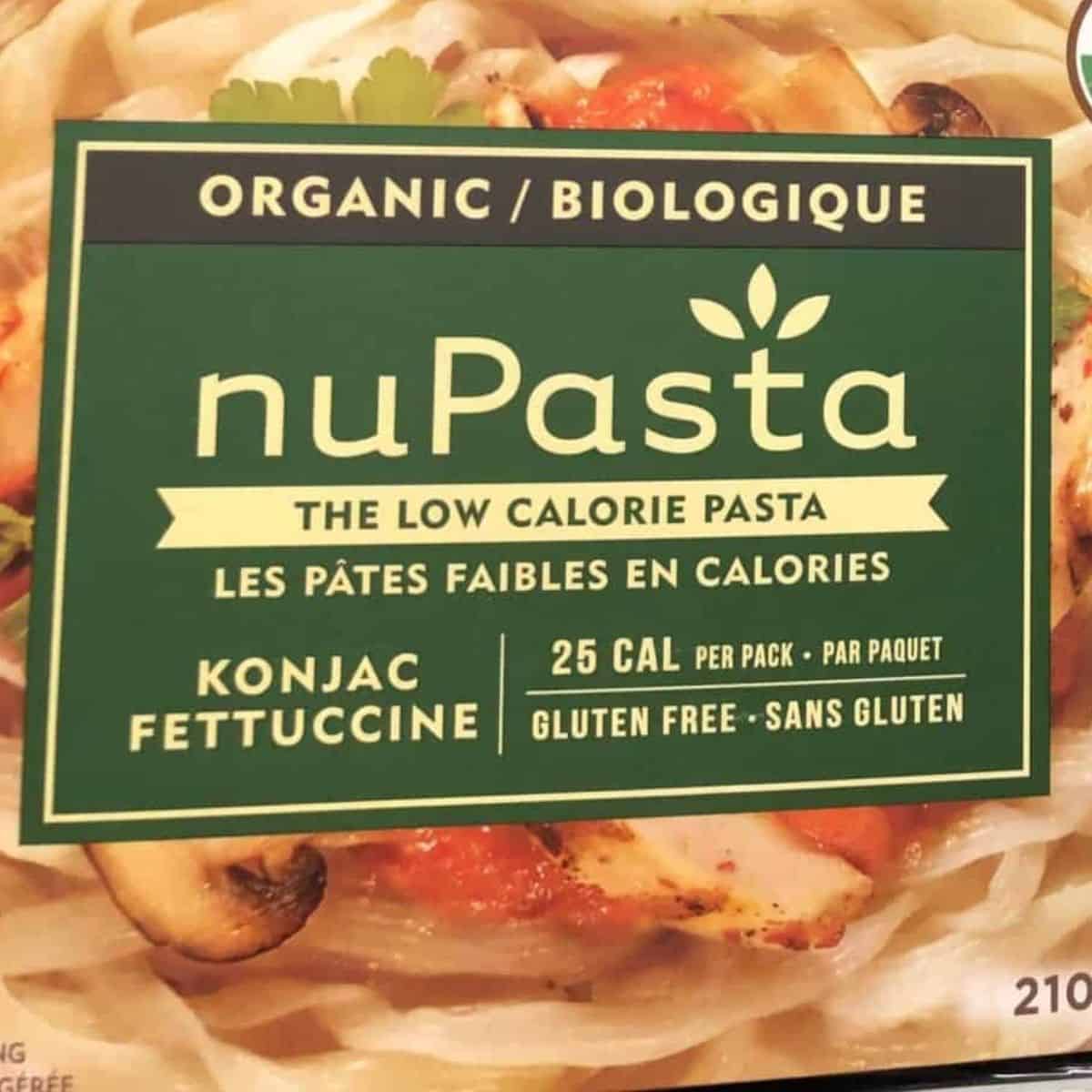 Now if you know me, I don't eat fish and the smell of fish makes me want to gag. So, for me, I need to rinse them for a while to remove the taste. As I mentioned above, they also need some time in a dry pan to remove all the liquid.
They also have a crunchy bite to them that real pasta does not when you cook it al dente.
So if you blindfolded me and gave me konjac pasta I think I would easily be able to tell that it was a konjac noodle.
The crunchy bite would give it away and of course, I would notice the slightly fishy taste that I haven't been able to mask, no matter how much sauce I douse it in.
Keto Friendly Pasta
Since writing this post over 3 years ago, there have been some new processed pasta alternatives out on the market made from chickpeas, edamame, lupin flour, almond flour, and other fibers.
There are also kelp noodles but that doesn't sound good to me. I must admit that I have not tried many of them yet and some of them are either way too high in carbs or way too high in fiber which gives me some digestive issues.
For someone with diabetes like myself, I often look at the number of carbs or net carbs and the glycemic load and how it will affect my blood sugars.
From what I have tried they are better than the Konjac noodles but still have a long way to go to come close to the real thing.
I find they are either too crunchy or have a mealy-mouth texture. The brands I have tried are Gnooda and Thin Slim Impastable Low Carb Pasta.
However, my favorite processed or packed pasta noodles is currently Kaizen Pasta Co as they are comparable in taste and texture to traditional pasta and are made with lupine flour.
Spaghetti Squash Noodles
Next up is most likely my favorite pasta but because of the time it takes to make it, it is not enjoyed very often. I absolutely love this low carb friendly pasta and really enjoy the flavor.
The mouthfeel of these noodles brings me closer to real pasta but it's just not that convenient to make.
Spaghetti squash needs to be baked in the oven. After baking, you need to scrape the noodles out with a fork.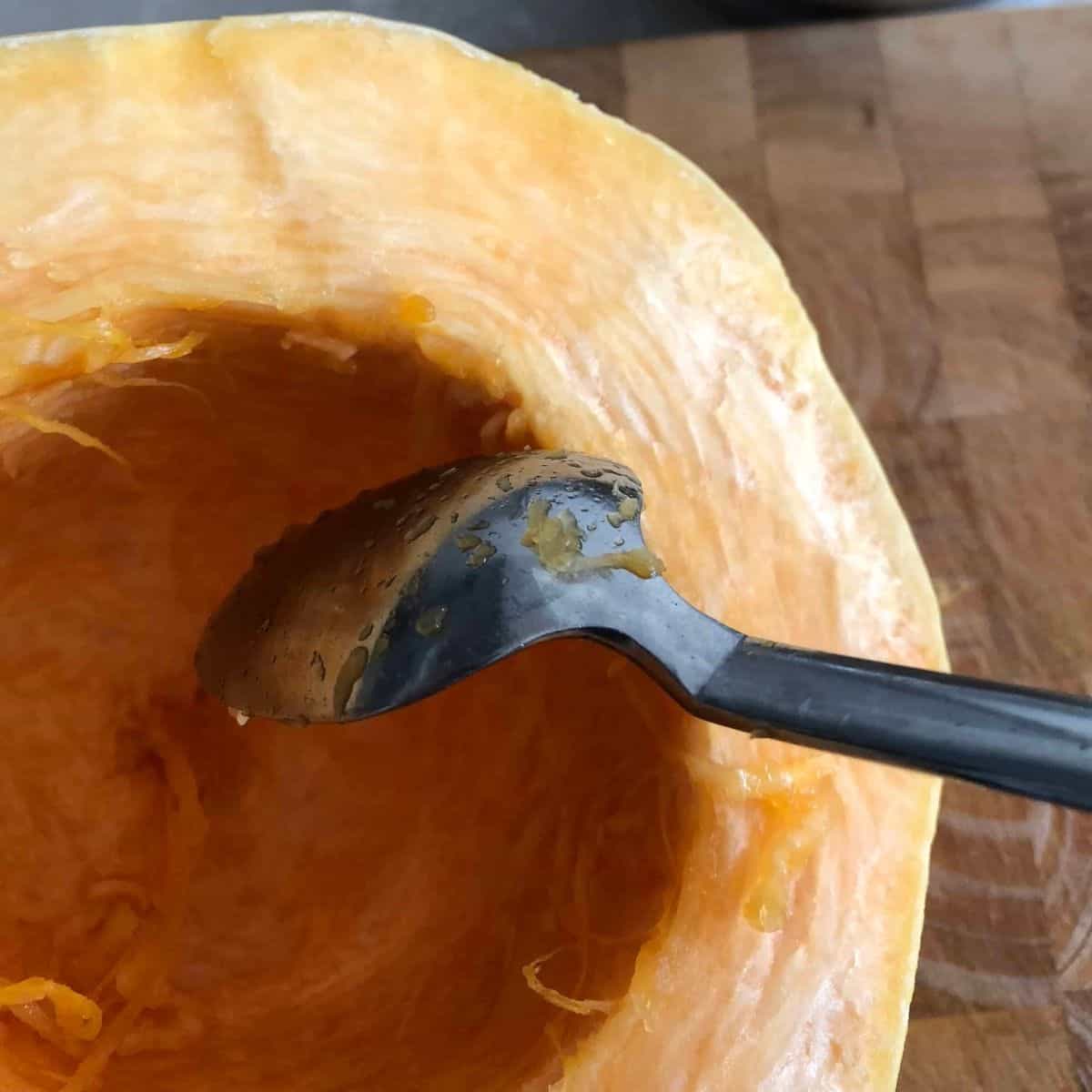 Spaghetti squash noodles are definitely worth every bite but most days I don't have the time to make them unless it's a weekend treat.
Check out my Spaghetti Squash Low Carb Fritters to see how to make the noodles from the squash.
This is what the finished product looked like the last time I made them.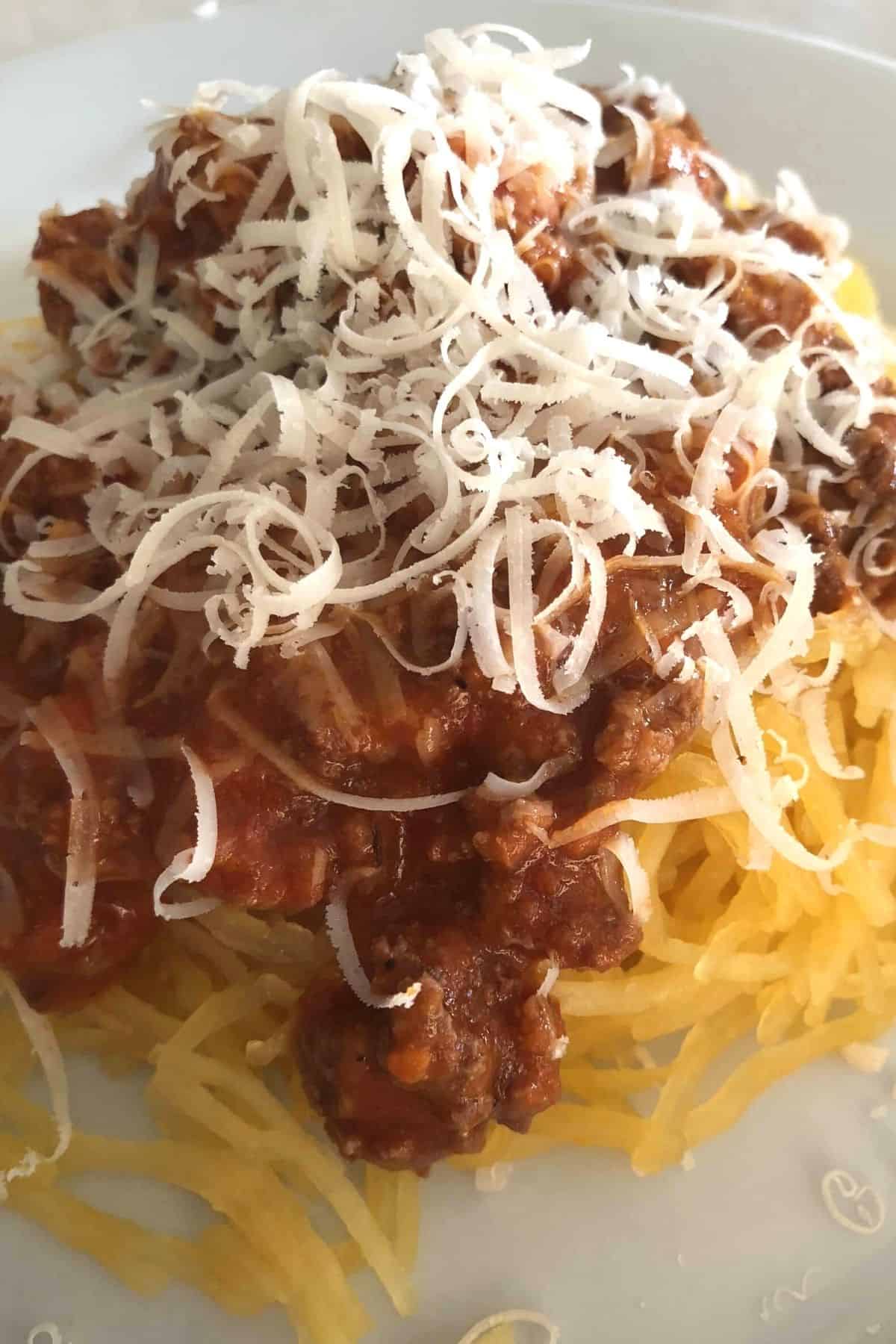 Zucchini Pasta Noodles
Zucchini noodles are quick and easy to make, have a bit of a bite to them if made just right and they are not processed and feel healthier than those packaged pasta.
Simply place the zoodles in a colander and sprinkle with a little bit of salt, let it sit for half an hour, and then drain. Squeeze the water out of them but don't squeeze too hard or you will make them mushy.
Pan-fry them dry, once dry you can add whatever low carb sauce your heart desires.
I use this spiralizer which is not expensive and does the trick for great noodles and amazing pasta.
There are many other options on Amazon but you truly don't need a more expensive gadget.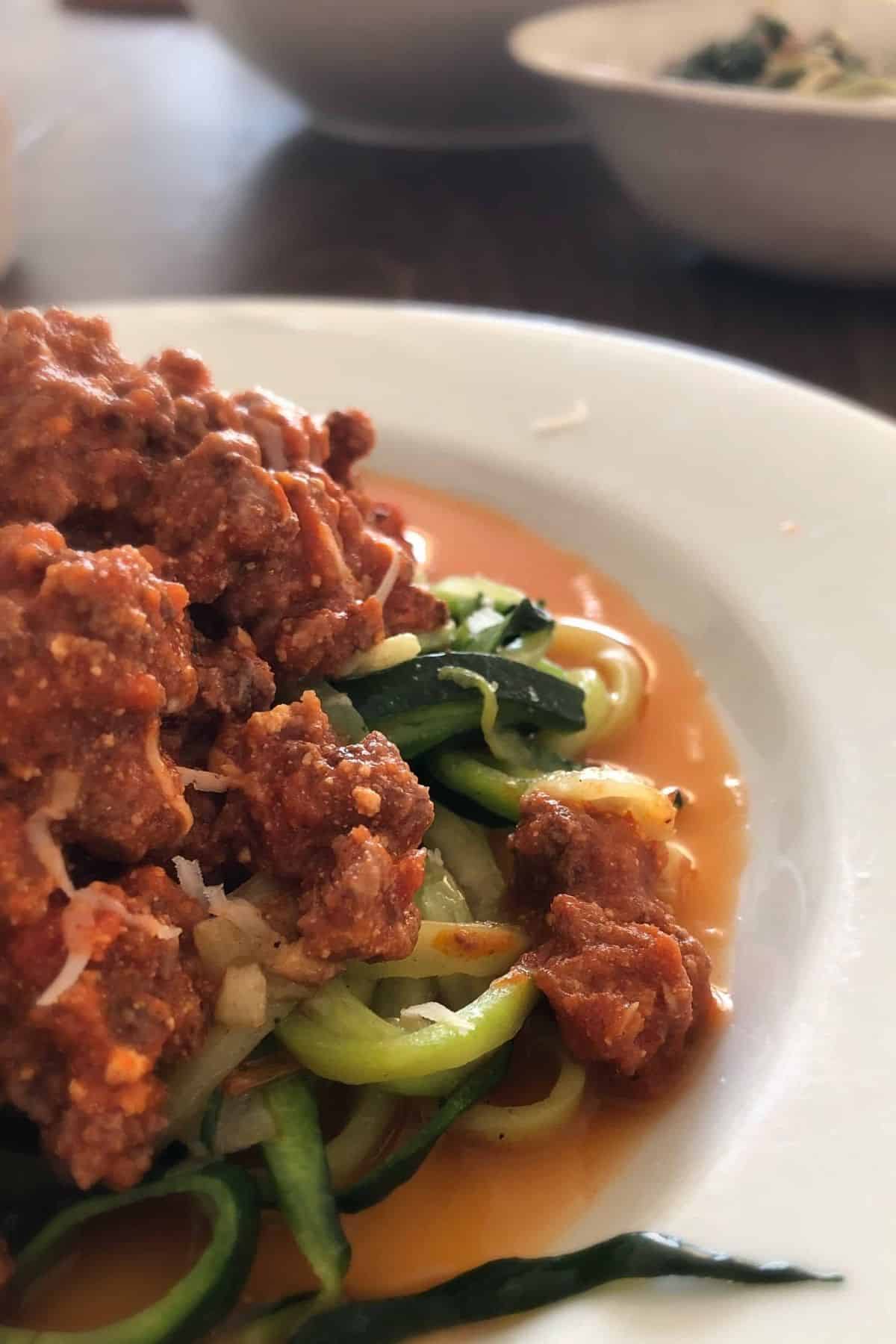 Best keto friendly noodles?
After trying all these different types of low carb pasta, it truly is a personal choice which one is better. For my favorite keto pasta, I tend to go for the spaghetti squash or zucchini noodles only because they are more natural to me and I feel good eating something with only 1 ingredient.
I also enjoy a carnivore noodle and a low carb lasagna, all are posted down below.
Some of the other pasta with all their fibers don't sit well with me digestively. I hope one day there will be a true contender but for now, we continue to make some compromises that never truly resemble the real thing.
Here are some Keto Friendly Noodles options on amazon.
Have you made keto pasta from scratch?
I have only made carnivore noodles made with cheese, the recipe is posted down below.
Can I eat egg noodles on a keto diet?
Traditional egg noodles are high in carbs and are not a keto friendly pasta option. However, my carnivore noodles below is a good alternative to egg noodles.
Which noodles are lowest in carbs?
From the noodles I have mentioned in this post zucchini noodles would be lowest in carbs. They are 2.4 net carbs per cup.
Keto or low carb pasta recipes
Keto noodles with sauce
The key to great keto pasta is also in the sauce. You can make any of these pasta as long as you use a tasty sauce.
I always make my pasta with a meat sauce and I load it up with loads of shaved parmesan cheese. On occasion, I enjoy a keto alfredo sauce.
Do you have a keto pasta you use to replace traditional pasta? If you have any other pasta hacks, I would love to hear about them.