I am travelling again this week. This time to Italy with a Keto Spaghetti Carbonara with Pancetta. Since I can't really travel during the lockdown, I decided I am going to create some of my favourite dishes from my travels. Last week I made a Keto Quiche Lorraine that took me back to France.
Today I am heading to Rome where I first had an authentic Spaghetti Carbonara. I was exploring the side streets of Rome, what I usually do when I travel and want to find that hidden gem.
While stumbling through a back alley I found this cute little restaurant that looked like my nonna was sitting at the door.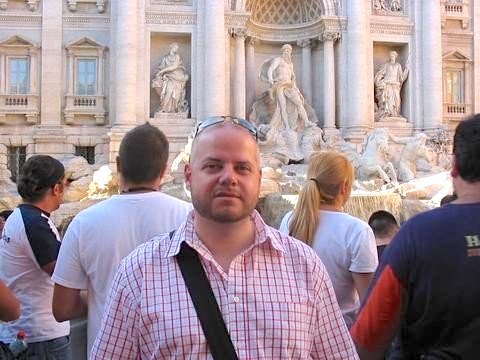 She waved at me and said "mangiato spaghetti alla carbonara?". I do speak broken italian and understood what she was saying. I responded that I have had it but from back home in Canada.
At the time what I thought I knew what pasta carbonara was, wasn't actually carbonara.
In fact I was wrong. My italian family in Canada would always make Spaghetti Aglio e Olio which sometimes would be called carbonara but truth is, I never had carbonara until this cute little nonna made it for me.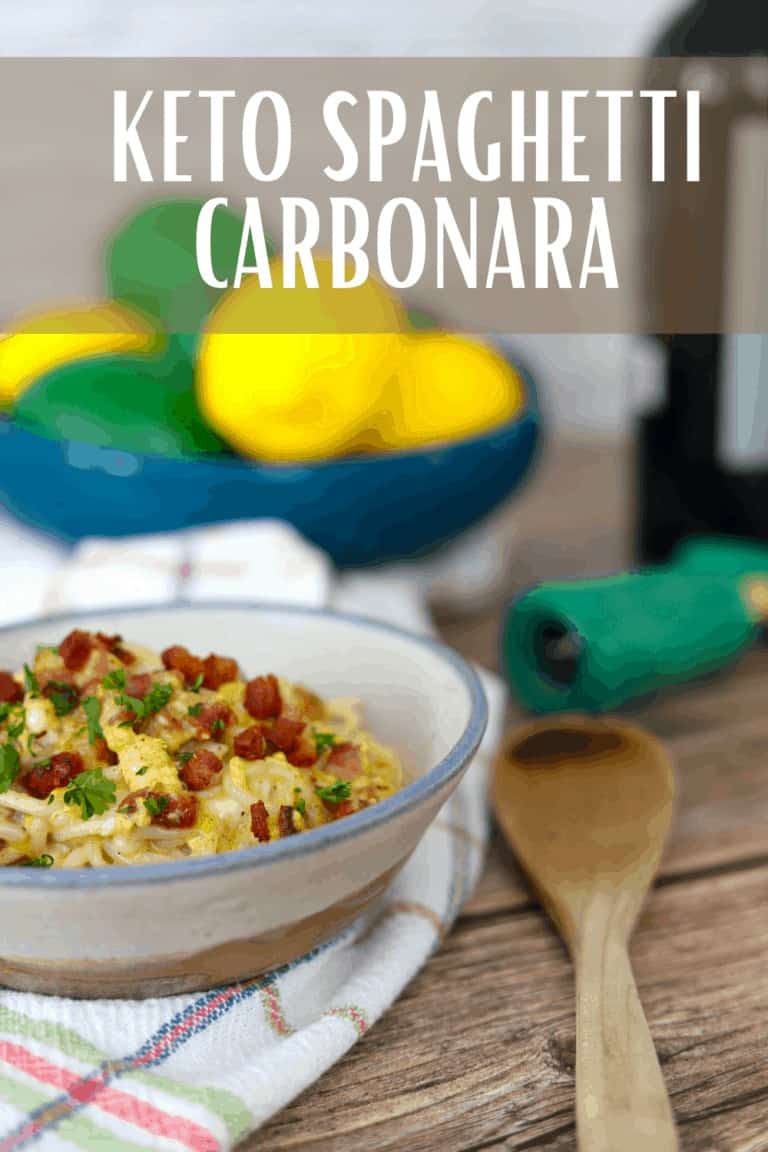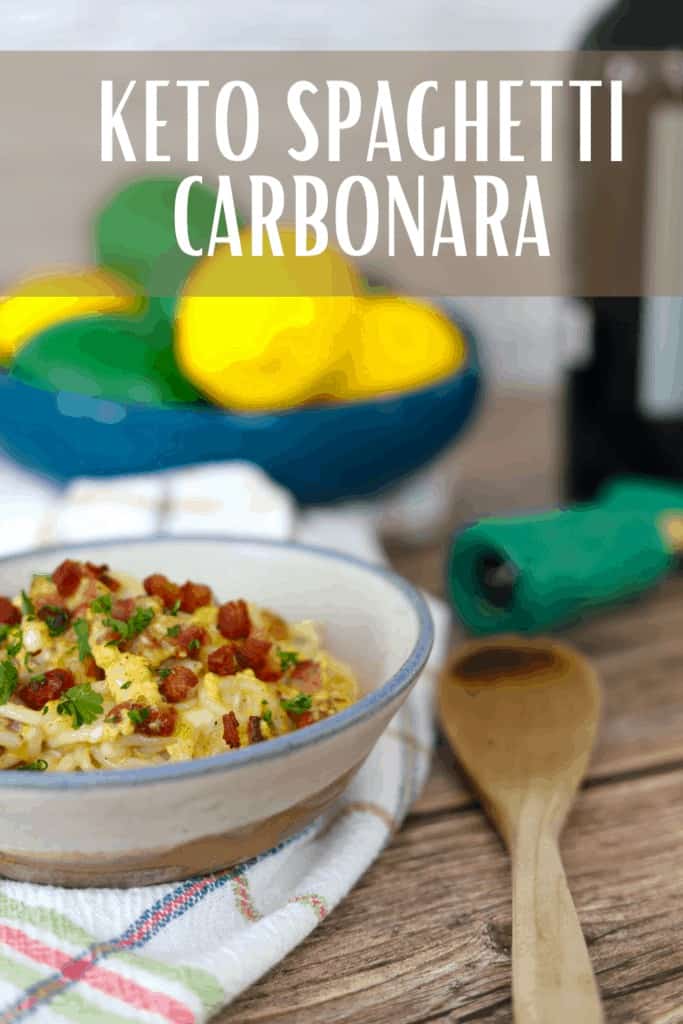 Why Do I Love Spaghetti Carbonara?
In reality the traditional spaghetti carbonara uses real pasta and guanciale (pig cheeks) and not bacon or pancetta. Sadly guanciale is hard to find around here and well, as a diabetic I no longer eat pasta unless it's a low carb version such as konjac, shirataki, zucchini or spaghetti squash noodles. Although I will always enjoy my mom's lasagna whenever I go home to visit her twice a year.
This dish feels so creamy and rich and to be honest, it has sex appeal. I really can't explain it, spaghetti seems to have that sensual attraction to me.
Maybe I watched Lady and the Tramp too many times. Plus the salty and meaty pancetta just gives it that extra dreamy experience. Don't forget the yolk, need I say more?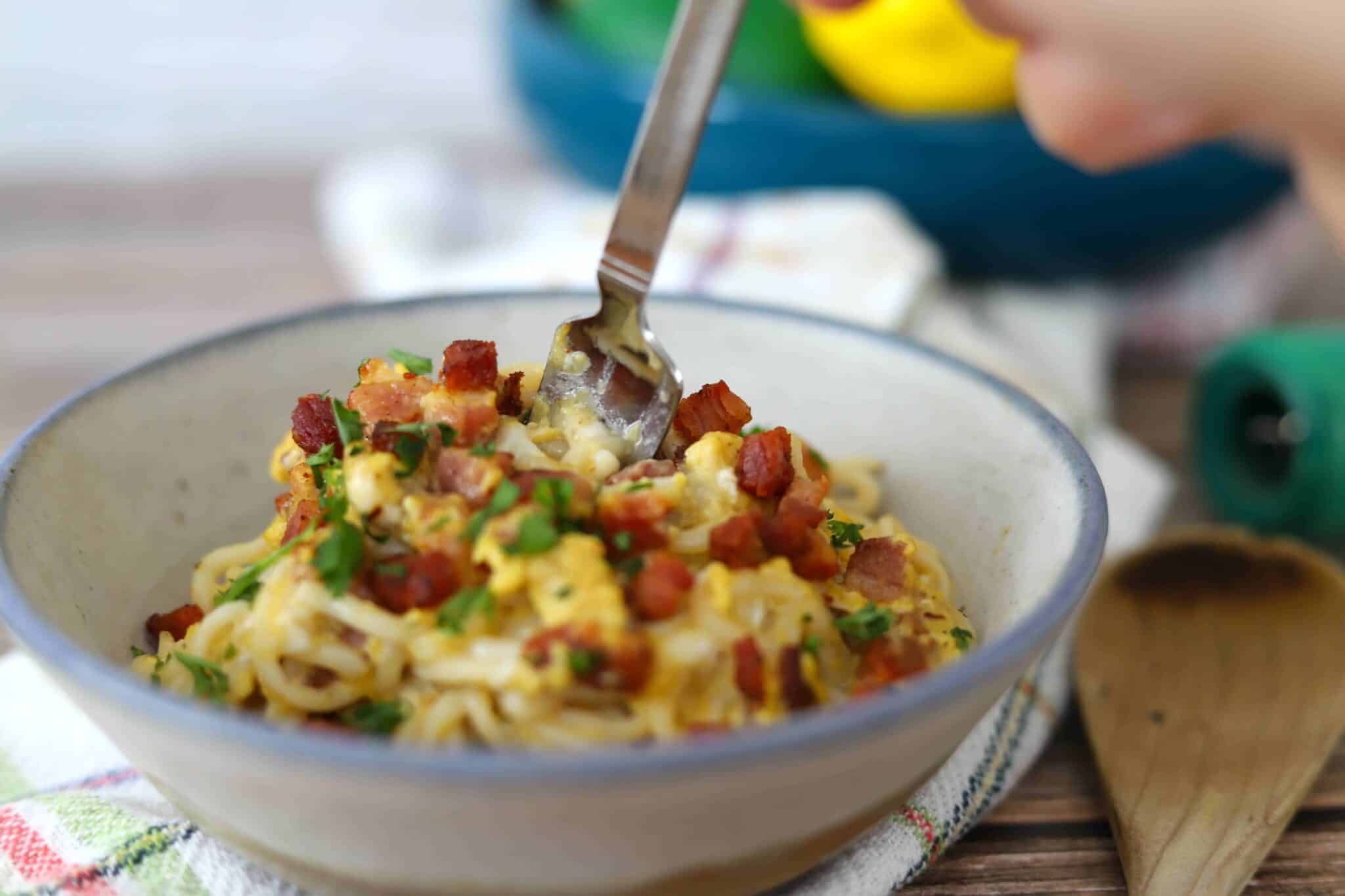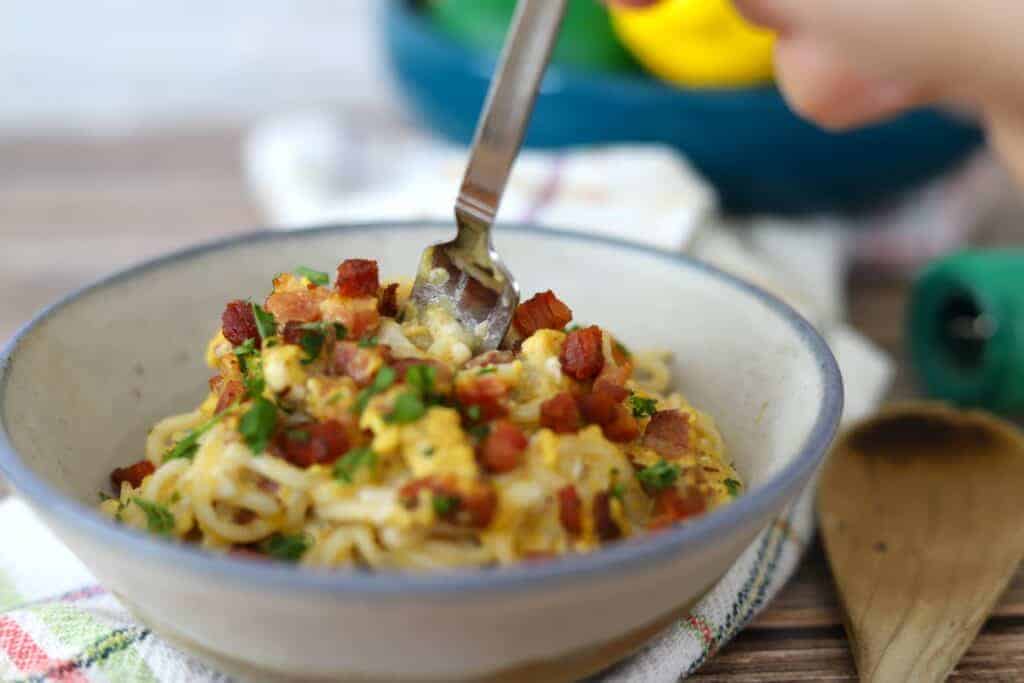 The Noodles for Keto Spaghetti Carbonara
Everyone has their favourite keto and low carb noodles. For me, I usually prefer a zucchini noodle simply because it's a whole food and is a much cleaner ingredient without all the fibre.
However, for this dish I felt shirataki noodles were appropriate as I wanted that sensual mouth feel of spaghetti, plus it looks more like the real thing.
Ingredients for Carbonara
Other than the noodles this dish has only a few more ingredients. Unlike other pasta sauces, this one does not require simmering a sauce for hours, nor does it require crushing tomatoes or peeling garlic.
Pancetta
Made of pork belly meat that is salt-cured and crisp up nicely when fried in a pan. Perfect little bites that have a big flavour.
Parmesan
Parmigiano-Reggiano is an Italian hard, granular cheese produced from cow's milk and aged at least 12 months. Use freshly grated parmesan for this dish. I truly believe the more parm used the better this pasta tastes. So load it on as much as you like.
Eggs
Fresh eggs please and try not to drop the eggs into the pasta while it's too hot. You will end up with scrambled eggs. It's better to remove the pasta from the heat and then add the egg mixture. Don't worry, the heat from the pasta will cook the eggs.
Black Pepper
Freshly ground black pepper is preferred. It truly makes the dish and brings out way more flavour.
Let's Make the Spaghetti Carbonara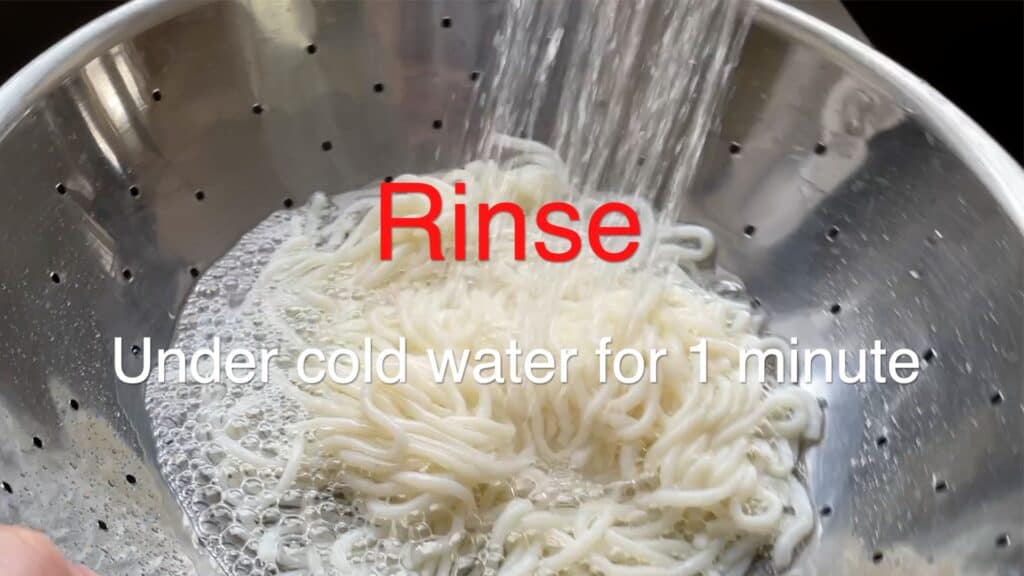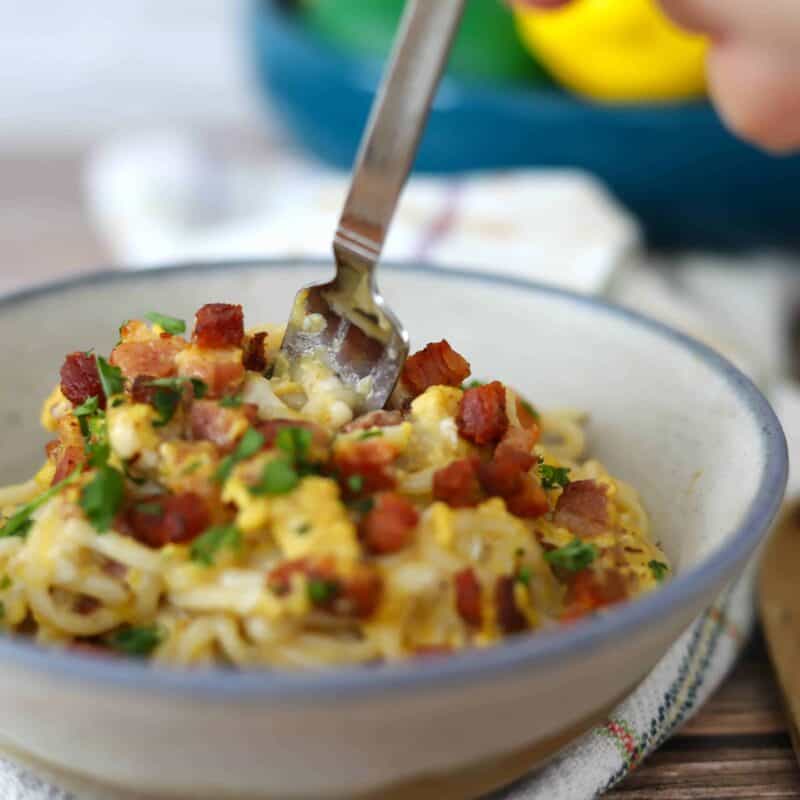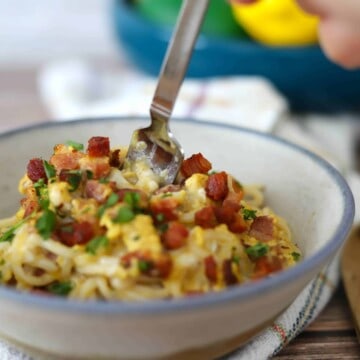 Keto Spaghetti Carbonara with Pancetta
Simply made with fresh parmesan, pancetta and egg yolks.
Ingredients
210

g

Shirataki Noodles

I used Nupasta

125

g

Pancetta

2

tablespoon

Grated Parmesan

2

large

egg yolks only

1

large

whole egg

¼

teaspoon

Salt

half for Noodles and half for sauce

¼

teaspoon

Black Pepper

half for Noodles and half for sauce

¼

cup

hot water
Instructions
Rinse and dry the shirataki noodles and add to a medium size frying pan on medium/low heat, stir occasionally to remove moisture

Cube 1 cup of pancetta and fry in a medium sized frying pan on medium heat

add black pepper to pancetta

in a medium bowl add the yolks, egg, 3 teaspoon of grated parmesan and ⅛th teaspoon of black pepper and whisk until well combined

once moisture removed from noodles add them into the frying pan with the pancetta

add a pinch of salt and pepper

if dry add ¼ cup of hot water

turn off stove and remove pancetta and noodles away from heat

quickly add the egg sauce mixture and stir to coat the noodles

add more black pepper and parmesan as desired
Nutrition
Serving:
110
g
|
Calories:
329
kcal
|
Carbohydrates:
5
g
|
Protein:
19
g
|
Fat:
26
g
|
Fiber:
3
g
Notes
2g net carbs per serving.
This recipe card provides the basic details to make this recipe. For more information, questions or variations please review the content above the recipe card.
Updates and Revisions
If conflicting information between the video and recipe card, the recipe card will always have the most up to date information, ingredients and instructions.
Nutritional Information
All nutritional information is based on third-party calculations and should be considered estimates. Actual nutritional content will vary with brands used, measuring methods, portion sizes and more.
Disclosure
This website contains affiliate links, which means that if you click on a product link, we may receive a commission in return. I Hacked Diabetes is a participant in the Amazon Services LLC Associates Program, an affiliate advertising program designed to provide a means for sites to earn advertising fees by advertising and linking to amazon.com.
LOVE THIS RECIPE?
Check out I Hacked Diabetes on Pinterest
Looking for more low carb groceries in Canada? Head on over to SwitchGrocery.com for diabetic friendly, keto, low carb and paleo products.