Yep, I did go there.  I called it Best Low Carb Fritters because I really do think they are the best I have ever tasted and I think you will too. 
These fritters are made with spaghetti squash, fresh mint, coriander and almond flour.  Since you are probably using spaghetti squash for your keto pasta night, the other half of the squash can be used the next day to make these low carb fritters.  You truly need to make these!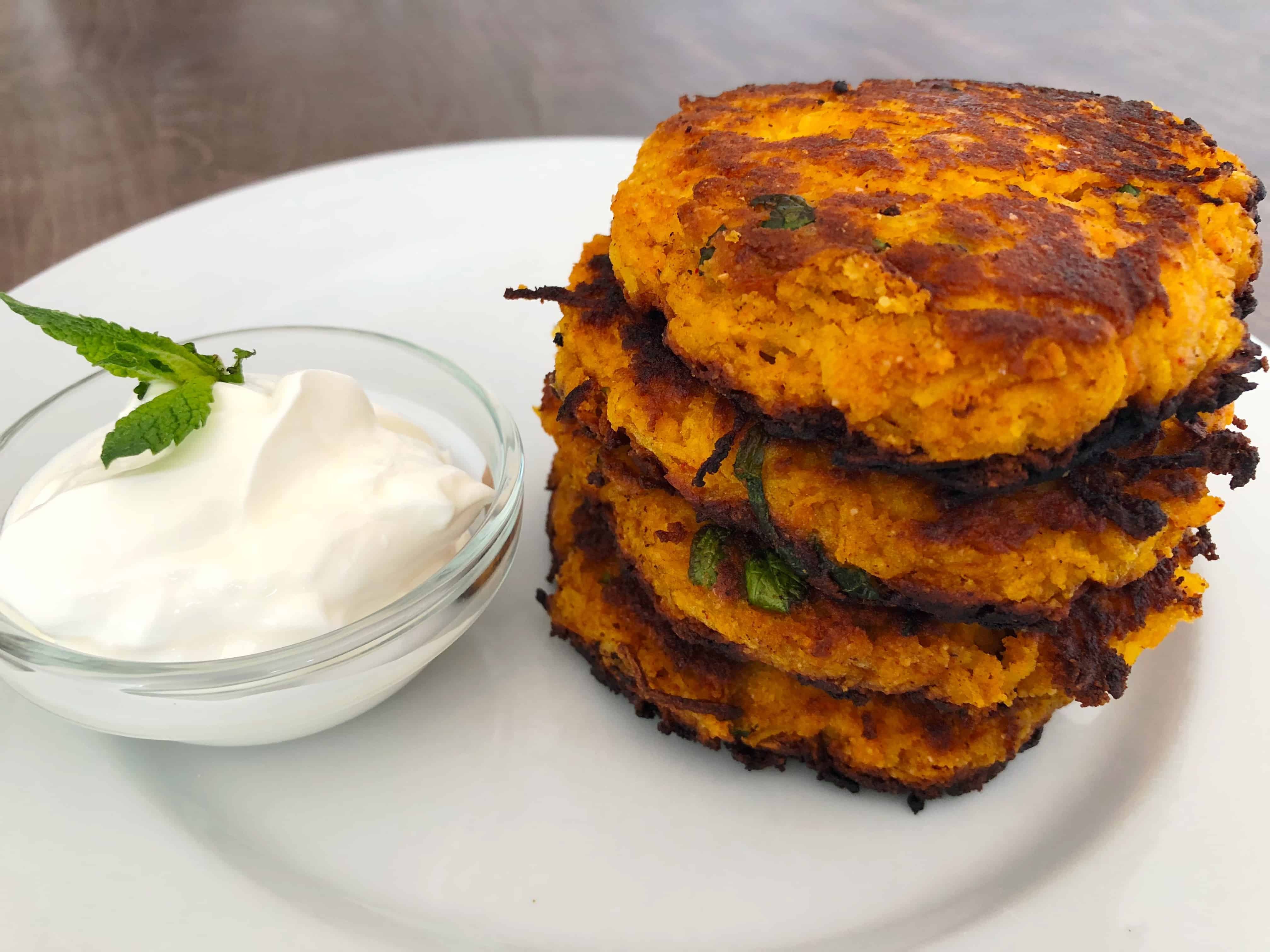 Spaghetti Squash Fritters
Im sure you made zucchini fritters and you thought they were amazing but these are going to be even better. 
With the mix of spices and the roasted flavour of the spaghetti squash you will never go back to making zucchini fritters again. 
Not only does spaghetti squash have Vitamin C (1 cup has 5.4mg), it also has vitamin A, B-6, thiamin, riboflavin, niacin, folate, pantothenic acid and vitamin K.
How to Make Spaghetti Squash
Don't get discouraged from making spaghetti squash because it involves using the oven.  It's actually very easy and pretty much a no brainer that you can't mess up as long as you follow these easy steps. 
Let me show you how I made it before we dive into this Spaghetti Squash Low Carb Fritters recipe.
Using your best knife cut your squash in half widthwise because this ensures you fork out longer strings of the "spaghetti". 
Although if you are strictly using this just for the fritters, it really doesn't matter if the strings are short or long.  However, if you are going to be using half of the squash for spaghetti you definitely want to cut it widthwise like in the photo below.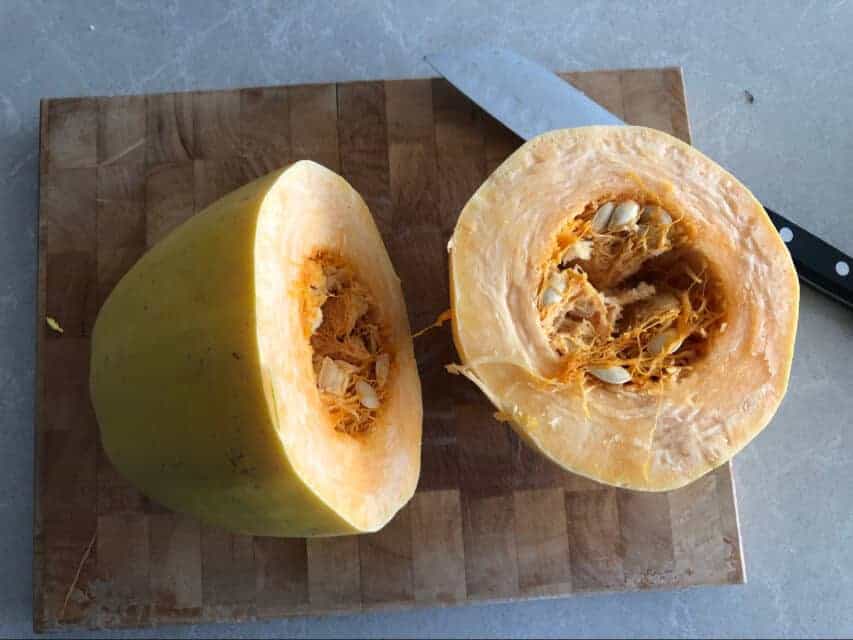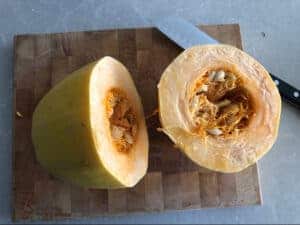 Then scoop out the guts, you will be able to tell when to stop once you get all the seeds and the stringy bits out.
Then place both halves face down in a pan and fill the pan with about 1 inch of water. Bake in the oven at 350°F for 45 minutes.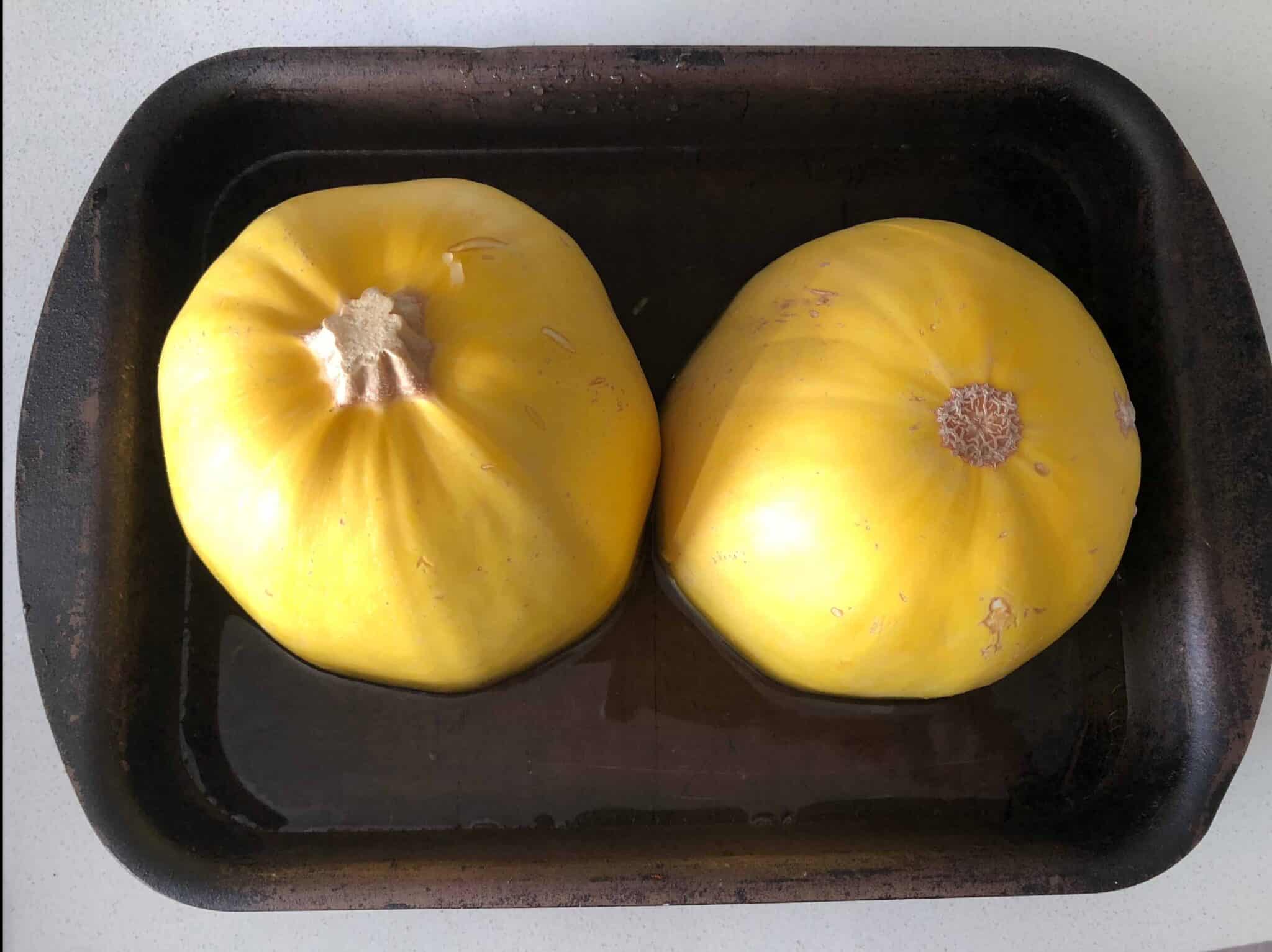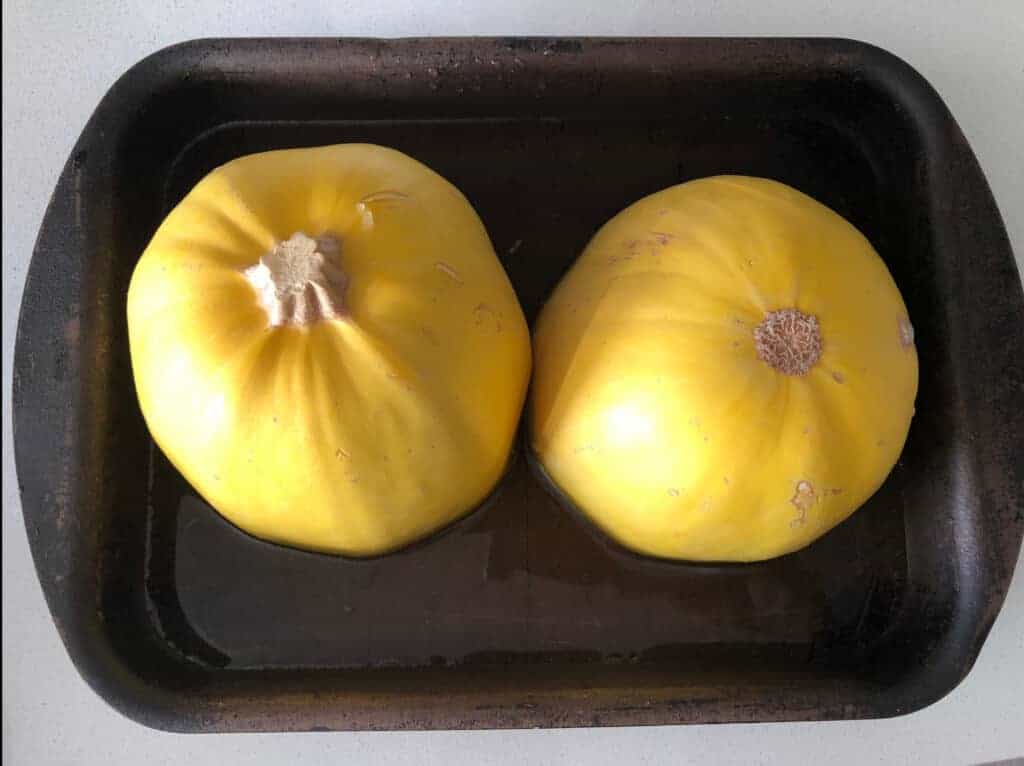 You can shred out the "spaghetti" and top it with your favourite sauce, in the photo below I topped it with a meat sauce and some grated parmesan cheese.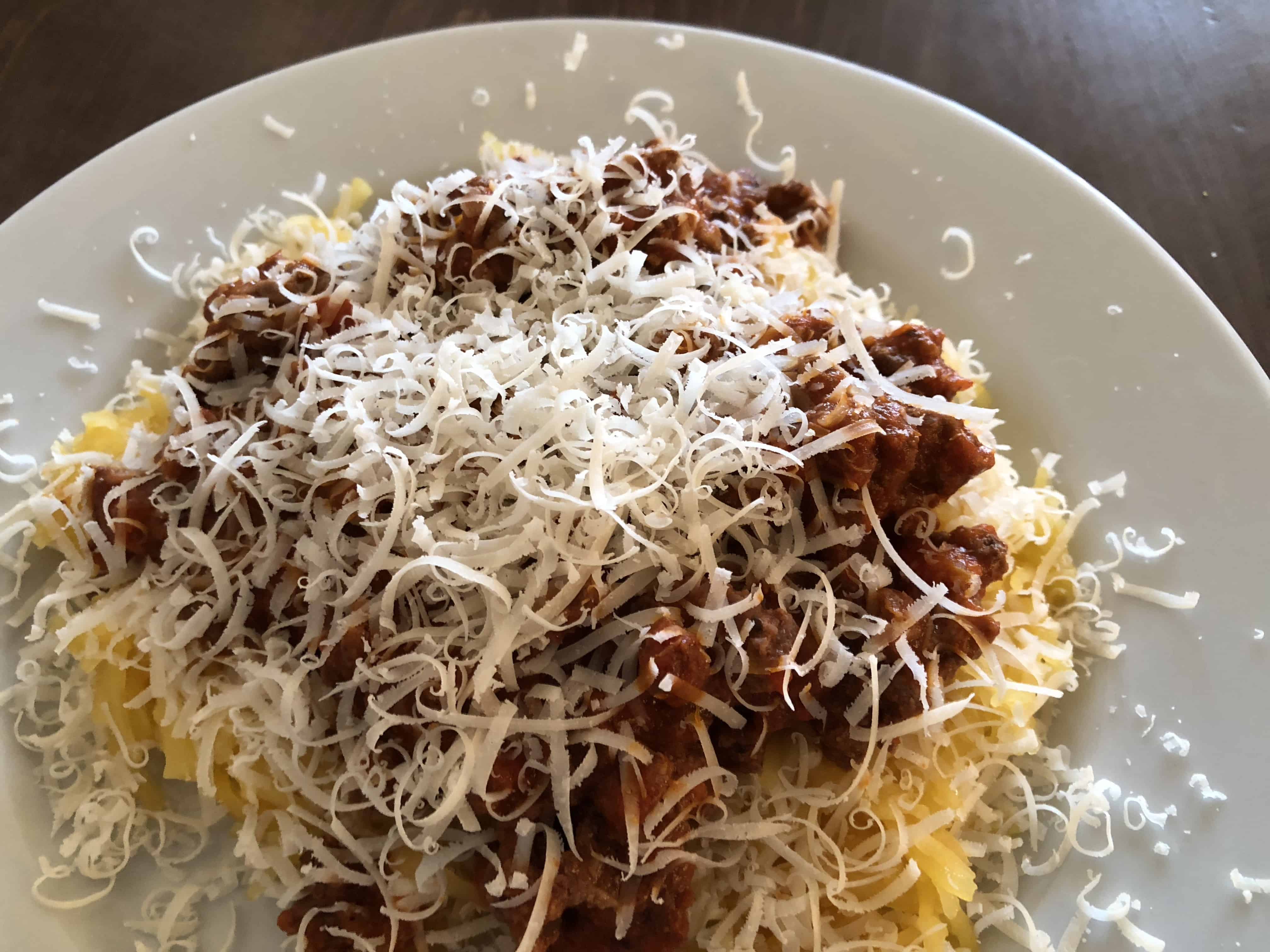 Nutrition: Per serving (recipe yields 8 servings - ½ a fritter) Calories: 64g Fat: 4.9g Protein: 1g Carbs: 5g Fibre: 1g Net Carbs: 4g
Fritter Recipe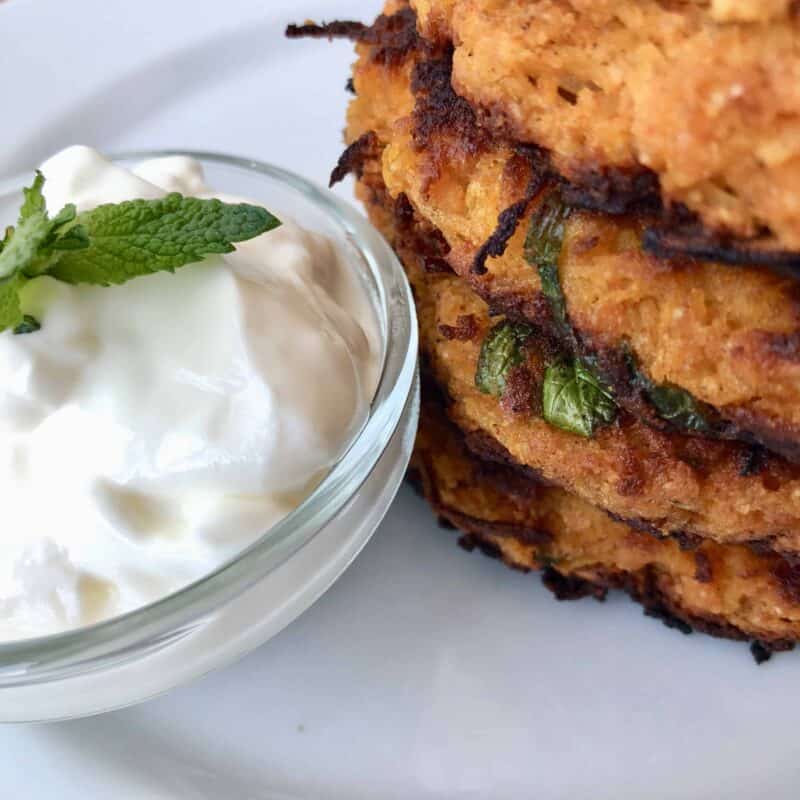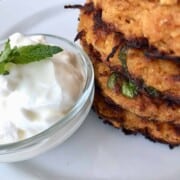 The Best Low Carb Fritters
Delicious low carb fritters made with spaghetti squash
Instructions
After baking the squash in the oven as per above, let the squash cool for at least 10 minutes

Then using a fork scrape out the strings of squash and place them into a bowl and sprinkle with salt just to help let out the moisture.

Let sit for another 20 minutes

Squeeze out the water with your hands and then place squash into a seperate bowl

Add all ingredients

Mix with your hands until well combined

Form into 4 large fritters like in photo or you can form into 8 smaller sizes

Coat a frying pan with olive oil

On medium heat place fritters in frying pan and cook until both sides are golden brown

Serve with sour cream or your favourite dip
This recipe card provides the basic details to make this recipe. For more information, questions or variations please review the content above the recipe card.
Updates and Revisions
If conflicting information between the video and recipe card, the recipe card will always have the most up to date information, ingredients and instructions.
Nutritional Information
All nutritional information is based on third-party calculations and should be considered estimates. Actual nutritional content will vary with brands used, measuring methods, portion sizes and more.
Nutrition Facts
The Best Low Carb Fritters
Amount per Serving
% Daily Value*
* Percent Daily Values are based on a 2000 calorie diet.
Tried this recipe? Pin it!
Mention iHackedDiabetes or leave a comment below.
The fritters go well as a main dish or as a side with your favourite protein and a green salad. You can always follow it with a Sexy Keto Pudding for dessert. Or visit All Recipes for more ideas.
Shopping for keto or low carb products? In Canada I buy my low carb products from SwitchGrocery.