Indulge in the rich and savory flavors of our Low Carb Albondigas Mexican Meatball Soup Recipe.
This Mexican-inspired dish features tender, flavorful meatballs in a delicious broth, making it the perfect choice for a satisfying and healthy meal. Give it a try and savor the taste of Mexico while staying on track with your low-carb lifestyle.
Jump To:
Our Low Carb Albondigas Mexican Meatball Soup Recipe offers a healthier twist on this beloved comfort Mexican food, allowing you to relish the authentic taste while staying mindful of your carb intake.
It's a perfect combination of tradition and wellness, making it a delightful addition to any low-carb meal plan.
Some other heartwarming soups you might want to try are this Low Carb Turkey Soup, a Creamy Butternut Squash Soup, this delicious Low Carb French Onion Soup recipe or this Chili's Southwest Chicken Soup recipe.
Why you'll love this low carb Mexican meatball soup recipe
Bold and Zesty Flavor: The combination of chili powder, garlic, and adobo pepper with sauce creates a rich and zesty flavor profile that will tantalize your taste buds.
Convenient and Quick: With the use of store-bought ingredients like diced tomatoes, chicken broth, and frozen low-carb meatballs, this recipe is incredibly convenient and saves you time in the kitchen.
Low Carb and Healthy: Perfect for those following a low-carb lifestyle, this recipe offers a healthy and guilt-free option without compromising on taste. You also might enjoy this Low Carb Cauliflower Soup recipe.
Hearty and Filling: The meatballs and vegetables in this soup make it a satisfying and hearty meal, ideal for keeping you full and energized.
Balanced and Fresh: The addition of lime juice provides a refreshing and balanced touch to the recipe, enhancing the overall taste and bringing a burst of freshness to each bite. For another soup bursting with flavors, you might enjoy this Low Carb Asparagus Ginger Soup recipe.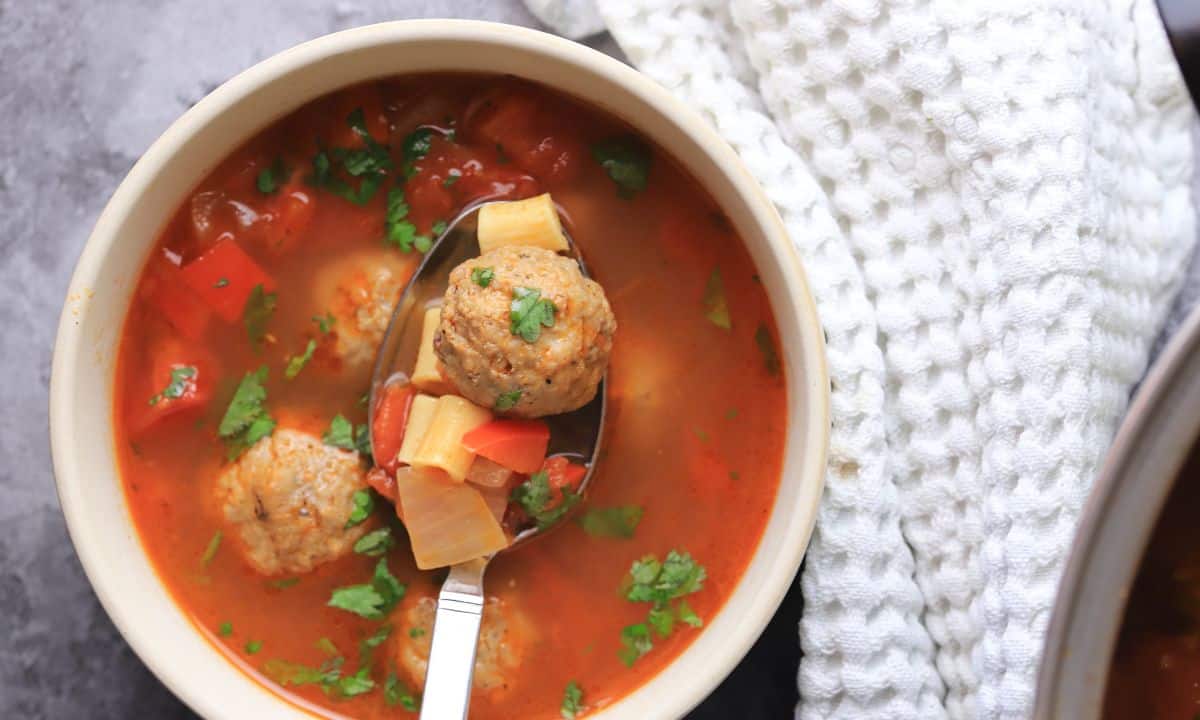 Main Ingredients Used
This recipe combines a flavorful medley of ingredients, including aromatic spices, savory meatballs, and a zesty lime twist, for a delicious and satisfying Low Carb Albondigas Mexican Meatball Soup.
Butter and olive oil: Used for sautéing, enhancing the soup's overall flavor and aroma.
Yellow onion and garlic: Provide aromatic depth and a rich base for the soup.
Chili powder: Adds a spicy kick, contributing to the dish's distinctive Mexican flavor.
Red bell pepper and adobo pepper with sauce: Infuse the soup with a smoky and peppery taste, enhancing its complexity.
Black pepper and salt: Serve as essential seasonings, ensuring a well-balanced flavor profile.
Diced tomatoes: Form the base of the broth, imparting a tomato-rich essence to the soup.
Chicken broth: Creates a flavorful and hearty foundation for the soup. You can also use beef broth or bone broth for this recipe if you prefer.
Low-carb meatballs: Supply protein and substance, making the soup satisfying and nutritious. You can use meatballs made with ground turkey, ground pork, ground beef, ground veal or a combination. Or you can simply purchase frozen gluten free meatballs from your grocery store.
Lime juice: Adds a zesty and citrusy finish, brightening the overall taste of the soup.
See the recipe card for quantities.
Recipe variations
Here are five variations for the Low Carb Tex Mex Albondigas Mexican Meatball Soup Recipe:
Veggie-Loaded Twist: Add extra vegetables such as zucchini, carrots, and spinach to make it a more veggie-packed, low-carb soup with a variety of textures and flavors.
Spicy Heat: Increase the heat by using hotter chili varieties like habanero or jalapeño peppers and adding a pinch of cayenne pepper for those who enjoy a spicier kick.
Cheesy Finish: Enhance the richness by topping each bowl with a sprinkle of shredded cheese, like cheddar or Monterrey Jack, for a creamy and indulgent touch.
Fresh Herbs: Incorporate fresh herbs such as cilantro and parsley at the end of cooking to infuse the soup with a burst of fresh, herbal notes.
Tangy Tomatillo: Replace diced tomatoes with tomatillos to give the soup a tangy and slightly tart flavor, adding a unique twist to the traditional recipe.
You can enjoy this keto meatball soup with all these varieties whenever you make this recipe.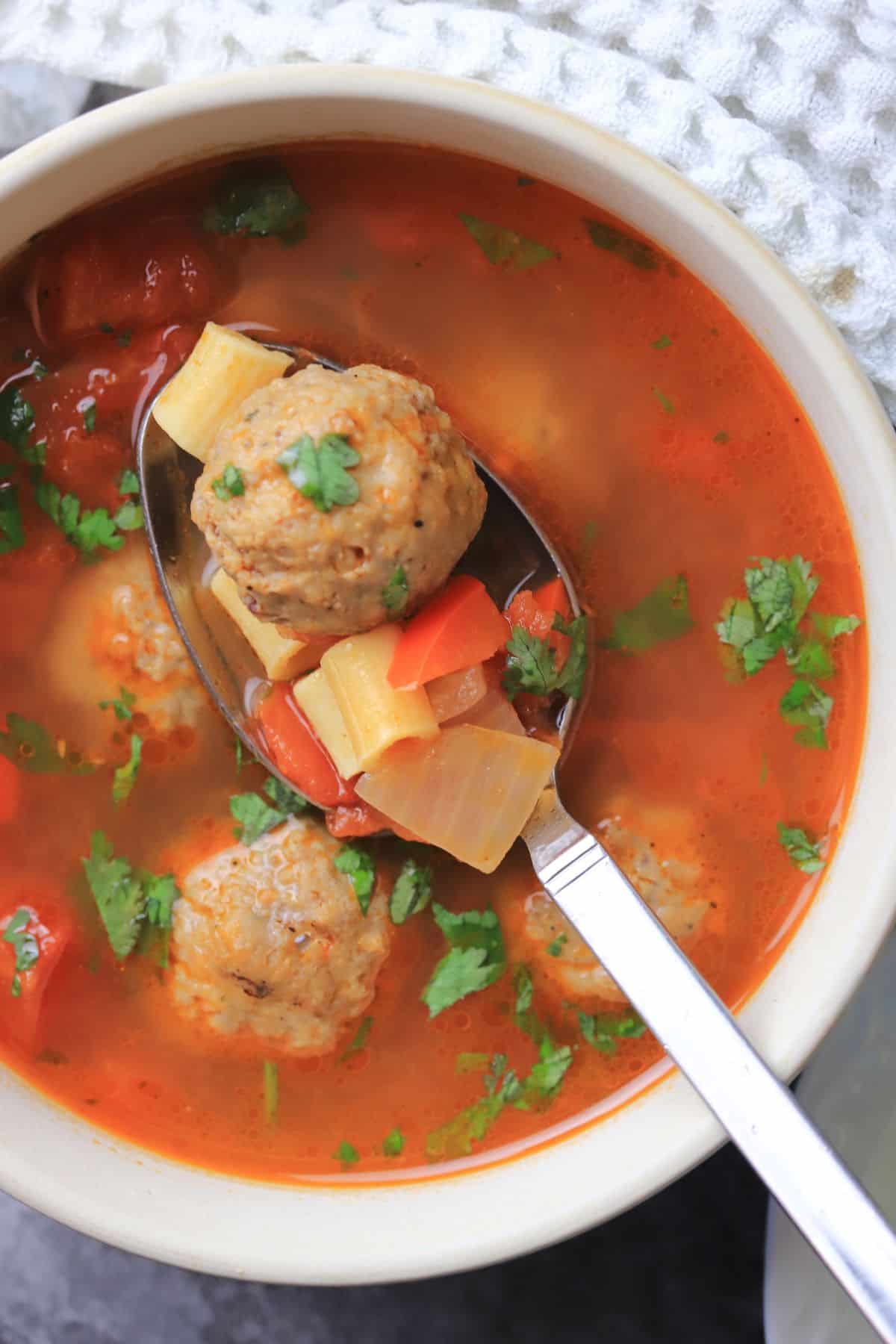 Steps by step instructions
How to make this low carb Mexican meatball soup recipe
STEP 1: Heat a combination of butter and olive oil in a large pot or a dutch oven over medium heat. Sauté diced onion, garlic, and red bell peppers until they soften, seasoning with salt and black pepper to taste.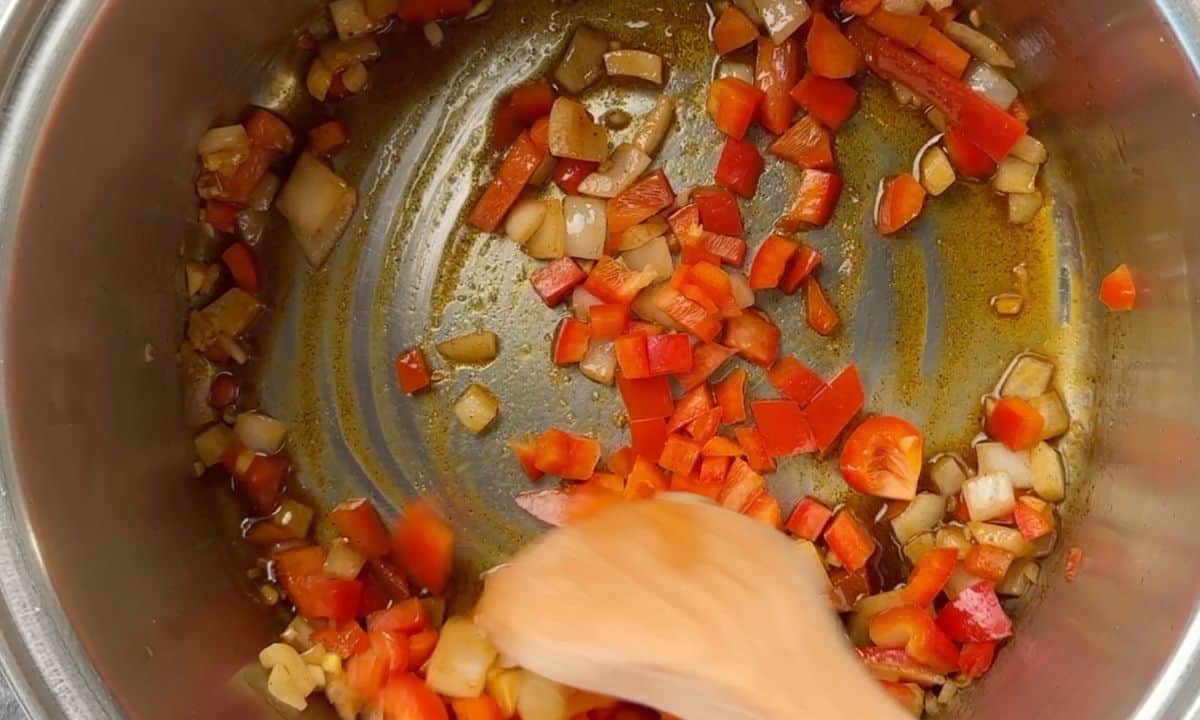 STEP 2: Once the vegetables are softened, add chili powder and adobo peppers to the pot. Cook for a few minutes to infuse the spices into the mixture.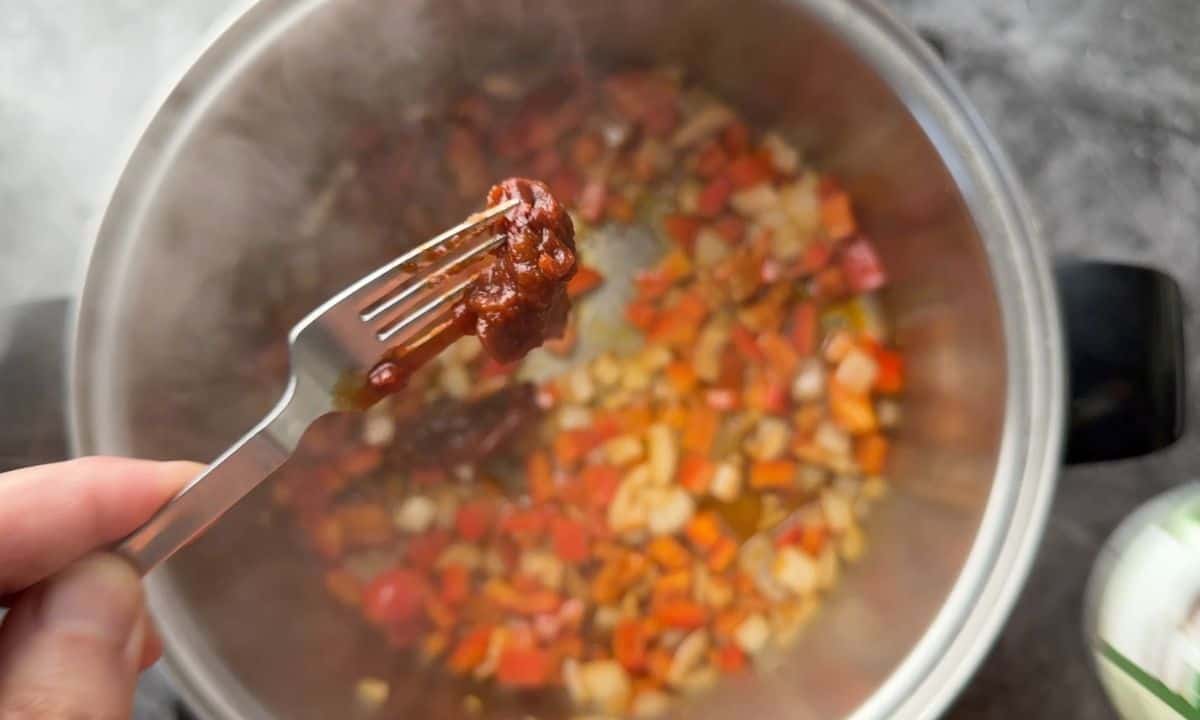 STEP 3: Stir in diced tomato sauce and chicken broth, allowing the soup to come to a simmer. Let it cook for a while to blend the flavors, typically around 10-15 minutes.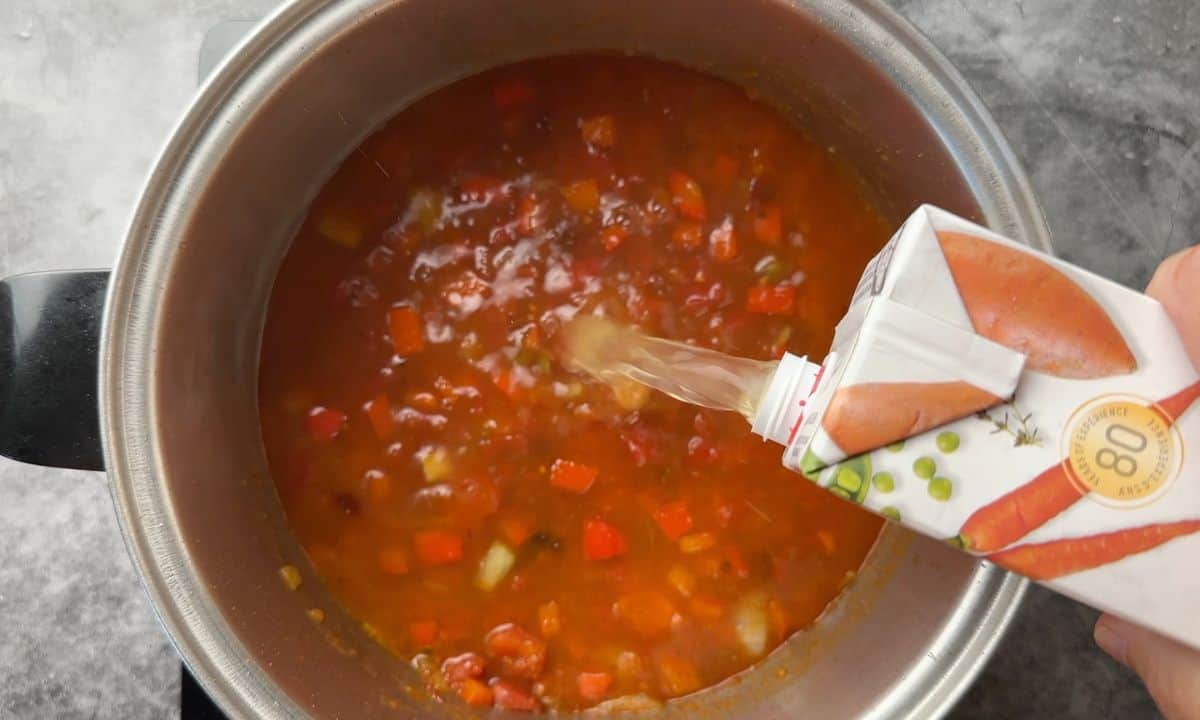 STEP 4: Add the low-carb meatballs to the simmering soup and continue to cook for approximately 30 minutes, or until the meatballs are thoroughly heated through and cooked.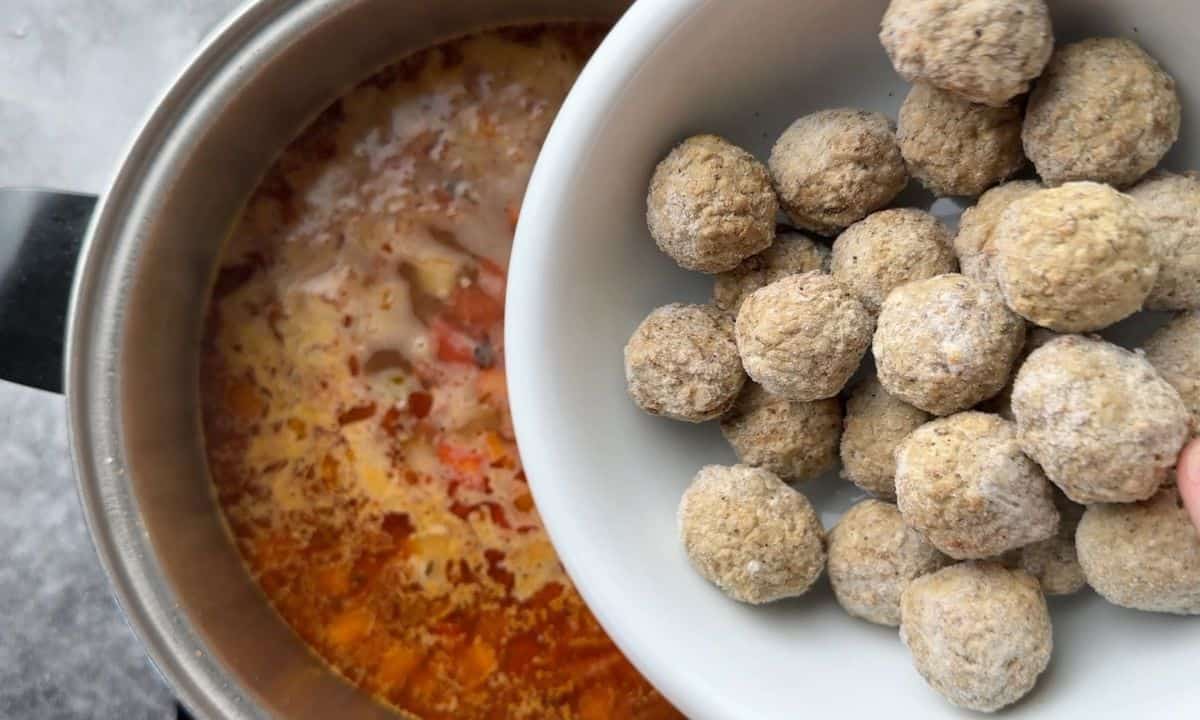 STEP 5: Finish the soup by squeezing the juice of one lime into it, giving it a zesty twist. Optionally, you can also serve it with a small amount of low-carb noodles if desired. Garnish each serving with freshly chopped cilantro for a burst of fresh flavor and serve hot.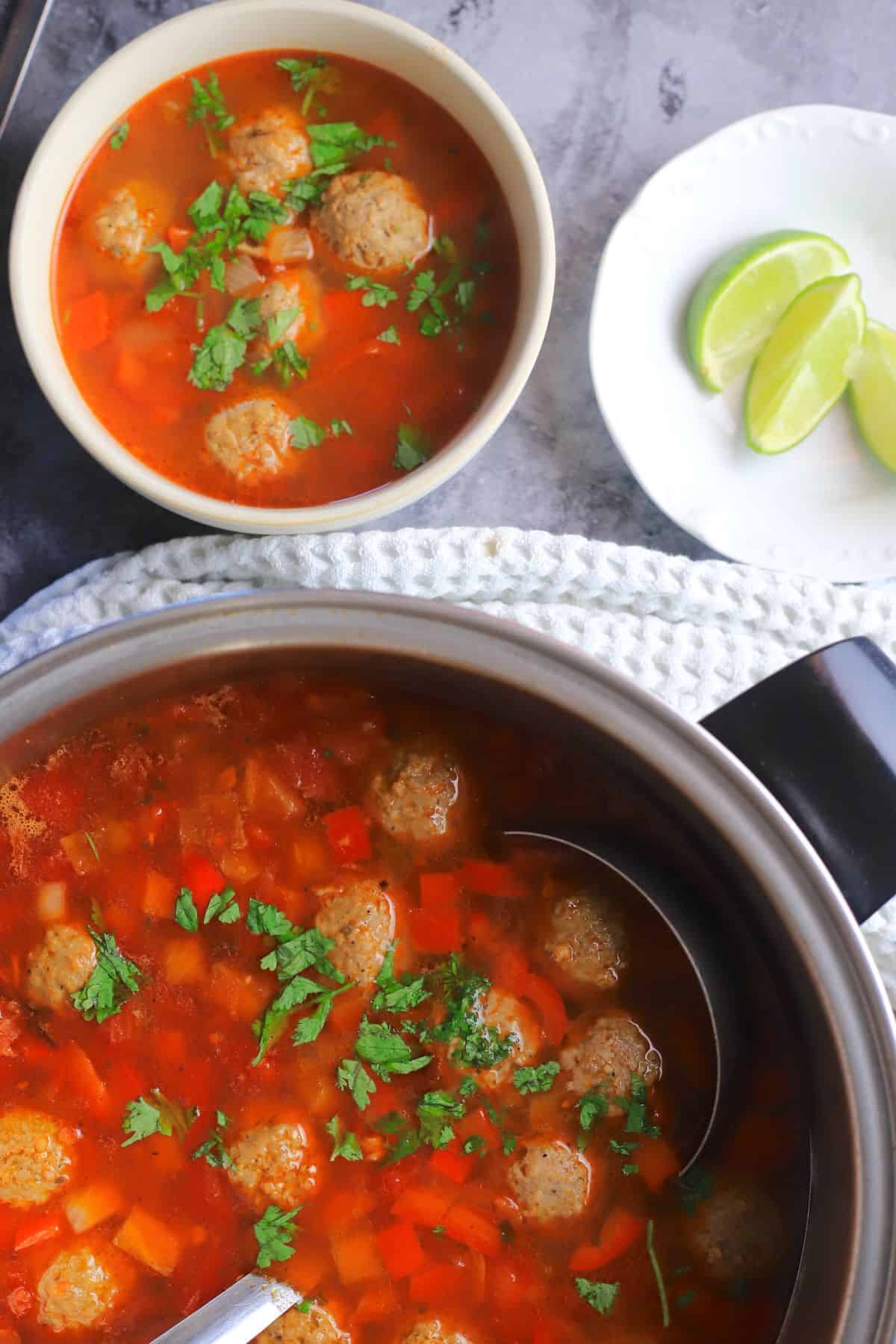 Serving suggestions
Here are some serving suggestions for your Keto Albondigas Mexican Meatball Soup:
Bread or Tortillas: Serve the low carb soup with a side of low carb bread or warm tortillas for a delightful, hearty meal.
Fresh Lime Wedges: Accompany each serving with a lime wedge for a fresh citrus squeeze, allowing your guests to customize the level of tanginess.
Avocado Slices: Top each bowl with slices of creamy avocado to add a creamy and cooling element to the dish.
Shredded Cheese: Offer a small bowl of shredded cheese, such as cheddar or Monterrey Jack, as a topping for those who enjoy an extra layer of richness.
Sour Cream or Greek Yogurt: A dollop of sour cream or Greek yogurt can provide a creamy contrast to the soup's spiciness.
Fresh Cilantro: Sprinkle freshly chopped cilantro over each serving for a burst of fresh flavor and vibrant green color.
Sliced Jalapeños: For those who love heat, offer sliced jalapeños on the side to customize the spice level.
Sliced Radishes: Add thinly sliced radishes to the table for a refreshing, crunchy garnish.
These serving suggestions will allow your guests to personalize their bowls and enhance their dining experience.
Recipe tips
Here are two tips on making the best low carb Mexican meatball albondigas soup ever:
Season Gradually: When adding salt, pepper, and other seasonings, it's best to season gradually and taste as you go. This ensures you achieve the perfect balance of flavors without over-salting the soup. Remember, you can always add more seasoning, but you can't take it away once it's in.
Let the Flavors Marry: For the most flavorful results, allow the soup to simmer and the ingredients to meld together. The longer you simmer the soup (within reason), the more the flavors will develop and deepen, resulting in a rich and satisfying taste.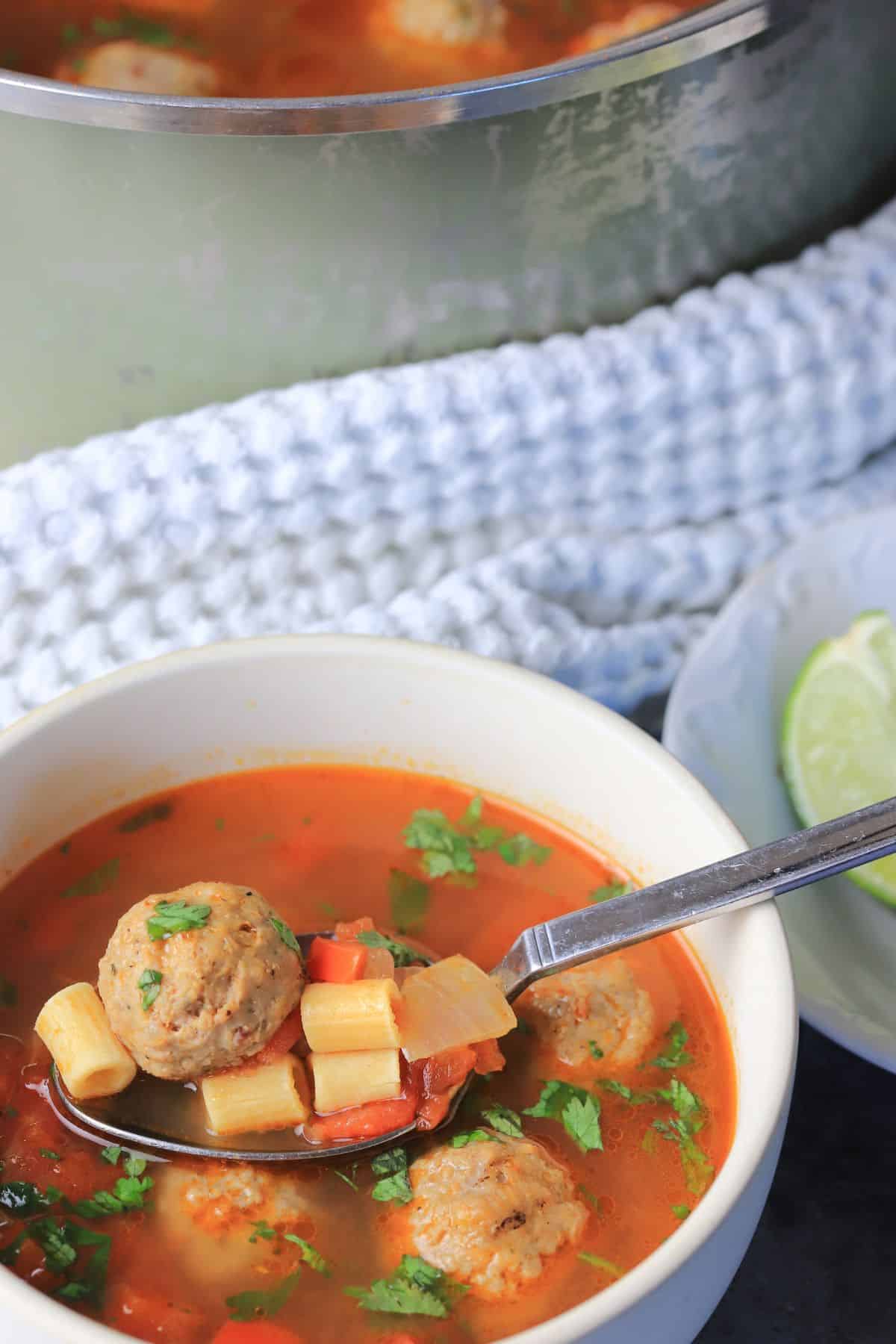 Storage and reheating
Storage:
Allow the soup to cool to room temperature.
Transfer the soup to an airtight container, making sure it's tightly sealed to prevent air from entering.
Store it in the refrigerator for up to 3-4 days. For longer storage, consider freezing it.
Freezing (if needed):
If you plan to freeze the soup, use a freezer-safe container. Leave some space at the top to accommodate expansion as the soup freezes.
Label the container with the date to keep track of its freshness.
The soup can be stored in the freezer for 2-3 months.
Reheating:
When ready to reheat, remove the soup from the refrigerator or freezer.
If frozen, allow the soup to thaw in the refrigerator overnight.
Reheat the soup on the stovetop over medium-low heat, stirring occasionally. You can add a bit of additional chicken broth if it has thickened too much.
Alternatively, you can reheat it in the microwave in a microwave-safe dish, using short intervals to avoid overheating.
Once heated to your liking, serve it hot, and enjoy your delicious Low Carb Albondigas Mexican Meatball Soup.
Frequently asked questions
Can I use fresh meatballs instead of frozen ones?
Yes, you can use fresh meatballs if you prefer. Simply adjust the cooking time to ensure they are fully cooked and heated through in the soup. You can also make your own low-carb meatballs from scratch for a more personalized touch.
What can I use as a substitute for adobo peppers with sauce if I can't find them?
If you can't find adobo peppers, you can substitute them with a combination of chipotle peppers in adobo sauce or smoked paprika for that smoky, spicy flavor. Start with a small amount, as these substitutes can be quite potent, and adjust to your preferred level of heat.
How can I make this soup vegetarian or vegan?
To make a vegetarian version, you can use vegetable broth instead of chicken broth and plant-based meatballs or a mixture of vegetables like mushrooms, lentils, or tofu as a meatball substitute. Make sure to use dairy-free butter or oil to sauté the vegetables and consider a non-dairy yogurt or sour cream as a topping.
Latest Low Carb Recipes
REVIEW AND FOLLOW: Have you tried this recipe? If so, please leave a comment and ⭐️ rating below. If you make our recipes and share them, be sure to use our hashtag #ihackeddiabetes on social! We love seeing what you are making.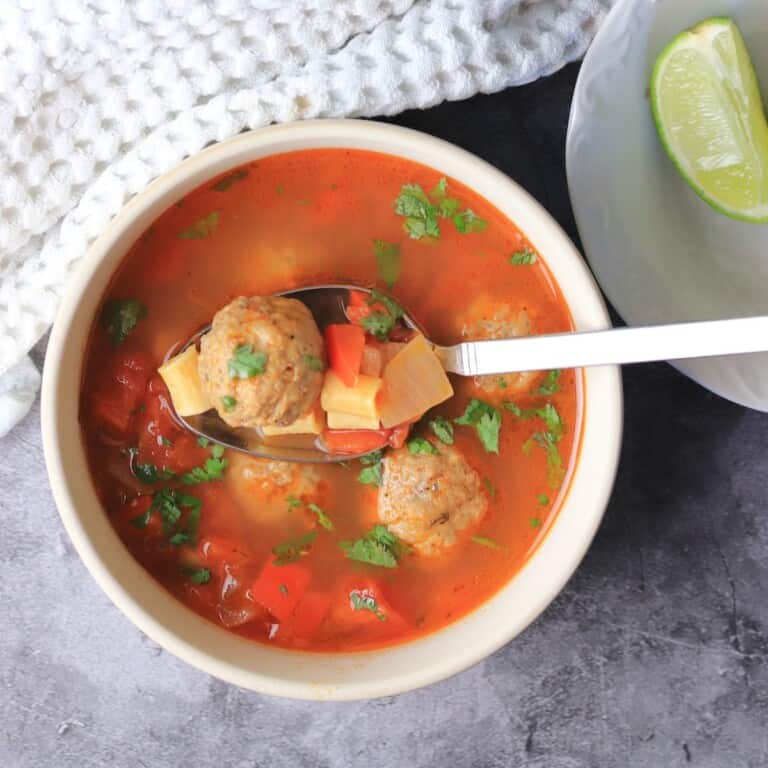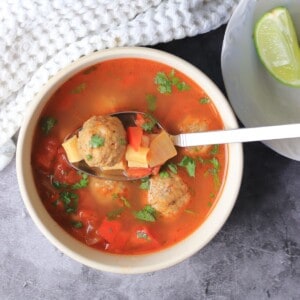 Low Carb Albondigas Mexican Meatball Soup Recipe
A delicious and wholesome twist on a classic Mexican favorite with this Low Carb Albondigas Mexican Meatball Soup Recipe. This easy-to-follow recipe is packed with flavor and perfect for those looking to enjoy a satisfying, low-carb meal.
Ingredients
*Caution: This recipe has a spicy kick due to the use of adobo peppers. If you prefer a milder flavor, you can omit the adobo peppers while preparing the soup.
1

tablespoon

butter

1

tablespoon

olive oil

¼

teaspoon

salt

¼

teaspoon

black pepper

½

medium

yellow onion

diced

2

cloves

garlic

minced

1

red bell pepper

1

tablespoon

chili powder

1

adobo pepper

more if you like it spicier

14

oz

diced tomatoes

64

oz

Chicken Broth

2 cartons

20

frozen low carb meatballs

1

juice of one lime

freshly chopped cilantro for garnish
Instructions
Over low-medium heat, sauté onion, garlic, and red pepper in butter and olive oil until softened, then add salt, pepper, chili powder and adobo peppers.

1 tablespoon butter,

1 tablespoon olive oil,

½ medium yellow onion,

1 tablespoon chili powder,

2 cloves garlic,

1 red bell pepper,

¼ teaspoon black pepper,

¼ teaspoon salt,

1 adobo pepper

Stir in diced tomatoes and chicken broth, and let the soup simmer for about 15 minutes.

14 oz diced tomatoes,

64 oz Chicken Broth

Add the low-carb meatballs and simmer for another 30 minutes until heated through.

20 frozen low carb meatballs

Finish with a squeeze of lime juice and, if desired, serve with a small amount of low-carb noodles.

Garnish with freshly chopped cilantro before serving.
Nutrition
Calories:
304
kcal
|
Carbohydrates:
7
g
|
Protein:
14
g
|
Fat:
17
g
|
Sodium:
1258
mg
|
Fiber:
2
g
|
Sugar:
4
g
Notes
Season Gradually: When adding salt, pepper, and other seasonings, it's best to season gradually and taste as you go. 

Let the Flavors Marry: For the most flavorful results, allow the soup to simmer and the ingredients to meld together. 
This recipe card provides the basic details to make this recipe. For more information, questions or variations please review the content above the recipe card.
Updates and Revisions
If conflicting information between the video and recipe card, the recipe card will always have the most up to date information, ingredients and instructions.
Nutritional Information
All nutritional information is based on third-party calculations and should be considered estimates. Actual nutritional content will vary with brands used, measuring methods, portion sizes and more.
Disclosure
This website contains affiliate links, which means that if you click on a product link, we may receive a commission in return. I Hacked Diabetes is a participant in the Amazon Services LLC Associates Program, an affiliate advertising program designed to provide a means for sites to earn advertising fees by advertising and linking to amazon.com.
LOVE THIS RECIPE?
Check out I Hacked Diabetes on Pinterest
Food safety
Cook to a minimum temperature of 165 °F (74 °C)
Do not use the same utensils on cooked food, that previously touched raw meat
Wash hands after touching raw meat
Don't leave food sitting out at room temperature for extended periods
Never leave cooked food unattended
Use oils with high smoking point to avoid harmful compounds
Always have good ventilation when using a gas stove
See more food guidelines