We're taking a closer look at the question, "Can diabetics eat hamburger?" Chili, meatballs and burgers are one of many dishes that use ground beef. But if you have diabetes, you may be wondering if it's safe to consume.
In this post, we dive into ground beef and its nutritional benefits, as well as tricks and tips on incorporating it into your meals without compromising your blood sugars.
Disclaimer: This article is for informational purposes only and is not intended to be a substitute for medical advice or diagnosis from a physician.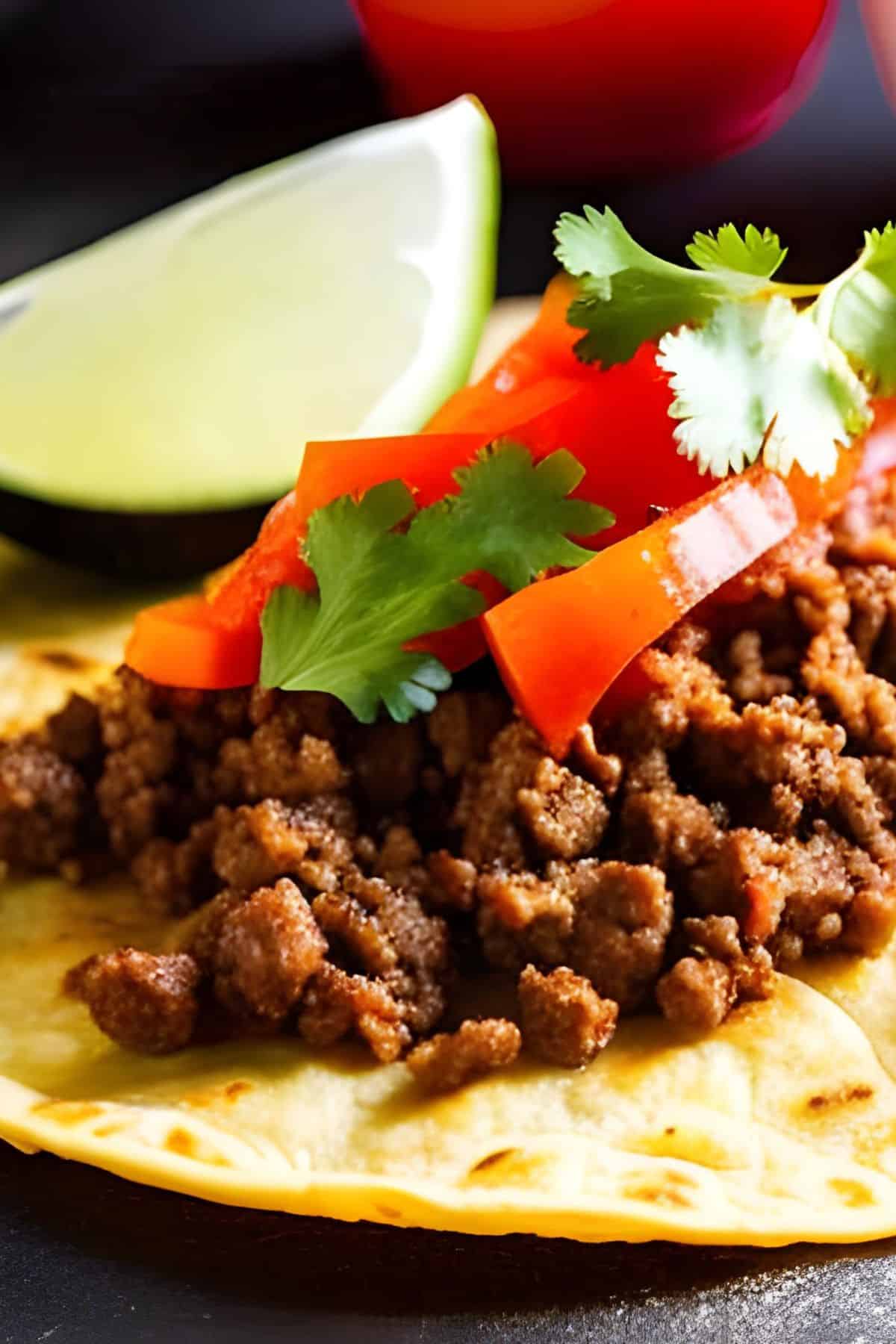 Jump To:
Is hamburger ground beef?
In this blog post, we use the term hamburger interchangeably with ground beef, beef mince, and minced beef. While hamburger usually refers to a type of sandwich made with a cooked beef patty, it is more often used broadly in North America to refer to ground beef.
Similarly, beef mince and minced beef are used in other parts of the work like in the UK and Australia.
Why is it ok for diabetics to eat hamburger?
Protein Power: a great source of protein, which can help control healthy blood sugars by slowing the absorption of carbohydrates.

Nutritional Value: Minced beef contains essential nutrients like zinc, iron and vitamin B12.

Versatility: Ground beef is super versatile and can be used in many dishes, making it easy to add to a well-balanced diet.

Portion Control: Beef mince is a great addition to a diabetic-friendly diet when consumed in moderation.

Enjoyment: It's important to enjoy the food you eat, not just about nourishing your body. Using minced beef in your meals will help you to enjoy satisfying and delicious meals while controlling your blood sugar levels.
Health benefits of eating hamburger
Hamburger or ground beef is a great source of many essential nutrients with several health benefits. Here are a few of them:
Rich in Iron: hamburger is a good source of iron which is an essential mineral for healthy blood cells. It can help prevent iron-deficiency anemia, which can cause fatigue, weakness, and other symptoms.
Provides Energy: as it contains a high level of calories, ground beef is a great source of energy and has healthy fats that help to fuel the body.
Builds Muscle: Protein in hamburger can help improve physical performance and build muscle mass, which is why it's a popular choice for fitness enthusiasts.
May help support bone health: a good source of calcium and phosphorus which help to maintain strong teeth and bones.
Can improve brain function: Vitamin b12 and iron are also important for maintaining healthy brain function, cognitive abilities and memory.

While hamburger offers several health benefits, choose lean ground beef and cook it in a healthy manner to increase its nutritional value and reduce and potential health risks.
More diabetic related blog posts
Nutritional value of hamburger
The nutritional value of hamburger or ground beef can vary depending on the fat content and cut of meat. This is the general nutritional information for a 100-gram (3.5-ounce) serving of cooked ground beef:
Calories: 250
Protein: 26 grams
Fat: 17 grams
Saturated fat: 6.5 grams
Carbohydrates: 0 grams
Fiber: 0 grams
Hamburgers effect on blood sugars
Depending on the ingredients and cooking method used, the effect of hamburger on blood sugar levels can vary. Ground beef on its own does not contain carbohydrates which would usually have the most impact on blood sugar levels.
However, adding a bun or high-carb condiments like ketchup and barbecue sauces can cause a blood sugar spike. Therefore it's best to consume ground beef without ingredients that are high in carbs. Additionally, adding low-carb vegetables can help to balance the meal and slow down the absorption of any carbohydrates consumed.
Incorporating ground beef into your meals
Sometimes it can be a bit challenging to incorporate ground beef or hamburger into your meals. Here are some tips and tricks that won't compromise your blood sugar levels while enjoying ground beef:
Choose lean ground beef: although ground beef comes in a variety of fat percentages, choosing lean ground beef can help you avoid excess calories and saturated fat.
Monitor portion sizes: eating too many calories can contribute to increased blood sugar. Aim to eat around 3 ounces of ground beef which is about the size of a deck of cards.
Use vegetables: adding vegetables to your meals will help in keeping a well-balanced meal. Vegetables like bell peppers, zucchini, mushrooms, and cauliflower will provide additional fiber, minerals, and vitamins which will help regulate blood sugar levels.
Avoid high-carb accompaniments: if you are eating ground beef with high-carb ingredients like bread, pasta and rice, your blood sugar levels can quickly increase. Swap them out and consider pairing them with low-carb options like cauliflower rice, zucchini noodles or in a low-carb wrap.
Avoid sugary sauces: look for low carb or sugar-free sauces, dips and condiments as many sauces contain a lot of sugar.
You can enjoy ground beef as part of your diet without compromising your blood sugar levels by following these tips and tricks.
Diabetic friendly recipes using ground beef
How to enjoy a hamburger sandwich without the bun?
If you love eating hamburgers but want to avoid the bun, here are some options for you:
Use lettuce leaves: wrapping a burger in lettuce leaves like romaine, iceberg or swiss chard can be an enjoyable way to eat a burger without the high carb bun.
Portobello mushrooms: if you like mushrooms Portobello make a great low carb alternative to buns. Roast or grill the mushroom caps and use them as a bun instead.
Eggplant slices: Similar to the mushrooms, sliced eggplant make a great alternative to using a bun. You will want to brush them with some olive oil and grill or roast them until they are tender.
Use a low-carb tortilla: you can find low carb tortillas in many stores that can make a great alternative to buns. Just be mindful of the ingredients and carbs as some products marketed as "low carb" may still contain a high amount of carbs for a diabetic.
Knife and Fork: my favorite way to eat a burger is simply no bun, topped with pickles and lettuce, mustard and sometimes some sugar free ketchup or barbecue sauce. Use a knife and fork like you would eat a steak and enjoy!
You may also find some low carb hamburger buns at your grocery store. With some creativity, you can still enjoy eating delicious and satisfying burgers.
See this Low Carb Jalepeno Popper Burger recipe for a tasty meal and use this Low Carb Hamburger Bun recipe.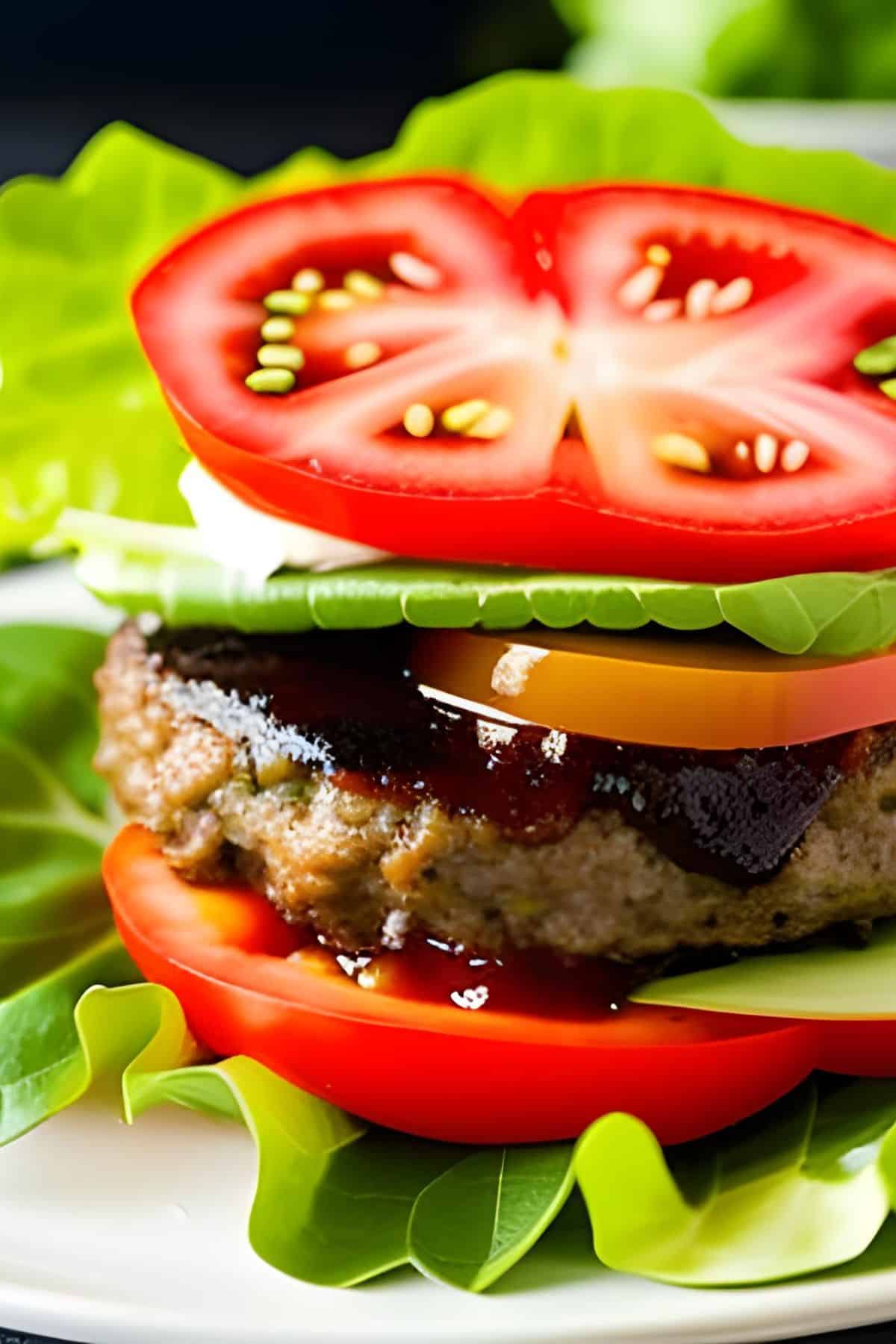 Is it healthier for diabetics to eat real meat or fake processed meat?
In general, it is healthier for diabetics to eat meat rather than fake meat. For diabetics, real meat such as chicken, beef, or fish contains very minimal carbohydrates and is a good source of protein and essential nutrients.
On the other hand, fake meat such as impossible meat or beyond meat may contain added sugars or carbohydrates and are heavily processed which can have an impact on your blood sugars.
Furthermore, it can be harmful to overall health if you consume processed meat products that contain high amounts of sodium and preservatives.
Make informed decisions and read the nutrition labels to determine if these foods are right for you. Prioritize whole real foods for optimal health and blood sugar control and refer to the American Diabetes Association and a medical professional for additional support in choosing the right foods for you personally.
Final thoughts on eating ground beef as a diabetic
In conclusion, enjoying hamburger can be a satisfying and healthy choice when combined with other low carb vegetables to balance out the meal. Stick to lean meats and avoid sugary condiments, dips and sauces.
Remember to always consult with a healthcare professional before making changes to your diet.