Dig into our yummy Sugar Free Waffles! Fluffy and guilt-free, topped with tasty cinnamon cream icing - a sweet treat without the sugar. Get your healthy breakfast fix today!
Jump To:
Whether having for dessert or breakfast, these cinnamon cream cheese waffles are sure to be a hit. Each one is lightly sweetened with powdered erythritol and a hint of cinnamon. The best part about them? They are quick and easy to make with a Dash Mini Waffle iron.
Why you'll love these sugar free waffles
Healthy Indulgence: Enjoy the pleasure of waffles without guilt! Our recipe is low in carbs, sugar-free, and gluten-free, making it the perfect choice for a healthier breakfast or snack.
Flavorful Delight: These waffles aren't just good for you – they're packed with flavor! With a dash of vanilla extract and the richness of almond flour, every bite is a taste sensation that satisfies your cravings.
Quick and Easy: Craving waffles on the fly? This recipe is your answer. From the waffle batter to your plate, it takes just minutes to whip up and cook to perfection in your waffle maker.
Versatile Option: Whether you're following a keto lifestyle or simply seeking carb-conscious choices, these almond flour waffles fit the bill. Enjoy them as a sweet breakfast, a savory brunch, or even as a satisfying dessert.
Leftovers Made Simple: Busy mornings ahead? Store leftover waffles in a snap, and you've got a ready-made breakfast for those time-crunched moments. Reheat, top, and enjoy – it's that easy!
Savor the goodness of these almond flour waffles – a healthy, flavorful, and convenient recipe that's sure to become a breakfast favorite!
Ingredients Used
This recipe is perfect for those following a low-carb, keto, or diabetic-friendly lifestyle, these waffles are crafted to satisfy your cravings without compromising your health goals.
With a base of almond flour and sweetened with a sugar substitute, these waffles are deliciously gluten-free and low in carbs. The blend of flavors, enhanced by a dash of cinnamon, creates a symphony of taste that will keep you coming back for more.
Topped with luscious cinnamon cream icing, these waffles redefine the concept of a satisfying and health-conscious breakfast treat.
Almond flour: Imparts a rich, nutty flavor and a satisfying texture while keeping the carb count low.
Sweetener: Adds sweetness without the sugar, ensuring these waffles are suitable for your low-carb lifestyle.
Cinnamon: Infuses warmth and depth to the flavor profile, enhancing the overall taste experience.
Cream cheese: Provides creaminess and helps bind the batter together for perfect waffle consistency.
Eggs: Offer structure and moisture to the batter, ensuring a light and fluffy waffle.
For the icing:
Sweetener (Powdered): Creates a luscious sweetness without the sugar, ideal for the guilt-free topping.
Heavy Whipping Cream: Adds richness and creaminess to the icing, elevating the flavor and texture.
Cinnamon: Complements the waffles' taste with a warm, aromatic touch.
See the recipe card for quantities.
Steps by step instructions
How to make Sugar Free Waffles?
Prepare the Icing: In a medium bowl, mix the powdered sweetener, heavy whipping cream, and cinnamon until smooth. Set aside.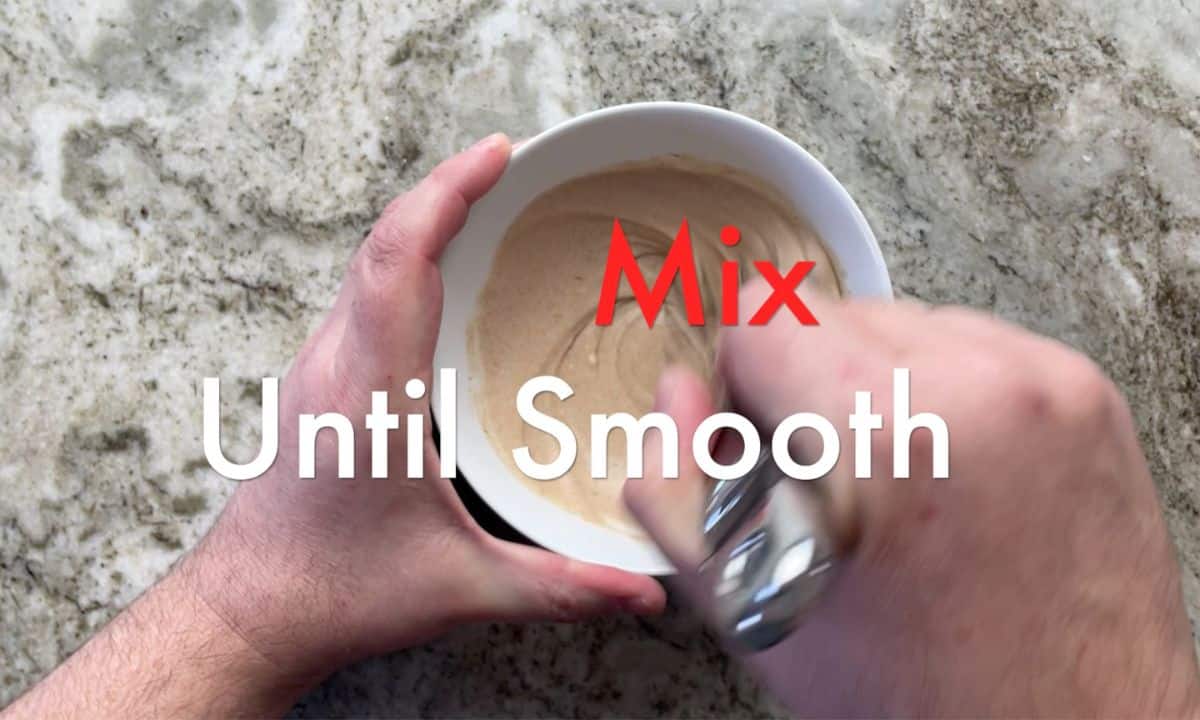 Preheat the Waffle Iron: Begin by preheating your waffle iron.
Mix the Batter: In a large bowl, combine almond flour, powdered sweetener, and cinnamon. Add cream cheese and eggs, mixing lightly until a batter forms.
Cook the Waffles: Spoon approximately ¾ cup of the waffle batter onto the preheated waffle iron. Cook for 4-6 minutes until the waffle is cooked through.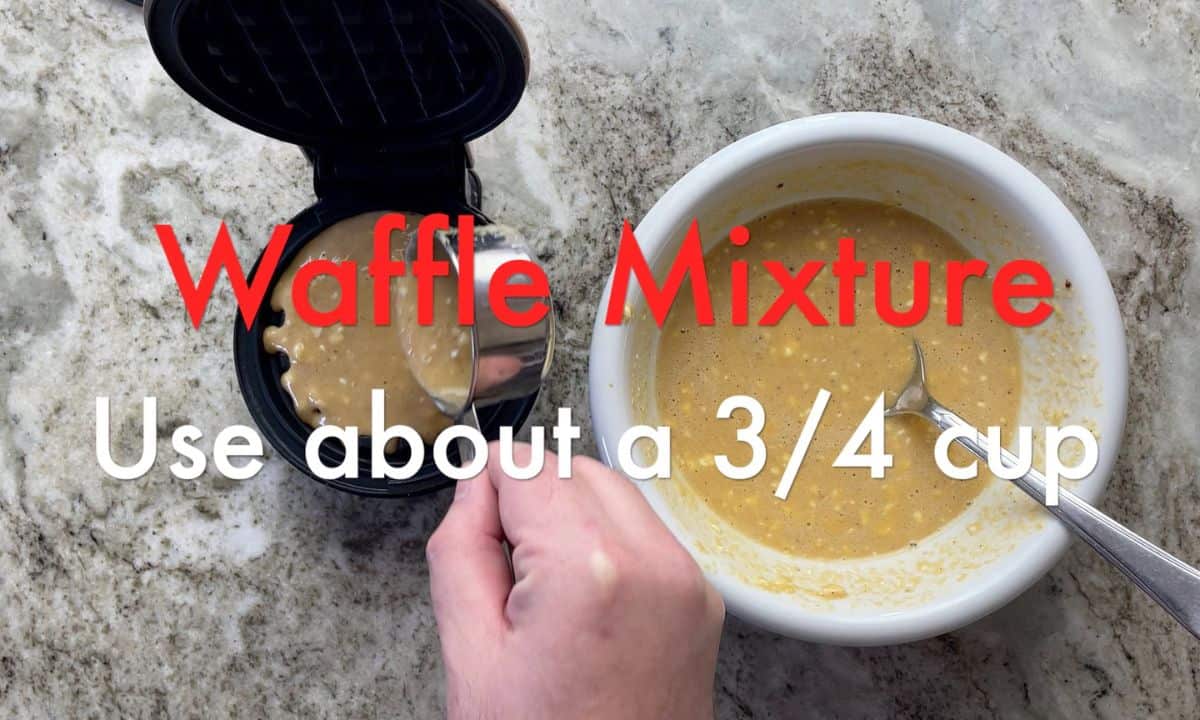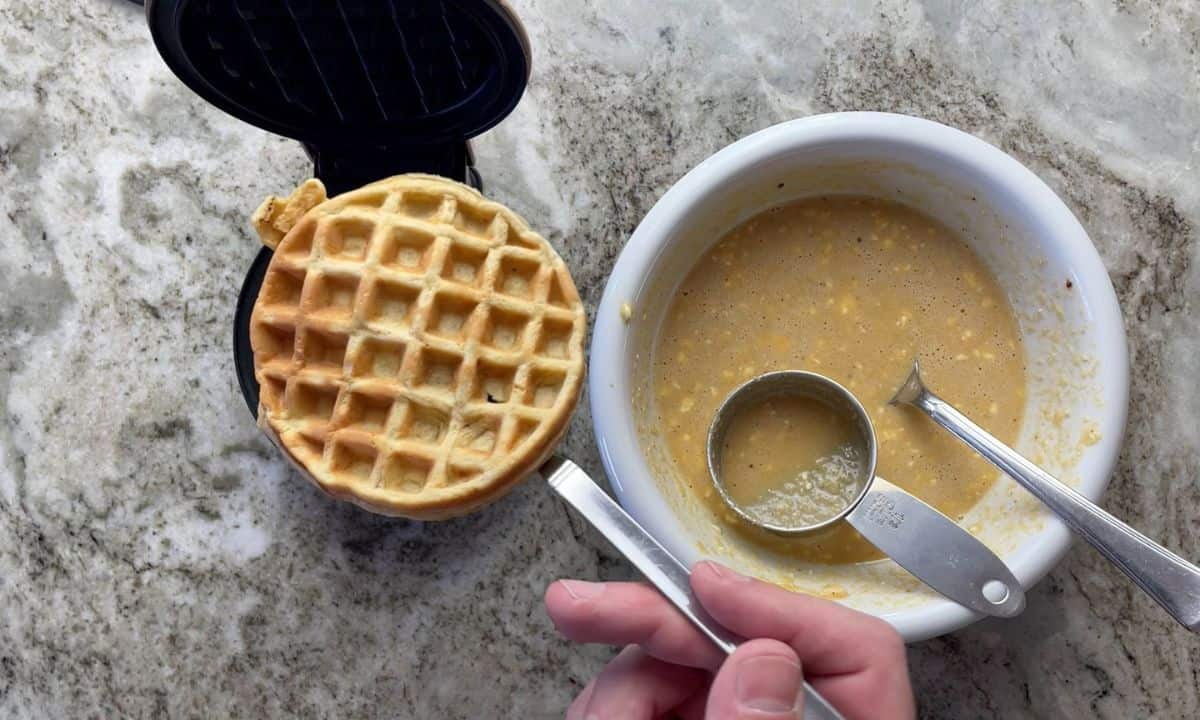 Top and Enjoy: Remove the waffle from the iron and generously top it with the prepared icing.
Savor the Flavor: Indulge in the goodness of your sugar-free waffles with delightful cinnamon cream cheese icing!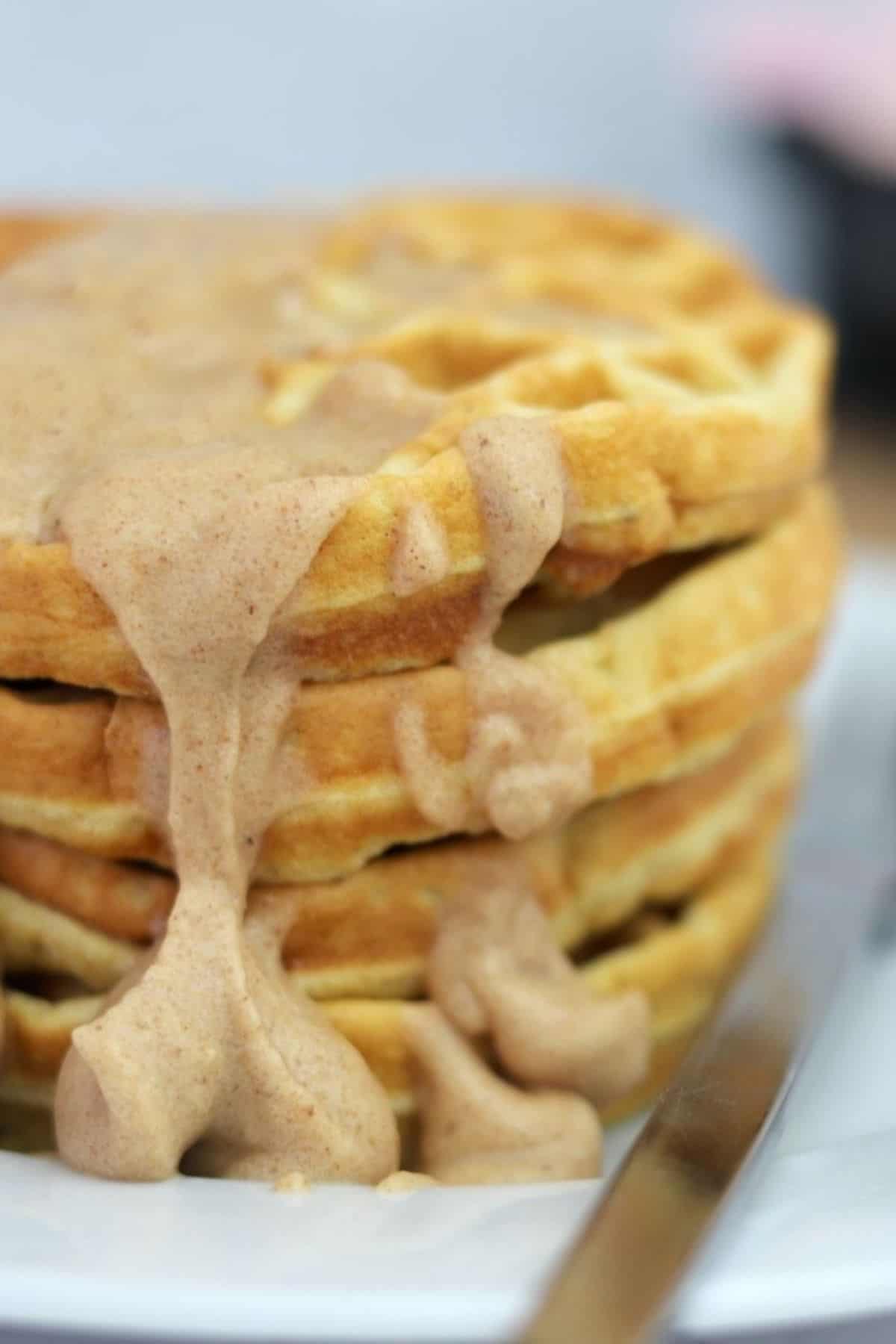 Other recipes you might enjoy
Recipe tips
Tips on making the best sugar free waffles ever:
Flour Consistency: Ensure your almond flour is finely ground for a smoother texture in your waffle batter. This will result in waffles that are both flavorful and perfectly cooked.
Cream Cheese Integration: To avoid lumps in your batter, make sure the cream cheese is at room temperature before mixing it with other ingredients. This will help it blend seamlessly, leading to waffles with a consistent and delightful taste.
Storage
To store these waffles follow these simple tips:
Cooling: Allow the cooked waffles to cool completely on a wire rack. This prevents excess moisture from accumulating when stored.
Individual Wrapping: Once cooled, wrap each waffle individually in plastic wrap or parchment paper. This prevents them from sticking together and helps maintain their freshness.
Freezer Bag: Place the wrapped waffles in a freezer-safe resealable bag. Press out excess air before sealing to prevent freezer burn.
Label and Date: Write the date on the bag so you can keep track of freshness. Waffles can be stored in the freezer for up to 3 months.
Thawing and Reheating: When ready to enjoy, remove the desired number of waffles from the freezer and let them thaw in the refrigerator or at room temperature. To reheat, use a toaster, toaster oven, or oven until they're warm and crisp.
By following these steps, you can keep your sugar-free waffles fresh and delicious for future enjoyment.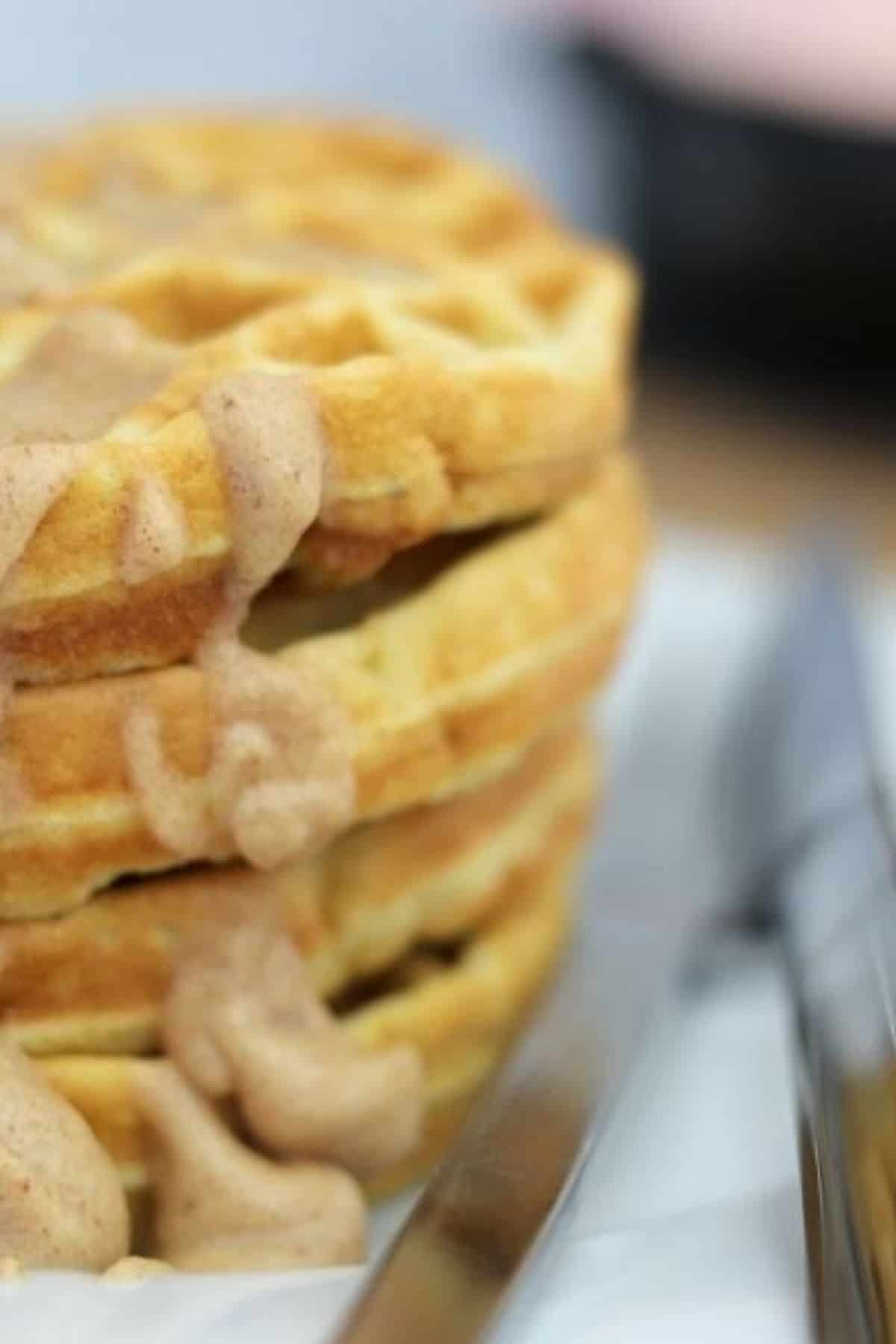 Variations
Here are five creative variations of the low-carb sugar-free waffle recipe.
Cocoa Chocolate Chip Waffles: Add unsweetened cocoa powder to the dry ingredients for a rich, chocolaty flavor. Sprinkle in some sugar-free chocolate chips into the batter before cooking. Top with a dollop of keto-friendly whipped cream and a dusting of cocoa powder.
Blueberry Bliss Waffles: Mix fresh or frozen blueberries into the waffle batter for bursts of fruity sweetness. Create this quick sugar free blueberry sauce using sweetener and a dash of cinnamon to drizzle on top. These almond flour waffles with blueberries are a delightful morning treat.
Pumpkin Spice Waffles: During the fall season, incorporate pumpkin puree and pumpkin spice into the batter for a cozy twist. Whip up a cinnamon cream cheese icing with a hint of vanilla extract. These pumpkin spice waffles offer warm, autumnal flavors. See my Low Carb Pumpkin Spice Waffles recipe.
Lemon Poppy Seed Waffles: Add a zesty twist by including lemon zest and poppy seeds in the batter. For a tangy kick, make a simple lemon glaze using sweetener and lemon juice. These waffles bring a refreshing and tangy twist to your breakfast.
Savory Herb Waffles: For a savory option, omit the sweetener and cinnamon, and add dried herbs like rosemary and thyme to the batter. Top with cream cheese, smoked salmon, and a sprinkle of everything bagel seasoning. These waffles offer a savory low-carb delight.
Experiment with these variations to keep your breakfasts exciting while staying true to your low-carb and sugar-free lifestyle!
Frequently asked questions
Can I enjoy these waffles on a keto diet?
Absolutely, these waffles are keto-friendly. The almond flour keeps the carb count low, and the sweetener used is keto-approved. Indulge in a satisfying breakfast that aligns with your keto lifestyle.
Are these waffles diabetic-friendly?
Yes, these waffles are diabetic-friendly as well. They're made with ingredients that won't cause rapid spikes in blood sugar levels. Always consult with your healthcare provider for personalized guidance.
How do these waffles maintain a sugar-free status?
We use a sugar substitute in the recipe to achieve the sweetness without actual sugar. This allows you to enjoy the delightful taste of waffles without the added sugars that can affect your health goals.
What can I use instead of regular icing for topping?
If you're looking for an alternative to regular icing, consider using a drizzle of sugar-free maple syrup, a dollop of Greek yogurt, or a sprinkling of chopped nuts for added texture and flavor.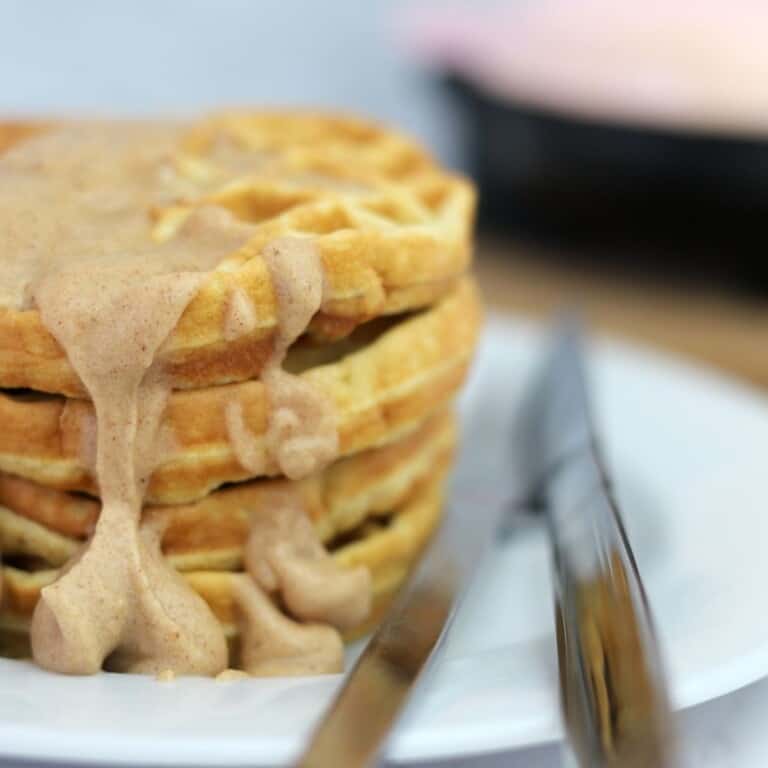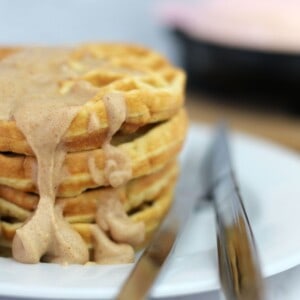 Sugar Free Waffles
Fluffy and delicious waffles made with cinnamon and cream cheese
Nutrition
Serving:
1
Waffle
Calories:
148
kcal
Carbohydrates:
3
g
Protein:
7
g
Fat:
12
g
Fiber:
1
g
Sugar:
1
g
Ingredients
Icing
2

tablespoon

35% Heavy Whipping Cream

or Double Cream

½

teaspoon

cinnamon
Instructions
Icing
In a medium bowl mix all the icing ingredients

¼ cup powdered sweetener sugar substitute,

2 tablespoon 35% Heavy Whipping Cream,

½ teaspoon cinnamon

Mix until smooth and set aside
Sugar Free Waffles
In a large bowl mix together the dry ingredients

5 tablespoon Almond Flour,

3 tablespoon powdered sweetener sugar substitute,

1 teaspoon cinnamon

add the cream cheese and lightly mix

3 tablespoon cream cheese,

4 large Eggs

add the eggs and lightly mix. Don't worry about the lumps as the cream cheese will melt in the waffle iron

Place about a ¾ cup of the batter into the mini waffle iron

wait about 4-6 minutes and remove the finished waffle
Notes
Recipe Tips:
Flour Consistency: Ensure your almond flour is finely ground for a smoother texture in your waffle batter. 

Cream Cheese Integration: To avoid lumps in your batter, make sure the cream cheese is at room temperature before mixing it with other ingredients. 
This recipe card provides the basic details to make this recipe. For more information, questions or variations please review the content above the recipe card.
Updates and Revisions
If conflicting information between the video and recipe card, the recipe card will always have the most up to date information, ingredients and instructions.
Nutritional Information
All nutritional information is based on third-party calculations and should be considered estimates. Actual nutritional content will vary with brands used, measuring methods, portion sizes and more.
LOVE THIS RECIPE?
Check out I Hacked Diabetes on Pinterest