A delicious and refreshing low carb version of the pornstar martini made with vanilla, passionfruit and lime flavours. Served with a shot of prosecco or champagne on the side.
They say it's called a pornstar martini to evoke a stylish and confident drink that's pure indulgence, sexy and fun. (see source) Despite the controversial name, this keto pornstar martini is simple to make and super fun to drink.
The pornstar martini has become quite popular over the last couple of years. Most likely due to the pandemic as people were experimenting with making cocktails at home.
You may even find the bottled version of this popular cocktail in the liquor store but they are usually high in carbs. Not quite suitable for someone with diabetes or following a low carb keto diet.
Jump To:
What is a traditional pornstar martini made with?
A traditional porstar martini is made with vanilla vodka, Passoã, passion fruit juice, and lime juice. Some bartenders will add egg whites to give it that foam on the top.
Then garnish with half of a fresh passionfruit. Served with a shot of prosecco or champagne on the side. You can either add the prosecco to the martini or sip it on the side.
What is a low carb pornstar martini made with?
This super fun keto cocktail is simple to make and only requires a few ingredients and a cocktail shaker. We replaced the passion fruit juice and Passoã with passion fruit tea while still giving you the same taste without all the carbs.
Vanilla Vodka: vodka infused with a natural vanilla flavour for a sweet and indulgent flavour. Smirnoff and Absolut vodka sells vanilla flavoured vodka.
Passion Fruit Tea: we used this passion tea which has a herbal infusion of hibiscus, orange peel, rose hips and passion fruit flavours.
Lime Juice: giving this low carb pornstar martini some added tart and acidic notes with a hint of sweetness.
Prosecco: light-bodied, vibrant, fresh and highly aromatic, served on the side. Prosecco or champagne can be used.
Egg Whites (optional): fresh egg whites are optional and solely to give this cocktail that added silky foam on top.
Passion Fruit (optional): this is also optional and simply used as a garnish for those insta-worthy pics.
Steps by step instructions
How to make a low carb pornstar martini?
STEP 1: Prepare the passion tea by boiling a cup of water and then pouring over a tea bag in a cup. Allow to cool or place in the fridge until it's cold. Only 1 oz of the tea will be needed for this cocktail.
STEP 2: Fill a martini shaker halfway with ice and then pour the vanilla vodka, passion tea and lime juice in the shaker.
If you are using egg white you can add that as well. There is minimal risk to using egg whites in this cocktail. Be sure to clean the eggshell before cracking, to avoid any salmonella.
STEP 3: Shake vigorously for 30 seconds and then strain into a couple glass.
STEP 4: As a garnish, slice a passion fruit in half and float it on top with the cut side facing up.
STEP 5: Serve with a side shot of prosecco or champagne.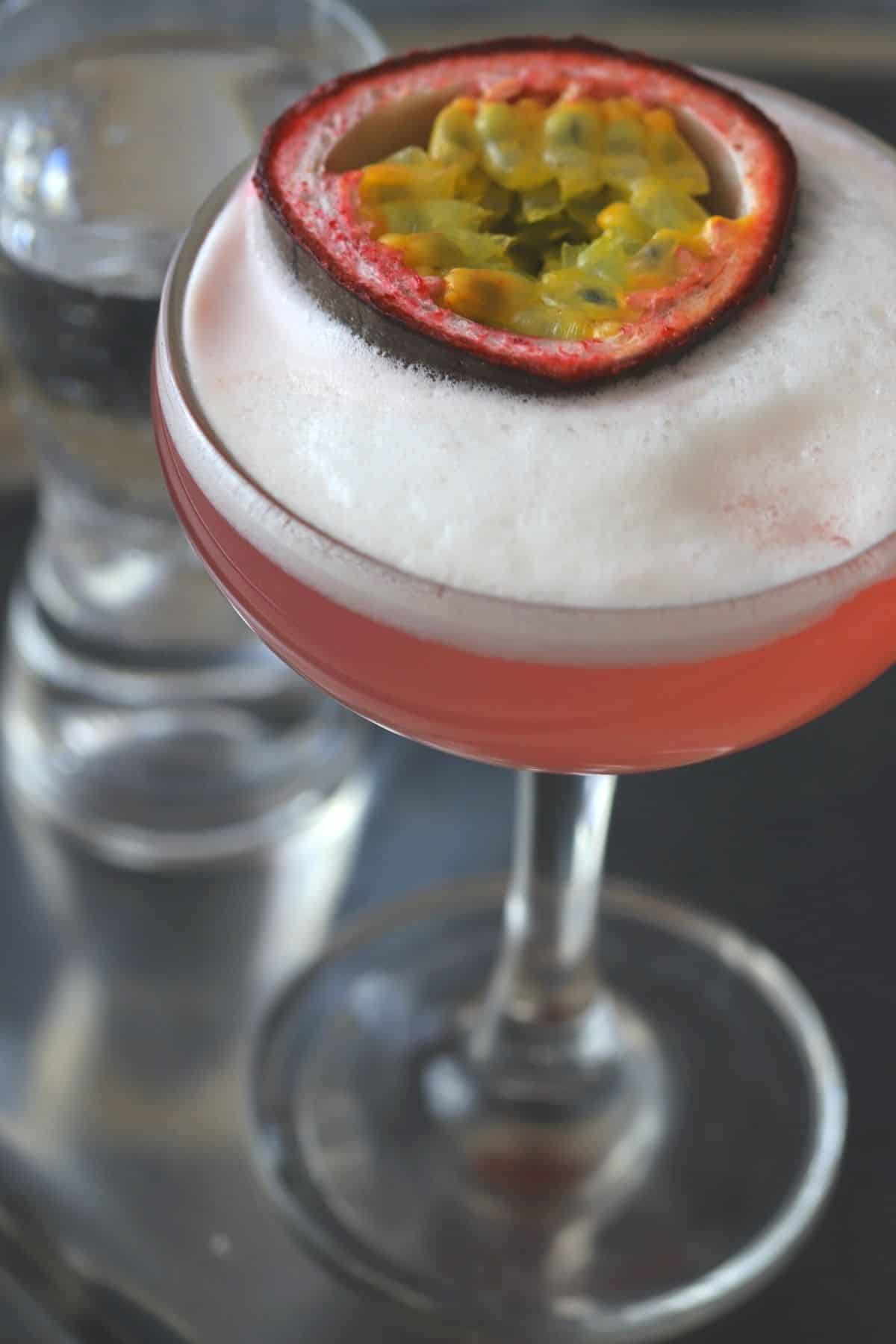 Other cocktail recipes you might enjoy
How to drink a pornstar martini?
There is a huge debate on how to drink a pornstar martini. Luckily, there are no rules here! I prefer to pour half of the prosecco in the drink for a little spritz. I then sip the other half after I finish the martini.
Here are some other ways people drink this low carb cocktail:
Shoot the prosecco before drinking the martini
Shoot the prosecco after drinking the martini
Pour the whole shot of prosecco into the martini
Sip the prosecco and the martini at the same time, one sip martini then one sip prosecco.
Leave a comment and let me know how you prefer to drink this super fun cocktail.
Are there different types of prosecco?
Yes, there are three different types of prosecco. Spumante (Sparkling), Frizzante (Semi-Sparkling) and Tranquillo (Still). I used a spumante to make this cocktail but you can choose any of the 3 types.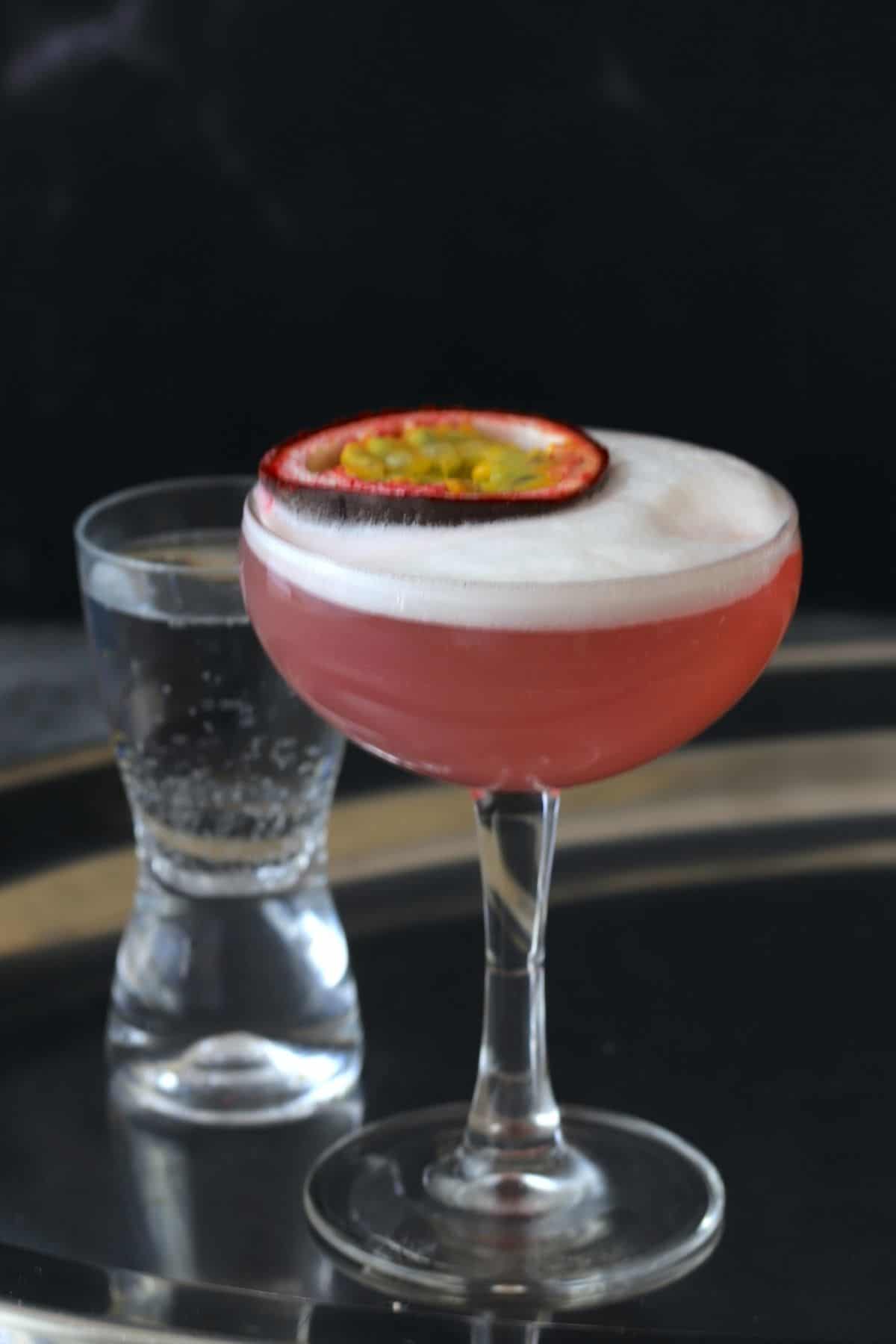 Recipe tips
This low carb pornstar martini is quite a simple cocktail to make without fail. However here are some tips to ensure you make a successful cocktail every time.
Size does matter: we used a 5.5 oz coupe glass to make this cocktail. If you are using a larger glass you may also want to increase the amount of alcohol. It is important to balance the flavours in this cocktail. If you are increasing one ingredient you should increase the other by the same ratio.
Cocktail Shaker: stop shaking the cocktail shaker once you feel the mass of ice decrease in the shaker. It will sound like you are shaking shards of ice rather than cubes.
Serving: serve with some salty mixed nuts, strawberries or a low carb vanilla ice cream.
Frequently asked questions
Is prosecco high in carbs?
Like most dry wines prosecco is typically low in carbs and is usually around 1g of carbs per serving.
Is it safe to use raw egg whites in this cocktail?
The risks of consuming egg whites in cocktails is extremely low. You may be at risk only if there is salmonella present outside of the shell and that's why it's important to clean the egg before cracking it and separating the white from the yolk.
How can I tell if the egg is fresh?
Gently drop the whole egg in a glass of cold water. If it sinks to the bottom it should be good to eat. If it floats, do not use it.
Is this low carb porstar martini safe for diabetics?
This cocktail recipe contains 2g of carbs per drink. Therefore, it may be safe for diabetics and people following a low carb and keto way of eating. If you have diabetes it's best to monitor your blood sugars when consuming this cocktail to see how it affects you personally.
Is it ok for diabetics to drink alcohol?
It depends who you ask. Alcohol may affect your blood sugars and can also affect weight loss if you are trying to lose weight. I limit myself to 2-3 servings of alcohol each week. If you do consume alcohol you should drink in moderation and please drink responsibly.
Other low carb recipes you might enjoy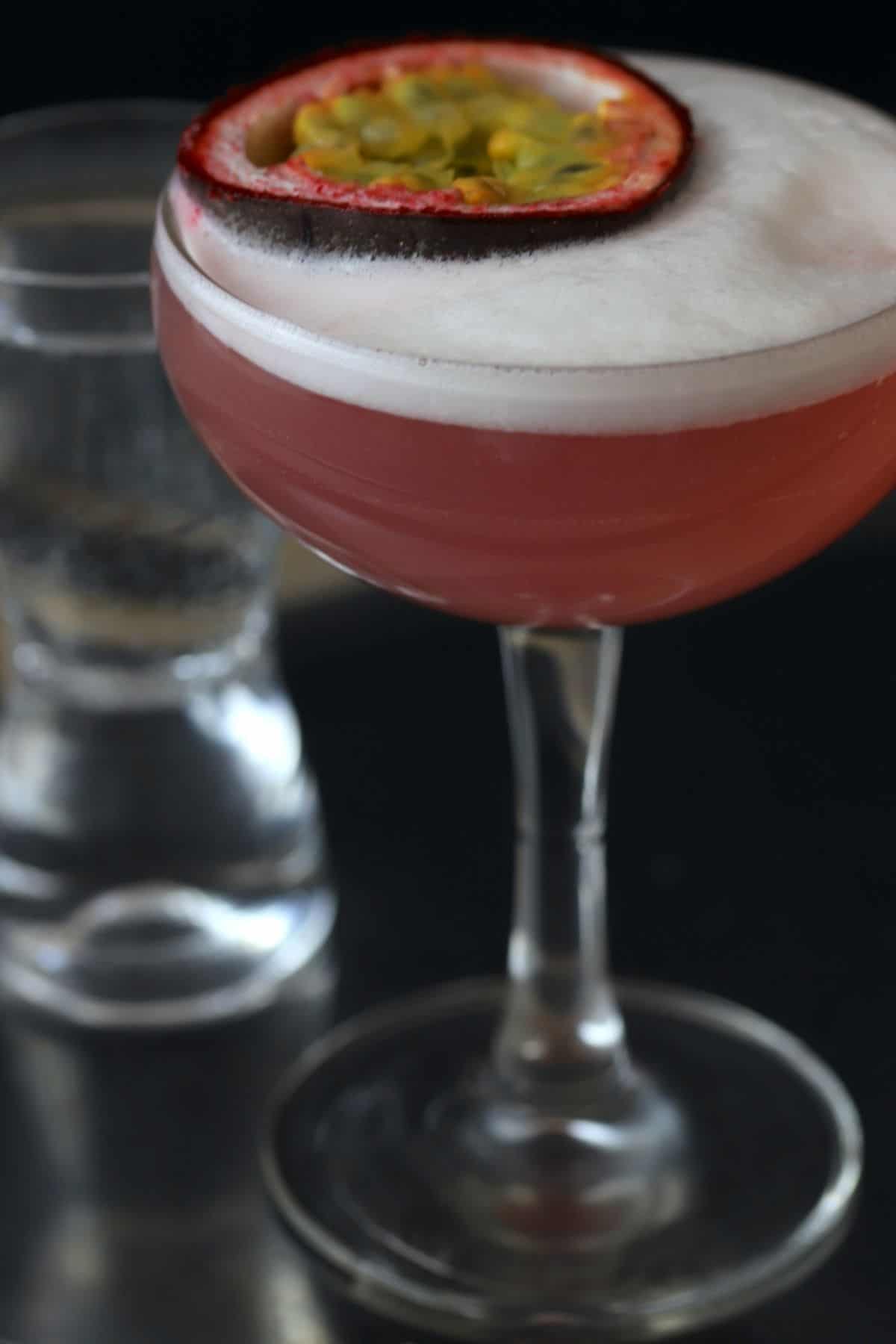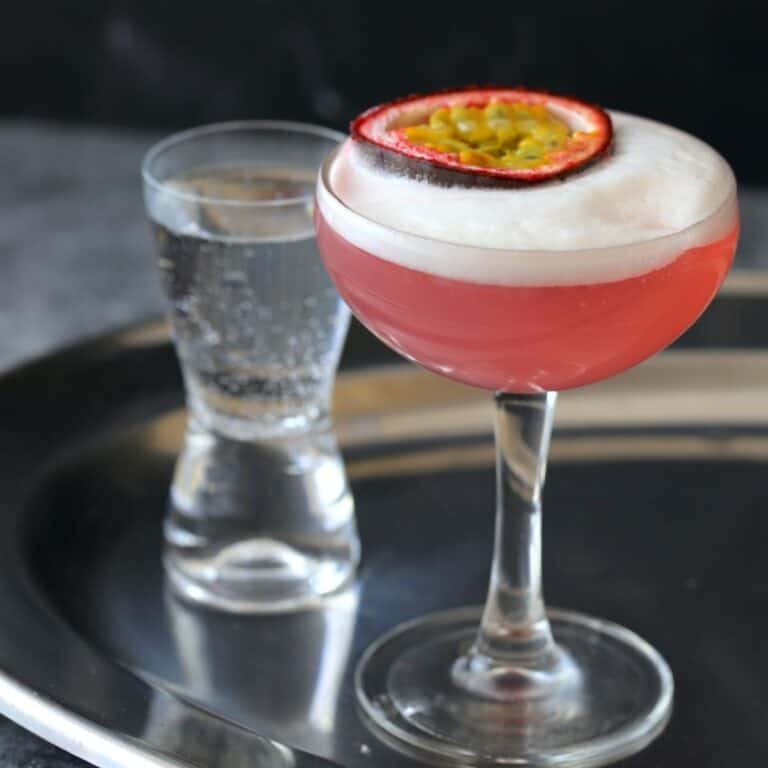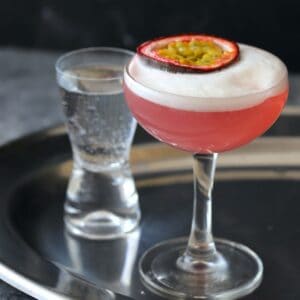 Low Carb Pornstar Martini
A delicious low carb version of the pornstar martini that is passion fruit flavoured made with vanilla vodka, passionfruit tea and lime juice. Served with a side shot of prosecco.
Ingredients
1

oz

vanilla vodka

½

oz

passion fruit tea

½

oz

lime juice

2

oz

prosecco or champagne

1

cup

ice

½

passion fruit

for garnish
Instructions
Prepare a cup of passion tea and allow to cool in the fridge.

Fill a cocktail shaker partway with ice, add all ingredients and shake for about 30 seconds.

Pour into a coupe glass and garnish with half of a passion fruit.

Serve with a side shot of prosecco or champagne.
Nutrition
Calories:
114
kcal
|
Carbohydrates:
2
g
|
Protein:
0
g
|
Fat:
1
g
|
Fiber:
0
g
|
Sugar:
1
g
This recipe card provides the basic details to make this recipe. For more information, questions or variations please review the content above the recipe card.
Updates and Revisions
If conflicting information between the video and recipe card, the recipe card will always have the most up to date information, ingredients and instructions.
Nutritional Information
All nutritional information is based on third-party calculations and should be considered estimates. Actual nutritional content will vary with brands used, measuring methods, portion sizes and more.
Disclosure
This website contains affiliate links, which means that if you click on a product link, we may receive a commission in return. I Hacked Diabetes is a participant in the Amazon Services LLC Associates Program, an affiliate advertising program designed to provide a means for sites to earn advertising fees by advertising and linking to amazon.com.
LOVE THIS RECIPE?
Check out I Hacked Diabetes on Pinterest