Experience pure Mediterranean delight with this Easy Burrata Caprese Salad featuring creamy fresh burrata, succulent cherry tomatoes, and aromatic basil pesto.
Jump To:
Indulge in the harmonious blend of textures and flavors in this exquisite simple Italian salad that's perfect for any occasion. Elevate your dining experience with this Italian-inspired classic! Made with our simple Basil Pesto recipe.
What is burrata cheese?
Burrata is a type of soft Italian cheese known for its creamy, luscious texture.
It is made from fresh mozzarella cheese, but what sets burrata apart is its soft, liquid-filled center, which is a combination of cream and stracciatella, a stringy, curd-like cheese.
This gives burrata a unique and indulgent flavor and makes it a popular choice for salads and appetizers.
Why you'll love this burrata caprese recipe
Creamy Burrata Cheese: This recipe showcases creamy burrata cheese, elevating the classic Caprese salad with its luxurious, melt-in-your-mouth texture.
Ripe Cherry Tomatoes: With ripe cherry tomatoes as the star ingredient, this salad bursts with the vibrant colors and fresh tastes of summer.
Quick and Easy Preparation: With minimal prep time, you can whip up this burrata caprese salad in just minutes, making it the perfect choice for easy and delicious summer dining.
Authentic Italian Flavors: The combination of fresh mozzarella and the creamy richness of burrata cheese creates an authentic Italian taste experience that's both satisfying and indulgent.
Versatile and Impressive: Whether served as an appetizer, side dish, or a light meal, this Burrata Caprese Salad is highly versatile and capable of stealing the spotlight at any gathering. Your guests will be impressed by its taste and presentation.
Enjoy the delightful harmony of flavors and textures that this Burrata Caprese Salad brings to your table!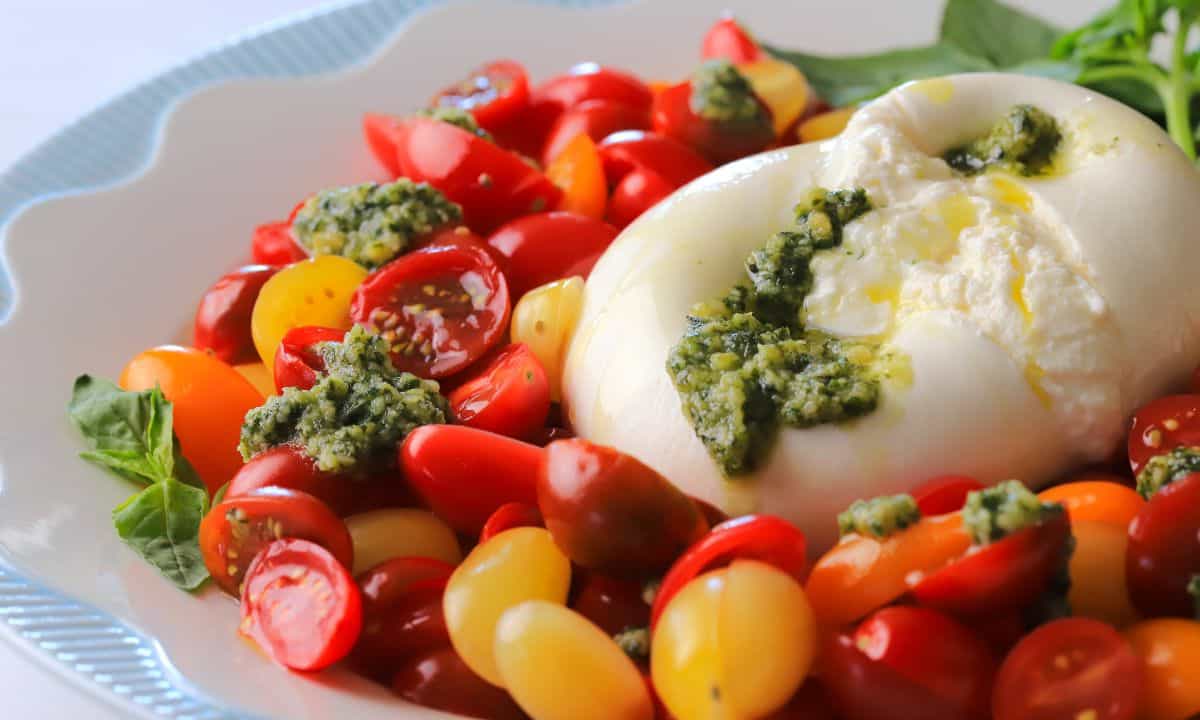 Ingredients used for this easy burrata caprese salad
These ingredients come together to create a harmonious blend of flavors and textures in the Burrata Caprese, making it a delightful and satisfying dish.
Burrata Cheese: Burrata cheese takes the spotlight in this recipe, serving as the star ingredient. Its creamy, luscious texture and rich flavor are the focal points that elevate the entire Burrata Caprese Salad.
Cherry Tomatoes: Sweet, juicy, and they provide a burst of fresh flavor that complements the creaminess of the burrata cheese.
Basil Pesto Sauce: Basil pesto sauce is drizzled over the salad to infuse it with aromatic basil flavor and a hint of garlic. It enhances the overall taste and provides a vibrant, herby note.
Salt: A small amount of salt is used to season the salad, enhancing the flavors of the other ingredients. It helps balance the sweetness of the tomatoes and the creaminess of the burrata.
See the recipe card for quantities.
Steps by step instructions
How to make the burrata caprese salad?
STEP 1: Prepare the Cherry Tomatoes
Start by washing the cherry tomatoes thoroughly.
Cut them in half and place them in a bowl.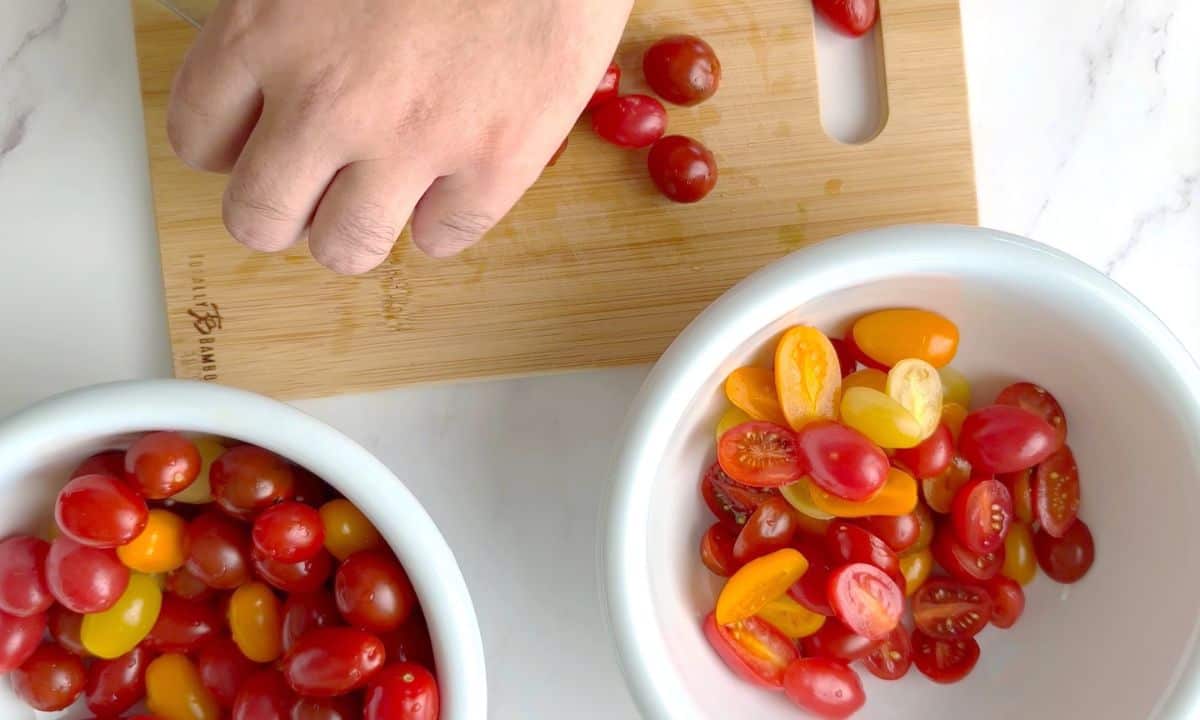 STEP 2: Season with Salt
Sprinkle ⅛ teaspoon of salt over the halved cherry tomatoes.
Gently toss them to ensure the salt is evenly distributed.
Let the tomatoes sit with the salt for about 10 minutes. This allows the tomatoes to release their juices, enhancing their flavor.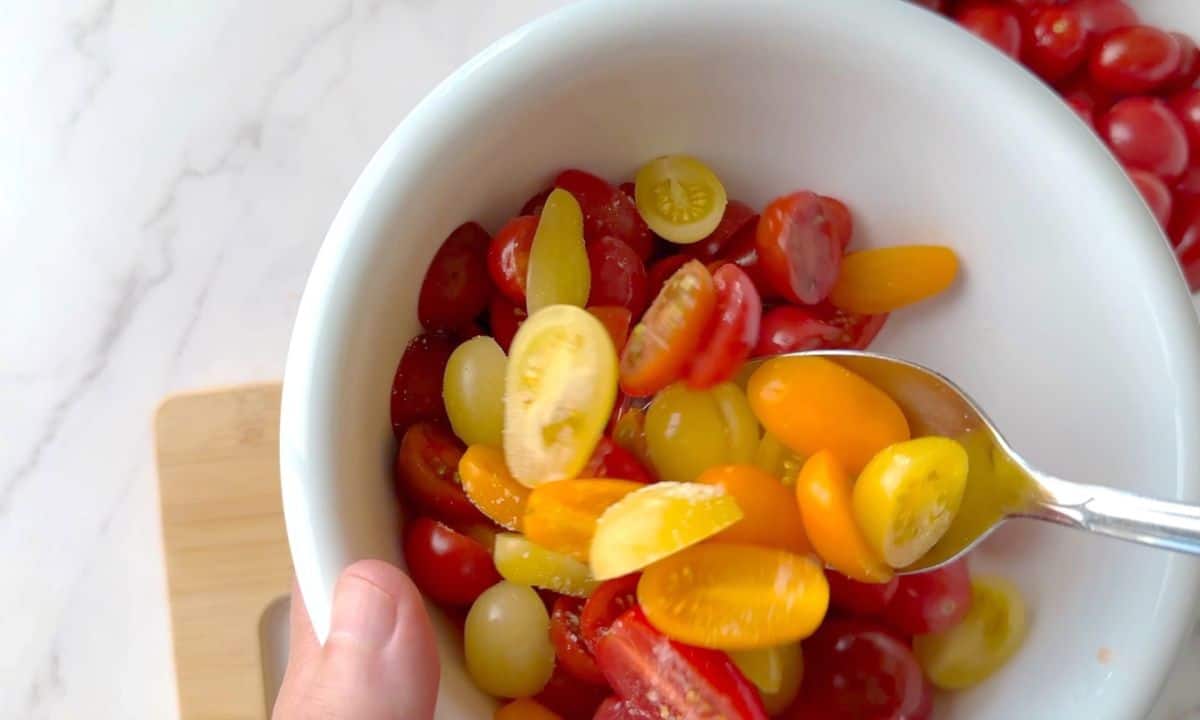 STEP 3: Assemble the Salad
Place burrata cheese in the center of your serving plate.
Surround the burrata with the sliced cherry tomatoes. This creates an eye-catching presentation with the vibrant red tomatoes framing the creamy burrata.
Generously drizzle the basil pesto sauce over the burrata and the sliced cherry tomatoes.
You can use store-bought basil pesto or prepare our Basil Pesto recipe.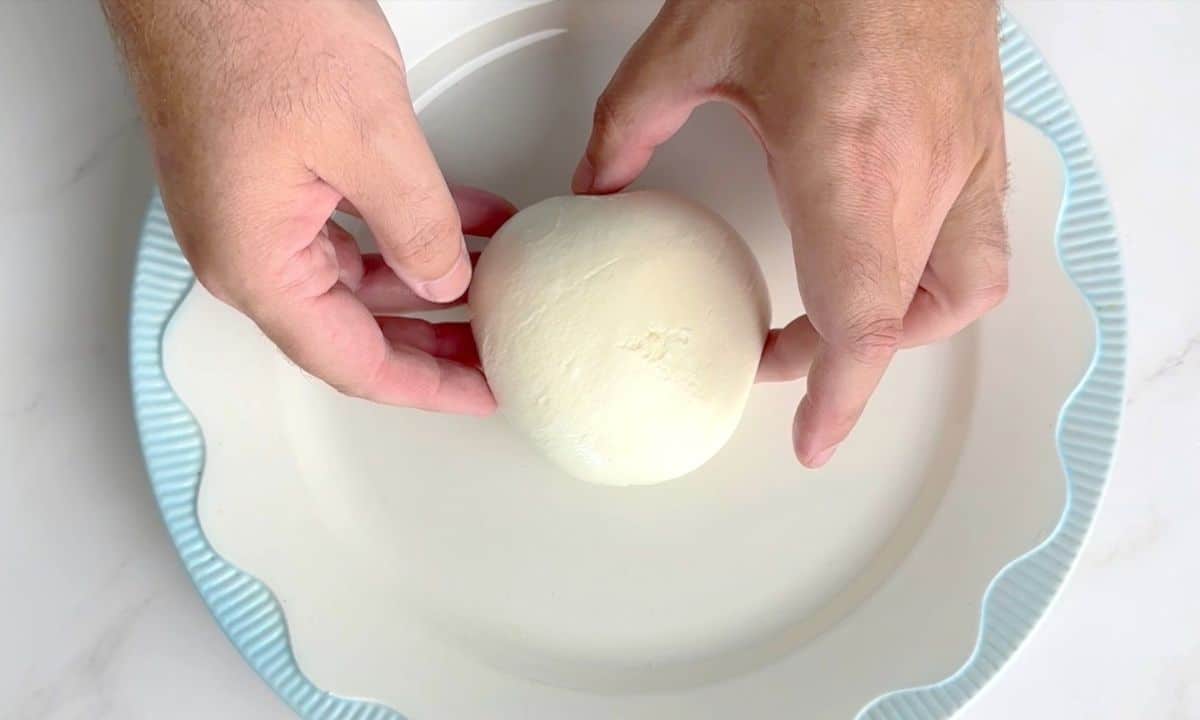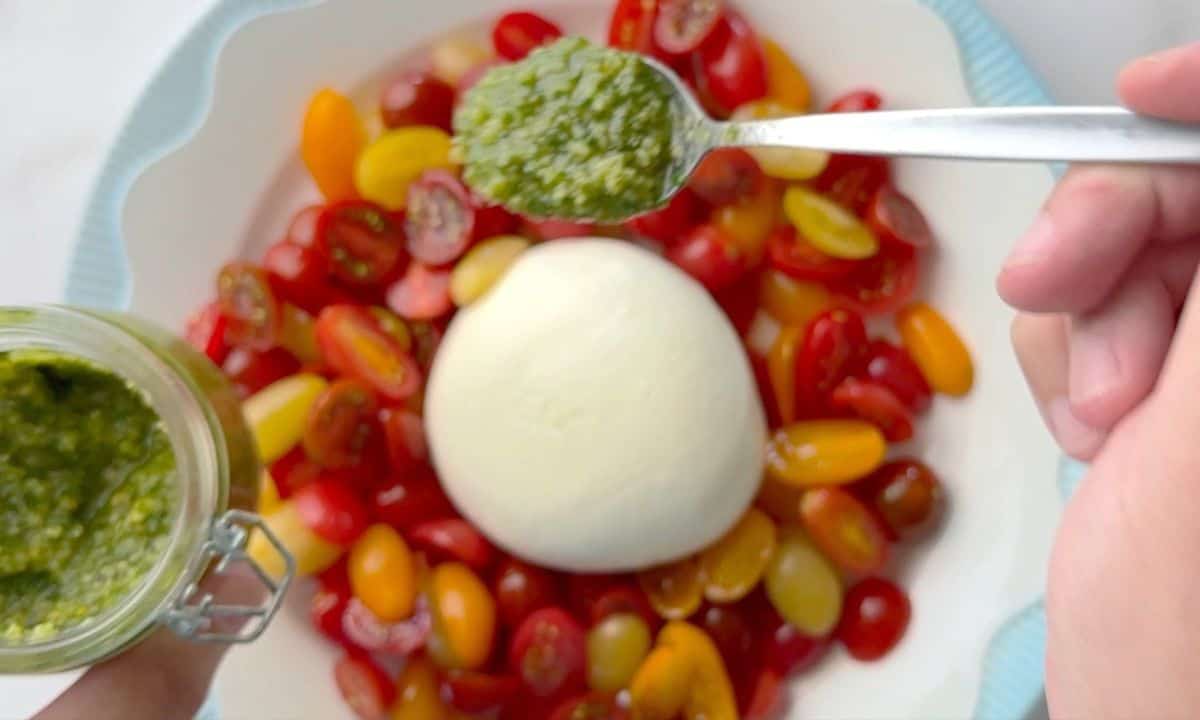 Garnish with fresh basil and flaky salt
Your Burrata Caprese Salad is now ready to be served!
This delightful dish is best enjoyed fresh, so serve it immediately to savor the creamy burrata, juicy tomatoes, and aromatic basil pesto.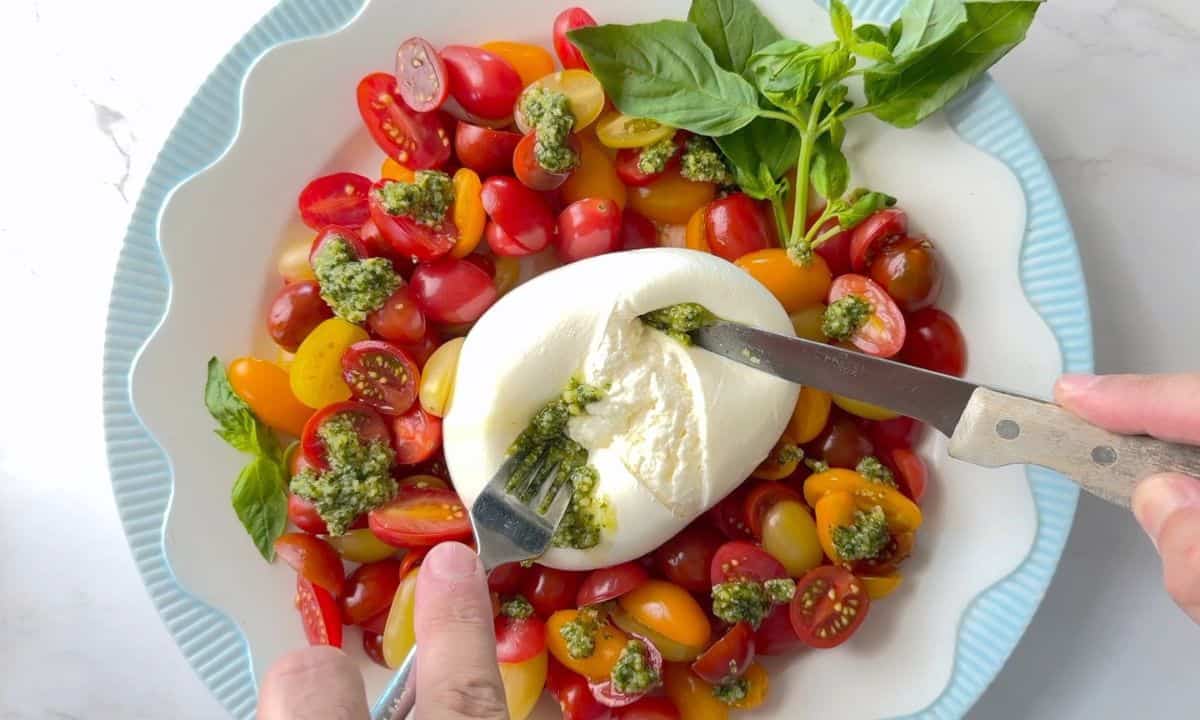 How to make fresh basil pesto?
Ingredients:
4 cups fresh basil leaves
¼ cup pine nuts
¼ cup grated Parmesan cheese
¼ cup extra virgin olive oil
1 cloves garlic
Kosher salt and freshly ground black pepper to taste
Instructions:
Blend Basil Leaves: Place half of the fresh basil leaves in a food processor along with the garlic and pine nuts. Pulse until finely chopped.
Add Olive Oil: With the food processor running, slowly drizzle in the extra-virgin olive oil until the mixture forms a smooth paste.
Incorporate Parmesan Cheese: Add the grated Parmesan cheese to the mixture in the food processor. Continue to blend until all the ingredients are well combined and the pesto reaches your desired consistency.
Season to Taste: Taste the pesto and season with salt and freshly ground black pepper according to your preference. Pulse briefly to incorporate the seasoning. Optional to season with fresh cracked pepper.
Serve or Store: Your homemade Basil Pesto (Pesto Di Basilico) is ready to use! You can use it immediately in your favorite dishes or store it in an airtight container in the refrigerator for later use.
For the full recipe plus tips, variations and storage see our Basil Pesto recipe.
Enjoy the fresh and aromatic flavors of this classic basil pesto!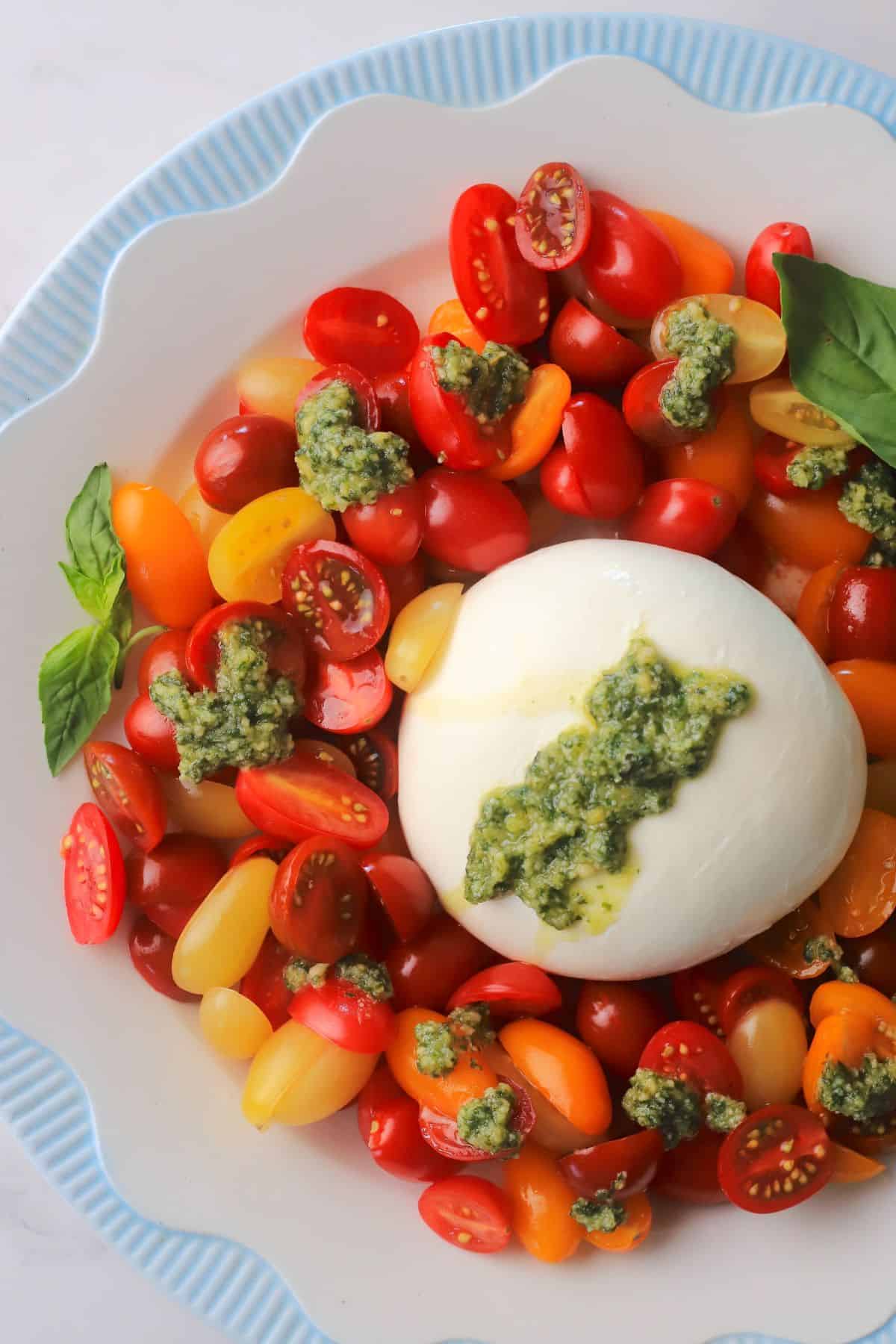 Other salad recipes you might enjoy
Recipe tips
Top tips on making the best burrata caprese salad that will wow your dinner guests:
Choose Ripe and Flavorful Tomatoes: Opt for the ripest and most flavorful cherry tomatoes you can find. Look for tomatoes that are firm, plump, and have a deep color. Ripe tomatoes will provide a burst of sweetness and juiciness that perfectly complements the creamy burrata and pesto sauce.
Use Freshly Made Basil Pesto: While you can use store-bought basil pesto, making your own fresh basil pesto at home can take the flavor of your Burrata Caprese to the next level. Freshly made basil pesto offers a vibrant, aromatic, and herbaceous taste that enhances the overall dish. Plus, it's incredibly simple to prepare and allows you to adjust the ingredients to your liking for a personalized touch.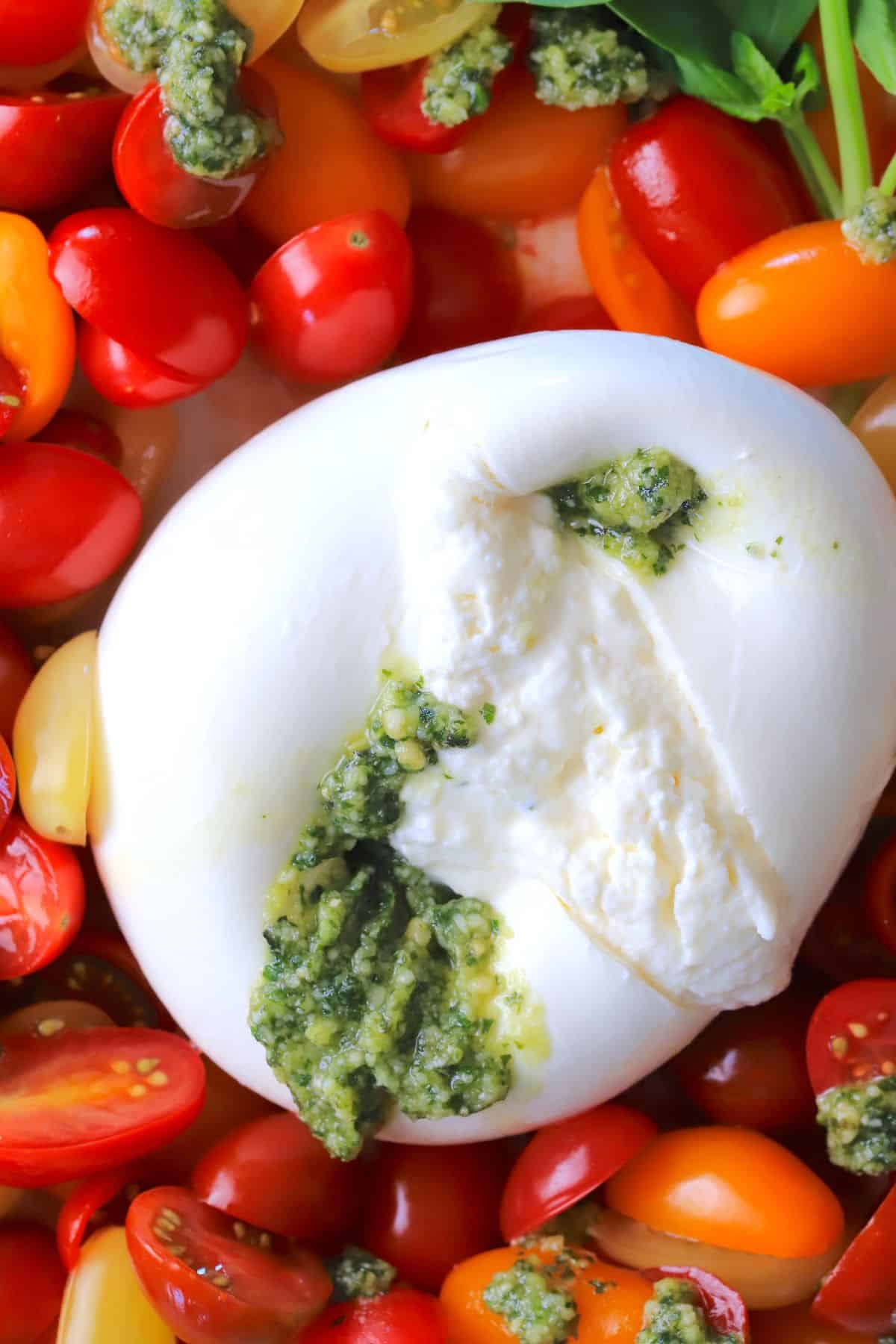 Storage
You will likely not have any leftovers but if you do, here is how to store it:
Cover and Refrigerate: If you have any leftover salad, cover it tightly with plastic wrap or place it in an airtight container.
Consume Promptly: Burrata Caprese Salad is best enjoyed fresh and immediately after preparation to preserve the texture and flavors. However, if you need to store it, it's recommended to consume it within 1-2 days.
Avoid Excessive Moisture: Moisture can affect the creamy texture of the burrata. To prevent excess moisture, place a paper towel or a clean kitchen towel at the bottom of the container before adding the salad.
Keep Components Separate: If possible, store the burrata cheese separately from the tomatoes and basil pesto. This helps maintain the integrity of each component until you're ready to serve.
Reassemble Before Serving: When you're ready to enjoy the leftover salad, take it out of the refrigerator and reassemble the components on a serving platter. Drizzle fresh basil pesto over the tomatoes and burrata just before serving to ensure the salad remains as delicious as possible.
By following these storage tips, you can extend the enjoyment of your Burrata Caprese Salad while maintaining its quality and flavors.
Recipe variations
Discover a variety of low-carb Burrata Caprese Salad variations, each offering a unique twist on the classic combination of creamy burrata, fresh cherry tomatoes, and vibrant flavors.
Options include roasted red peppers, creamy avocado, savory prosciutto, and smoky grilled zucchini, adding delightful diversity to your salad repertoire.
Burrata Caprese with Roasted Red Peppers - Roasted red peppers bring smoky sweetness to the party, perfectly complementing the creamy burrata and fresh cherry tomatoes. Enjoy this twist on the Italian classic.
Caprese Salad with Avocado - Creamy avocado slices join the mix, adding a buttery texture and a dose of healthy fats to your Burrata Caprese. This low-carb variation is keto-friendly and packed with fresh ingredients.
Burrata Caprese with Prosciutto - Delight in the Italian pairing of prosciutto and burrata. The salty, savory prosciutto accents the creaminess of the burrata and the sweetness of cherry tomatoes. A keto-friendly twist on a classic.
Burrata Caprese with Grilled Zucchini - Grilled zucchini ribbons add a smoky, charred flavor to your Burrata Caprese, creating a delightful contrast with the creamy burrata and juicy tomatoes. Enjoy a low-carb twist with this fresh and flavorful variation.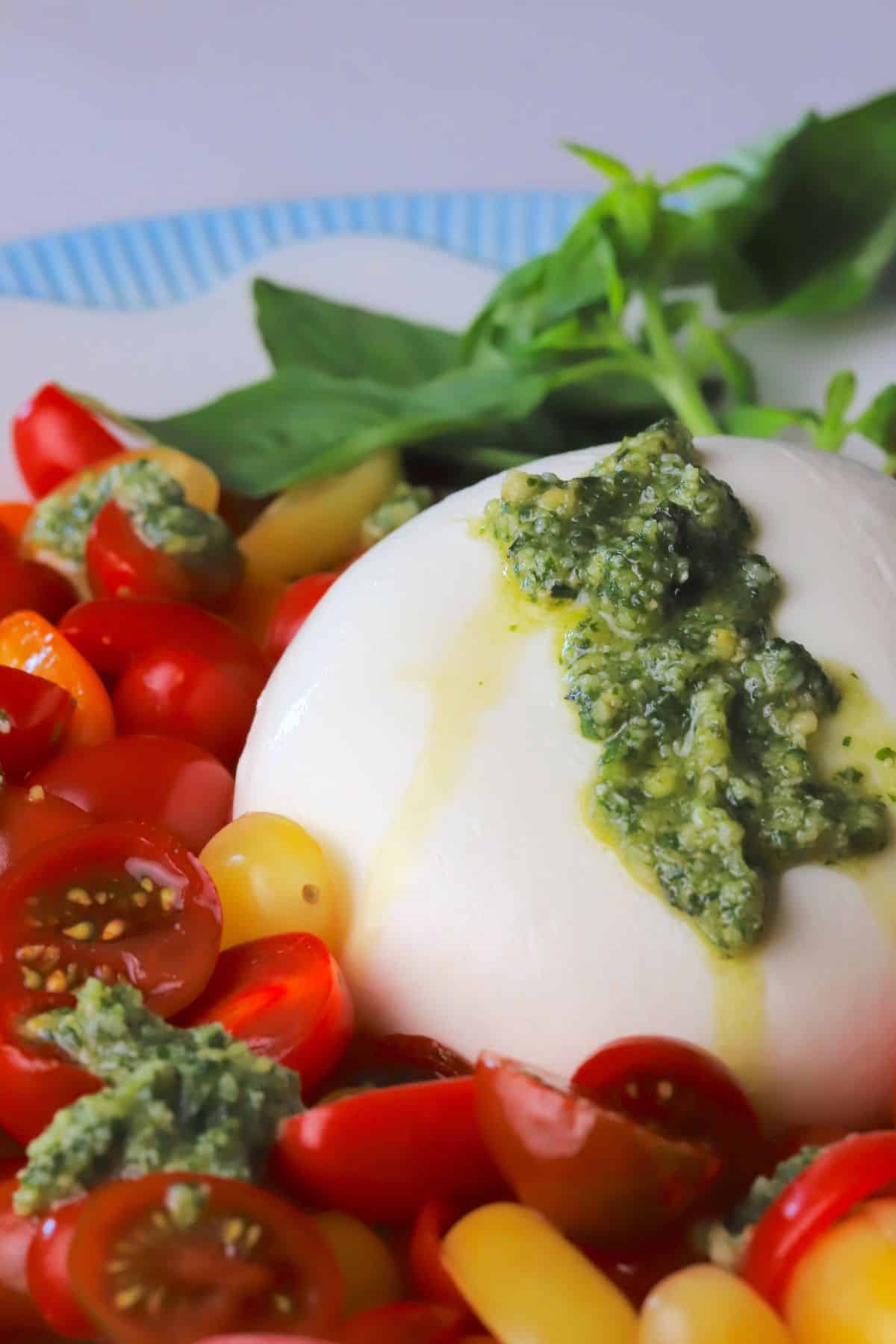 Frequently asked questions
What makes Burrata Caprese Salad different from a classic Caprese salad?
Burrata Caprese Salad features the addition of creamy burrata cheese, which is softer and more indulgent than traditional mozzarella. It's often drizzled with extra virgin olive oil and sweet balsamic vinegar, enhancing the flavors of fresh basil leaves and cherry tomatoes.
How can I ensure my Burrata Caprese Salad is extra flavorful?
To elevate the taste, use high-quality extra virgin olive oil, freshly ground black pepper, and a sweet balsamic glaze. These ingredients, along with the creaminess of burrata cheese, create a harmonious balance in this classic Italian salad.
Can I make this salad ahead of time for a gathering?
While it's best enjoyed fresh, you can prepare the individual components (burrata, cherry tomatoes, basil pesto) ahead of time and assemble the salad just before serving. This ensures the ingredients maintain their distinct flavors and textures.
Is Burrata Caprese Salad suitable for a low-carb or keto diet?
Yes, Burrata Caprese Salad can be enjoyed on a low-carb or keto diet. It features fresh, low-carb ingredients like cherry tomatoes, basil, and burrata cheese. Just be mindful of portion sizes and any added sweeteners if using a balsamic glaze.
Can I use different types of cheese if I can't find burrata?
While burrata is the star of this salad, you can substitute it with fresh mozzarella if needed. However, the burrata's creamy interior adds a unique indulgence that sets this dish apart.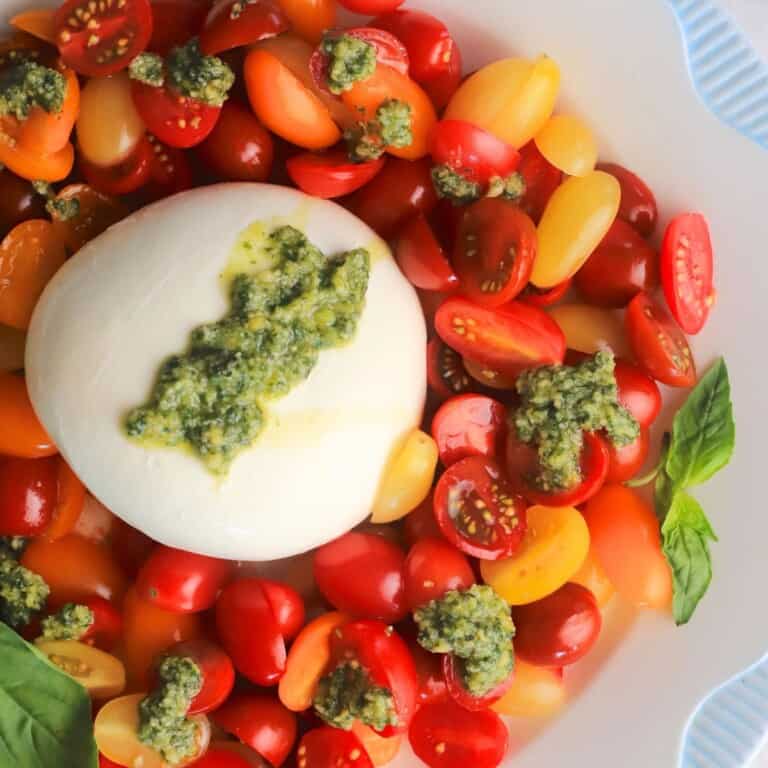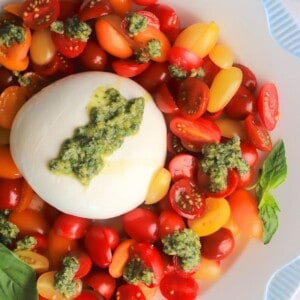 Easy Burrata Caprese Salad
Easy Burrata Caprese Salad featuring creamy fresh burrata, succulent cherry tomatoes, and aromatic basil pesto.
Ingredients
4

cups

cherry tomatoes

sliced in half

⅛

teaspoon

salt

1

ball

fresh burrata cheese

4

tablespoon

basil pesto sauce

store-bought or homemade
Instructions
Wash, dry and slice the cherry tomatoes in half. Add them to a bowl with the salt and toss. Allow to sit for 10 minutes.

4 cups cherry tomatoes,

⅛ teaspoon salt

Position the burrata cheese at the center of the serving dish, arranging the tomatoes around it, ensuring to include any remaining tomato juice from the bowl.

1 ball fresh burrata cheese,

4 tablespoon basil pesto sauce
Nutrition
Calories:
204
kcal
|
Carbohydrates:
3
g
|
Protein:
8
g
|
Fat:
18
g
|
Fiber:
1
g
|
Sugar:
2
g
Notes
Choose Ripe and Flavorful Tomatoes: Opt for the ripest and most flavorful cherry tomatoes you can find. Look for tomatoes that are firm, plump, and have a deep color.

Use Freshly Made Basil Pesto: While you can use store-bought basil pesto, making your own fresh basil pesto at home can take the flavor of your Burrata Caprese to the next level.
This recipe card provides the basic details to make this recipe. For more information, questions or variations please review the content above the recipe card.
Updates and Revisions
If conflicting information between the video and recipe card, the recipe card will always have the most up to date information, ingredients and instructions.
Nutritional Information
All nutritional information is based on third-party calculations and should be considered estimates. Actual nutritional content will vary with brands used, measuring methods, portion sizes and more.
Disclosure
This website contains affiliate links, which means that if you click on a product link, we may receive a commission in return. I Hacked Diabetes is a participant in the Amazon Services LLC Associates Program, an affiliate advertising program designed to provide a means for sites to earn advertising fees by advertising and linking to amazon.com.
LOVE THIS RECIPE?
Check out I Hacked Diabetes on Pinterest