Super crispy Air Fryer Cheesy Cauliflower Balls are a great low carb side dish or appetizer and a perfect way to sneak in more vegetables with the kids.
Using my cauliflower risotto recipe to make these cauliflower bites, super tasty and breaded with a parmesan and pork rind crumb mixture. A quick and easy air fryer or oven recipe.
Jump To:
These air fryer cauliflower balls are a spin on my Low Carb Arancini Balls recipe but are made into smaller little bites for sharing at holiday gatherings and get togethers.
This cheesy air fryer recipe is a perfect finger food that is not messy and can be kept warm in the oven until guests arrive.
🥘 Ingredients Used
Made with a quick breading of pork rind crumbs, grated parmesan and oregano that doesn't require any dipping in eggs before making this low carb cauliflower rice recipe.
Cauliflower Risotto: using a sticky cauliflower rice like my Cauliflower Risotto (without the lemon) recipe helps to easily shape them into balls before breading and tossing in the air fryer.
Parmesan: a little sweet, salty and nutty, grated parmesan cheese is perfect to use as breading for these cute mashed cauliflower balls.
Pork Rind Crumbs: simply grind some pork rinds in the blend to make the crumbs, adding a crispy texture to the fried cauliflower balls.
Oregano: one of my favourite spices that are not too strong and is a more neutral herb that everyone seems to enjoy.
👨🏻‍🍳 Steps by step instructions
How to make the Air Fryer Cheesy Cauliflower Balls
STEP 1: First step is to make my Cauliflower Risotto recipe but omit the lemon. Allow it to cool and then prepare the breading for the cauliflower rice balls.
At this point you will want to preheat the Air Fryer or oven to 400°F.
To make the breading mixture place 1 cup of pork rind crumbs in a medium bowl with the grated parmesan, oregano and salt and pepper. Mix with a fork until well combined.
Next create the assembly line of the cold risotto, the pork rind breading and a platter to place the breaded cauliflower balls onto.
Using a cookie scoop or your hands roll the cauliflower risotto into 1 inch balls and then roll through the breading mixture.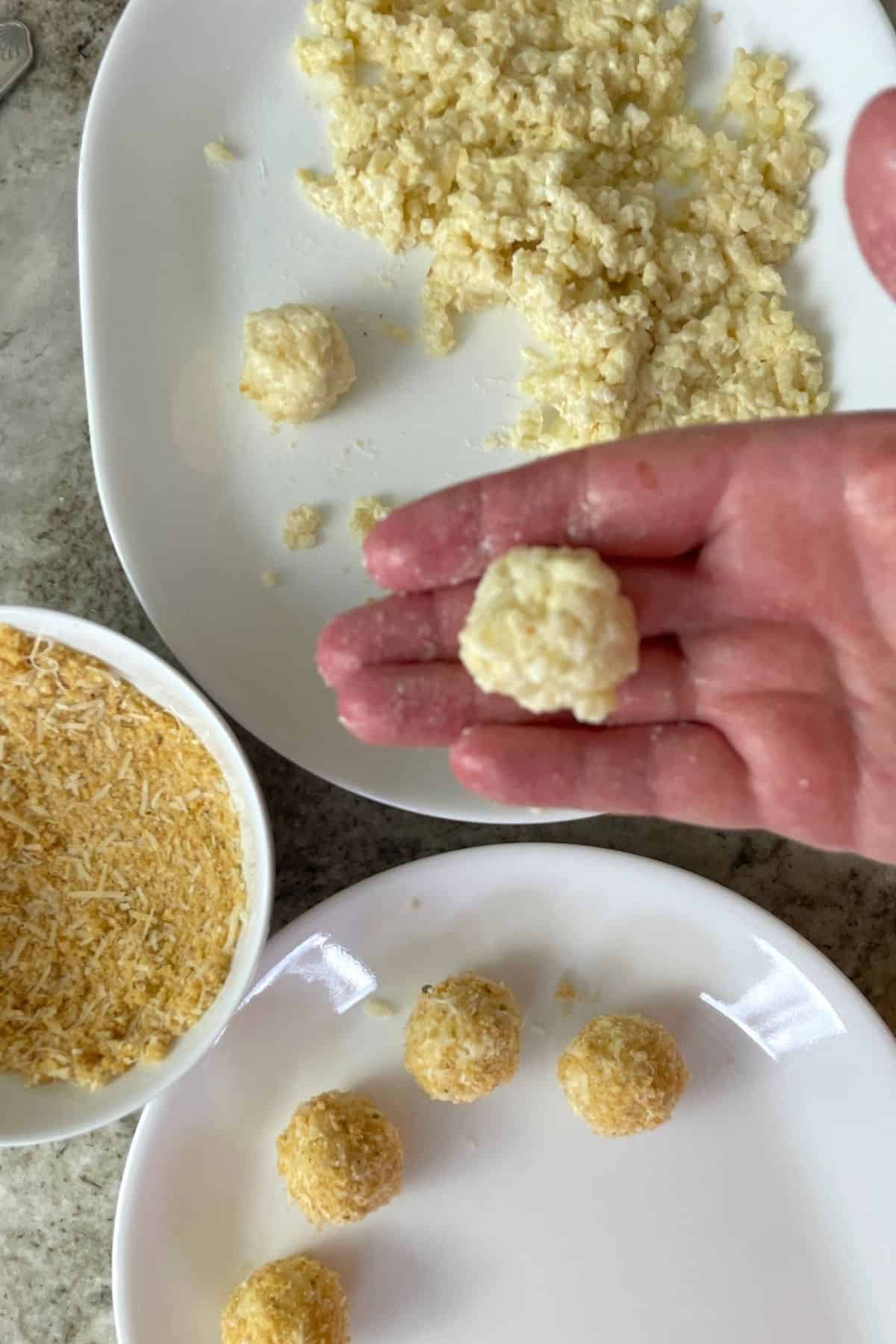 STEP 2: Make each cauliflower ball one at a time and place on a platter to prepare for air frying or the oven.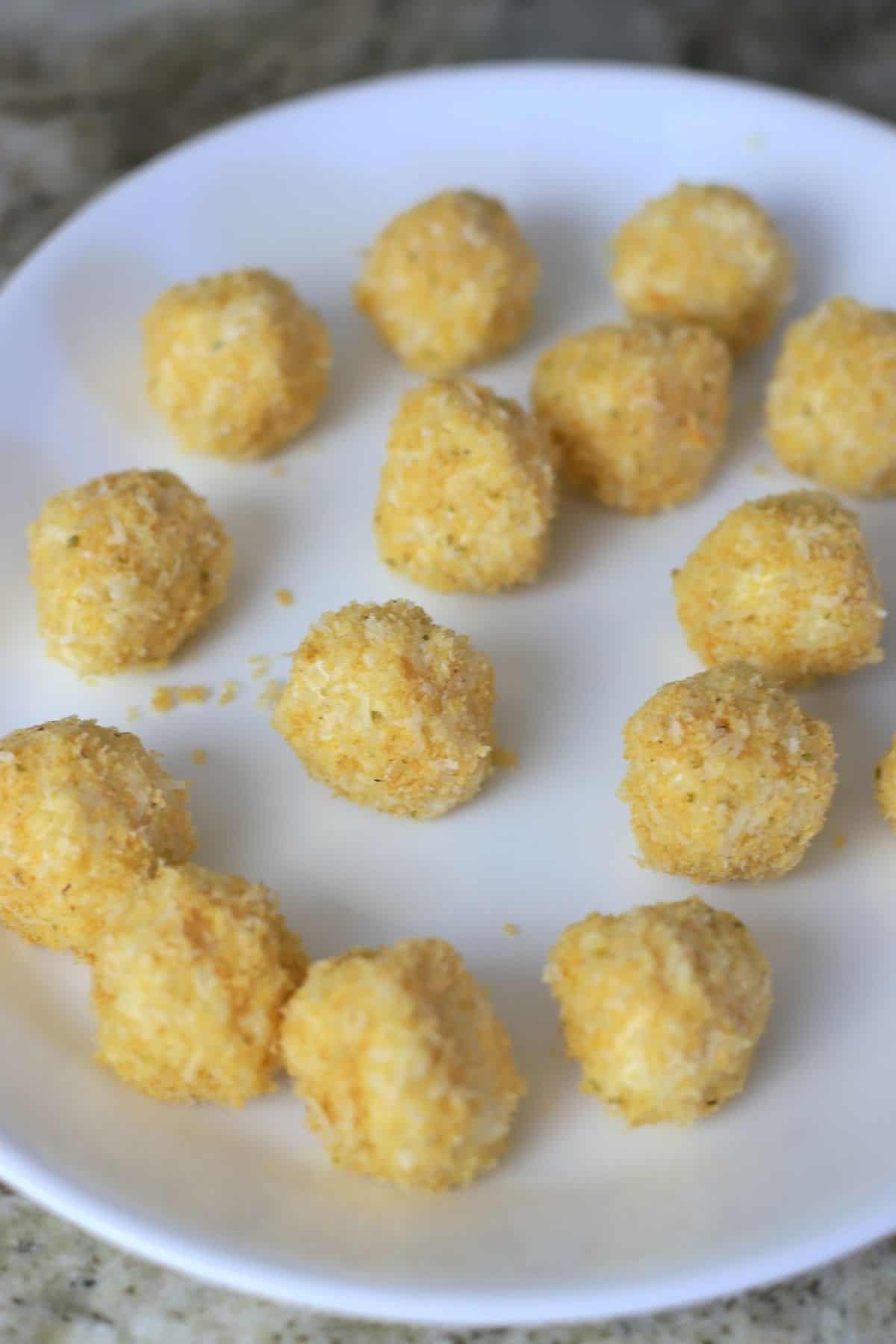 STEP 3: Once you have all the cauliflower balls breaded, place them in the air fryer basket sprayed with cooking spray/oil or on a parchment lined baking sheet if making in the oven.
If air frying, lightly spray the balls with cooking spray. Air fry at 400°F for 10 minutes or if making in the oven you will want to bake them at the same temperature for about 25-30 minutes until your balls are crispy and golden brown.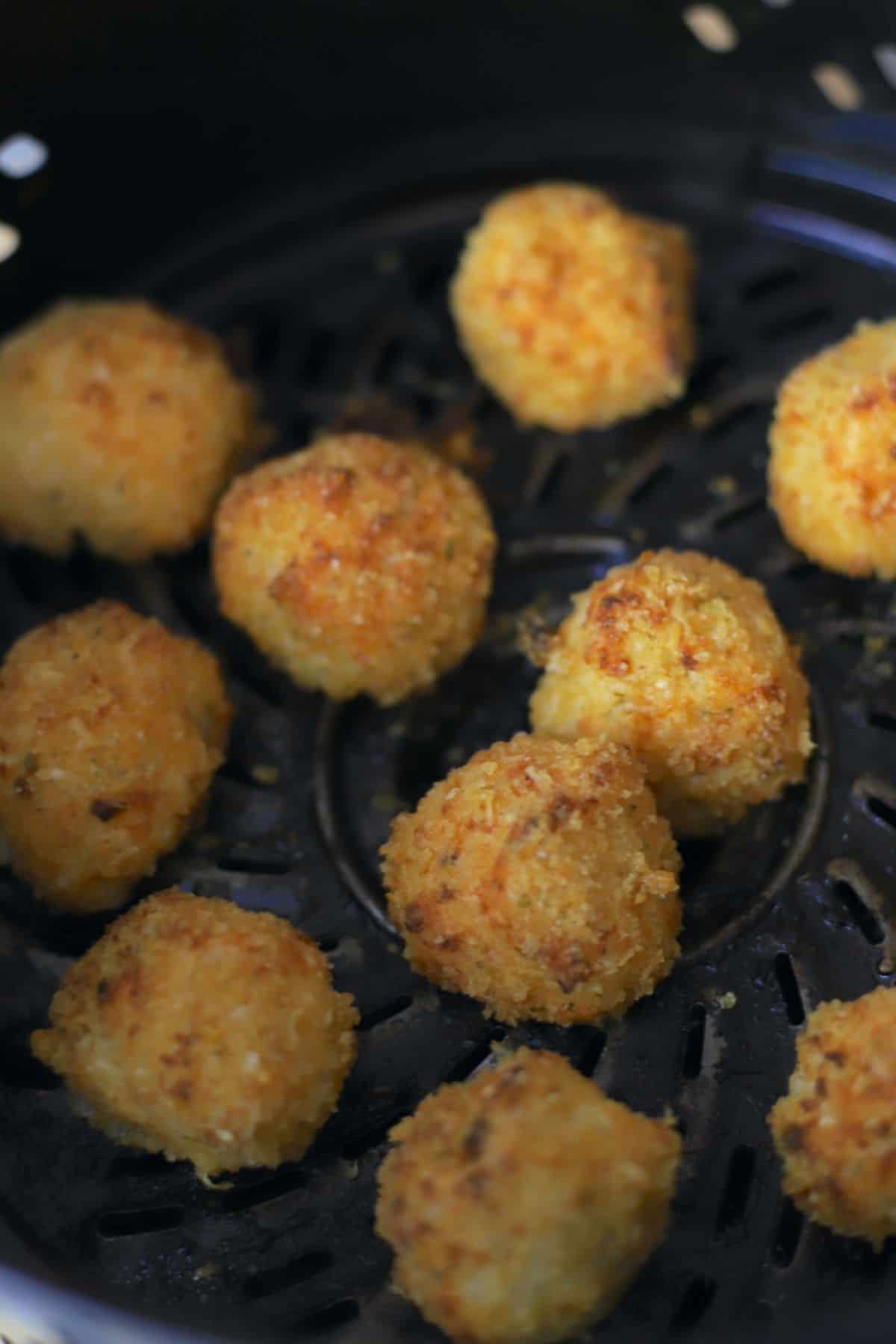 STEP 4: Allow to slightly cool before removing them from the air fryer basket as they will still be soft and easy to fall apart.
Allowing them to cool will help them to firm up a bit. If a little sticky, once they are cooled, try removing them with a metal spatula to loosen them up.
Serve topped with chopped parsley and some grated parmesan.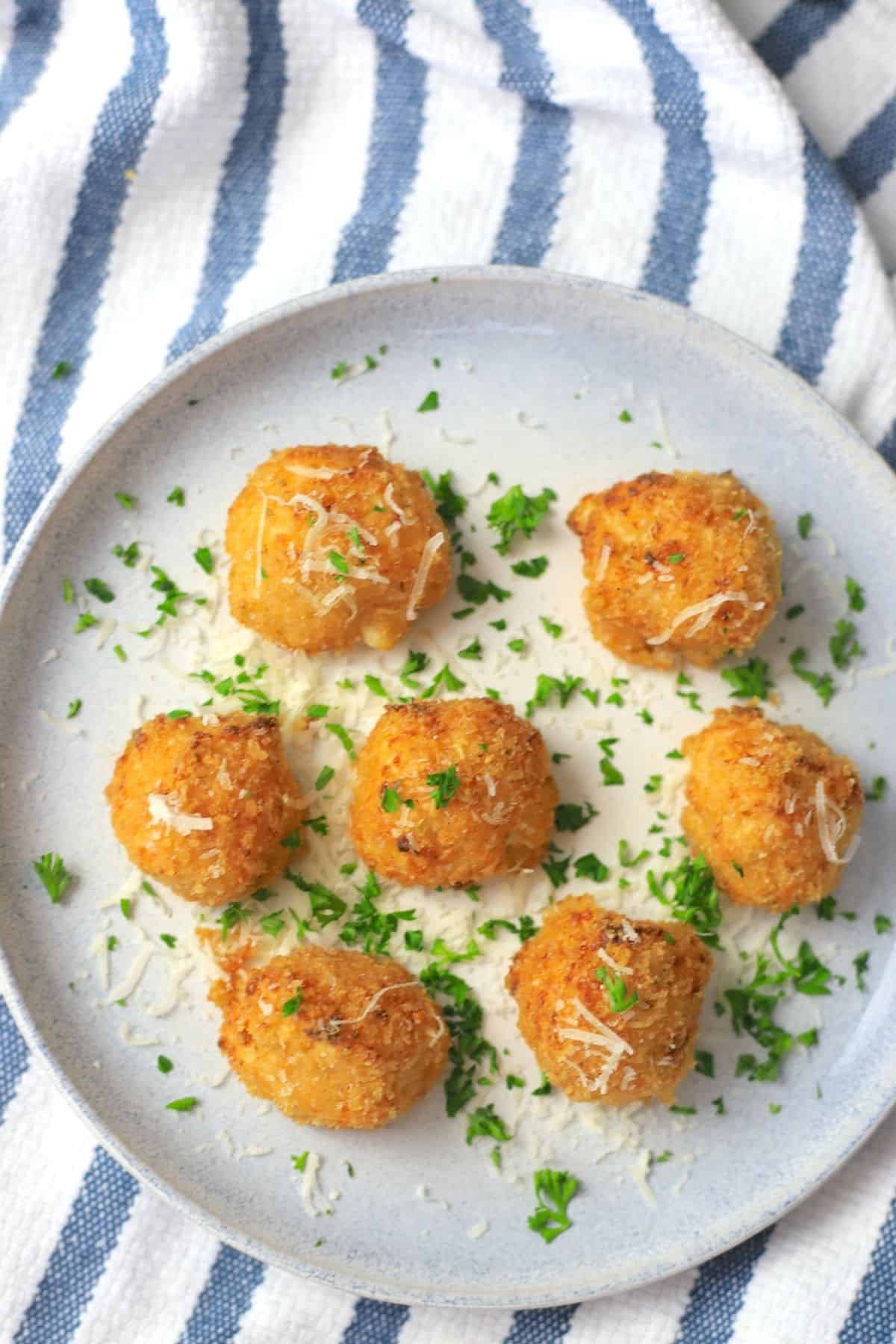 👨🏻‍🍳 Recipe tips
Top Tip: making the cheesy cauliflower risotto is key, otherwise if you simply use cauliflower rice, it will not stick together well enough to shape them into balls.
Tip: If you make my Cauliflower Mash recipe you can also use the leftover cauliflower mash to make these fried cauliflower balls.
Serving:

serve with a side of marinara sauce for dipping or a creamy dill or ranch dressing

Storage: store in an airtight container for up to 4 days, reheat in the air fryer at 300°F for 5 minutes.
Freeze: freeze in an airtight container in the freezer for up to 1 month, allow to thaw to room temperature and reheat in the air fryer for 5 minutes at 300°F.
♨️ Recipe variations
I love these cute little cauliflower cheese balls as they are but I know some of you like to live on the edge and kick it up from time to time. Here are just a few variations on how you can make these air fryer cauliflower rice balls.
Tots - make them into cauliflower tots instead of balls, simply shape them into tots and roll them through the breadcrumb mixture the same as you would if you made the balls.
Extra Crispy - if you want them super crispy and don't mind the added carbs, try using panko crumbs instead of pork rind crumbs. 1 cup of panko crumbs has roughly 40g of carbs. This is also an option if you don't eat pork products.
Spice it up - I like them spicy too but I ketp this recipe neutral in case it's for a group of people. However, add all the spices you can think of to the breadcrumb mixture like cayenne, chili pepper flakes, chili powder. You can even add some garlic powder for a more garlicky flavoured rice ball.
This recipe is gluten free.
More air fryer recipes you might enjoy
🥣 Equipment used to make
I do get a lot of use out of my air fryer. In fact I probably use it way more than the oven. Here are just a few air fryers in case you are looking to purchase one.
I Hacked Diabetes is a participant in the Amazon Services LLC Associates Program, an affiliate advertising program designed to provide a means for me to earn fees by linking to Amazon.com and affiliates sites. I can make a small commission on qualifying purchases.
💭 Frequently asked questions
Does cauliflower rice have carbs?
Yes but not as much as regular white rice. This recipe contains 1g of carbs per cauliflower ball.
How do you keep cauliflower rice from getting watery?
If you follow my Cauliflower Risotto recipe you will see that I dry pan fry the cauliflower rice to remove all the moisture first.
How come my cauliflower balls fell apart after cooking?
If you did not allow enough time for them to cool after air frying they may have still been too soft and will easily fall apart.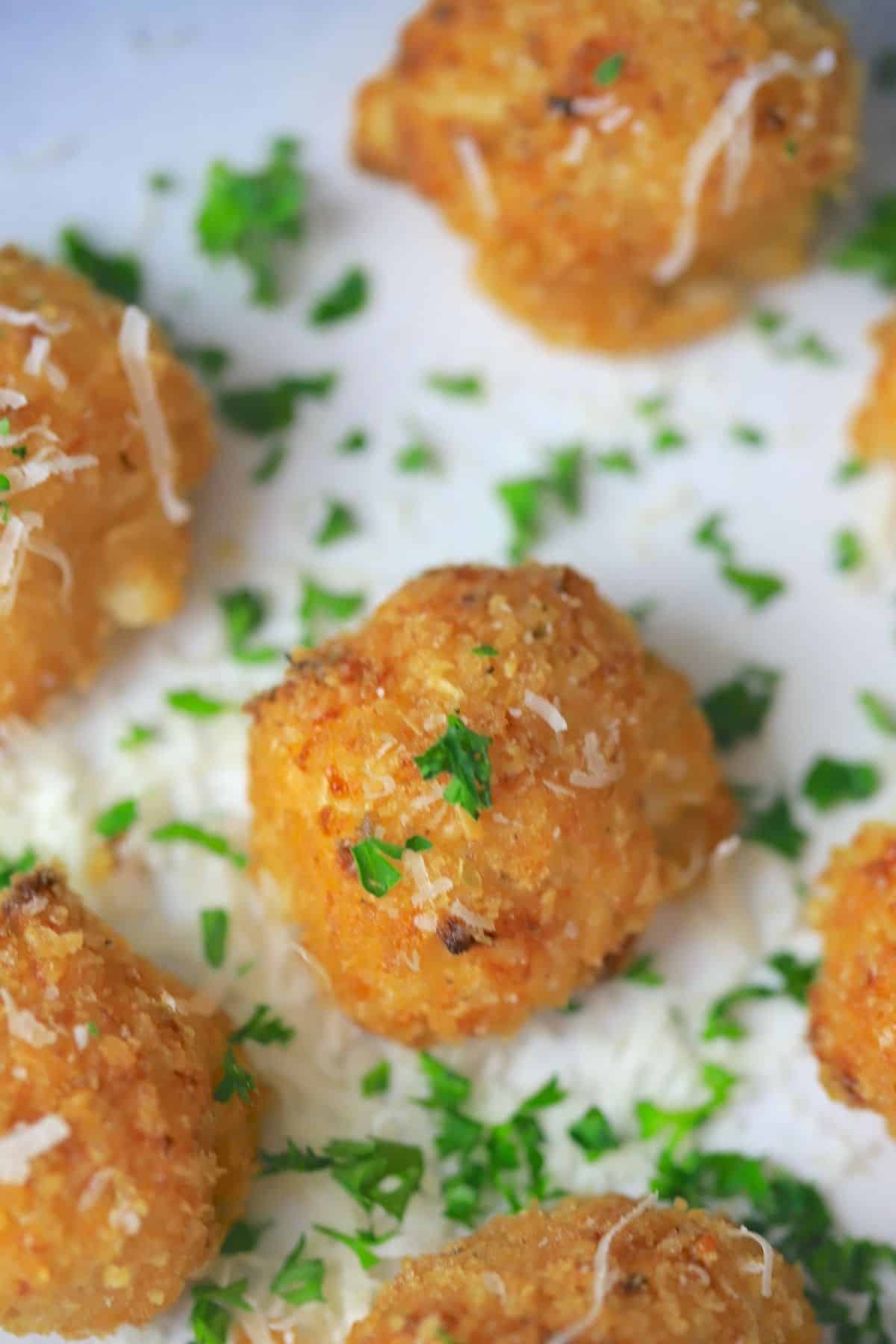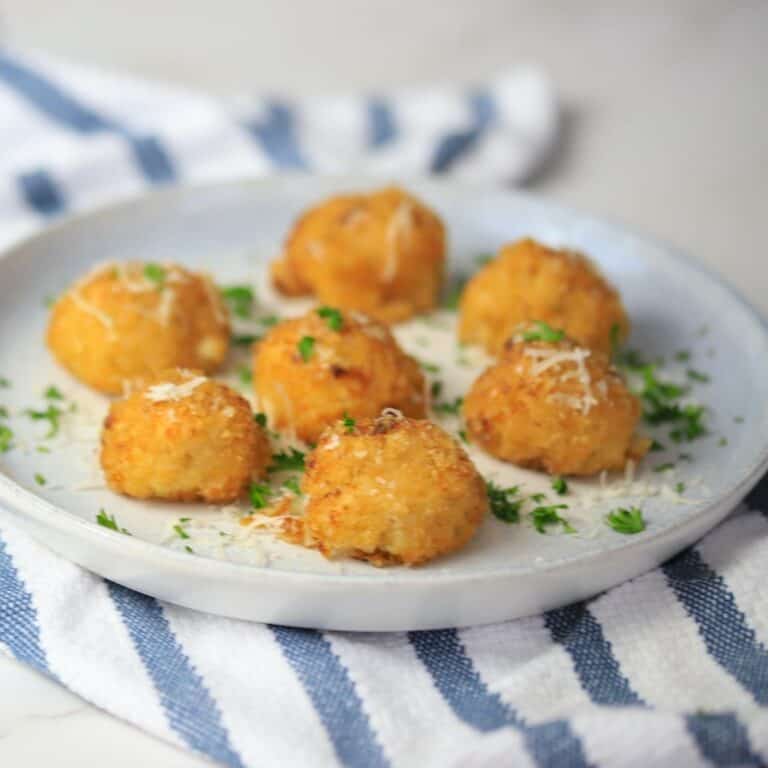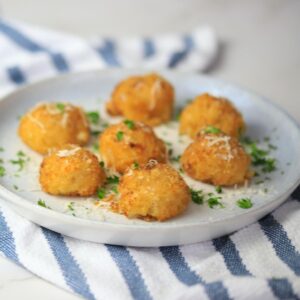 Air Fryer Cheese Cauliflower Balls
Air fryer Cheesy Cauliflower Balls crispy and breaded with pork rind crumbs. Low carb and diabetic friendly.
Nutrition
Calories:
53
kcal
Carbohydrates:
1
g
Protein:
5
g
Fiber:
1
g
Sugar:
0
g
Instructions
Make the cauliflower risotto recipe first and allow the rice to cool.

Preheat air fryer to 400°F

In a medium bowl, mix the pork rind crumbs with the parmesan, oregano and salt and pepper.

Shape the cold cauliflower risotto into 1" balls and then roll through the pork rind crumb mixture, place on a platter.

Spray air fryer basket with cooking spray and then place the cauliflower balls in the basket and air fry at 400°f for 10 minutes.

Allow to slightly cool before removing or they may fall apart.
Notes
Top Tip: making the cauliflower risotto is key, otherwise if you simply use cauliflower rice, it will not stick together well enough to shape them into balls.
This recipe card provides the basic details to make this recipe. For more information, questions or variations please review the content above the recipe card.
Updates and Revisions
If conflicting information between the video and recipe card, the recipe card will always have the most up to date information, ingredients and instructions.
Nutritional Information
All nutritional information is based on third-party calculations and should be considered estimates. Actual nutritional content will vary with brands used, measuring methods, portion sizes and more.
LOVE THIS RECIPE?
Check out I Hacked Diabetes on Pinterest
🌡️ Food safety
Cook to a minimum temperature of 165 °F (74 °C)
Do not use the same utensils on cooked food, that previously touched raw meat
Wash hands after touching raw meat
Don't leave food sitting out at room temperature for extended periods
Never leave cooking food unattended
Use oils with high smoking point to avoid harmful compounds
Always have good ventilation when using a gas stove
See more food guidelines