The ultimate simplicity in cooking with our 4-Ingredient Air Fryer Butternut Recipe! In just a few steps, you can create a delectable and crispy dish that's perfect for any occasion.
This recipe is not only easy to prepare but also incredibly flavorful. Give it a try and savor the rich flavors of butternut squash cooked to perfection in your air fryer.
Jump To:
Here's a straightforward recipe that you can savor either as a standalone dish or as a versatile side. You can also toss it atop your favorite salads for an extra layer of flavor, or use it as a key ingredient to whip up a comforting Butternut Squash Soup that'll warm your heart.
In just 20 minutes, you can prepare this delightful air fryer butternut squash recipe, making it a regular star on your weekly menu.
Air fryer butternut squash offers a superior crispy texture and cooks faster than traditional roasted butternut squash, making it a convenient and delicious option.
Why you'll love this air fryer butternut squash recipe
Low Carb Delight: It's a low-carb option, making it perfect for those watching their carb intake or following a low-carb lifestyle.
Effortless Preparation: This recipe is incredibly easy and quick to make, requiring minimal effort on your part.
Versatile Enjoyment: You can savor it as a standalone dish, incorporate it into salads, or transform it into a comforting soup. Its versatility suits a variety of dining occasions.
Speedy Satisfaction: In just 20 minutes, you'll have a delicious and crispy butternut squash dish ready to enjoy, saving you time in the kitchen.
Healthy and Flavorful: Not only is it low in carbs, but it also offers a delightful combination of flavors and textures that will tantalize your taste buds while keeping your meal nutritious.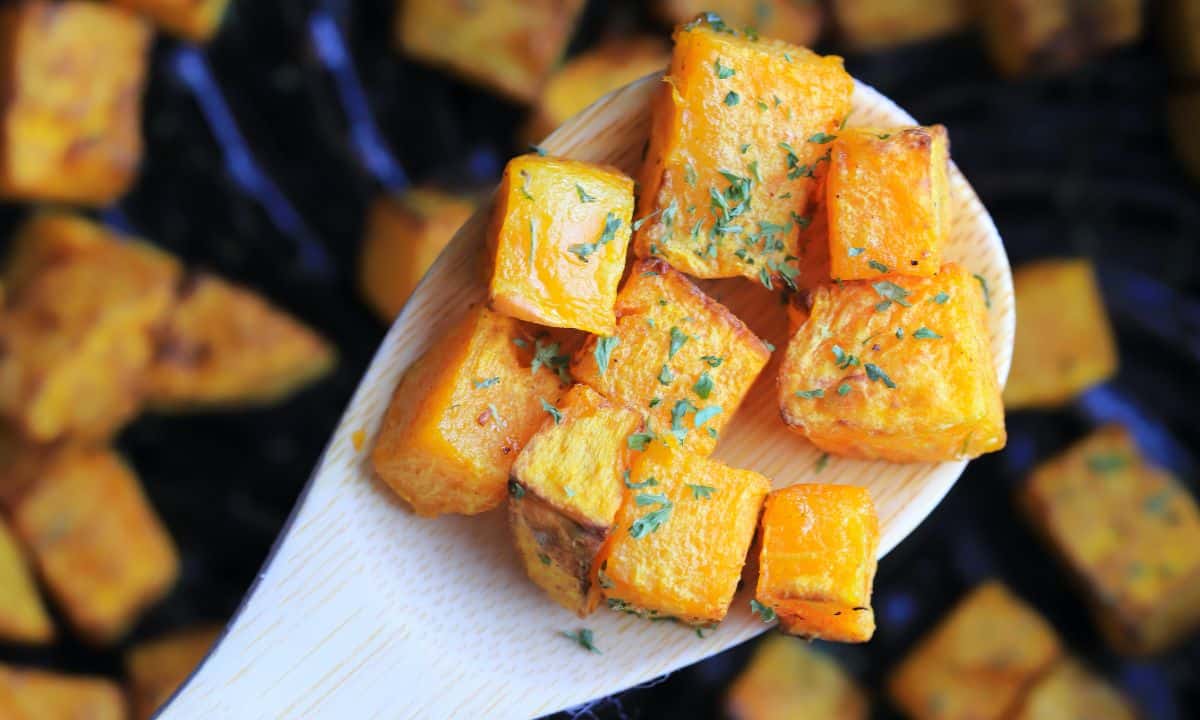 Ingredients for Air Fryer Butternut Squash
Easy air fryer butternut squash only needs 4 ingredients with one optional ingredient.
Butternut Squash: The star ingredient, providing a sweet and nutty flavor, as well as a satisfying texture when air-fried.
Extra Virgin Olive Oil: Used to coat the butternut squash pieces, ensuring they crisp up nicely in the air fryer and adding a pleasant richness to the dish.
Salt: Enhances the natural flavors of the butternut squash and helps balance its sweetness.
Nutmeg: Adds a warm, earthy spice that complements the sweetness of the squash, creating a well-rounded flavor profile.
Parsley Flakes (optional): Used as a garnish to add a touch of freshness and visual appeal to the dish. It's optional but can enhance the overall presentation.
See the recipe card for quantities.
Other air fryer recipes you might enjoy
Steps by step instructions
How to make Air Fryer Butternut Squash?
STEP 1: First you will want to preheat the air fryer to 400°F and then prepare the butternut squash cubes. First cut off both ends of the butternut squash and then cut in the middle width-wise.
You then want to scoop out the seeds and guts from the center of the bottom half. I used a spoon to scoop everything out including the stringy bits. You can save the seeds to roast them later.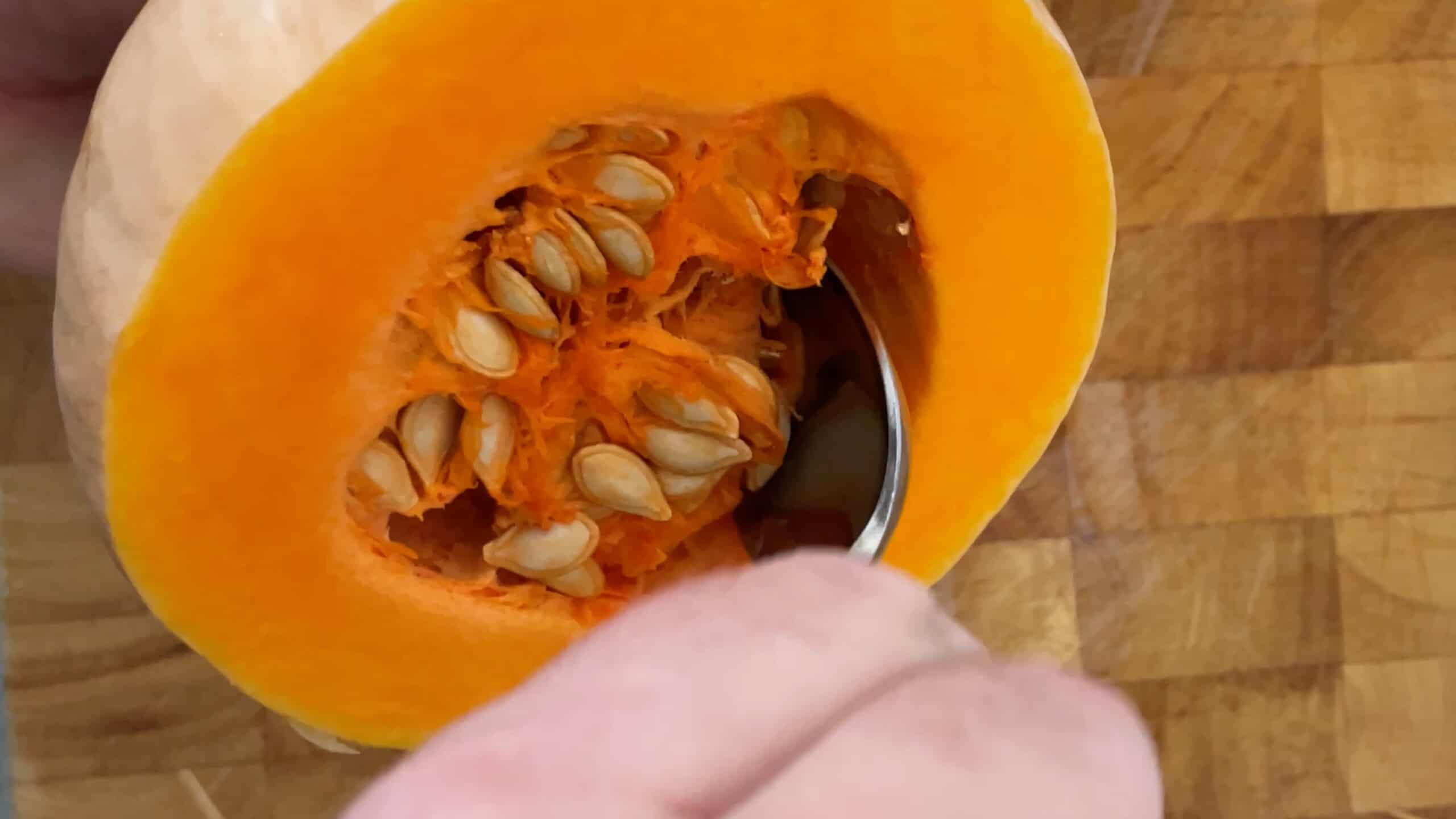 I then use a vegetable peeler to remove the skin.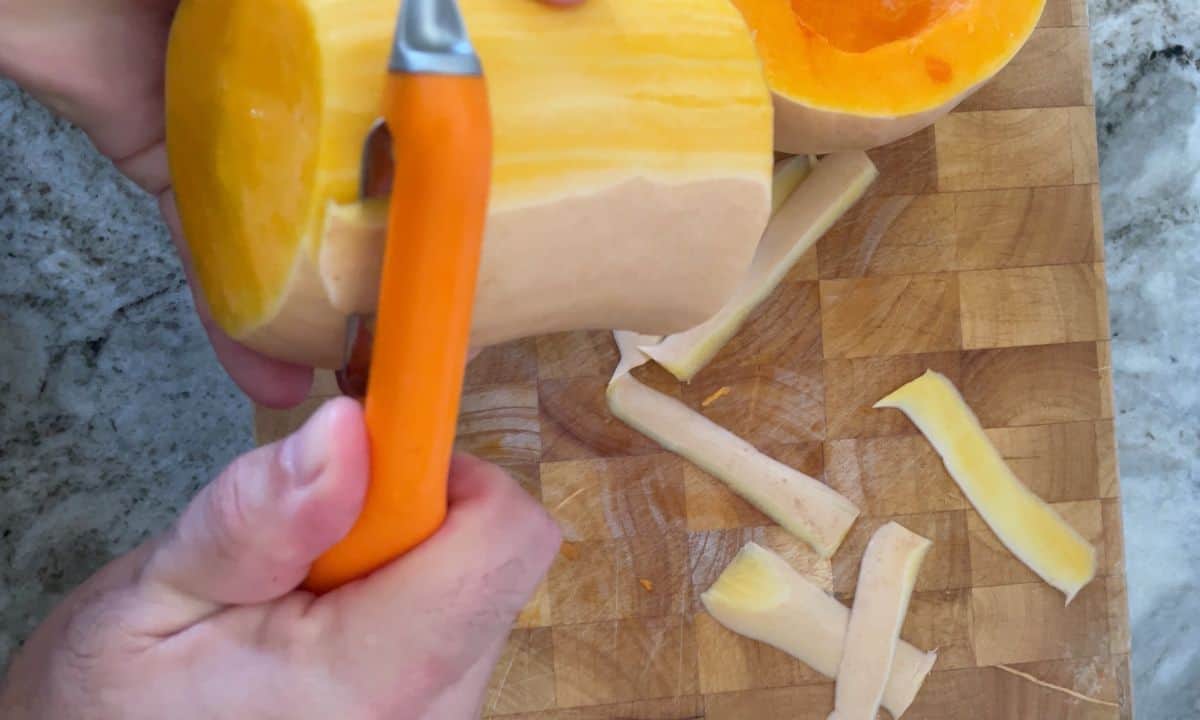 STEP 2: cut butternut squash into one-inch cubes and transfer them to a large bowl.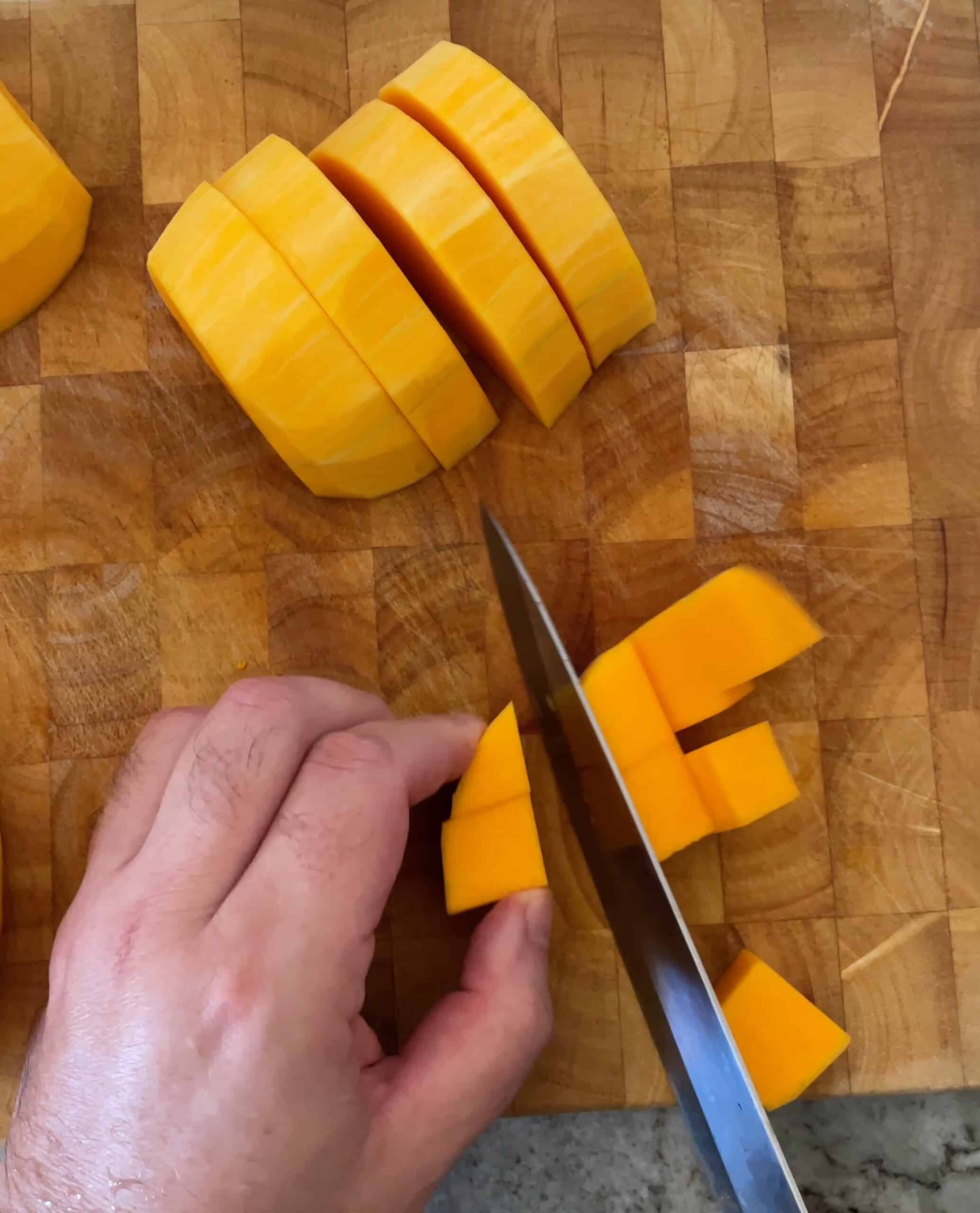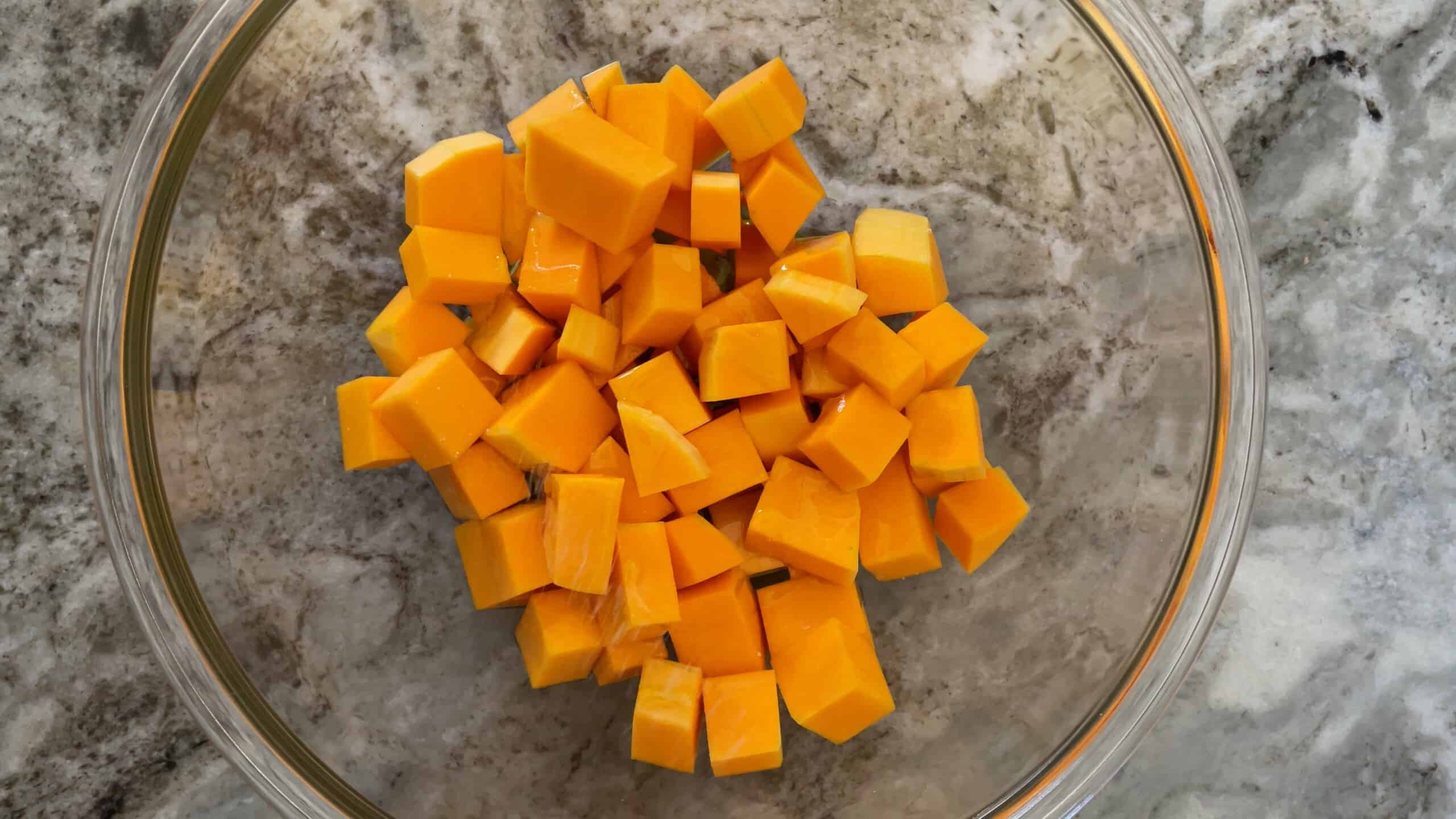 STEP 3: toss the cubes with the extra virgin olive oil, salt and the optional freshly ground nutmeg, then use cooking spray to coat air fryer basket and transfer the butternut squash cubes to the air fryer basket. You may need to air fry in batches, only cook one layer of cubes at a time.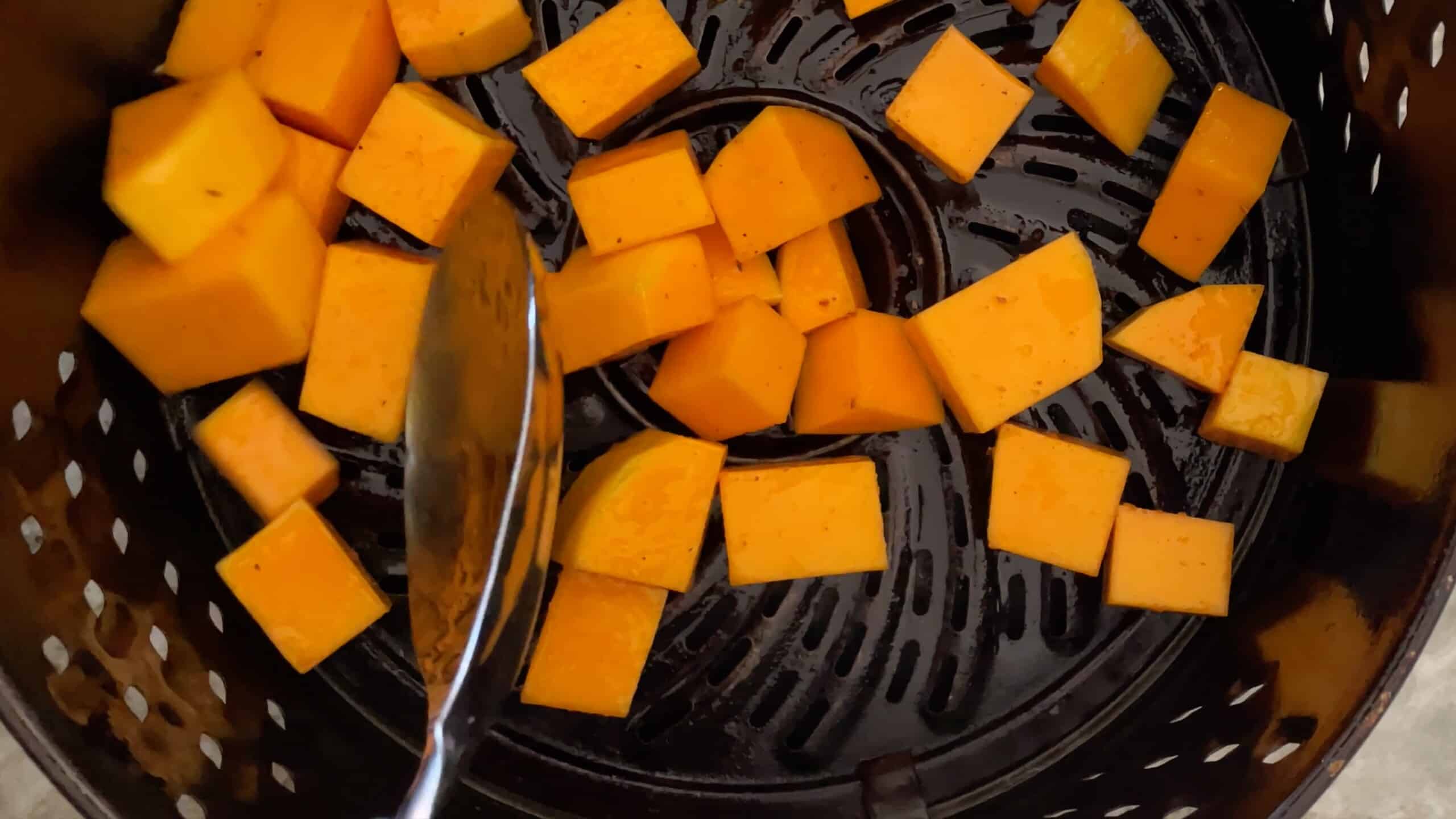 STEP 4: Air fry at 400°F for about 9-10 minutes and then shake the basket and cook butternut squash for another 9-10 minutes. Garnish with parsley flakes.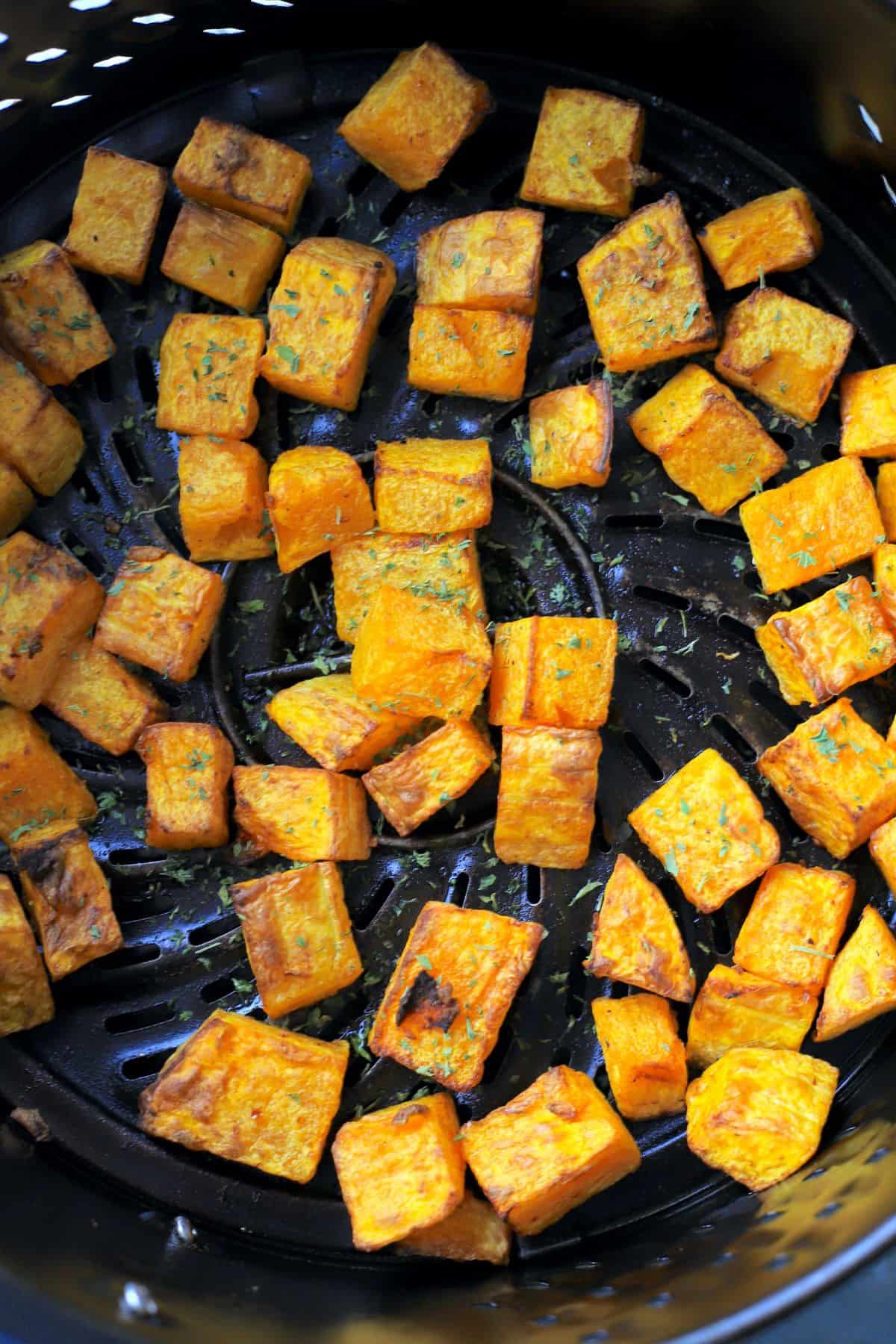 Recipe tips
Even Sizing for Even Cooking: When cutting the butternut squash into cubes or slices, aim for uniform sizes. This ensures that the pieces cook evenly in the air fryer. Smaller or thinner pieces may cook faster, while larger ones might take longer. Uniformity in size helps achieve a consistent, crispy texture.
Adjust Seasonings to Taste: The quantities of salt and nutmeg mentioned in the recipe are approximate. Taste a piece of butternut squash after tossing with the seasonings, and feel free to adjust the salt or nutmeg to suit your personal preferences. You can always add a bit more for a bolder flavor or reduce if you prefer a milder taste. Customizing the seasonings makes the dish uniquely yours!
What to serve with air fryer butternut squash?
Pairing your air fryer butternut squash with sides or main dishes can create a satisfying and balanced meal. Here are some options:
Grilled Chicken Breast: Seasoned grilled chicken breast is a perfect low-carb protein source to serve alongside your butternut squash. The lean meat complements the squash's sweetness and provides a hearty, balanced meal.
Salad with Greens: Create a fresh salad with mixed greens, cherry tomatoes, cucumber, and a light vinaigrette dressing. The crisp, refreshing salad contrasts nicely with the rich flavors of the butternut squash.
Roasted Brussels Sprouts: Roasted Brussels sprouts are another excellent side dish option. Their nutty flavor and slight bitterness pair well with the sweetness of the squash, creating a harmonious balance.
Cauliflower Rice: Swap traditional rice for cauliflower rice. It's a low-carb alternative that complements the butternut squash while keeping the carb count down.
Baked Salmon: Salmon is not only a healthy protein choice but also low in carbs. Baked or grilled salmon pairs wonderfully with the sweet and savory flavors of air-fried butternut squash.
Avocado and Tomato Slices: Create a simple but satisfying side by layering ripe avocado and tomato slices. Drizzle with a bit of olive oil, sprinkle with salt and pepper, and enjoy a creamy-textured contrast to the squash.
Remember to consider your personal taste preferences and dietary goals when choosing sides to serve with air fried butternut squash. These options provide a range of flavors and textures to complement the dish while keeping the carb content minimal.
Recipe variations
Cubing butternut squash is a fantastic method for air fryers. Here are several different ways to prepare them:
Butternut Squash and Spinach Salad - Toss air-fried butternut squash cubes with fresh baby spinach. Add crumbled feta cheese and toasted pine nuts for extra flavor and texture. Drizzle with a balsamic vinaigrette dressing for a delicious and low-carb salad.
Butternut Squash and Cauliflower Mash - Combine air-fried butternut squash with steamed cauliflower florets and garlic powder. Mash together with a bit of garlic, butter, and cream or a dairy-free alternative. Season with salt and pepper for a creamy, low-carb alternative to mashed potatoes.
Butternut Squash and Sausage Skillet - Sauté air-fried butternut squash with slices of cooked sausage (such as turkey or chicken sausage). Add sliced bell peppers and onions for extra flavor and color. Season with your favorite spices or herbs for a satisfying one-pan meal.
Butternut Squash and Broccoli Stir-Fry - Stir-fry air-fried butternut squash with broccoli florets, sliced bell peppers, and thinly sliced chicken or tofu. Use a stir-fry sauce made with soy sauce or coconut aminos, ginger, and garlic. Serve over cauliflower rice for a complete low-carb meal.
Butternut Squash and Bacon Soup - Blend air-fried butternut squash with chicken or vegetable broth until smooth. Cook crispy bacon bits separately. Combine the soup with bacon bits and a dollop of sour cream or Greek yogurt for a creamy soup.
Check out some of my other vegetarian recipes.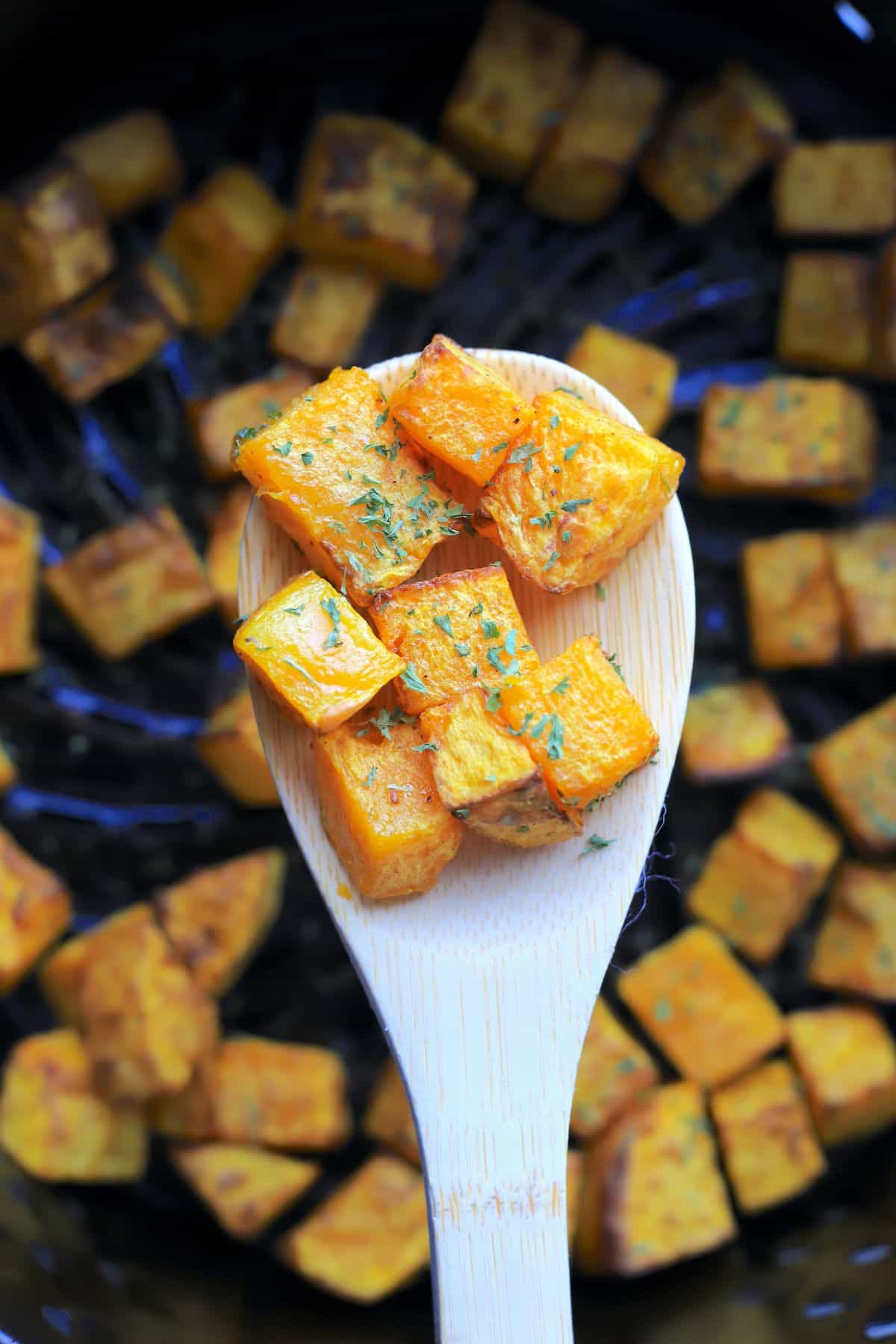 Frequently asked questions
Can I place more than one layer of cubed butternut squash in the air fryer?
No, I suggest only air fryer one layer of cubes at a time so they cook evenly.

Can I use frozen butternut squash?
Yes, you can use frozen butternut squash in your air fryer recipe, but keep in mind that frozen squash may have a slightly different texture than fresh. It might release more moisture during cooking, which could affect the crispiness. To mitigate this, you can thaw and pat dry the frozen butternut squash cubes before air frying to achieve a better result.
Is butternut squash keto?
All foods can possibly be considered keto, it all depends on what else you eat and your daily macros. Butternut squash is low in carbs, containing 4g net carbs per serving in this recipe. Therefore, it can be a keto friendly squash and fit into keto diet.
Can I eat butternut squash with a dip?
Yes, you can enjoy butternut squash with a dip or sugar free ketchup.
Is spaghetti squash the same as butternut squash?
No, they may look a little similar but spaghetti squash is often used in replace of spaghetti as it's very stringy on the inside and looks like spaghetti. See this Buffalo Chicken Spaghetti Squash recipe.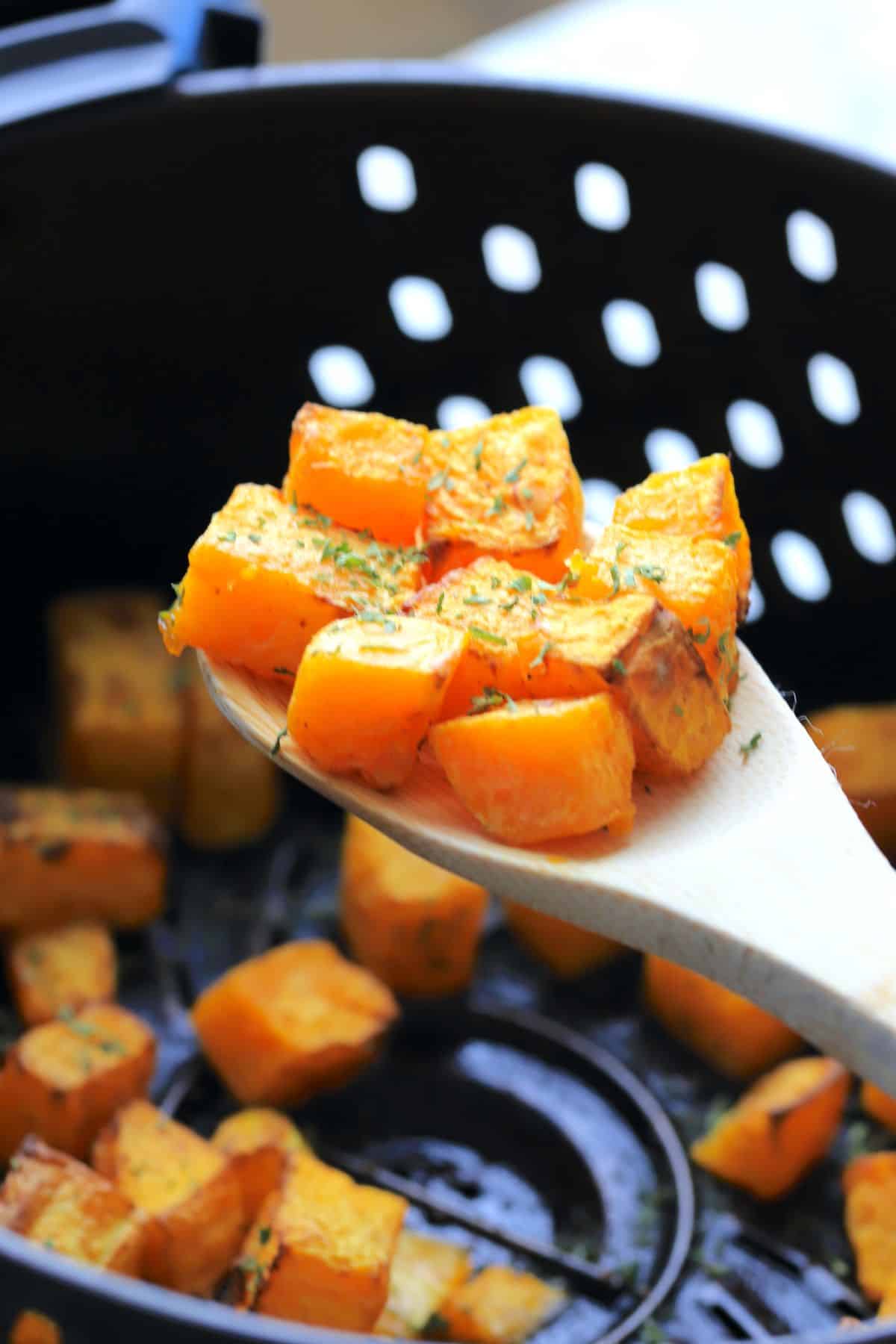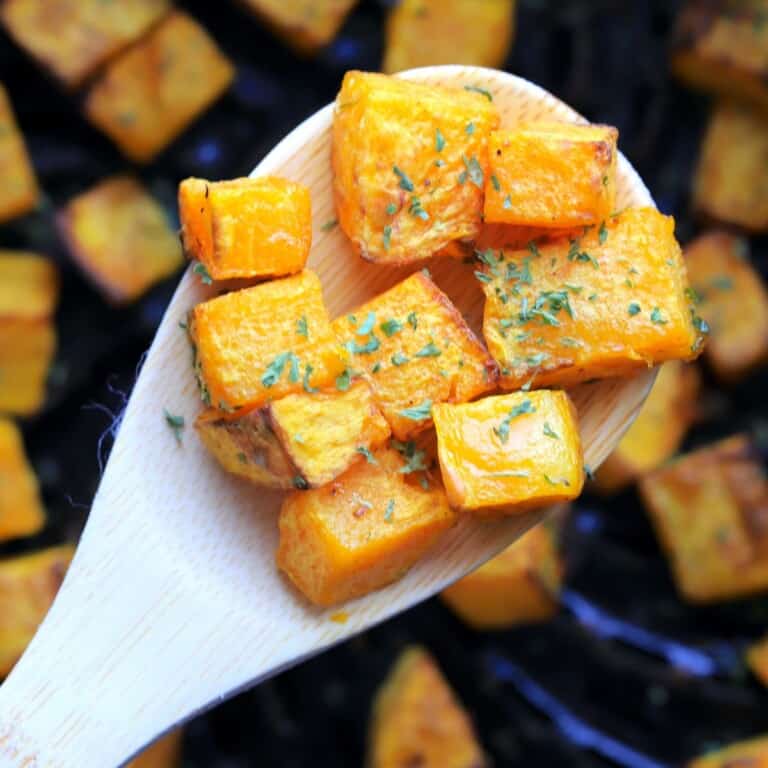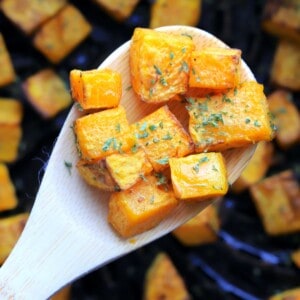 Air Fryer Butternut Squash
Air fryer butternut squash is super quick and easy made in the air fryer with only 3 ingredients. Super delicious, crispy edges and soft and fluffy on the inside.
Nutrition
Calories:
38
kcal
Carbohydrates:
6
g
Protein:
1
g
Fat:
2
g
Fiber:
2
g
Sugar:
2
g
Ingredients
1

medium

butternut squash

1

tablespoon

extra virgin olive oil

⅛

teaspoon

salt

⅛

teaspoon

nutmeg

parsley flakes for garnish

optional
Instructions
Preheat the air fryer to 400°F

Cut the butternut squash into cubes and toss in a large bowl with the olive oil, sald and nutmeg (optonal).

1 medium butternut squash,

1 tablespoon extra virgin olive oil,

⅛ teaspoon salt,

⅛ teaspoon nutmeg

Spray the air fryer basket with olive oil or cooking spray

Transfer the cubed butternut squash to the air fyer basket. Cook at 400°F for about 18 minutes, shaking the air fryer basket halfway through.

Garnish with parsley flakes.

parsley flakes for garnish
Notes
Top Tip: to avoid any accidents use a sharp knife to cut the butternut squash. See the video to see how I cut the squash into cubes. Tip: only air fryer one layer of the cubed butternut squash at a time. You will likely have to make it in batches depending on the size of your air fryer basket and the size of your butternut squash.
This recipe card provides the basic details to make this recipe. For more information, questions or variations please review the content above the recipe card.
Updates and Revisions
If conflicting information between the video and recipe card, the recipe card will always have the most up to date information, ingredients and instructions.
Nutritional Information
All nutritional information is based on third-party calculations and should be considered estimates. Actual nutritional content will vary with brands used, measuring methods, portion sizes and more.
LOVE THIS RECIPE?
Check out I Hacked Diabetes on Pinterest