These Keto Sausage Puffs are a scrumptious low carb appetizer made with ground italian sausage, garlic, almond flour and cheese.
Super simple easy keto recipe makes a great option for serving at holiday parties, gatherings and get togethers. Although I prefer to make them and enjoy them all for myself.
Jump To:
Keto sausage balls are also a great meal prep recipe that can be easily frozen and a good grab and go snack or a low carb breakfast.
Make these in batches and freeze several in sandwich bags for a simple way to pull out of the freezer in the morning and warm up in the microwave in the office.
🥘 Main ingredients
Super simple ingredients to make this low carb sausage balls recipe.
Ground Sausage: using italian ground sausage to make these keto sausage balls, ground beef can be used as an alternative.
Almond Flour: one cup of almond flour was used for this recipe which gives it a slightly nutty flavour plus it's low carb and gluten free.
Shredded Cheddar Cheese: giving these low carb sausage balls a cheesy flavour that also helps to bind all the ingredients together.
Onion: adding great flavour to the ingredient combinations in this recipe.
Garlic: mellow, nutty and mild garlic flavours are released after baking
👨🏻‍🍳 Steps by step instructions
How to make the Keto Sausage Puffs
STEP 1: Preheat oven to 400°F. Brown the sausage with the onion and garlic until softened. Allow to cool, transfer to a large bowl and add the oregano, paprika and salt and pepper. Add the almond flour and shredded cheddar cheese. Mix well until all ingredients are evenly distributed.
STEP 2: Using a cookie scoop or your hands, roll out puffs into 1 inch balls and place on a parchment lined baking sheet. Bake at 400°F for 12-15 minutes until puffs are slightly golden on the outside. Serve on a platter with a side of your favourite dipping sauce like a marinara or ranch dressing.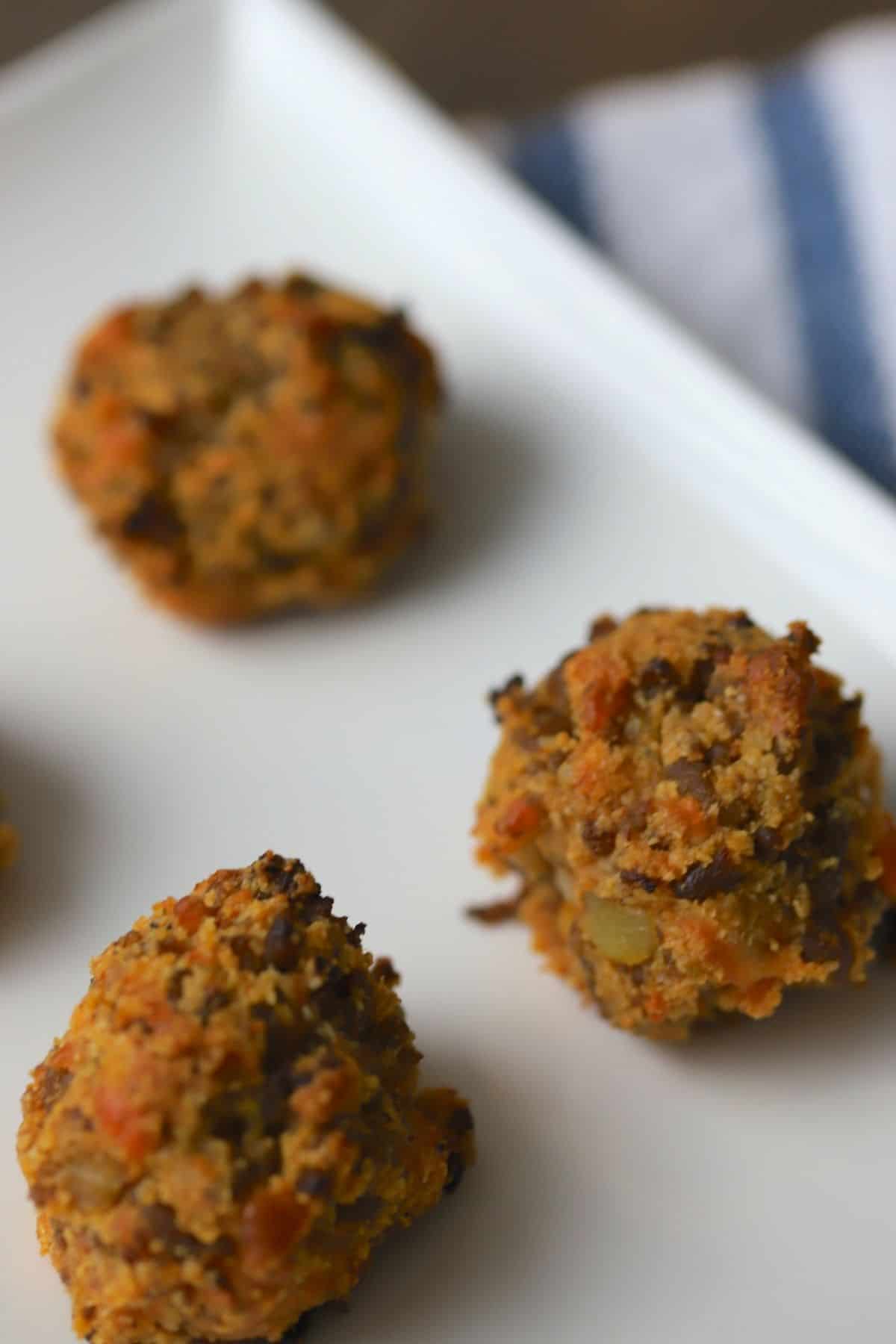 👨🏻‍🍳 Recipe tips
These low carb keto sausage ball recipe is super easy to make and should be a quick appetizer that you can throw together fairly quickly.
Top Tip: brown the sausage with the garlic and onion ahead of time so you can leave time for it to cool before handling it.
Serving: enjoy with a side dipping sauce like marinara, ranch or any creamy dressings
Storage: store in an airtight container for up to 5 days.
Freeze: freeze in an airtight container or place handfuls of these sausage puffs in sandwich bags to quickly grab for lunch. Reheat for 1 minute in the microwave. Freeze for up to 1 month.
Meal Prep: double the recipe and make batches for breakfasts, lunches or a side dish or appetizer for dinner.
♨️ Recipe variations
There are many ways this recipe can vary, here a just a few that can elevate these low carb sausage balls.
Beef: use ground beef instead of sausage for a pork free appetizer
Cream Cheese - add ½ cup of cream cheese to the mixture of a creamy texture and tangy flavour.
Coconut Flour - if you have a nut allergy, coconut flour can be used in place of almond flour. Add more moisture like another half cup of cheddar cheese or 4 oz of cream cheese.
Breakfast Sausage - use breakfast sausage instead of italian sausage and enjoy these every morning for breakfast.
Red Pepper - add some diced fresh red pepper to the mixture for some added colour and flavour.
You may find some recipes use baking powder for sausage puffs but I don't think it is necessary for this keto friendly recipe.
Other appetizers you might enjoy
💭 Frequently asked questions
Why are my sausage balls dry?
Sausage balls may be dry if there is too much dry ingredients added to the mixture. In this case try adding more moisture like a tablespoon of heavy cream or butter.
Why won't my sausage balls stick together?
Sausage balls may not stick together if you used pre-packaged shredded cheese as they often have a coating that helps them to not stick together in the packaging. You may need to add more moisture to the mixture.
Are these keto sausage puffs diabetic friendly?
Yes, these sausage puffs are diabetic friendly as they are made with almond flour which has a much lower glycemic index than traditional flour. Each serving of keto sausage puffs contain 1 gram of carbohydrates which makes them suitable for a ketogenic or low carb way of eating.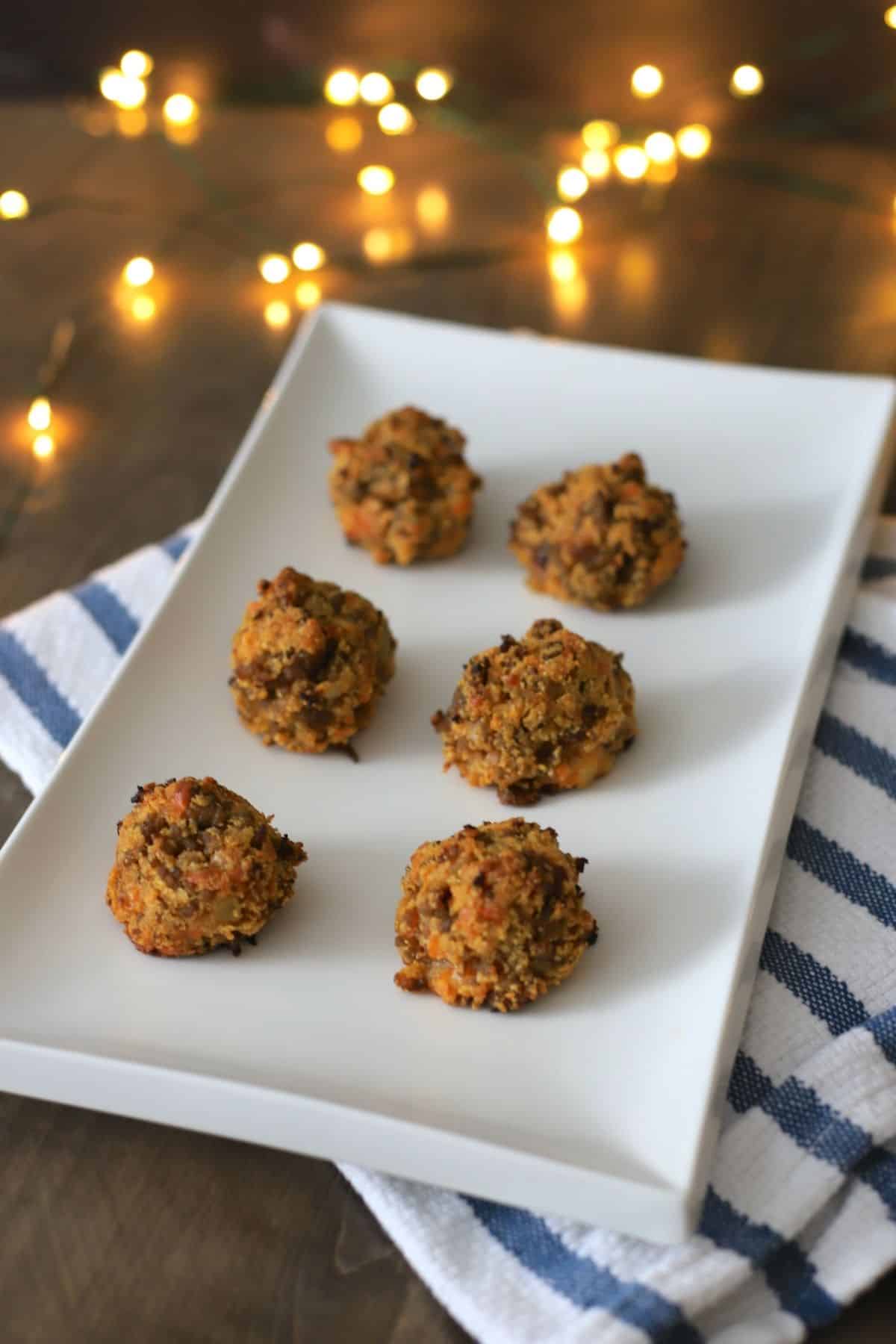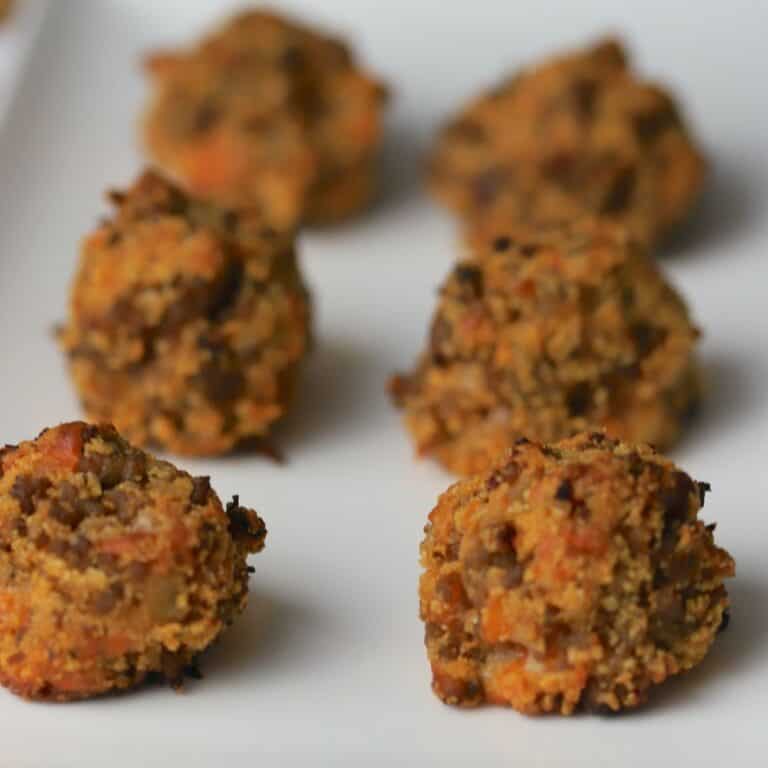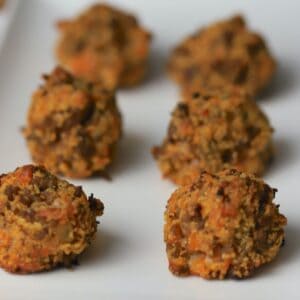 Keto Sausage Puffs
Keto Sausage Puffs are a great appetizer made with ground sausage, almond flour and cheddar cheese. Low Carb, Keto and Diabetic Friendly.
Nutrition
Calories:
83
kcal
Carbohydrates:
1
g
Protein:
5
g
Fat:
7
g
Fiber:
0
g
Sugar:
0
g
Instructions
Brown the ground sausage with the garlic and onion until softened. Allow to cool

Once cooled, tranfer to a large bowl with the remaining ingredients and mix until well combined.

Using a cookie scoop or you can do this by hand, roll the puffs into 1 inch balls and place on a parchment lined baking sheet.

Bake at 400°F for 12-15 minutes until balls are lightly golden on the outside.
Notes
Top Tip: brown the sausage with the garlic and onion ahead of time so you can leave time for it to cool before handling it.
This recipe card provides the basic details to make this recipe. For more information, questions or variations please review the content above the recipe card.
Updates and Revisions
If conflicting information between the video and recipe card, the recipe card will always have the most up to date information, ingredients and instructions.
Nutritional Information
All nutritional information is based on third-party calculations and should be considered estimates. Actual nutritional content will vary with brands used, measuring methods, portion sizes and more.
LOVE THIS RECIPE?
Check out I Hacked Diabetes on Pinterest
🌡️ Food safety
Cook to a minimum temperature of 165 °F (74 °C)
Do not use the same utensils on cooked food, that previously touched raw meat
Wash hands after touching raw meat
Don't leave food sitting out at room temperature for extended periods
Never leave cooking food unattended
Use oils with high smoking point to avoid harmful compounds
Always have good ventilation when using a gas stove
See more food guidelines