When I first tried Coco Polo chocolate I was super pumped that I could once again have great quality chocolate without worrying my sugar levels were going to hit the roof.  They make sugar free chocolates that are sweetened with stevia plus they also have some really great flavours like elderberry and mango! I just had to make this Sugar Free Spicy Hot Chocolate.
I've been devouring these chocolates for about a year now and figured it was time I used them to make a warm and spicy hot chocolate.
There is a chocolate factory here in Toronto called Soma that serve a spicy hot chocolate. I wanted to try to replicate it with a low carb - sugar free version made with Coco Polo Chocolates.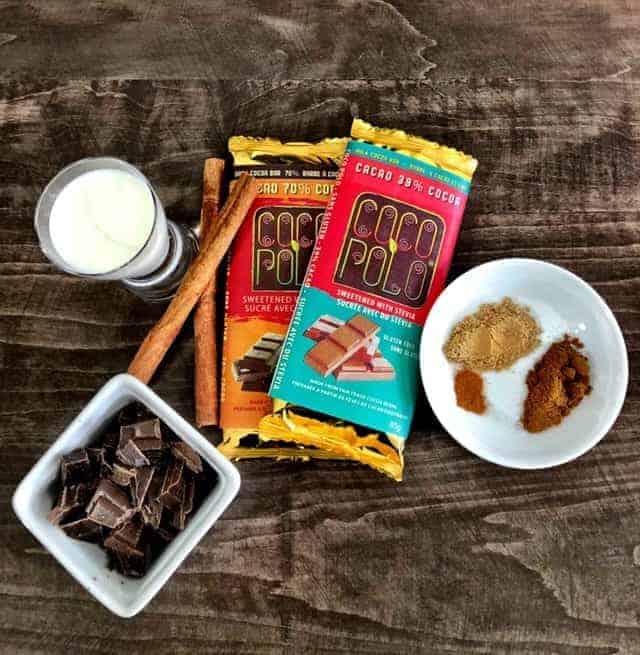 Sugar Free Spicy Hot Chocolate Recipe:
1 oz of Pure 39% Cocoa Milk Coco Polo (chopped)
One oz of Pure 70% Cocoa Dark Coco Polo (chopped)
1 teaspoon of Espresso Powder I Use This!
¼ teaspoon Ground Ginger I Use This!
1 pinch of Cayenne Pepper I Use This!
1 pinch if Cinnamon I Use This!
3 oz of Heavy Cream
3 oz of Hot Water
Stevia (a few drops of Stevia if you want it a little sweeter) I Use This!
Mix all ingredients and blend for about 30 seconds and pour into your favourite mug and enjoy with your favourite book and a cozy blanket.
You can easily make a bullet proof hot chocolate by removing the spices and adding some MCT Oil and butter.
Check out all my recipes for more low carb and keto meals, snacks and desserts. Don't forget to read my blog for more tips and tricks I use to help reverse my diabetes.
In Canada I buy my Coco Polo chocolates from Switch Grocery.
What is your favourite ingredient for hot chocolate?
Follow me on instagram @ihackeddiabetes