In this blog post we will explore the question, "Are olives good for diabetics?" In recent years olives have gained popularity and they are a nutrient-dense food along with numerous health benefits. They make a great addition to a diabetic-friendly diet as they are packed with antioxidants, healthy fats, and fiber.
Let's take a closer look at their potential health benefits, nutritional profile and how to add them to a diabetic diet.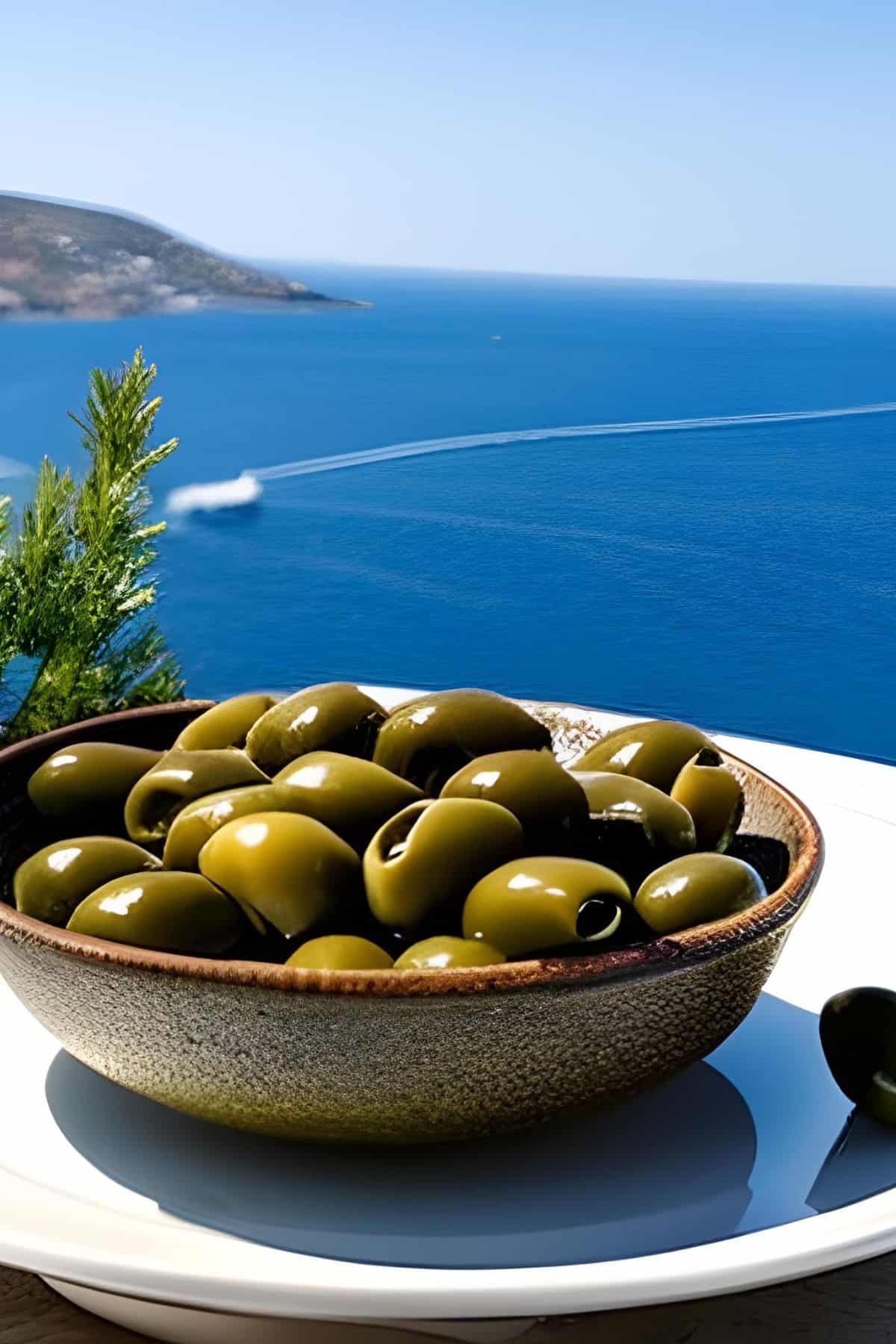 Jump To:
5 reasons olives can be beneficial for people with diabetes
They have a low glycemic index which means they don't cause blood sugar spikes in blood sugar levels.
Good source of fat: olives contain monounsaturated fats, which can help reduce the risk of heart disease and improve blood sugar control by improving insulin sensitivity.
Helps protect against oxidative stress: olives contain polyphenols and vitamin E which also helps protect against inflammation that can cause diabetes complications.
Dietary Fibre: a good source of fiber that can help regulate blood sugar levels and help with digestion.
Versatile: can be used in a variety of snacks and dishes, providing a tasty and healthy addition to a diabetic-friendly diet.
How do olives help control blood sugars?
Due to their low glycemic index, they are less likely to cause a quick spike in blood sugar levels. Also, because of their good source of healthy monounsaturated fats (oleic acid), they can help improve insulin sensitivity.
Insulin is the hormone that regulates the blood sugar levels in the body.  When cells become resistant, your blood sugar levels could rise.  The monounsaturated fats help by allowing cells to use insulin more effectively and lower blood sugar.
However, it's important to note that olives should be consumed in moderation as they are high in sodium and calories.
The nutritional profile of olives
Olives are a good source of several minerals and vitamins and are a nutrient-dense food.
Olive nutritional profile per 100 grams:
Calories: 115
Fat: 10.7 grams (mostly monounsaturated fat)
Carbohydrates: 6.3 grams
Fiber: 3.2 grams
Protein: 0.8 grams
Sodium: 1,276 milligrams
Furthermore, olives are a good source of several minerals and vitamins, including:
Vitamin E
Iron
Magnesium
Calcium
Potassium
Phosphorus
A note of caution: olives are high in sodium which can affect those with blood pressure issues. Therefore should be consumed in moderation as part of a well-balanced diet.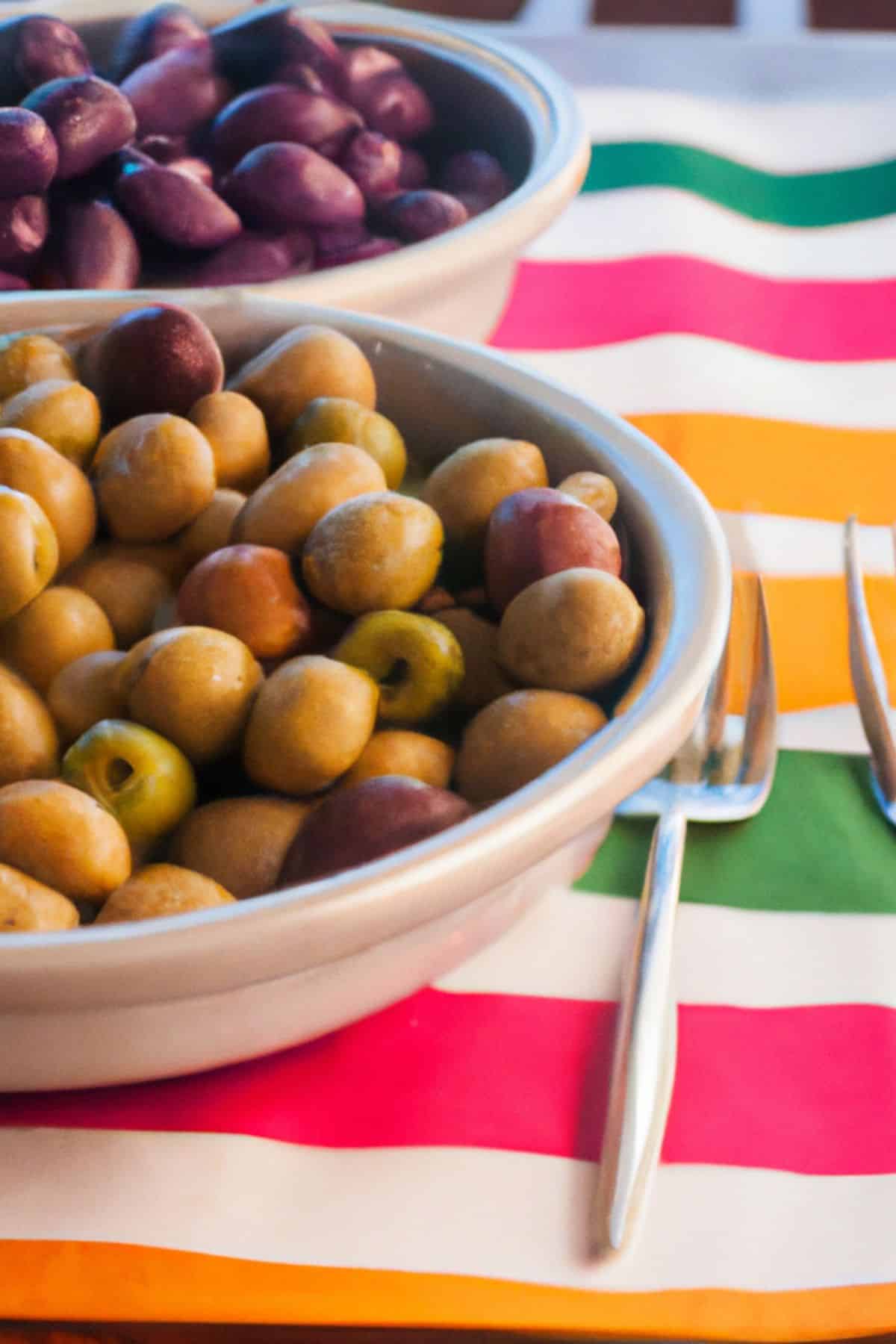 How to enjoy olives as a diabetic?
As a diabetic, you can enjoy olives as part of a balanced and healthy diet. Here are some great ideas on how to incorporate them into your diet:
Snack: great as a snack option as they are low in carbs and high in those healthy fats. Just watch your portion size because you can easily pack away quite a few olives if you are not paying attention.
Salads: we enjoy olives in salads as they add a lot of texture and flavor, which helps to make salads more filling and satisfying. Make sure to also use a salad dressing that is low in sugar and carbohydrates. You might also enjoy this Muffaletta Olive Salad recipe, it's perfect as a spread or as a salad.
Topping: perfect on low-carb pizzas such as this Diabetic Pizza recipe. Also, great in sandwiches, wraps, and on a charcuterie board. They can add a savory, salty flavor to any meal.
As a flavoring: Use as a flavoring for dishes like hummus or tapenade. They can be great options for diabetics as they are high in fiber, and healthy fats that can help support blood sugar levels.
Roasted dishes: Toss some olives with extra virgin olive oil and roasted vegetables such as cauliflower or broccoli. Makes a great healthy side dish with most meals.
Please consult with your healthcare professional for personalized diabetic plans and dietary advice to help keep track of your sugar levels when incorporating olives into your diet.
Frequently asked questions
How much olive oil should diabetics consume?
2-3 tablespoons are the recommended daily intake of olive oil. However, it's best to ask a medical professional or a dietician.
Which olives are higher in carbs?
Green olives seem to be a little lower in carbs than black olives. Although black olives are fairly low in carbs as well compared to many other foods.
Do olives need to be stored in the fridge?
Olives sold in jars or vacuum packaging should be stored in the fridge after opening to maintain their freshness.
Learn more about olives from this Beginners Guide to Olives by Serious Eats.
Are olives good for diabetics? final thoughts
Are olives good for diabetics? Olives can be a healthy option for diabetics as they are low glycemic and low in carbohydrates. They are a good source of healthy fats, nutrients and antioxidants.
It is important to choose olives backed without sugars or other high-carb ingredients. and to enjoy them in moderation.
Overall, olives can be a nutritious and flavorful part of a well-balanced diet, but as with any changes to your diet, it's important to speak with your healthcare provider to see what the best choice is for your individual needs and goals.