What can a diabetic eat at McDonald's for Breakfast? Discover the best low-carb breakfast options for diabetics at McDonald's. From eggs to protein-packed sandwiches, this guide provides a comprehensive list of nutritious and delicious choices for managing blood sugar levels.
Jump To:
Eating out can be a challenge for anyone with diabetes, especially when it comes to fast food restaurants. However, with a little bit of planning and knowledge, it is possible to find healthy and delicious options even at a place like McDonald's. In this guide, we'll explore the best low-carb and nutritious breakfast choices for diabetics at McDonald's, helping you make informed decisions about what to eat and how to manage your blood sugar levels.
What to look for in breakfast menu items at McDonald's?
Typically what I look for is if the breakfast item is going to make my blood sugar levels spike. How will you know if what you are ordering will affect your blood sugar levels?
There are a few things you can do to determine if a breakfast item will affect your blood sugar levels:
Check the nutrition information: Most packaged foods come with nutrition labels that list the total carbohydrates and sugar content. This can give you an idea of how much sugar is in each serving and how it might affect your blood sugar levels.
Know the glycemic index: The glycemic index (GI) is a measure of how quickly a food raises your blood sugar levels. Foods with a high GI (70 or above) are quickly absorbed and can cause a rapid spike in blood sugar. Foods with a low GI (55 or lower) are absorbed more slowly and have a gentler impact on your blood sugar levels.
Consider the combination of foods: The way you combine foods can also affect your blood sugar levels. For example, adding protein and healthy fats to your breakfast can help slow down the absorption of carbohydrates and reduce the impact on your blood sugar levels.
It's also a good idea to monitor your blood sugar levels regularly to see how different foods affect you personally. This can help you make informed decisions about what to eat and how much to eat to help manage your blood sugar levels.
Diabetic friendly recipes you might enjoy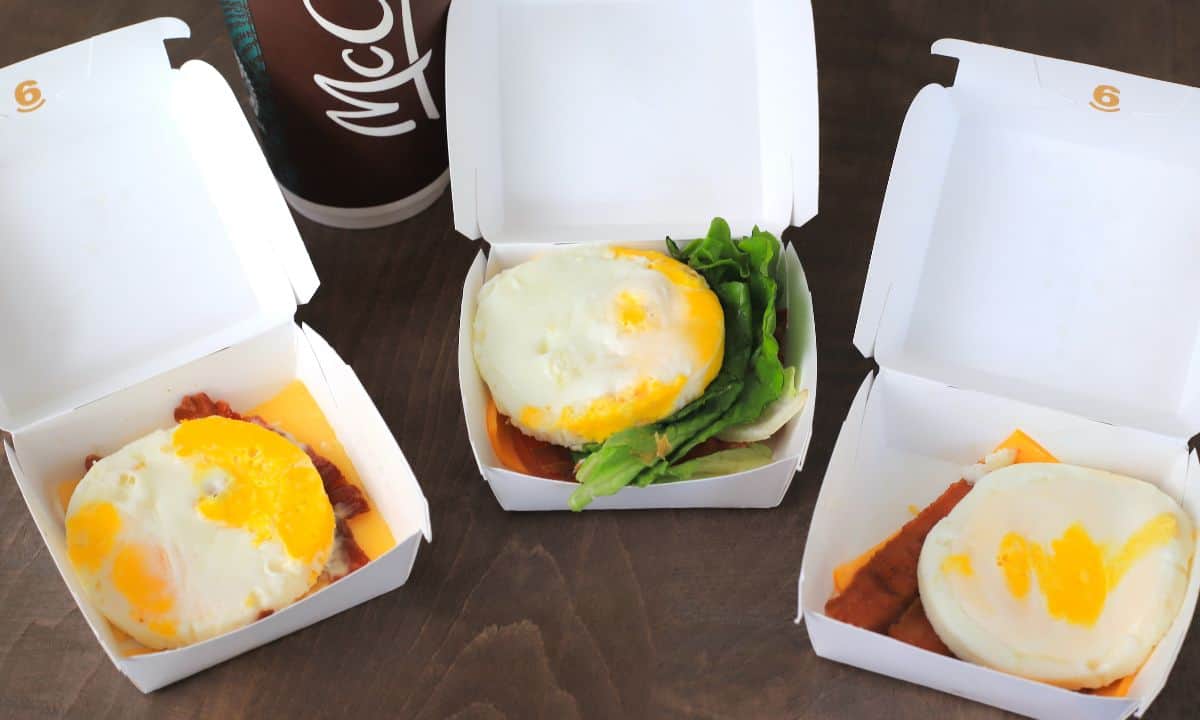 Customize your McDonald's Breakfast Orders
Choose low-carb options: Opt for breakfast items that are naturally low in carbohydrates, such as eggs, bacon, and cheese. Avoid high-carb items such as pancakes, waffles, and English muffins.
Request modifications: If you're ordering a breakfast sandwich, ask for it to be made with a lettuce wrap instead of a biscuit or English muffin. You can also ask for extra cheese and bacon to increase the protein and healthy fat content.
Skip the syrup: Syrup is high in sugar and can quickly add up in carbohydrates, so it's best to avoid it.
Consider a side salad: Taking it to go and enjoying a side salad with greens and other low-carb vegetables can be a great addition to your breakfast and help increase your fiber and nutrient intake.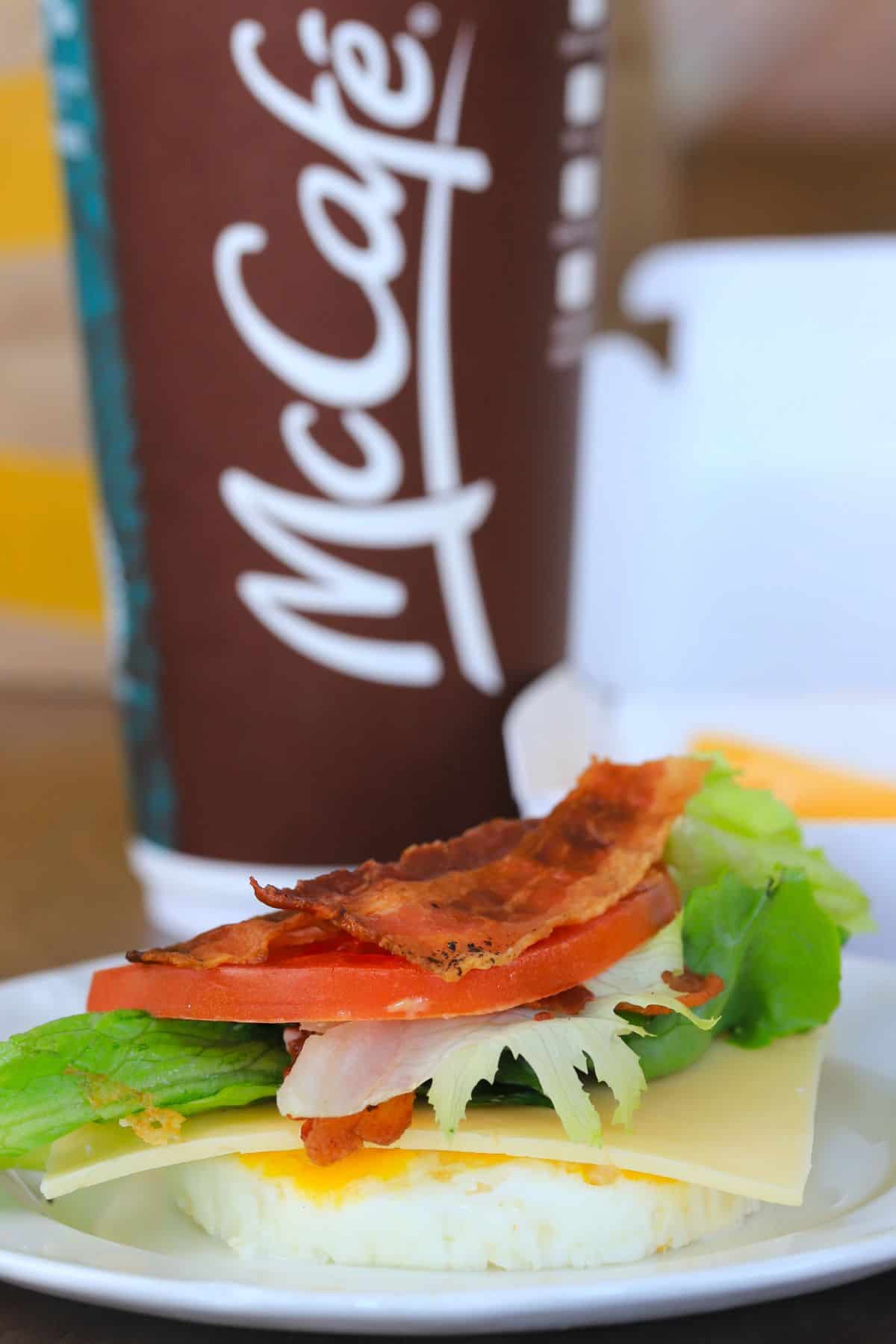 How to order diabetic-friendly breakfast menu items at McDonald's?
I find ordering from the McDonald's app or using their order kiosks much easier than having to explain what you want at the counter. In fact, their app and kiosks make it easy to customize anything you order. So I always pre-order on the app before I get to the restaurant and pick it up through the drive-thru.
Their website and app also have an excellent nutrition calculator so it will make ordering easy for you.
If you are ordering any breakfast sandwich, simply order it without the bun. Here are a few of my favorite customized breakfast sandwiches that I like to order.
Sausage 'N Egg McMuffin (No Bun)
My go-to order for breakfast is a sausage and Egg McMuffin with no bun. It's basically just a round egg, breakfast sausage and cheese slice. The total carbohydrate for this sandwich is 3g. (290 Cals, 24g Fat, 15g Protein)
Tips: ask for the cheese to be placed on top or in between the egg and the sausage. I forgot this time and they had the cheese on the bottom which is basically nonedible because it just sticks to the wrapping and is hard to scrape off. Don't forget to ask for utensils as they may forget.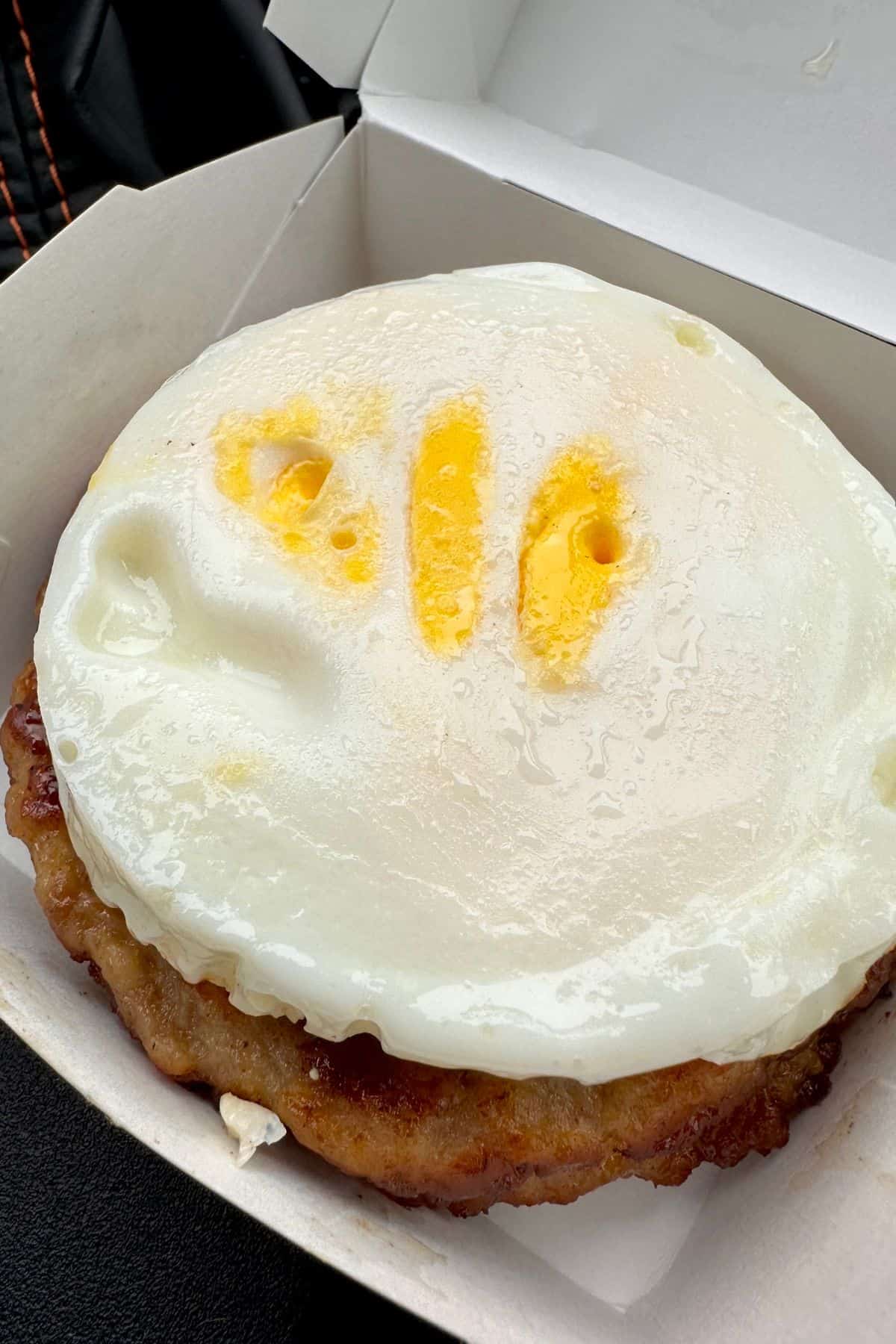 Other low-carb baked goods items you might enjoy
Egg BLT McMuffin (No Bun)
If you want some veggies with your bacon and eggs, this will hit the spot. Simply order any breakfast sandwich without the bun and you have yourself a low-carb meal. According to their website, this Egg BLT without the bun contains 3g of carbs. (220 Cals, 18g Fat, 12g Protein)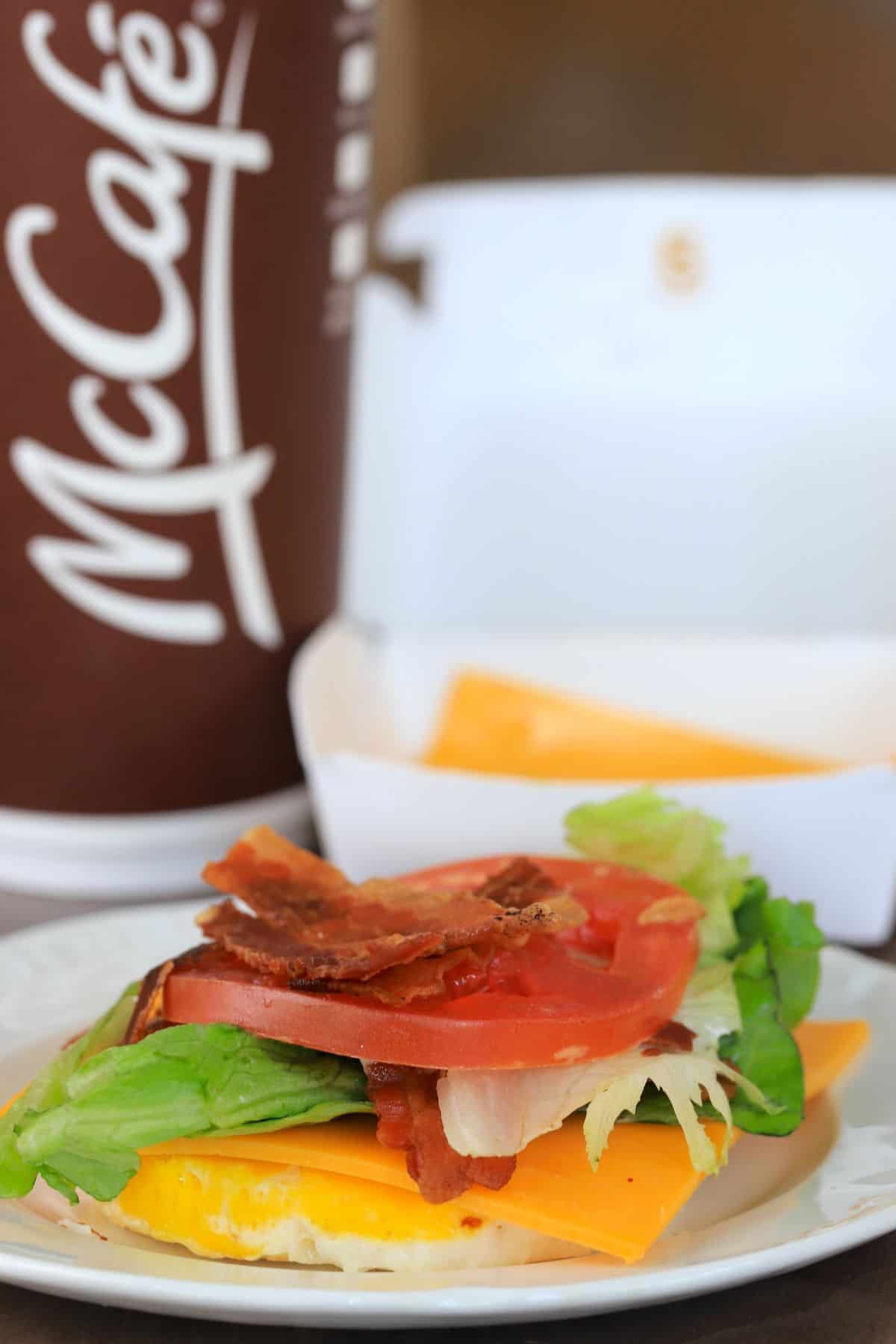 Egg Bacon McMuffin (No Bun)
When I just want bacon and eggs for breakfast I will order this sandwich without the bun. It only contains 1g of carbs (90 Cals, 5g Fat, 9G Protein)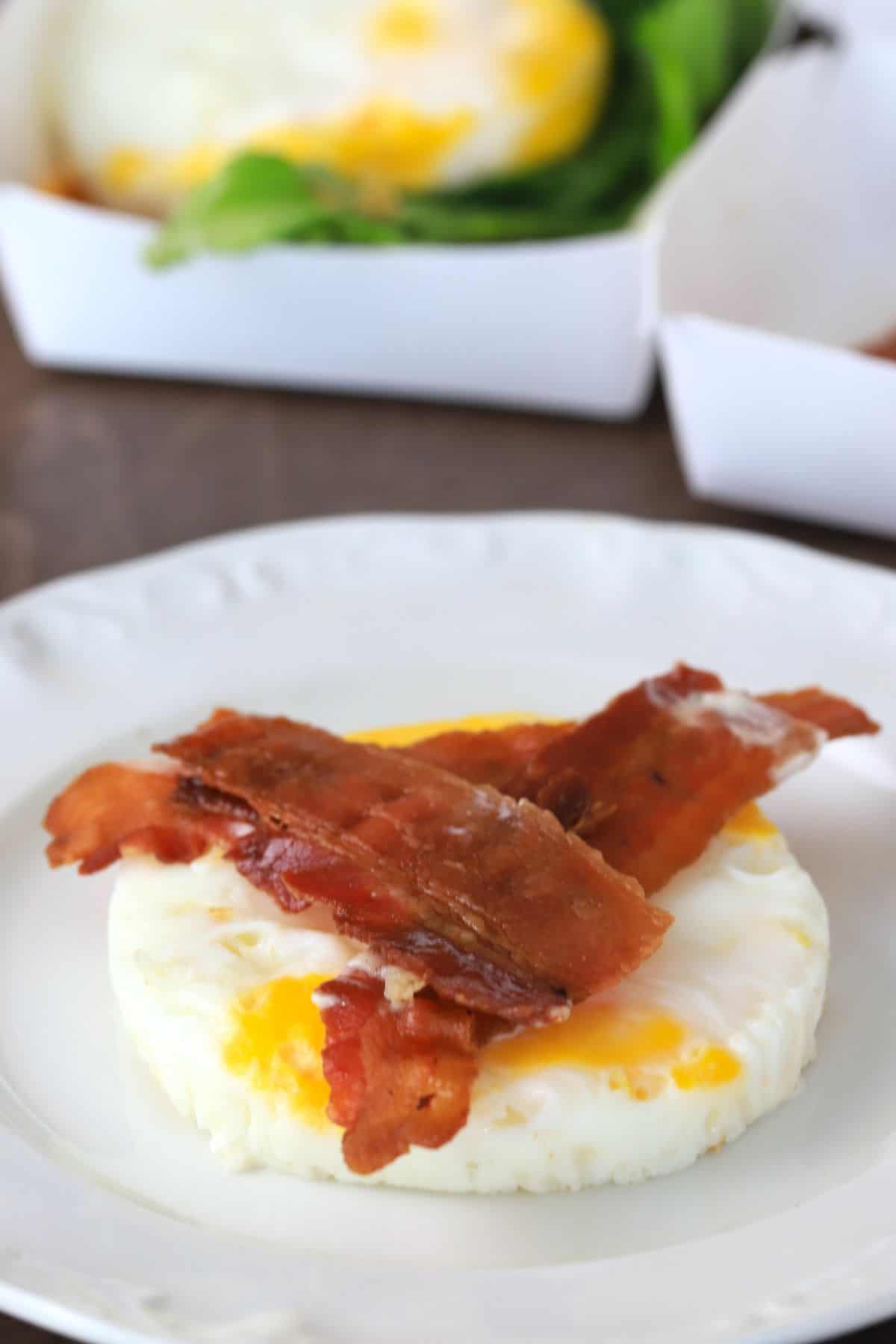 Bacon Egg 'N Cheese McMuffin (No Bun)
A Bacon and Egg McMuffin is a classic breakfast sandwich served by McDonald's. It consists of a toasted English muffin that is split in half and filled with a round, grilled slice of Canadian-style bacon, a round, cooked egg, and a slice of melted American cheese.
The bacon is crispy and slightly salty, while the egg is soft and fluffy. The melted cheese adds richness and creaminess to the sandwich. Contains 2g of carbs (170 Cals, 13g Fat, 11g Protein)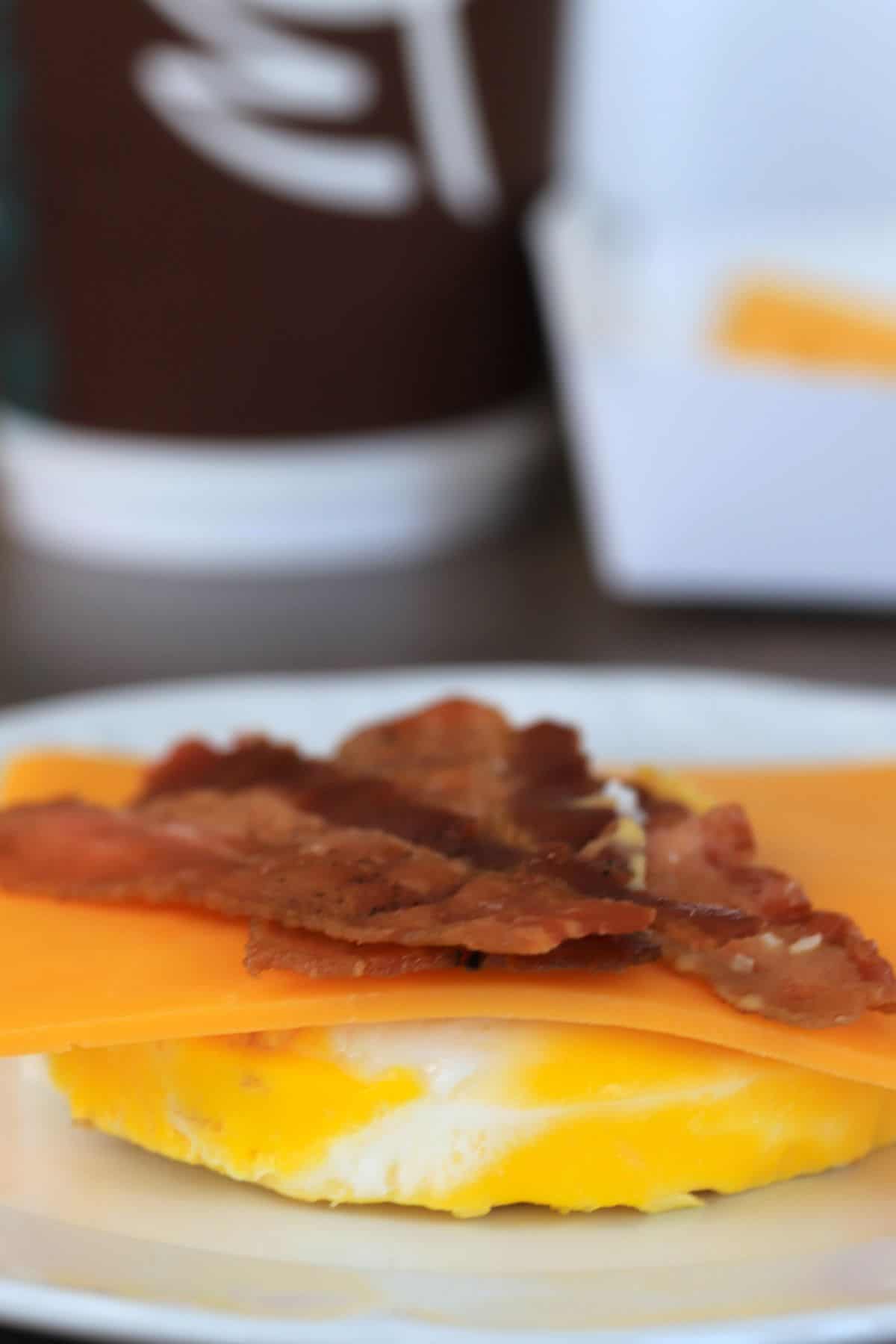 Although it seems like their menu is carb-heavy, simply customizing the ingredients can provide you with a healthier option that will most likely not affect spike your blood sugars simply by removing the bread.
Low carb dinner recipes you might enjoy
Other breakfast items that are higher in carbs
They now have Chicken McMuffin sandwiches which can also be an option without the bun running a little higher in carbs at 8g of carbs. (220 Cals, 17g Fat, 10g Protein)
A Breakfast Burrito at Mcdonald's contains 23g of carbs but if you ask them to make it without the flour tortilla and place it in a takeout container it will only contain 3g of carbs (160 Cals, 12g Fat, 9g Protein)
Depending on where you live some McDonald's offer a Big Breakfast, if you really want scrambled eggs this might be for you, otherwise, I would simply order the Sausage 'N Egg McMuffin without the bun. Alternatively, you can order the Big Breakfast without the Biscuit and Hashbrowns and it would be 3g total carbs (350 Cals, 29g Fat, 20g Protein).
Unfortunately, it doesn't look great for ordering any of their pastry items from their McCafe menu. Most of their pastries contain more than 20g of carbs. Don't be fooled by those apple fritters or fruit and fiber muffins, they can really do a number on your blood sugar levels.
If you do enjoy a warm beverage remember to use sweetener if you like it sweet and make sure you ask for it to be made without any drizzle or syrups on those fancy lattes.
Frequently asked questions
Is it ok to have one of those breakfast smoothies?
Typically those breakfast smoothies will contain about 56g of carbs for a small size.
What about lunch or dinner at McDonald's for diabetics?
Eating McDonald's for lunch or dinner is ok for diabetics, just keep the same rules in mind as we do for breakfast. Customize your order to enjoy sandwiches without the bun like a grilled chicken sandwich, enjoy a salad and drink it all down with a diet soda or water. Other items like chicken nuggets and french fries will be higher in carbs so just monitor how much you consume if you do enjoy them.
I really like their English muffins though.
Sometimes eating protein with items higher in carbs may not have a big impact on your blood sugar spikes compared to just eating carbs alone. If you really want to enjoy a breakfast sandwich with the bun, monitor your blood sugars to see how it affects you personally.
In conclusion, ordering a low-carb breakfast at McDonald's can be a bit challenging, as many of their menu items contain a significant amount of carbohydrates. However, it is possible to find options that are lower in carbs by avoiding menu items that contain bread, hotcakes, hashbrowns or syrups. Instead, opt for protein-rich items such as eggs, cheese, and bacon, and ask for these items to be served in a lettuce wrap or without the bun. With a little bit of creativity and careful menu selection, you can enjoy a satisfying and low-carb diabetic breakfast at McDonald's.