Even though I suck at cake decorating I had a vision of making a beautiful low carb, sugar free creme egg cake. You know those Cadbury Creme Eggs everyone devours during Easter?
Yes, I tried to replicate the creme and then add it to a two tiered chocolate cake. Needless to say it was a big fail. The creme was good, it just all squished out the side of the cake when I topped it with the second layer (see video below).
Even though the pictures make this cake look ok, it didn't turn out the way I wanted it to, nor did it taste as good as I thought it would.
So, this is not a recipe on how to make a sugar free creme egg cake, its a recipe on how to repurpose a failed cake.
By the way, this cake was also my partners birthday cake. Since his birthday and easter were so close I wanted to kill two birds with one stone. Sadly, the only thing I killed was the cake..teehee!
How do you make Sugar Free Creme Egg Cake?
My method was to use a simple chocolate cake recipe made with almond flour and erythritol. I made two 9" round slabs and then stacked them.
The frosting was a buttercream frosting made with powdered erythritol which was supposed to frost the entire cake. The creme in the middle layer was inspired from All Day I Dream About Food.
I used Carolyn's Cream Filling from her Keto Easter Creme Eggs recipe but made it a little thicker with more xanthan gum.
Not realizing that when I placed the second layer of cake on top that it would gush out the sides. Like I said, cake decorating is not my forte....lol.
In any case, it was a lot of fun to make and we had a good laugh over it. Luckily I was able to repurpose the cake and not go to waste.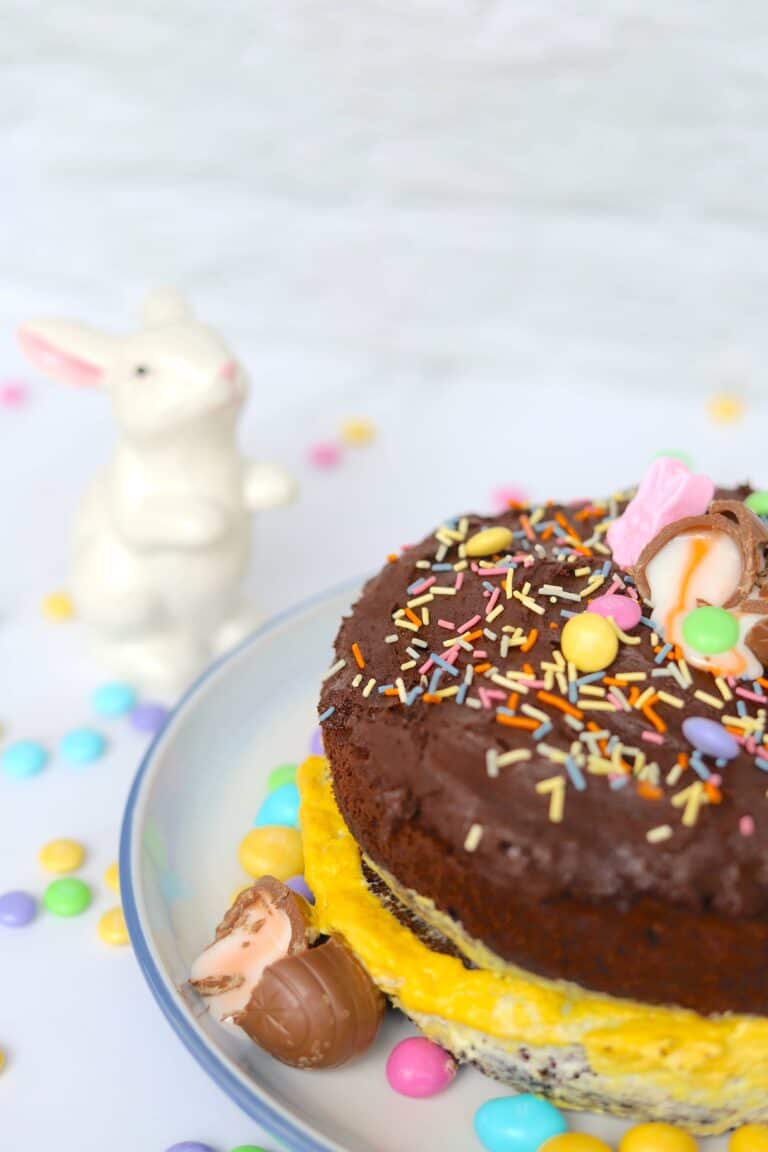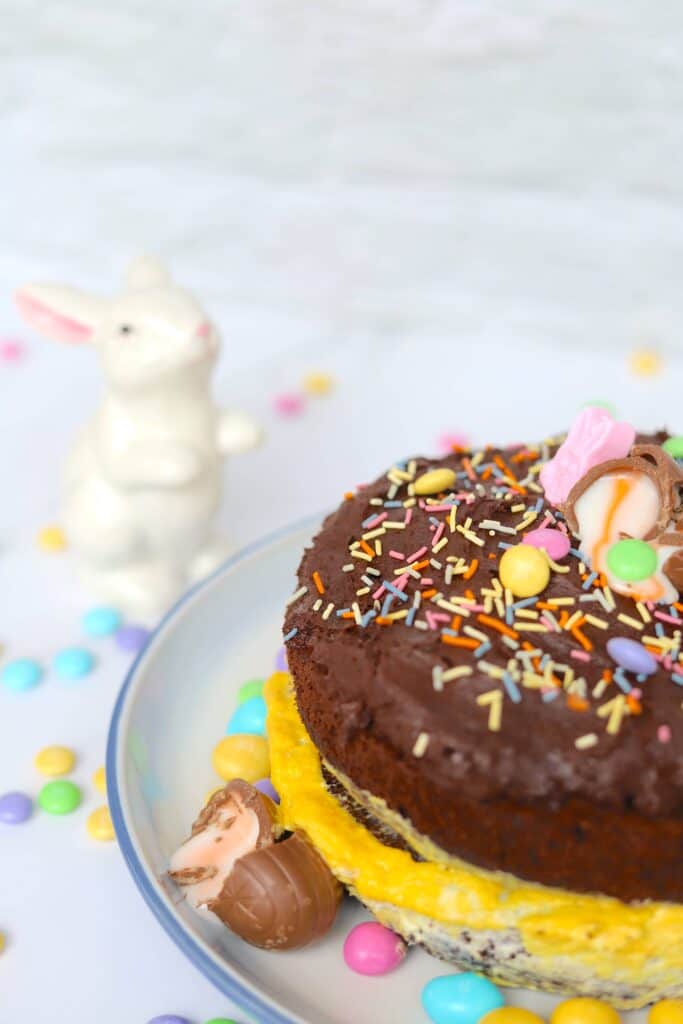 How do you repurpose a cake?
I took the cake apart, removed all the decorations and cut the entire cake into about 1" pieces. Placing about half of the cake into a casserole dish and poured coffee mixed with sugar free hazelnut coffee syrup all over the cake.
I then topped it with a layer of the cream filling from the recipe linked above. Lastly I topped it with the other half of the cake and smushed it all down so everything can get nice and wet.
Placed it in the fridge for 24 hours and enjoyed it with some whip topping. It's almost a cross between a tiramisu and a bread pudding.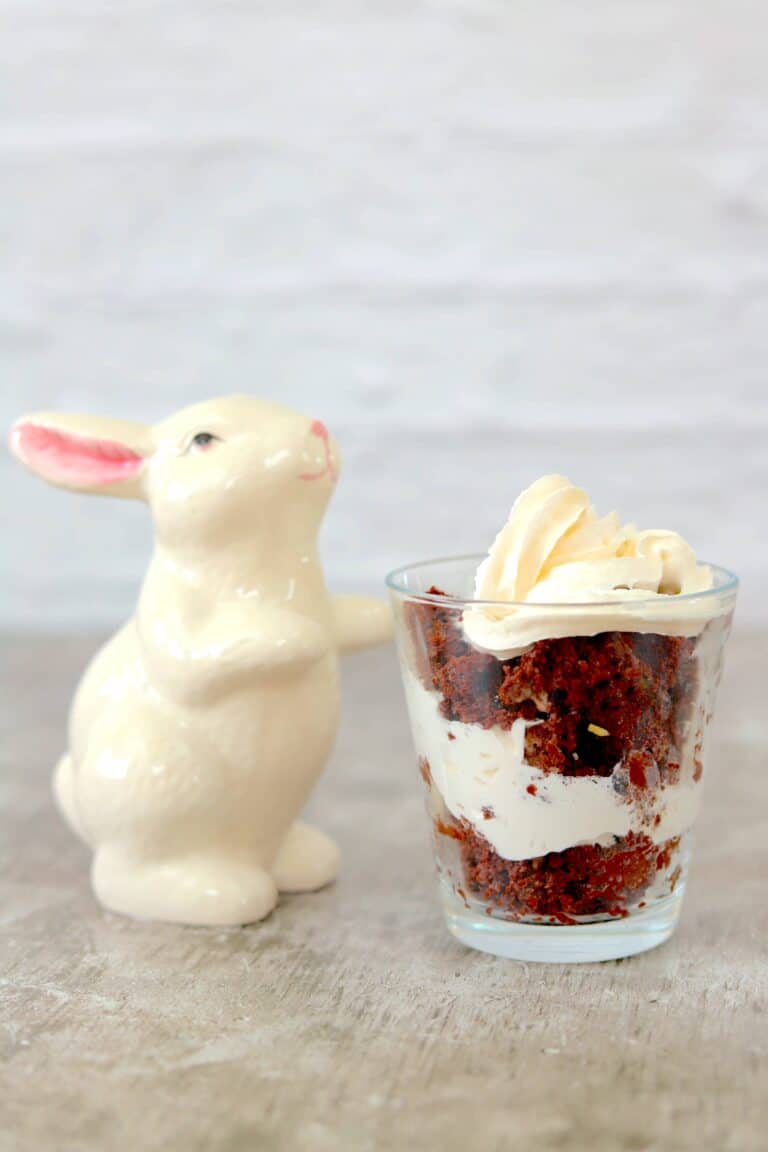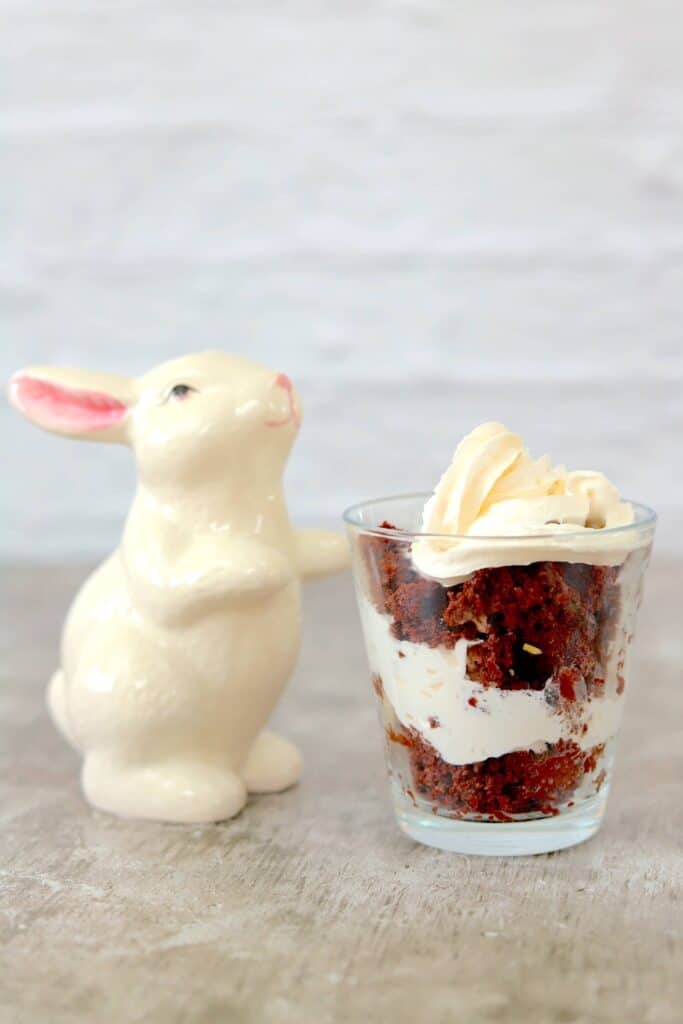 Did repurposing the cake make it better?
This was much better than the original cake. If you love coffee and hazelnut as much as I do, you will love this cake. The cake soaked up all the coffee flavours which made it super moist and full of hazelnut flavours. The creme egg in the centre gave it a perfect hint of sweetness and a custard mouth feel.
Would you make this again?
I would make this if I have another cake fail. This is not a cake recipe but more of what you can do with a cake if it doesnt turn out right. It was a way to salvage a cake that didn't quite turn out the way it was intended to. I do have a Hazelnut Cake recipe that I do enjoy.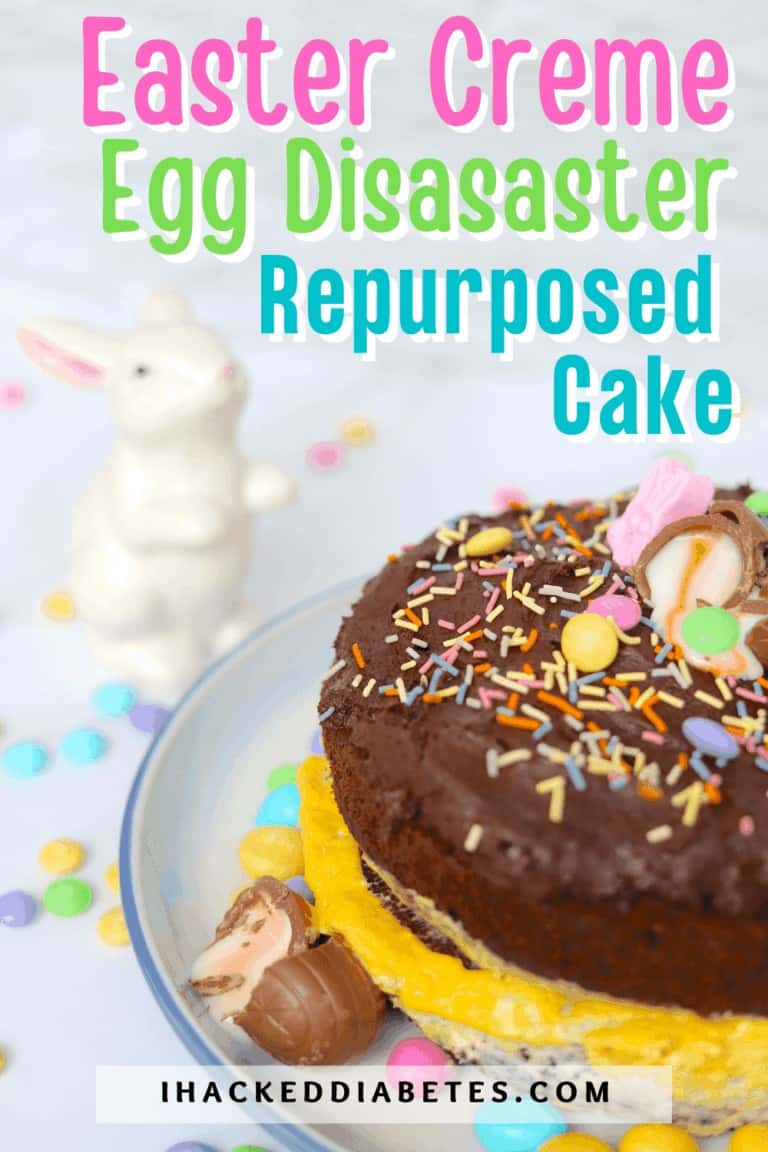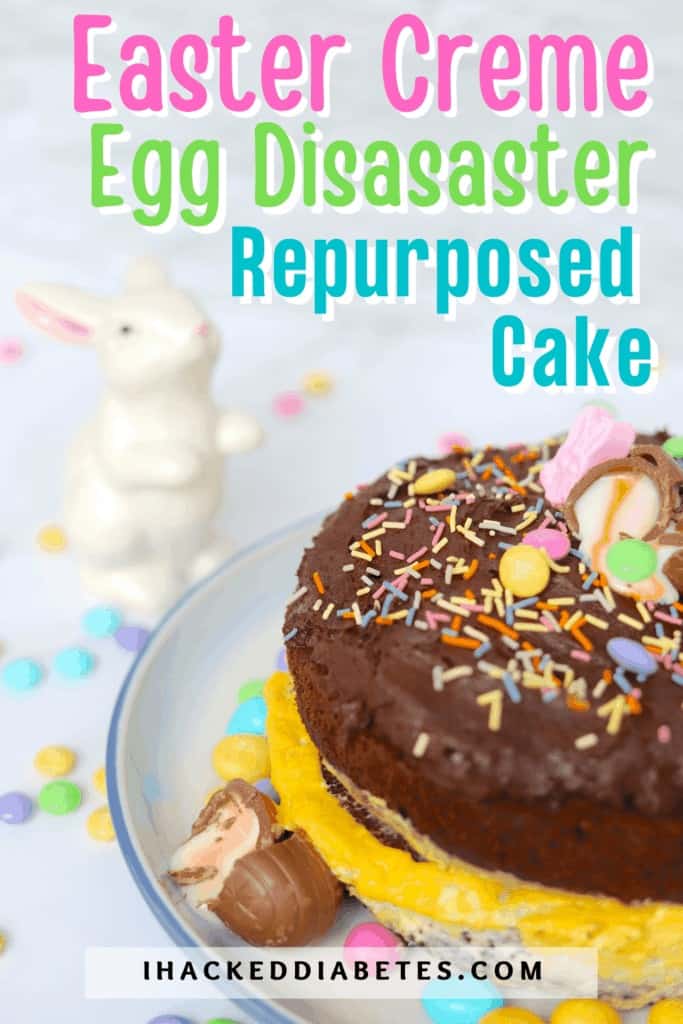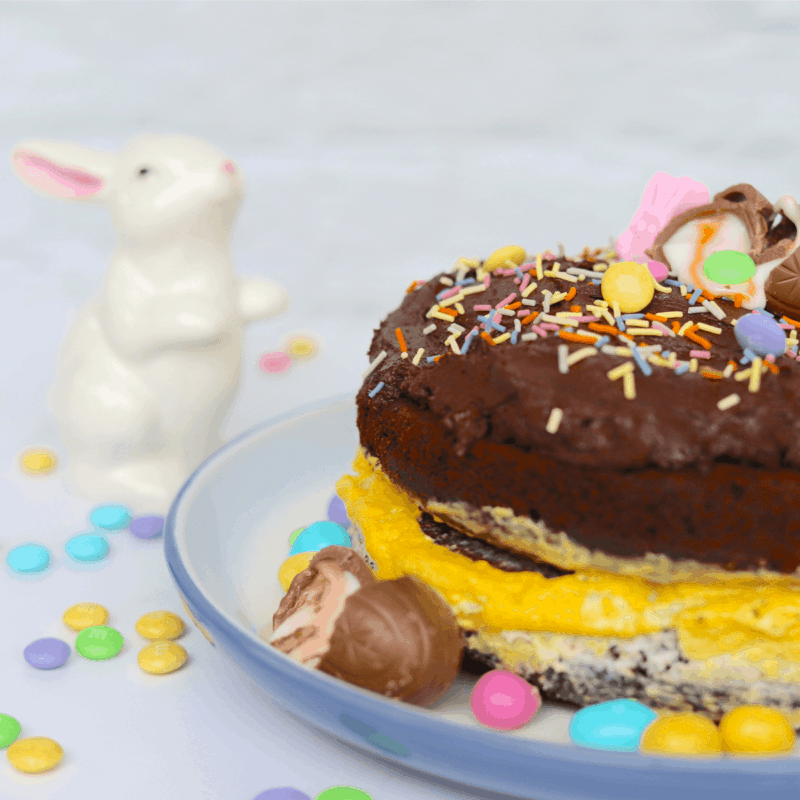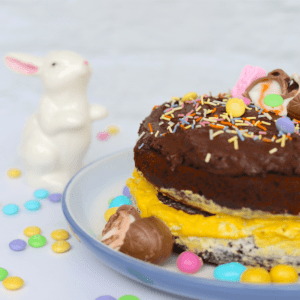 Sugar Free Creme Egg Disaster Repurposed Cake
This is a repurposed cake recipe for a failed cake.
Nutrition
Serving:
10
g
Calories:
1
kcal
Carbohydrates:
0
g
Protein:
0
g
Fat:
0
g
Fiber:
0
g
Ingredients
1

2 Tiered

Cake

2

cups

Coffee

2

tablespoon

Hazelnut Sugar Free Coffee Syrup

½

cup

Cream filling from recipe above
Instructions
Remove all cake decorations

Crumble the cake into 1" pieces and place half it into the bottom of a casserole dish

Mix coffee with hazelnut syrup and pour of layer of cake. I used espresso powder to make my coffee. Smush down the cake with a spatula.

Add a layer of the cream filling, you can also use any sugar free custard recipes for this or none at all.

Top with the other half of the cake.

Store in fridge for 24 hours and enjoy.
Notes
I do not have the nutrition information for this since it would depend on the type of cake you repurposed.  It would not be accurate.
This recipe card provides the basic details to make this recipe. For more information, questions or variations please review the content above the recipe card.
Updates and Revisions
If conflicting information between the video and recipe card, the recipe card will always have the most up to date information, ingredients and instructions.
Nutritional Information
All nutritional information is based on third-party calculations and should be considered estimates. Actual nutritional content will vary with brands used, measuring methods, portion sizes and more.
LOVE THIS RECIPE?
Check out I Hacked Diabetes on Pinterest